Love is Always the Answer – this is the title of the upcoming Deedee Cheriel exhibition at London-based Pure Evil Gallery. Deedee Cheriel is known for her tale-like paintings in which she explores folk art, mythology and feminism. However, Cheriel's art also investigates the abnormalities of contemporary society. People are alienated, relationships between humans and their surroundings are superficial; we abandoned the real world, and embraced virtual reality. The art of Deedee Cheriel reminds us that "living in peace" with our fellows and our surrounding is not only possible, but also more responsible way of living. Cheriel's art is not exclusively a representation of old mythologies, but it also contains strong and powerful social message.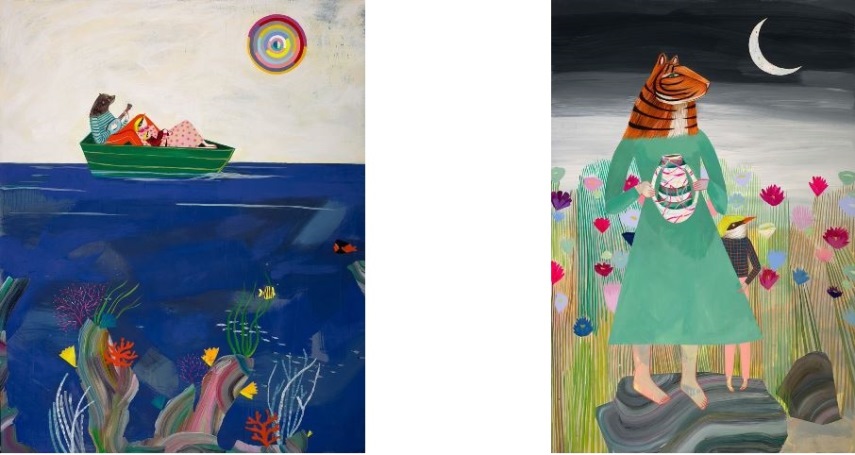 The Art of Deedee Cheriel
Nalini 'Deedee' Cheriel is a visual artist based in Los Angeles. She was born in the hippie town of Eugene, Oregon, where she began her own band and record label at the age of 19. Cheriel was also creating record covers and T-shirts for the music scene in Oregon in the early 1990s. She was largely influenced by DIY culture of the early 1990s, where punk scene played a big role in influencing Cheriel's worldviews. She played in several all-girl bands such as Juned, Adickdid, The Teenangels, The Hindi Guns, and she also co-created the semi-autobiographical film Down and Out with the Dolls. She has lived and studied in Honduras, Chile, England, Portugal, Spain and her native India. Today, the artist's practice explores existing narratives that do recognize the urgency and conflict in our never-ending attempts to connect with the world (which is not an easy task in contemporary society, characterized by consumerism, alienation, and greed). She has been exhibited widely across the US and in Europe (we recently wrote an article about the artist's exhibition at Merry Karnowsky Gallery).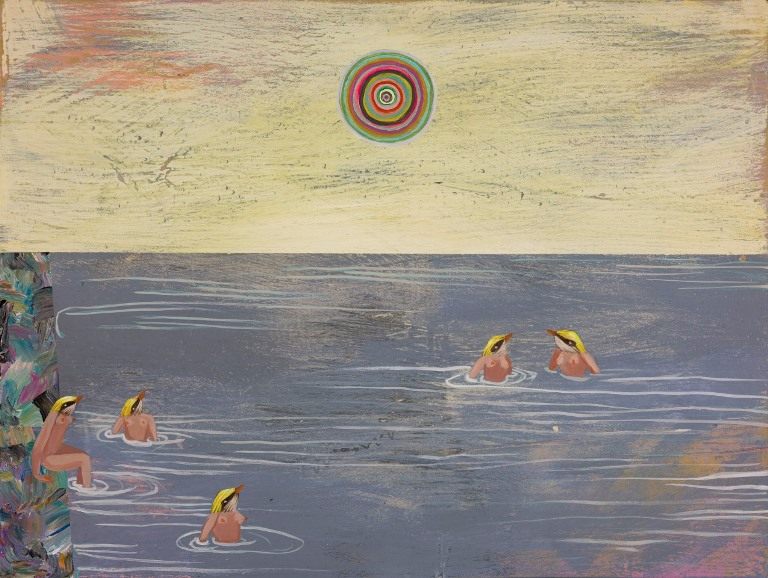 Love is Always the Answer
The visitors of the Deedee Cheriel exhibition at Pure Evil Gallery in London will have an opportunity to see the latest series of works by this great artist. These artworks are influenced by East Indian temple imagery, punk rock, and her childhood natural environment of Pacific Northwest. We can see strong influence of mythology in Cheriel's compositions: water, fire, stone, air and lush gardens. In many paintings, the artist represents dark-skinned horse girls – these representations are influenced by a teenager obsession and maternal forms during the adolescence. These compositions are quite contemporary since they are dealing with historical depictions of Madonna and child. In other paintings, the artist rejects classical Western painting tradition, which is visible in works such as When Nerula and Xander were Night-tripping at the Saphire Opera.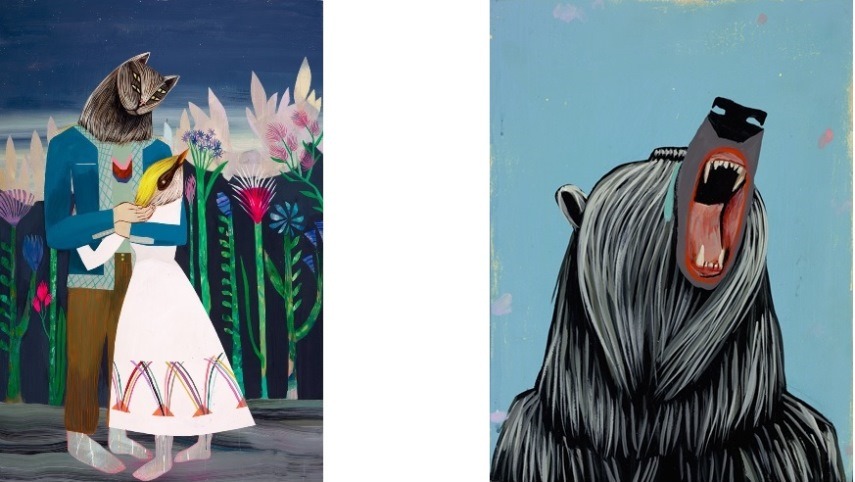 Deedee Cheriel Exhibition at Pure Evil Gallery
Folk art, feminism, identity and mythology, relationship between past and present – these are the most important elements in the art of Deedee Cheriel. Her beautiful tale-like paintings invite us to contemplate about contemporary society, but also about our relations with other people and with environment. Finally, it's about compassion and love. The exhibition Love is Always the Answer featuring latest paintings by Deedee Cheriel will be on view from June 2 until July 3, 2016 at Pure Evil Gallery in London.
Featured Images: Deedee Cheriel - Artwork; Deedee Cheriel - Promise to Read me Poetry Forever, detail; Deedee Cheriel - Sojourn into Being, detail. All Images courtesy of Pure Evil Gallery.