How we perceive the world around us, through the images we see, is much determined by the salient factor of light. Artists have used the illumination phenomena to convey realistic depictions of scenes, as well as to alter the existing images and bring an alternative element into focus. KP Projects / MKG is excited to host Carbon, an exhibition of new works by Todd Carpenter, whose landscapes explore and capture light that renders the natural and urban world around us in a completely new way.
At the same time, another solo exhibition is taking place at KP Projects / MKG, LA. Artist Deedee Cheriel will be presenting her works in the solo show Natural Resources. Vivid, emotive and mystical creatures are the key figures in Cheriel's new works. Mixing ancient legends and modern life, the artist combines a variety of influences as she steps into a somewhat new artistic territory with her new show Natural Resources.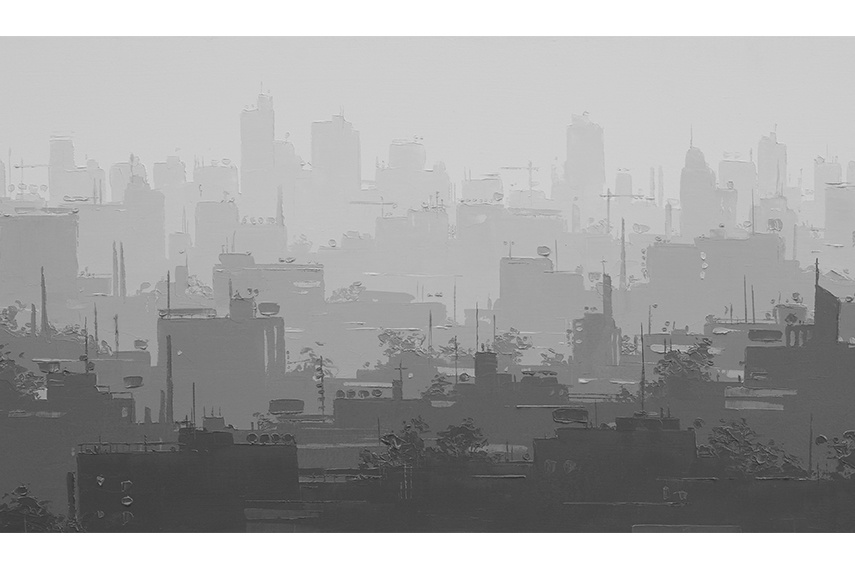 Todd Carpenter Displays Amazing Feats of Lighting in Carbon Exhibition
Todd Carpenter's broad interest in science, as well as art and other spheres of society, is definitely reflected in his multifaceted artwork. Having previously taught neuroscience, and is currently teaching photography at the San Diego New School of Architecture and Design, he is a fervent explorer of the human brain and its interaction with art. By examining the elements of brain which perceive beauty and art, Carpenter developed a keen comprehension of the way light, depth and visual space could be used in his artwork. Intricate utilization of shading and contrast evoke a piercing sense of realism in his landscapes. Relying on the fact that our brain uses perception of depth, built primarily on tone rather than hue, in order to perceive the lighting, Todd Carpenter utilizes a monochromatic palette to display different degrees of light. A soft background light which creates a crisp contrast in a black-lit forest, and the blurry smog of an industrial scenery are just some of the landscapes featured in the new exhibition by Carpenter. These surroundings, embroidered with atmospheric light, invite the viewer to look further into the haze of various degrees of depth and luminescence.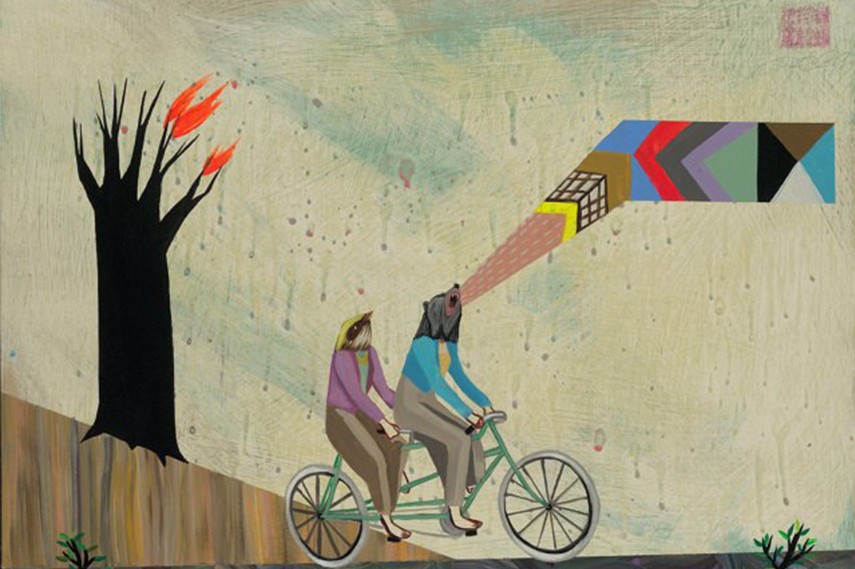 Deedee Cheriel Creates a Dialogue Between the Opposites in Natural Resources Exhibition
Gathering inspiration from an array of influences, Deedee Cheriel incorporates seemingly unrelated elements to produce artworks of unique rendering. Punk rock, feminism and temple imagery from her native India are just some of the major subjects which she majestically incorporates in her work. Natural Resources exhibition features paintings that explore figuration, texture and color. Cheriel's new work merges east with west, ancient legends with modern society, hunters with the hunted and man with beast. While still maintaining a dialogue with the past and the traditional, Dedee Cheriel migrates to the world of contemporary modern life, depicting bold figures which represent an amalgamation of differences, or even opposites. Many famous artists and celebrities proudly collect her paintings, among some names are Rooney Mara, Katy Perry, Shepard Fairey, Marisa Tomei and Atticus Ross. Work of Cheriel is also featured on screen in movies and TV series like Secret Life of Walter Mitty, Grey's Anatomy and Maron.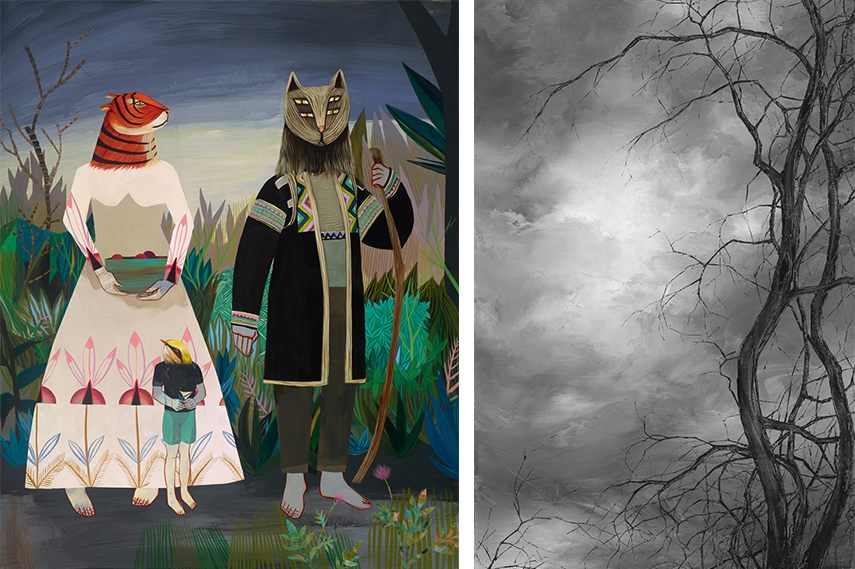 Two Solo Exhibitions at KP Projects / MKG
The Merry Karnowsky Gallery continues to demonstrate its renowned principle of focusing on the emerging and mid-career artists who dare to create outside of the frames of formal definition. Solo exhibitions of Todd Carpenter's new work, under the name of Carbon, and Deedee Cheriel's Natural Resources are opening on August 1st, and will remain on view until August 29th, 2015, at KP Projects / MKG, Los Angeles. Both shows present a great opportunity to enjoy new works of some of the most prominent artists of today. Whether you're in the mood for some exploration of the levels of depth in Todd Carpenter's light play, or wish to see what makes so many celebrities and artists collect the work of Deedee Cheriel, head down to KP Projects / MKG and enjoy the shows.
Stay informed about all the upcoming exhibitions! With a free sign up for My Widewalls!
All images used for illustrative purposes only
Featured images courtesy of KP Projects / MKG
Deedee Cheriel - Exodus by way of Beautiful and Interesting Snake, 2015
Todd Carpenter - Artwork, 2015