Spain is the birthplace of many of the world's prominent street and urban artists. However, perhaps due to the economic crisis which until recently has gripped the country or a lack of acceptance of urban art or street art in a highly traditional country, many creatives have found little support in their own home turf.
Until recently, very few Spanish urban artists were shown in Spanish galleries. The tides are currently changing and the best evidence of this are the galleries, art fairs, and online art platforms popping up, especially in the country's capital, Madrid.
We spoke with Laura Calvarro and Seleka (pseudonym), partners both professionally and personally, and the owners of Madrid's latest gallery: Delimbo. Delimbo promotes urban art, street art, post graffiti and contemporary art. They advocate the value of street art by aiding new collectors and advising existing collectors on including work by street artists in their collection.
Delimbo is situated in the up and coming art district of Lavapies, specifically on Doctor Fourquet, a street which is home to over 20 different galleries. Laura and Seleka, as well as Delimbo itself, originate from Sevilla. We talked about what inspired them to open a second location in Madrid, and the experience thus far.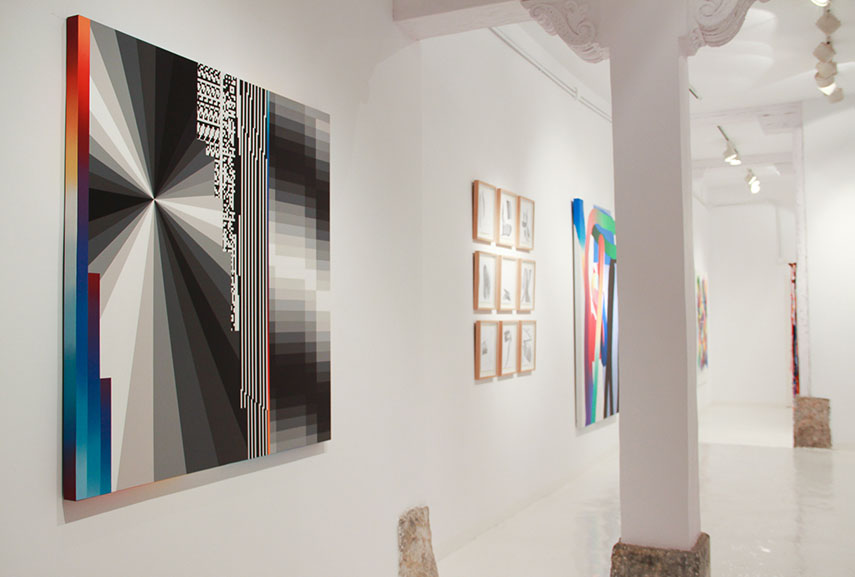 The Becoming of Delimbo Gallery
Widewalls: What is your professional background before you were gallery owners?
Seleka: We are both artists. Laura comes from the world of contemporary art and I'm from the graffiti world.
Widewalls: How has Delimbo changed in the last 12 years?
Seleka: Well we are the same, most of the artists are the same, but we have all grown together, they as artists and we have developed as an exhibition space. Of course, the size of public as well as the demand and number of people has grown exponentially, as well as the clients who regularly collect.
All this makes a project that began in order to fill a gap, which became a business solidified by success.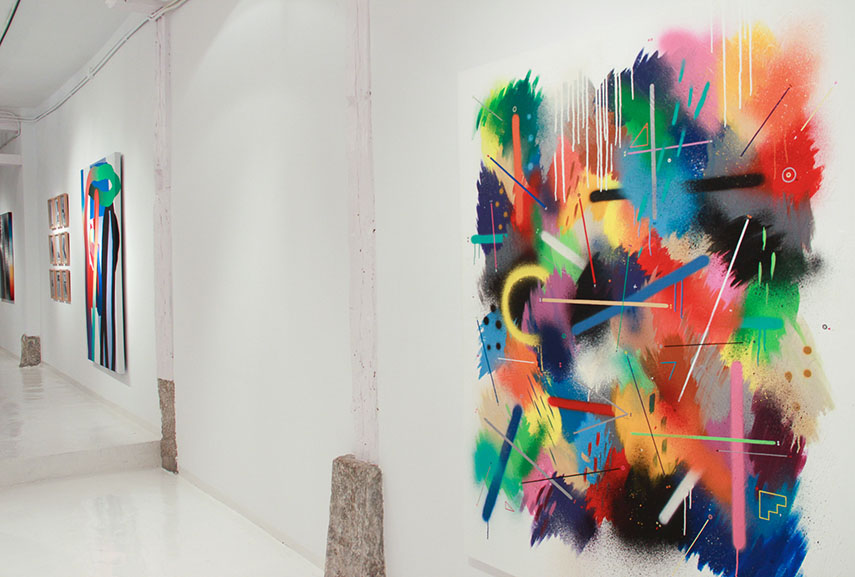 Expanding to Madrid
Widewalls: There is a Delimbo Sevilla and now a Delimbo Madrid. How long has the gallery in Sevilla been open and why did you decide to open a second venue?
Seleka: We have been open for almost 12 years in Sevilla. There are many reasons, but the most important is to give more visibility to the artists that we represent.
Laura: We wanted to continue growing for the artists, the collectors, for the people who have taken a chance on Delimbo for all these years, and most importantly, for ourselves. We are very happy to see that the project continues to evolve and almost has its own life.
Widewalls: Why did you decide to open in Madrid?
Seleka: Because the world of galleries, museums, fairs works better in Madrid. Also for the logistical ease. Being only 2 and a half hours by high-speed train makes the job much easier.
Laura: Because Doctor Fourquet is in Madrid, a street with more than 20 art galleries and now we are there as well!
Widewalls: In your opinion, why has Madrid had more success with fairs, galleries, and museums?
Seleka: Well, because after all these years of crisis, the city that has suffered the least from all the cuts and closures that have taken place in culture, has been the capital. As well, both a large number of artists and different projects of cultural nature have moved their headquarters or have expanded, as is our case.
Laura: I suppose Madrid is successful because it takes more chances.
Only in the month of February there are seven contemporary art fairs and "in crescendo".
Widewalls: Tell us about your work/life balance living between 2 cities and 2 galleries.
Seleka: Right now everything is going well. Besides, so many friends and some Delimbo artists live in Madrid. This is why we have been received with open arms, both professionally and personally. With our years of experience, managing a second space that is also smaller than the first one is quite simple. And in Madrid at the moment, we only open to the public 3 days a week; the rest is by appointment.
Laura: We feel at home. The welcome and the feedback from Madrid has been incredible and Seleka and I love and respect each other so much that with faith and a lot of hard work, everything is fine.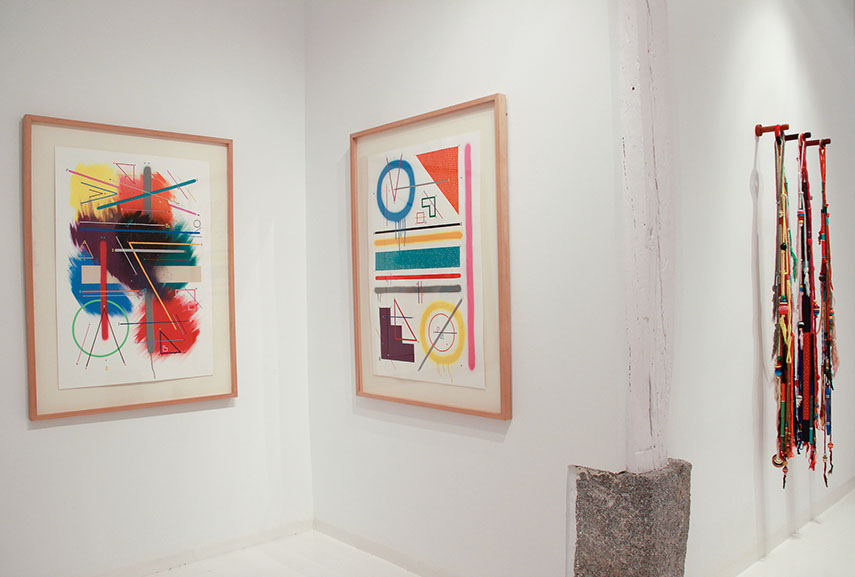 Supporting Artists
Widewalls: Your first show had an impressive line-up, with Okuda, Felipe Pantone, Sixe Paredes, and Momo. What did you want to say to Madrid with this opening?
Seleka: Well, we told the city that we are here! Although our artists work with galleries around the world, they were not represented in Madrid. We have come to fill a gap and to take advantage, personally and professionally, of how alive the city is in the cultural sphere.
Laura: Well I want to say: From Madrid to the world. With the internet we see everything as one and to have a second gallery there increases visibility and strengthens the project in general.
Widewalls: Your second exhibition will correspond with Urvanity Art Fair. Who is exhibiting?
Seleka: Andy Rementer y Hense (Alex Brewer), from the USA y Hell'O (Antes Hell'O Monsters) from Belgium.
Laura: Well really our second expo is a solo show from Nano4814 which opens on February 17th on Doctor Fourquet 30. Come!
Widewalls: Tell us about the artists you are representing in Urvanity.
Seleka: [This is] the very first time that we will show the works of Andy Rementer and Hense. Hell'O are artists from the gallery that we have represented for a few years.
Andy Rementer is a creative person from the USA. After working and living in northern Italy, he relocated to the East Coast where he divides his time between drawing, cartooning, painting and animating. His colorful and vibrant work has been featured through a variety of sources including The New York Times, MTV, Urban Outfitters, The New Yorker, Warner Brothers, Apartamento Magazine and Creative Review. He has exhibited his art in solo and group shows throughout Europe, America and Australia. He was recently awarded as a Young Gun by the Art Directors Club. He's about to have a solo exhibition in Delimbo gallery Sevilla in 2019, and he will participate in a collective exhibition in Delimbo Madrid this year.
Hense - the work of Alex Brewer incorporates line, shape and gesture to create abstract compositions that are invigorated by brilliant color. A pure abstractionist, the artist has created a multitude of works over the span of 20+ years with an unending aspiration towards formal and compositional exploration. Using rollers, spray and house paint, plywood and exposed screws, the complexity of Brewer's work belies its raw and energetic system of creation. Many of his larger works are composed of countless layers of flat color fields and shapes, textured brushwork, dripping spray and diluted latex, mercurial lines and polka dots for maximal works that never go too far:
"I'd like to continue to push painting and what that can be. I'm focused on pushing myself as well as the viewer."
Brewer has exhibited in the High Museum of Art and is part of their permanent collection; and Alabama's Wiregrass Museum of Art, presenting works both inside and outside the museum walls. Brewer's commissioned works continue to spread globally, including captivating site-specific pieces for Taiwan's 'Very Fun Park' via the Fubon Art Foundation; a grain silo in Northam, Western Australia curated by FORM; the ISIL Institute in Peru; and the Frank Gehry-designed Facebook Inc. Global Headquarters in Menlo Park, California.

Hell'O, before known as Hell'o Monsters, emerged in the late 1990s as a result of the meeting between Jerôme Meynen and Antoine Detaille. They quickly left behind wall art, graffiti letters and spray paint in favor of paper, characters, ink drawings and paint, moving on to sculpture, installations and wall drawing. They developed a unique graphic vocabulary that is complex and ambiguous which they continue to expand in the course of their creative output, customizing many recurrent elements, which they combine each time with new characters, or incorporate into unusual settings.
Laura: That is the technical part. The emotional, which is always the motor of everything we do, is that they are all artists who we have admired for years and a fair is a good opportunity to open the door to new artists who we have never worked with before.
With Andy Remeter, for example, we have already fixed a solo show for 2019 in Delimbo Sevilla.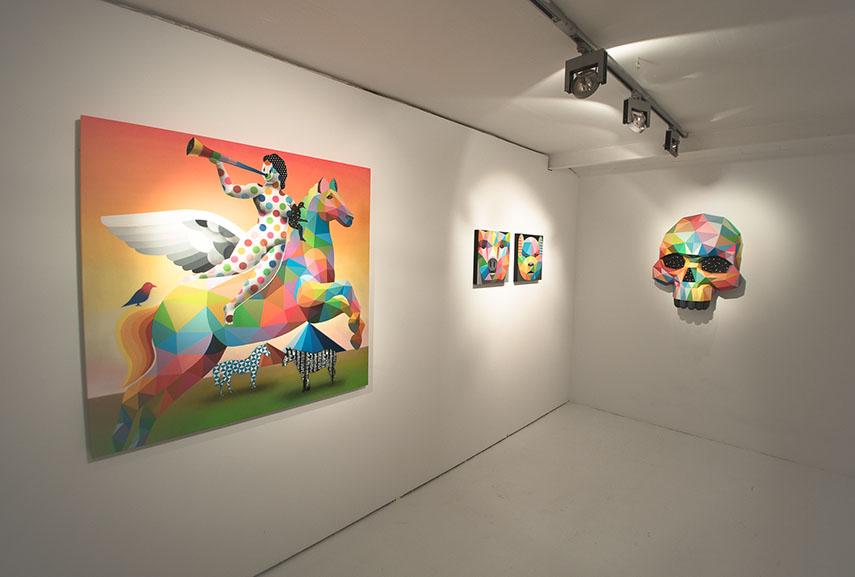 On The Future
Widewalls: Where do you see Delimbo in 5 or 10 years? What plans do you have for the future?
Seleka: I see it at least exactly the same as now, maintaining the artists who we are working with and incorporating new ones.
Laura: We don't usually think so much in the long term. We are always in the present and very receptive to changes. Delimbo is somehow an accumulation of plan b's. We love them!
Of course, we see ourselves doing what we love, as usual!
Widewalls: Do you think that in the world of street art the focus has moved from Barcelona to Madrid?
Seleka: Street art is in the street, and if people work on it any city can have a strong scene.
This does not depend on the institutions but on the creators, as well as on the amount of indiscriminate cleaning carried out by a municipality or government.
Of course, the city where most street art can be seen and experienced is Valencia. Not Madrid or Barcelona. Valencia is the place to be.
Widewalls: How do you see the future of street art in Madrid? What role would you like Delimbo to play in that?
Seleka: I don't know. At this moment, I don't consider us a part of that movement since our purpose as a gallery is to grow with our artists in the area of exhibitions. There are already many groups working to make interesting projects on the street in Madrid and we think it's great. This does not mean that we are not open to interesting proposals, but our work is very focused on positioning our artists within the art market. In Seville, we have two very interesting projects for this 2018, one of them with the North American artist Momo.
Laura: I agree 100% with what Saleka said. I would only like to add: Thanks for the interview!
Interview conducted by Laura Leisinger.
All images courtesy Delimbo Gallery.