After five years of publishing reports regarding art and finance, the Deloitte report for 2016 finally saw the light of day (a sunny one, indeed). It was widely spread during the past few months that China's art market is experiencing a slowdown, and sales in Europe and USA are a bit lower than in previous years. Nevertheless, what grabbed my attention is the citing that six out of eight worldwide art markets actually noted a positive trend in 2015 (regarding its sales, of course). This really isn't that surprising given that a lot of assumptions regarding the art market slowdown were made without going deeper into details (or gaining a wider perspective). The Deloitte report also underlines that expectations for the current year point to the trend remaining the same or having a positive direction. In experts' opinion, art and collectibles will sustain their place in the wealth portfolios of well-off individuals. If I may add, there will always be a place for artworks and/or collectibles in collections of wealthy people. At least history showed us that, and surely continues to.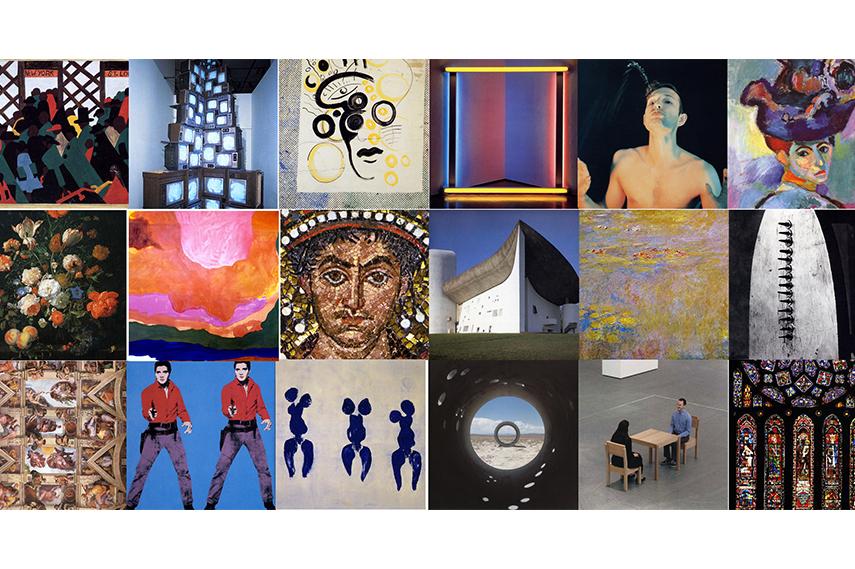 The Black Swan of 2016
Regarding the art market, the Deloitte report highlights that the current year is showing an increased uncertainty. One must know that uncertainty is something that humanity is dealing with from its beginnings. Not to worry about it, in my opinion. As I have already discussed, the number of ultra-high-net-worth individuals is definitely growing, and it shows the same tendency in the following decade. In plain English, the gap between the rich and poor will get even wider. When it comes to the art market - which is selling luxurious items - such fact is only giving more hope for generating higher sales in the following years. What supports this finding is that 36% of 400 surveyed private bankers and wealth advisors (I'm fascinated by that contemporary label) are expecting an increased wealth allocation to art, wine, classic cars, and the likes. Although globalization is hitting the high notes, it seems like local art markets are waking up a bit. The global contemporary art market shrank in 2015, but Artprice did announce a comeback in the first seven weeks of 2016 with a 7.2% increase. The Deloitte report highlighted that an unambiguous forecast, regarding global contemporary art market trend in the current year, cannot be made, because of the numerous macroeconomic factors affecting it. They are also announcing a negative outlook for Chinese and Russian art markets, although overall art market tendency is less positive than in previous years, but still not negative. The Deloitte report points out that, despite the decrease in art sales in 2015, people are still deeply interested in quality and origin of an artwork. In my view, that is the bottom line fact, which influences the art sales trend taken as a whole.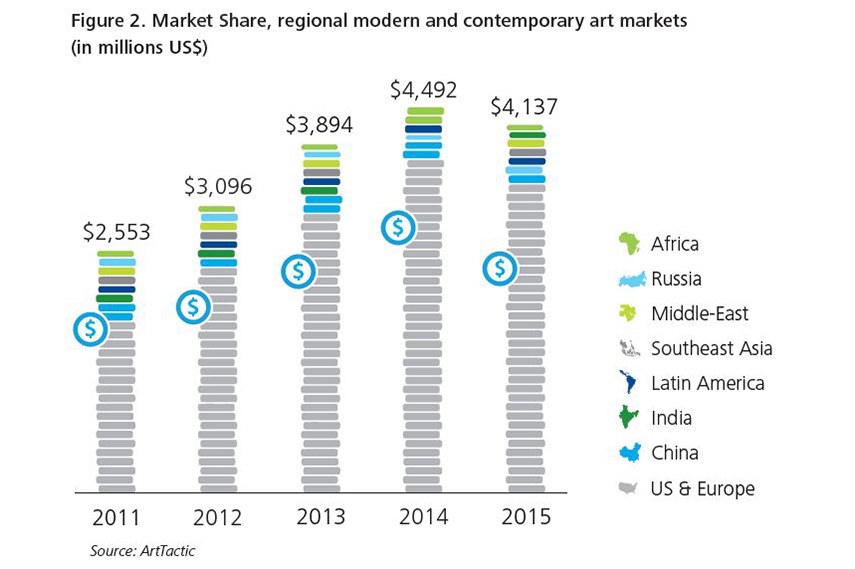 The Deloitte Report - The Final Judgment
Experts are not expecting an increased trend in 2016 when it comes to US and European contemporary art markets (after experiencing a five-year growth). They are actually quite neutral regarding it. But when it comes to China (affected by the financial market volatility and economic slowdown) and Russia, as stated previously, the outlooks are negative (a drop by 41% and 68% in 2015 respectively). It turns out, 42% of experts believe that the Russian contemporary art market will stabilize, and therefore claim that, the bottom-line has been reached. Indian modern and contemporary art market has a different story. Experts are anticipating a positive direction in these regions. Still, the most promising market is the Southeast Asian one, which continues to be one of the best performing art markets in 2015. Middle Eastern artworks auction sales rose 5% in 2015, and experts have neutral-to-positive expectations for this part of art the market in the current year. Latin American art market noted higher sales in 2015, although Brazilian art market experienced a breakdown. The Deloitte claims that experts have quite a neutral opinion regarding Latin American art market growth, although they believe that Brazil will continue to experience a negative trend in 2016. Not everything is bad in Africa, as one could suspect. African modern and contemporary art market is growing, but again, experts have a neutral-to-positive outlook.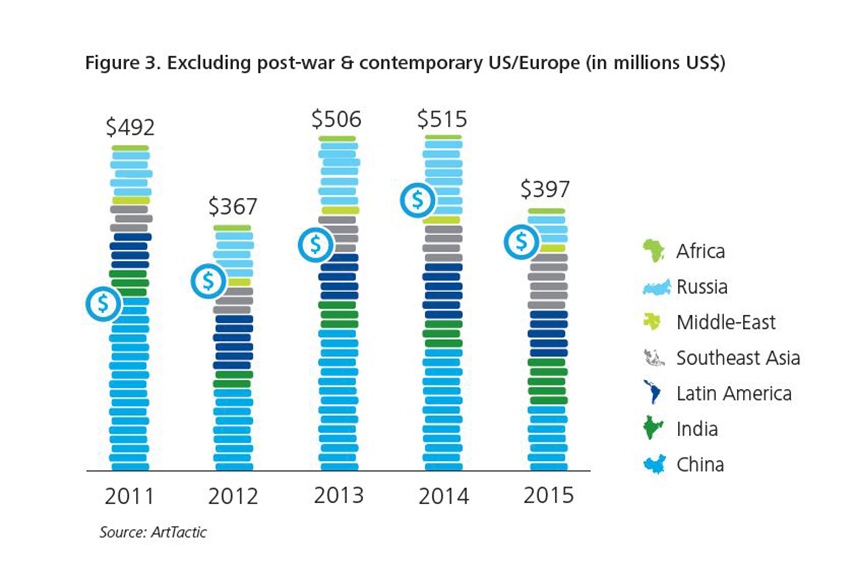 Are We Making Love or Having Sex?
What tickles my mind is the fact that, 72% of art collectors stated that they buy art for passion with an investment view in mind. At the same time, art-related services are recording increased demand, and investment value is showing a growing importance when it comes to motivation behind buying art. According to the Deloitte report, the collectors have an increasing interest in art investment funds. It looks like art collectors are expecting their wealth managers to pay closer attention to services such as art valuation and art collection management. At the same time, private bankers and wealth managers have a hard time with art market regulations, which is slowing their business development. What a pity, if I may say.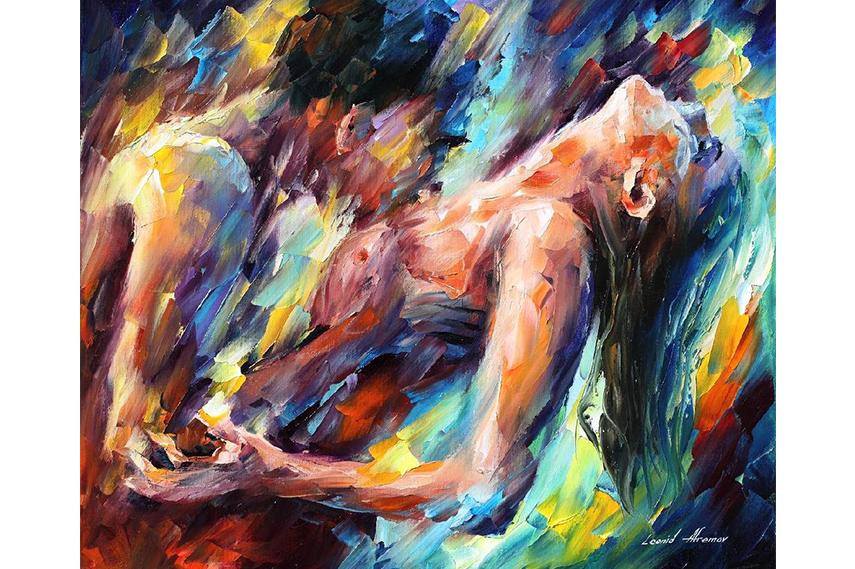 Art Inspires Businessmen as Well
When one tries to collect all the facts from the Deloitte report in one place, he/she comes to one conclusion - business. On the one hand, it's good that people have faith in art, believing that it will preserve its value, and therefore provide investment potential in the future. On the other hand, despite the claims that art collectors are buying art driven by passion, they are taught by the Housing bubble not to keep all the eggs in one basket. Diversification has always been the key for overcoming uncertainty and generating profits. While real estate can lose value (as it was proven) because of its tangibility, art remains the outstanding invention of humankind – a fundamentally intangible one. As long as art lovers continue to have faith in art, believing in its higher purpose, artworks will not lose their value. Let it be.
The Latest Deloitte Art and Finance Report
Editors' Tip: Art as an Investment?: A Survey of Comparative Assets
If you are interested in investing in artworks, I recommend going through this user-friendly guide. It is explaining the art's value while comparing it to other investments, such as property, shares and gold. Art as an Investment?: A Survey of Comparative Assets is providing the reader with interviews with experts in other markets, comprehensive research, and author's own experience in order to explain why is art being perceived as an asset.
Featured image: The Stock Market - Image via Stockmarket-watch
Images courtesy of: Stockmarket-watch, The Graduate Center of The City University of New York, The Deloitte Art and Finance Report for 2016, Leonid Afremov.