The belief that women are not fit to make sculptures stood strong for a very long time: until the early 20th century, when more and more female figures started to emerge as brilliant sculptors. This archaic persuasion that gradually turned into a stereotype was nurtured throughout the decades, but thanks to the likes of Meret Oppenheim, Louise Bourgeois, Phyllida Barlow, and Rachel Whiteread, the same has been altered and more and more women started practicing sculpture and claiming this medium for themselves as well.
Part of that contemporary wave are the French sculptress Delphine Brabant, and the Israeli ceramic artist Sharon Brill. Although the work of the former is quite rigorous and straight-edged, that of the latter seems more organic and sensual; they share a similar, if not the same, female perspective in terms of articulating the material and the medium itself.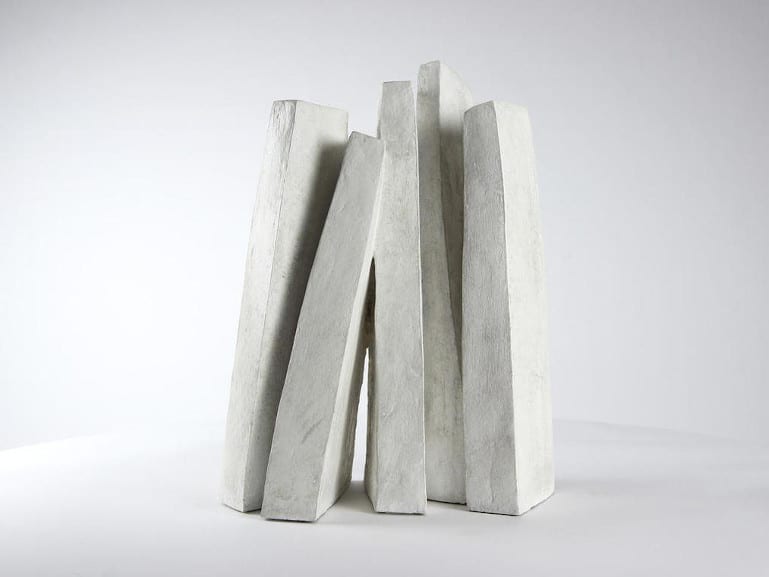 The Practice of Delphine Brabant
Delphine Brabant started sculpting in the 1990s as a student of Jean-Marc Lange. Initially, her practice was based on modeling live models. Through figurative representation, the artist started exploring the notion of groups and verticality. However, Brabant gradually moved to abstraction while still being inspired by verticality and ascension.
The clean geometrical forms led her to the concept of construction which she approaches architecturally by overlapping or layering numerous forms with simple lines.
Transfixed by the contradiction of forces, Brabant aims to establish harmonious compositions that unravel different contradictions related to the concepts of full and empty, strength and fragility, precarious stability, and rigorous sensitivity. The artist most often works with bronze, steel, concrete, plaster, and clay but also stone and wood, while staying focused on the rigor of direct shaping, as well as the potentials of those materials, their color, surface, and volume.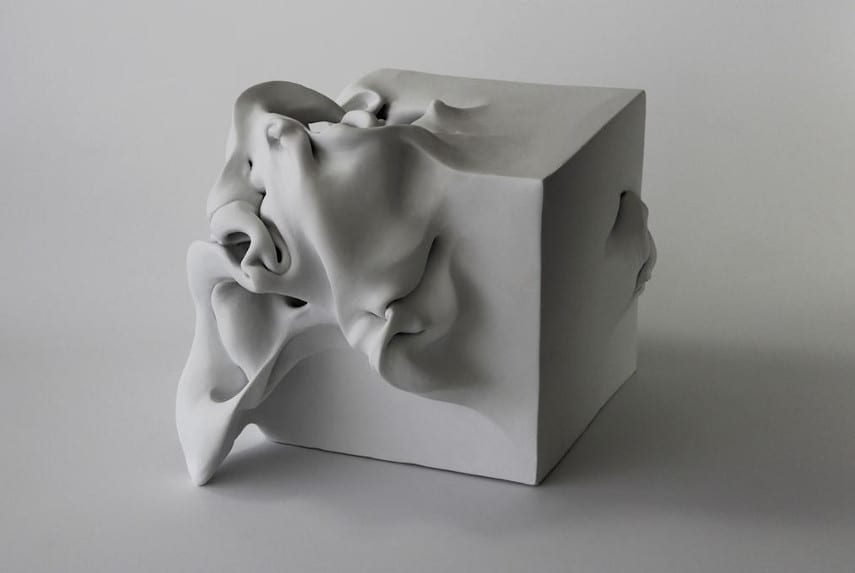 Under And Above The Sea After Sharon Brill
Sharon Brill, on the other hand, comes from graphic design, and practicing ceramics for her was a way to express a more subtle, tender side of her fancy. She started engaging with the medium after a residence in the USA at the Skidmore school, and she gradually fully devoted herself to it. Ever since, Brill has been creating an intriguing production of highly sophisticated works that reflect her interest in the sea.
Namely, all of the dynamic pieces Brill creates are made of wheel-thrown or slab-constructed and altered porcelain. Their surprising abstract shapes and twists unravel many associations if observed from different points of view meaning they are calling for imagination and discovery.
My work is created out of an internal drive as if emerging out of itself. What intrigues me is plunging in, creating spontaneously and intuitively, opening the layers, in search of what lies behind the overt, what is hidden within… The principle of my work lays in the integration of two concepts: on the one hand a meticulous and minimalist aesthetic, and on the other hand spontaneous research, limitless and intuitive.
Brill's new series Emergences stand somewhere in between sculpture and painting while illustrating the artist's immense craftsmanship and an ongoing fascination for the natural world. The volume of each work dazzles as each line, each gesture seems to be touched by invisible forces. Beyond the mystical or mythical, her works can be perceived as smooth and gentle representations of female genitalia that evoke sensual if not erotic connotations.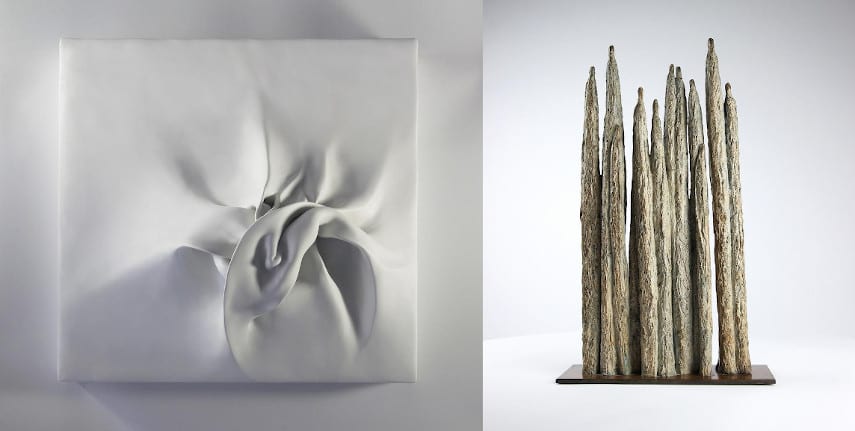 The Female Perspective
Although the practices of Brabant and Brill apparently show different preoccupations and forms, they seem to share the same interest in manifesting the female experience, whether it's a more rigid and rational or a more sensual and organic approach.
Aside from this gendered interpretation, both artists are trying to go beyond the constraints of the medium by offering innovative insights and fresh reflections that clear the path in further explorations of (manual) contemporary art-making.
Featured image: Delphine Brabant - Arch, 2020. Concrete sculpture colored in the mass, 35 x 32 x 29 cm; Sharon Brill - Twist 3, 2020. Porcelain, 19 x 37 x 24 cm. All images courtesy of the artists and Artistics.