By far the most influential journal of German Expressionism, Der Sturm (1919-1932) was international in outlook and was the first magazine to present numerous avant-garde foreign movements, artists and literature to the German public.
"Der Sturm" translates to "the storm", but the magazine's full title was Der Sturm. Wochenschrift für Kultur und die Künste (The Storm. Weekly magazine of culture and art).
Der Sturm was in many ways the creation of one man, Herwarth Walden, who edited and published the journal as well as build it into a true avant-garde brand.
Although it featured works by all sorts of major writers and artists, the Berlin-based publication was primarily the mouthpiece for German Expressionism during the Weimar Republic.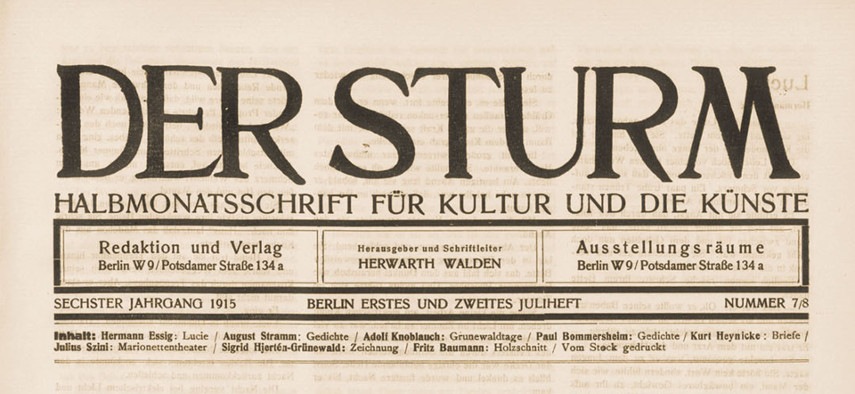 Herwarth Walden, The Founder of the Popular Der Sturm Magazine
The main editor of Der Sturm, writer and composer Herwarth Walden played an important role within the German avant-garde current by publishing texts about artworks of the early 20th century art. He also discovered countless young artists to whom he offered opportunities to be a part of the Der Sturm publication.
Herwarth Walden was very respected by his colleagues and pears, befriending many novelists and poets over the years, such as Richard Dehmel, Anatole France, Else Lasker-Schüler, Karl Kraus, Peter Altenberg, Max Brod, Heinrich Mann, Paul Scheerbart, Selma Lagerlöf and Knut Hamsum.
Sandra Brooke[1], head of the Marquand Library of Art and Archaeology at Princeton, describes Walden with the following statement:
Walden was kind of a genius for promoting art on a lot of different fronts - he served as a nexus point, introducing Germany and the world abroad to avant-garde developments.
Walden personally commissioned the artists to do the covers and inner illustrations of Der Sturm. This led him to meet many prominent artists of the day, such as Franz Marc, Max Ernst, Laszlo Moholy Nagy, Paul Klee, Gino Severini, Georg Muche, Oskar Kokoschka and Emil Maetzel.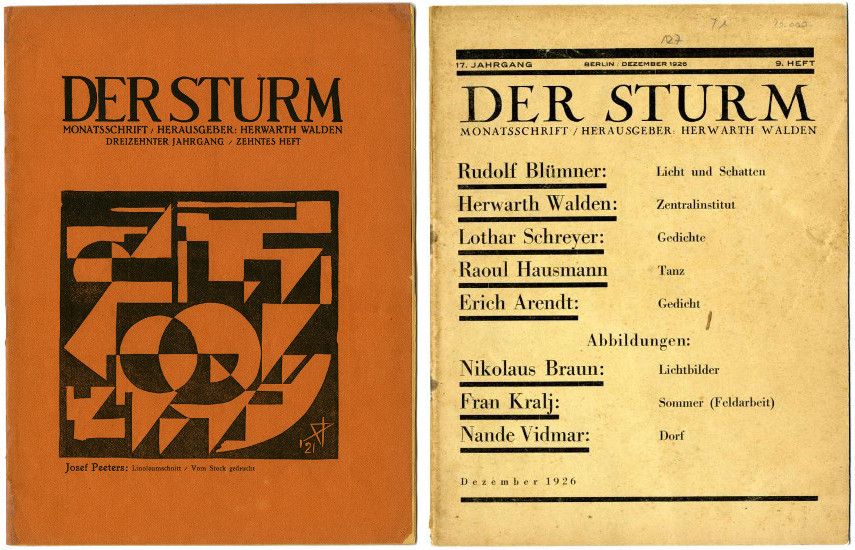 The Initial Spark of Der Sturm
The first issue of Der Sturm was published on March 3, 1910, and it was a weekly journal about literature and art criticism. It is estimated that it had a circulation of thirty thousand weekly copies at this time.
The following year, the works of Die Brücke artists were featured and, in 1912, drawings and prints by members of the Der Blaue Reiter group made an appearance - both of these groups represent crucial moments of German art history.
The name of the magazine was branded by Walden to describe the way in which modern art was penetrating the German community at the time.
For about ten cents, citizens had access to eight pages that included literary essays, poetry, texts about theatre, artworks, sheets of music and artists' monographs. The illustrations within were the mass-produced reproductions of the Expressionist, Cubist, Dadaist and Surrealist movements - Der Sturm even had tear-out centerfold prints that allowed readers to decorate their walls.
As the influence of the magazine continued to grow, Walden and his staff started to think on an international level. Soon, they introduced the work of the Italian Futurists to Germany.
By the end of 1913, the work of such major artists as Edvard Munch, Georges Braque, Pablo Picasso, Robert Delaunay, Jean Arp and Alexander Archipenko had all received their fair share of attention within the pages of Der Sturm.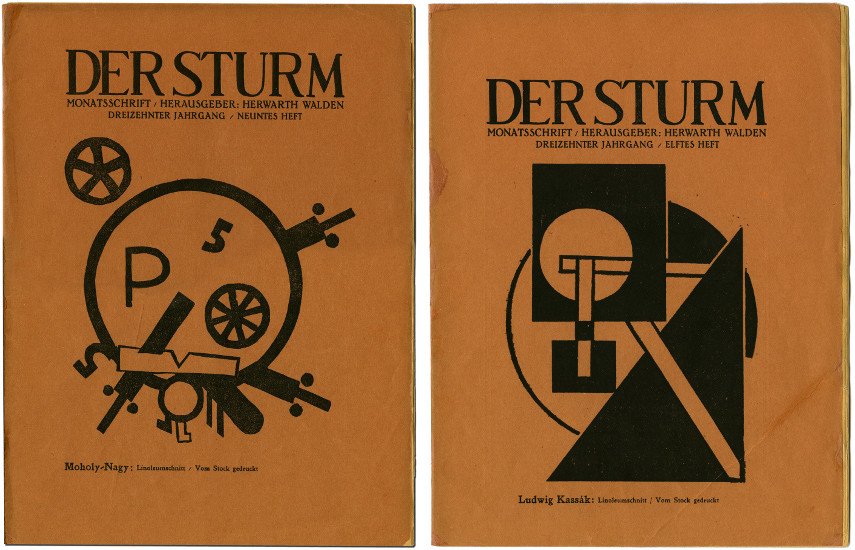 Maintaining Article Excellence for Years
After the flames of the World War I were slowly being put down, Der Sturm's activities had been extended into several other areas. In 1918, Walden initiated the Sturmabende, salons devoted to lectures and discussions about the visual arts and poetry. The Sturmschule,, a school for theatrical arts, painting, poetry and music, was also founded, as well as Sturmbühne, an experimental Expressionist theatre.
Of course, Der Sturm continued to publish portfolios of graphic works by prominent artists such as Wassily Kandinsky and Kokoschka, as well as original woodcuts, postcards, picture books and large color reproductions.
Linocuts and woodcuts accompanying literary contributions were usually made by Marc Chagall, Wassily Kandinsky, Paul Klee, Oscar Kokoschka, Franz Marc and László Moholy-Nagy.
Der Sturm continued to devote a lot of time to introduce the audiences to expressionistic, cubist and abstract theories. Although it enjoyed a lot of respect within the art community, Der Sturm stopped being published on a weekly basis in 1924 when it transitioned to a quarterly format.
Today, original copies of the magazine are rare despite the fact 336 issues were published throughout the years. However, Princeton's Blue Mountain Project has digitized all 336 issues in order to bring Der Sturm to the contemporary masses - you can read all of them online for free[2].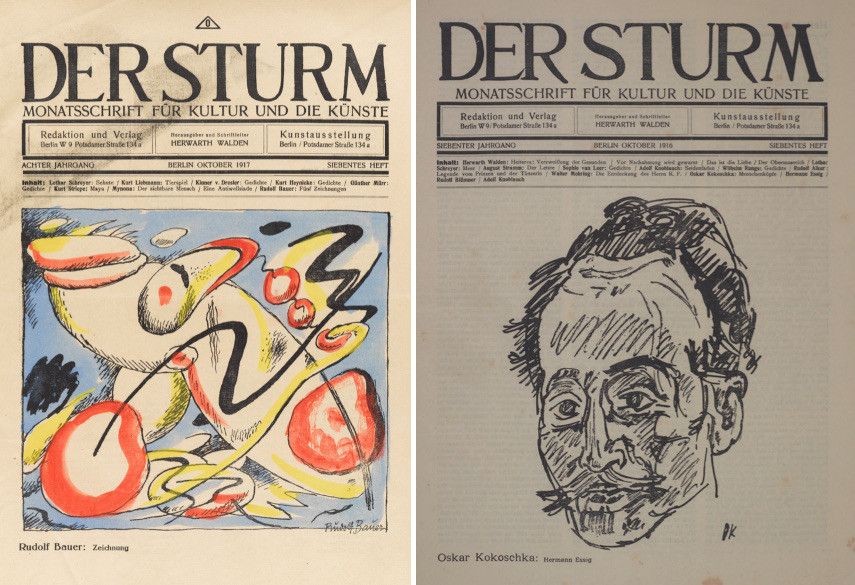 Galerie Der Sturm
"The Storm" also fostered the Galerie Der Sturm, a gallery Walden founded to celebrate the journal's 100th edition. This gallery became the focal point of Berlin's modern art scene.
Galerie Der Sturm started off by hosting an exhibition of Fauves and Der Blaue Reiter, followed by presentations of works by Italian Futurists, Cubists and Orphists. The gallery followed the cue from Der Sturm and Walden tried hard to have the two synchronized in terms of what's displayed.
Despite all of its success, the gallery declined in importance after the war and closed in 1924 at the same time the magazine decided to carry on as a quarterly journal.
Walden organized more than 200 exhibitions in the premises of the closed Berlin gallery until 1932 in order to keep the flame of Galerie Der Sturm as alive as possible.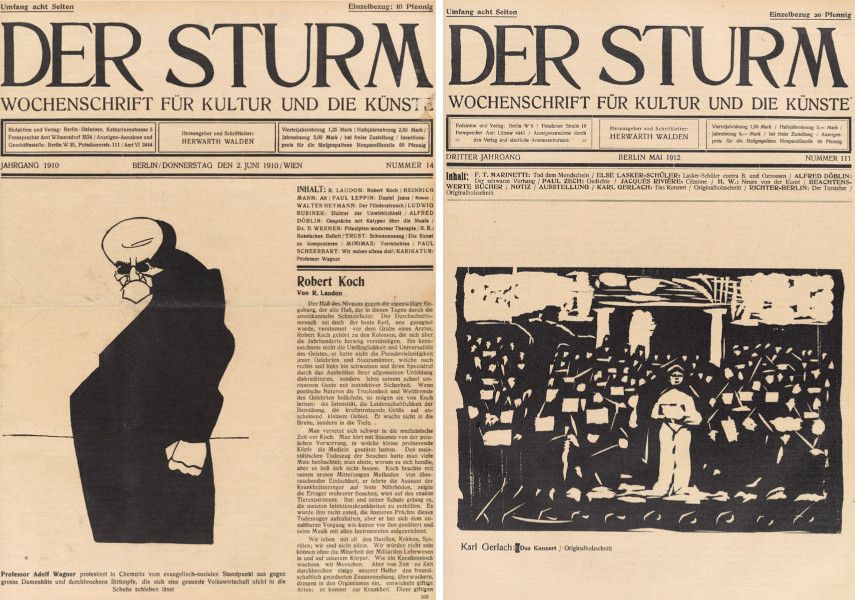 Giving the New Female Artists the Attention They Deserved
While a vast majority of the artists featured in Der Sturm were men, Walden did make a point of including female artists in his curatorial efforts. This is one of the most often overlooked accomplishments of the Der Sturm magazine as none other of its early-20th-century peers did such a thing.
Dutch painter Jacoba van Heemskerck and Swedish-born painter Nell Roslund (whom Walden married in 1912) were the most featured female artists of the time as the reproductions of their works made it into the pages of the magazine on a regular level.
It should also be noted that Galerie Der Sturm exhibited works by more than 30 female artists by the time of its closing, a lot more than most other galleries of the time who stubbornly ignored women of the art world.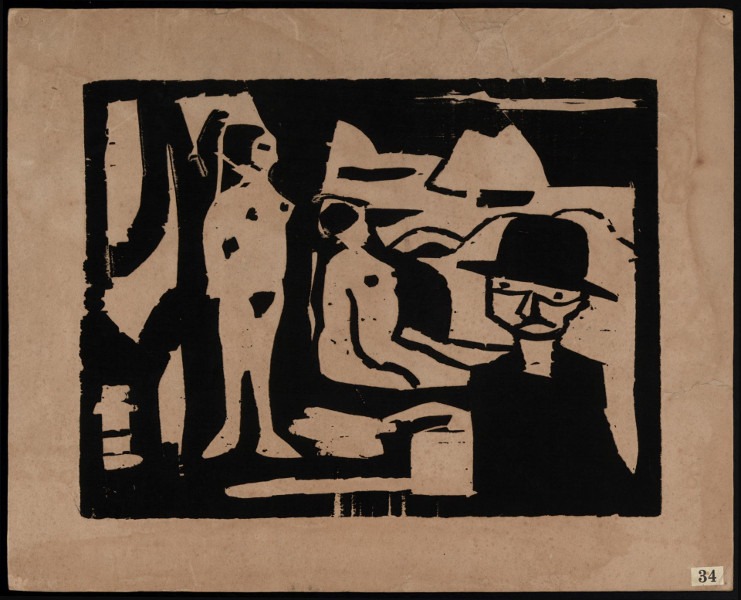 Spearheading Expressionism, Both Via Magazine Contents and Gallery
The main accomplishment usually attributed to Der Sturm was its spearheading of Expressionism, the Germany's leading avant-garde movement.
Flourishing in German during the early decades of the 20th century, it's tempting to think of Expressionism as nothing more than a kind of inchoate release of emotion onto the canvas. The truth of the matter is that this movement's roots were highly theoretical.
Expressionist ideas[3] about painting, drama, sculpture, dance, film and literature were all developed within the pages of Der Sturm.
It also allowed the movement to reach wider audiences and grow on an international level - Der Sturm played a crucial role in the French-German exchange of expressionist artists, which led to a special relationship between Berlin and Paris despite the hostilities between the two countries caused by war.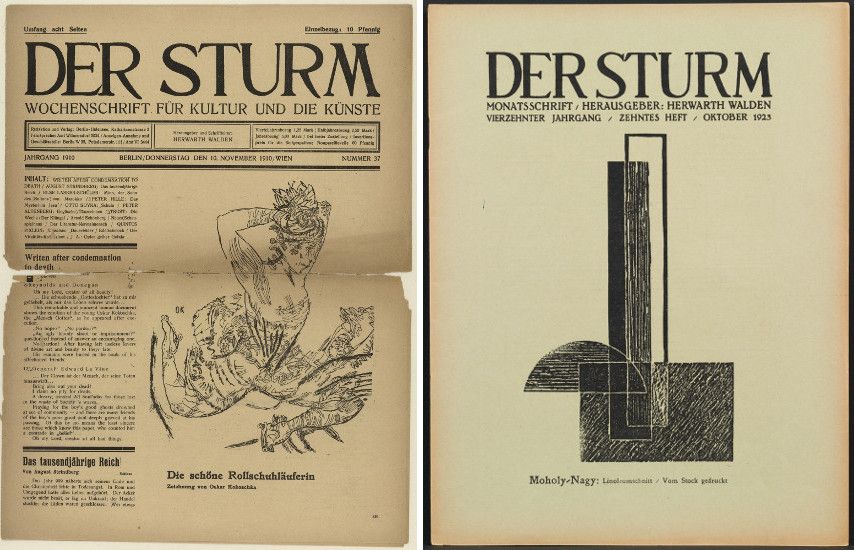 Der Sturm's End and Walden's Fate
During the peak of its activity, Der Sturm and all its associate projects were the unquestioned center of modern art in Berlin. The journal nurtured and allowed the avant-garde thought to grow within the German public for two decades.
Der Sturm saw its last issue get published in 1932 after the staff and Walden succumbed to difficulties that lead them to progressively reduce their activities. That same year, Walden, who'd joined the Communist Party a few years earlier, fled Germany due to the Nazi propaganda. He relocated to Moscow and left Der Sturm to its unavoidable fate - the magazine was deemed as degenerate by the leading regime soon after its editor left Germany.
However, Walden's story did not take a turn for the better after he arrived in Russia - because of his interest in the avant-garde, he was persecuted under Stalin's regime while in exile. In 1941, he was jailed for treason and died in a Soviet prison later that year.
Looking back at his life, it's fair to say that Walden didn't achieve the household-name status of some of his German Expressionist contemporaries. The legacy of Der Sturm is an ample evidence of his contributions and Herwarth Walden will forever be remembered as a crucial figure of the early German modern art.
References:
Dunne, C., July 18, 2016, Browsing the Pages of an Avant-Garde, Weimar-Era Magazine, Hyperallergic [Dec 20, 2017]
Der Sturm - 3 March 1910 - 1932 (336 issues), Blue Mountain Project [Dec 20, 2017]
McBride, D. B., June 1, 2006, Expressionism, Futurism, and the Dream of Mass Democracy, Hunter College, CUNY [Dec 20, 2017]
Featured images: Der Sturm Magazine Cover from April 1922, via openculture.com; From Der Sturm, print by Wilhelm Morgner (1912), via the Blue Mountain Project; Oscar Kokoschka - Herwarth Walden, from Der Sturm's Volume 19, Number 7 (October 1928), via the Blue Mountain Project. All images used for illustrative purposes only.