One of the most anticipated exhibitions of the year, Desert X came back to Coachella Valley for its second edition. Spreading over 55 miles of Southern California's Coachella Valley and beyond, this enormous art biennial opened under the dual themes of politics and poetics, exploring ideas of site-specificity, the frame of post-institutional art and the interactive possibilities that attend it. Free and open to the public, the recurring international contemporary art exhibition is curated by returning Artistic Director Neville Wakefield and 2019 Co-Curators Amanda Hunt and Matthew Schum.
This year's edition brings together some of today's most recognized international contemporary artists: Iván Argote, Steve Badgett & Chris Taylor, Nancy Baker Cahill, Cecilia Bengolea, Pia Camil, John Gerrard, Julian Hoeber, Jenny Holzer, Iman Issa, Mary Kelly, Armando Lerma, Eric N. Mack, Cinthia Marcelle, Postcommodity, Cara Romero, Sterling Ruby, Kathleen Ryan, Gary Simmons and Superflex. They have activated the desert with 19 site-specific installations and performances scattered across the desert sands and set against the dramatic vista.
Sponsored by electric vehicle and mobility services company Project Evelozcity, Desert X has prepared a series of content-driven media activations that will amplify the engagement of local and international audiences interested in art, culture, urban living, sustainability and the environment.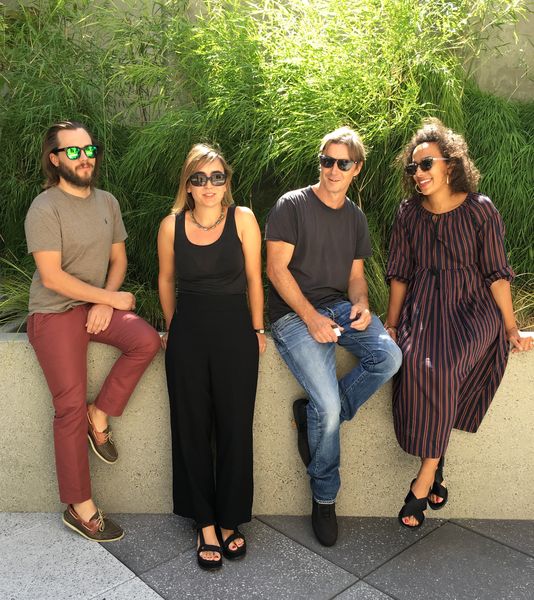 Desert X 2019 Artworks
As Neville Wakefield explained, works at Desert X 2019, which are scattered around the Palm Springs Area, engage with "a range of ecological, environmental and social issues that have been driving conversations about our role in the Anthropocene."
The acclaimed artist Jenny Holzer has prepared a piece titled Before I Became Afraid, an installation of large text which lays bare the horror and anguish of gun violence through poetry and testimony by family members, survivors, and activists who offer their accounts of grief, anger, solutions, and strength. The piece was temporarily pulled for out of fears that it would disturb a local bighorn sheep population already reeling from a pneumonia outbreak.
Set in two locations across the U.S.–Mexico border, Pia Camil's Lover's Rainbow is made from painted and bended rebar as a way to re-insert hope into the land, but also throw light into the current immigration policies, prompting viewers to see things from two perspectives.
The work of Armando Lerma reflects the lives and traditions of the Mexican farmworker community in his hometown of Coachella. Including various images from the American Southwest and beyond, his mural Visit Us in the Shape of Clouds illustrates a story of migration and the transitory.
A Chemehuevi tribal citizen and artist, Cara Romero created a new photographic series titled Jackrabbit, Cottontail & Spirits of the Desert which responds to the ancestral lands of the Cahuilla, Chemehuevi, Serrano, and Mojave people. Mounted on a series of billboards, these images are manifestations of an oral tradition, bringing visibility to the individuals, cultures, and history that continue to inform this landscape.
A Paris-based performance and video artist who focuses on anthropological and urban dance forms and their relation to nature, the elements and figuration, Cecilia Bengolea created a work titled Mosquito Net. A sculptural imagination of a fantasy street-dance performance set at the edge of the Salton Sea, it explores the way humans and animals (real and imaginary) observe each other.
Cinthia Marcelle's installation Wormhole occupies storefronts in the Coachella Valley cities of Palm Springs, Cathedral City, Indian Wells, Indio and Coachella as well as on in the city of Tijuana, Mexico. Comprised of television monitors which display the exterior of one of the storefronts in the grouping, the work creates a kind of physical, temporal, and subjective crossing between spaces.
The artist Eric N. Mack created a living architecture piece, Halter, at a defunct gas station at the edge of the Salton Sea. Using silks and tulles stretched across the building with a rope, the artist reframed its relationship to itself and its surroundings. Visitors can move between and among the folds of undulating, colorful, and lush fabrics.
A sculptural installation Recapturing Memories of the Black Ark by Gary Simmons serves as a modifiable stage for performance, allowing performers to erase and reset the context for their work. It includes a series of speakers hand-built from vintage parts and wood scavenged from the Treme neighborhood of post-Katrina New Orleans.
Titled Surrogates, a film about things to be used, in order of appearance, by self or others, for touching upon larger, insidious, or different things, Iman Issa's work consists of a film-set prop of a refining facility accompanied by a written description of the main sequence from the film featuring the prop. It deals with both the fossil fuel industry and the unnecessary use of water to transform the desert into an unnaturally greener landscape.
An interactive sculpture in the form of concrete scales installed at an elevation above the Salton Sea, Iván Argote's A Point of View invites the viewer to literally change his or her perspective by ascending. Messages written in Spanish and English upon each step remind the audience to ground themselves in the here and now and to consider and reflect on the history of this particular spot.
John Gerrard's Western Flag is a massive video screen that superimposes a digital landscape of the world's first major oil find in Spindletop against the actual one, featuring a flagpole spewing noxious-looking black smoke representing carbon monoxide. A non-durational piece, it is run live by software in exact parallel with the daytime of the real site in Texas.
Julian Hoeber created two installations in one site - Going Nowhere Pavilion #01 which is a Möbius strip made from concrete breeze blocks in a variety of fleshy pinks and browns and Executed Variant DHS #1 (Q1, CJ, DC), the painting sited in a pool connected to the property.
Elucidating the connection between nature and technology, Kathleen Ryan's Ghost Tree is a meticulous reconstruction of the iconic Desert Fan Palm. This artificial palm highlights the tension between natural forces and artificial structures, questioning the balance between nature and human industry.
Mary Kelly created three bus stations inspired by the anti-nuclear feminist group Women Strike for Peace, formed in 1961. Bringing bygone vestiges of the Cold War back into our contemporary context, Peace is the Only Shelter takes on renewed significance amid today's escalated tensions worldwide.
Set in one of the windmill fields that dot the local landscape, Nancy Baker Cahill's Revolutions is an augmented reality piece which produces a singular experience for each viewer due to the ever-changing conditions of the desert. By using the 4th Wall app, energy generators transform into a two-minute-long constantly evolving vision of psychedelic explosions.
A sound experience set inside the Wave House, a Walter S. White architectural gem that's currently under renovation, Postcommodity's piece titled It Exists in Many Forms amplifies complex sensations that attempt to intimate the desert as design element and object of allurement. It emerged from in-depth conversations between the artists and owners of midcentury homes in Palm Springs.
Sterling Ruby created a large boxlike structure coated in what the artist describes as an "intense retina-burning" fluorescent orange paint that grabs the viewer's eye from far down the highway. Titled SPECTER, the piece it appears as an apparition in the desert - a ghostly object, set apart from the natural environment, hiding in plain sight.
Created by Steve Badgett and Chris Taylor, the solar-powered Terminal Lake Exploration Platform explores remote bodies of water. Equipped with a floating laboratory, with necessary life support and research infrastructure, it invites us to look more closely at our environment and its problems through the fascinating lens of the Salton Sea's history.
The Coachella Valley was initially named Conchilla by the early Spanish settlers, after the unexpected discovery of an abundance of fossilized marine life. The Danish collective Superflex created a bright pink sculpture titled Dive-In which refers to this geological history and the not-so-distant future to address the threat of global warming and rising water levels.
Desert X 2019 Map
Practical Information
Desert X is taking place across the Coachella Valley and beyond, expanding to the south to explore the ecological bellwether of the Salton Sea, and further across the border into Mexico. It will be open to the public until April 21st, 2019.
Between March 1st and March 3rd, Desert X will be hosting a symposium titled Desert, Why? at Annenberg Theater at Palm Springs Art Museum and at Desert X artists' sites. A series of performances, panels, tours and receptions will highlight both the exhibition Unsettled, currently on view at Palm Springs Art Museum, and Desert X 2019.
Visitors can pick up a map, browse information, purchase the newly-released "Desert X 2017" catalog and view Encyclopedia (Desert X Edition), a new artificial intelligence (AI), created by Johannes Heldén in collaboration with Håkan Jonson at three Desert Hubs located in Indio, Palm Desert and Palm Springs.
A special Desert X printed program and map of the 2019 installations will be produced by Palm Springs Life Magazine and will be included in the March 2019 issue of the magazine.
A new, first-time Desert X podcast series hosted by design journalist Frances Anderton will explore the environmental, ecological and social themes in the 2019 Desert X exhibition. It will be available, from the commencement of the exhibition, on iTunes, other podcast apps and at Desert X website.
For more information, directions and hours, visit the official website of the biennial.
Featured images: Sterling Ruby - SPECTER, 2019; Superflex - Dive-In, 2019; Steve Badgett and Chris Taylor - Terminal Lake Exploration Platform, 2019; Postcommodity - It Exists in Many Forms, 2019; Pia Camil - Lover's Rainbow, 2019; Nancy Baker Cahill - Revolutions, 2019; Mary Kelly - Peace is the Only Shelter, 2019; Kathleen Ryan - Ghost Tree, 2019; Julian Hoeber - Going Nowhere Pavilion #01, 2019; John Gerrard - Western Flag, 2019; Ivan Argote - A Point of View, 2019; Inman Issa - Iman Issa, 2019; Eric Mack - Halter, 2019; Cecilia Bengolea - Mosquito Net, 2019; Cara Romero - Jackrabbit, Cottontail & Spirits of the Deserts, 2019; Armando Lerma - Visit Us in the Shape of Clouds, 2019. All images by Lance Gerber, courtesy of Desert X.