UNIX Gallery from New York is organizing an exhibition of Los Angeles-based artist Desire Obtain Cherish. The visitors of the Desire Obtain Cherish exhibition in this great art space will have an opportunity to enjoy the new body of work by an amazing artist. This new body of work features large-scale paintings - a significant departure for the object-oriented artist - that challenge the decision-making process humans undergo while chasing the elusive state of happiness. Happiness can be understood in various ways – through sex, finances, beauty, intelligence. Jonathan Paul, aka Desire Obtain Cherish, is fascinated with the pursuit of happiness and the decisions involved in such a journey – and it's the main motif in this body of work. The show at UNIX Gallery is titled Servant to Infinite Distraction.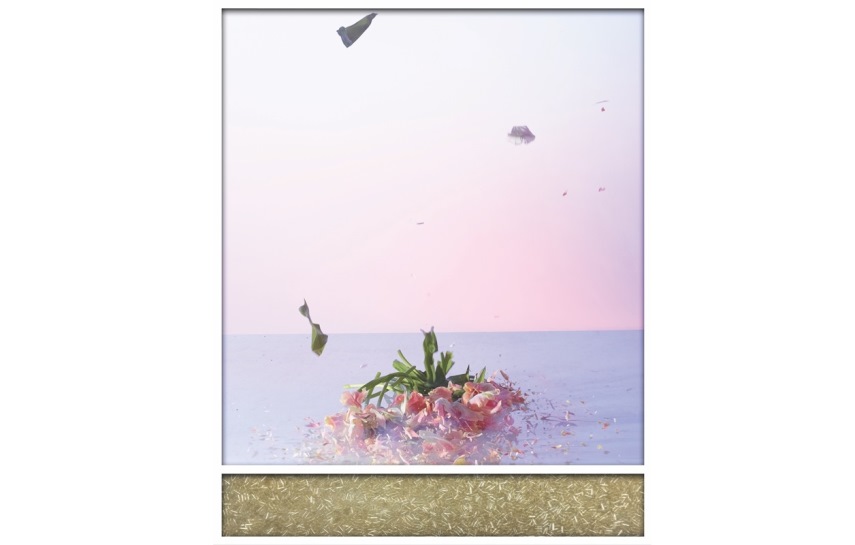 Pursuit of Happiness – The Art of Desire Obtain Cherish
Jonathan Paul, better known as Desire Obtain Cherish or DOC, is an American artist who explores contemporary obsessions with sex, desire, drugs, gender, luxury, media, commerce and fame. Born in 1975 in California, Paul first made a name for himself in Los Angeles as a street artist in the early 2000s. He earned his BA in Fine Arts from Parson's School of Design. With a background in fashion advertising and art theory, Desire Obtain Cherish has become known as a pop sculptor who fuses street, pop, conceptual, and appropriation art with popular culture to make his own unique satirical message. In his latest body of work that will be exhibited at UNIX Gallery, Desire Obtain Cherish has focused on the notion of happiness, by creating (among other things) still life paintings. Studying inanimate objects like flowers, food, and assorted treasures has rich implications. Desire Obtain Cherish references this tradition with his new body of work with flowers, a staple in still life paintings, then inserts pills, the contours of archetypical anime figures, and globs of paint that dwarf the proportions of the objects they obscure.
 Desire Obtain Cherish Talks about the Exhibition

Servant to Infinite Distraction
The multi-panel piece Servant to Infinite Distraction pits this anime landscape against rich, expressionistic brushstrokes. A battle of signifiers, the luminous and purposefully abstract marks dominate earthly desires much like a network censor. Ironically, the luxurious surface of the paint is a much more attractive element than the two-dimensional figures it obscures, creating an odd tension of elements. What will attract visitors' attention (among other things) will certainly be a massive piece that is made-up of over 12,000 pills - The Feast of 1,000 Likes. This piece (as the title suggests) references a social media lens for success. More than 12,000 pills collectively feature a harmony of colors and shapes that burst toward the viewer. The flowers, shards of vases, bits of paint, and atmospheric color blast outward like confetti as they are suspended in time.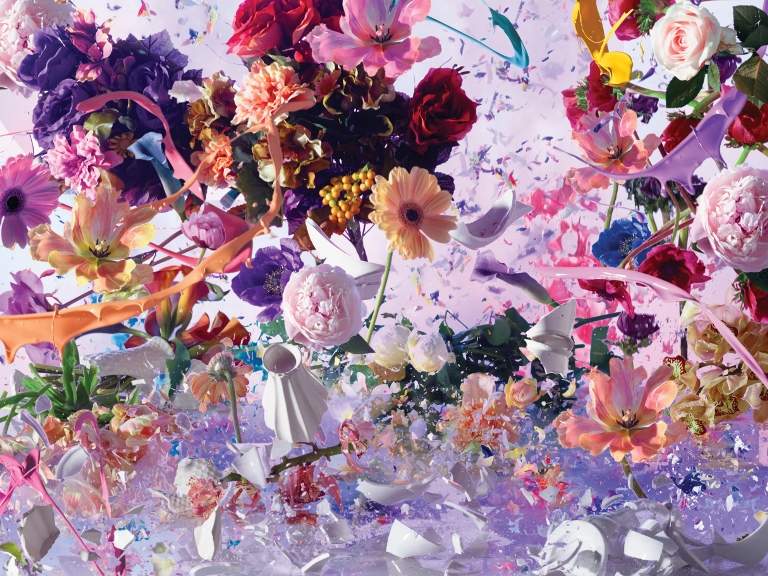 Desire Obtain Cherish Exhibition at UNIX Gallery
Until recently, we could enjoy amazing exhibition of Machiko Edmondson that was titled Everything In Equal Measure. Now, we have a great opportunity to enjoy new works by Desire Obtain Cherish. The exhibition Servant to Infinite Distraction marks the third solo show of his work at the gallery. The show will be on view from May 5 until June 18, 2016 at UNIX Gallery, New York (532 West 24th Street). The opening reception is scheduled for May 5, 6-8pm.
Featured Image: Desire Obtain Cherish  - Feast of 1000 Likes, detail. All Images courtesy of UNIX Gallery.