Stephen Romano Gallery is delighted to present an exhibition curated by DH Dowling, entitled DESTINESIA. DH Dowling is an award-winning producer, director, and writer, and has won Telly awards, a Mobius award, a Mercury Award, New York Festival Awards, Monitor Awards, ITVA awards, and Society of Technical Communicators Awards of Distinction. He is also a freelance photographer and is launching his debut novel soon, but the job he is proudest of is teaching independent living skills to people with traumatic brain injury, especially brain injured artists, and in our book, that makes him more than amazing.
This exhibition at Stephen Romano Gallery is truly a work of art on its own. The title DESTINESIA is a compound of two words, Destiny and Amnesia, that symbolize the realm the artists frequently visit in their creative processes, the place where night is luminous and where forgetting is power, not a weakness. Destinesia is a place where we go to lose ourselves in order to find ourselves. Destinesia is a place where dreams and reality intertwine, where we tap into our creative pool and communicate with our elusive muses, where we find the strength to create and desire to live, the place where we are free, and where we forget to remember. Destinesia is the place where art makes us see the world as it really is.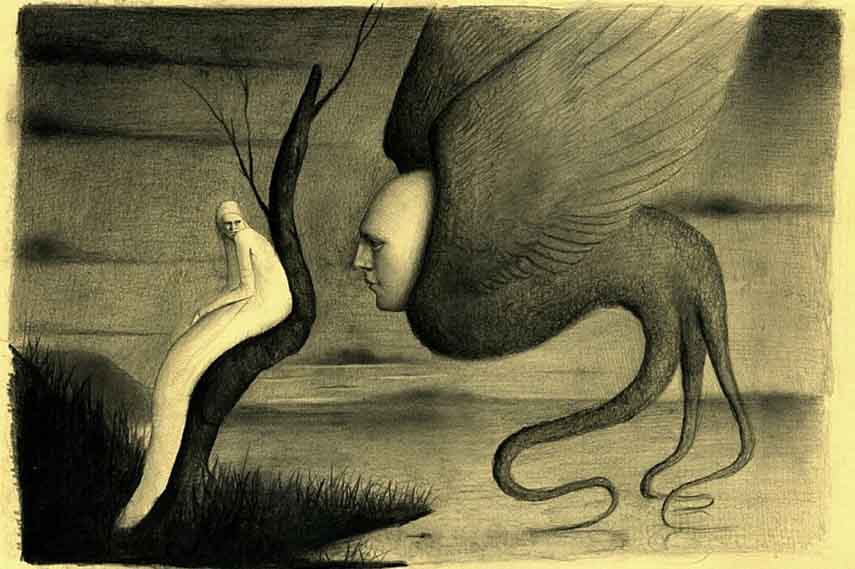 DESTINESIA Exhibition
Assembled for the first time at Stephen Romano Gallery, the 33 artists will offer their unique and hauntingly beautiful works that investigate the transience and the art of forgetting. They come from Poland, Italy, Spain, Sweden, Germany, England, and the United States, they are surrealists, abstract expressionists, hyperrealists, minimalists, illustrators, representationalists, collagists, sculptors, and poets. Their works are both analog and digital, they are spiritual and secular. They use colored pencil, scissors, ink, marker, spray paint, oil on canvas, acrylic on panel, found objects, bristle brushes, palette knives, silver nitrate, computers, film, graphite, Polaroids, silverpoint, aluminum leaf, historic nails, paint on reclaimed wood, and words. They invite the viewers to cross the threshold of dreams with them and find their true identities within their works.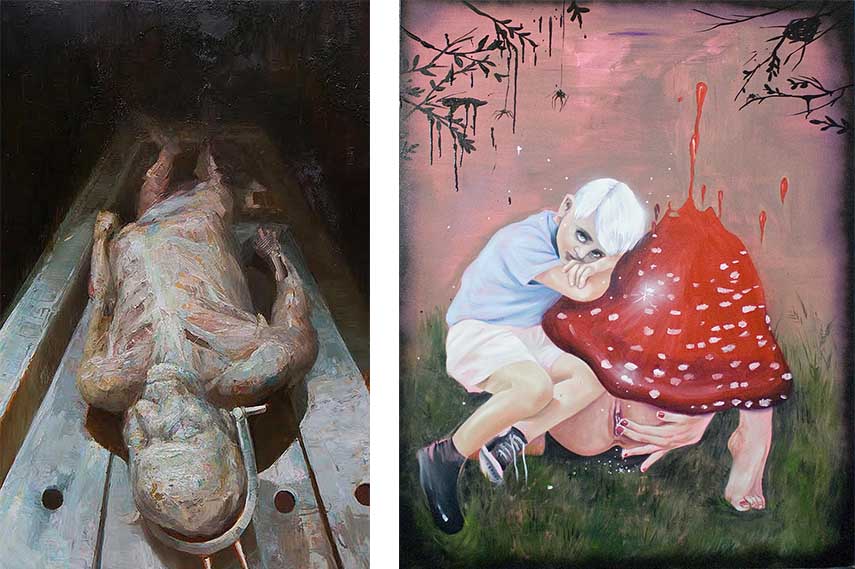 Artists in the Exhibition
Stephen Cefalo is a Brooklyn-based artist who paints human figures rooted in classical tradition with a post-modernist twist. Cefalo was an Artist in Residence at the University of Arkansas at Little Rock's Painting program and has taught painting at the Art Academy of Cincinnati.
Jeanette Marie Clough is a Los Angeles poet whose collection called Flourish was a finalist in the Seismicity and Blue Lunx annual book competitions. She was an editor for Solo, A Journal of Poetry, and an author of two artist's books published by Conflux Press, Stone, and Tx. She was Artist in Residence in Joshua Tree National Park in 2012 and won numerous awards for her poetry.
Robert Steven Connett is a Los Angeles-based artist who creates gemlike universes. His meticulously executed pieces are exceptionally complex and cerebral. He draws inspiration from flora and fauna, micro and macro, and land and ocean. He masterfully creates geometric patterns depicted with illuminated detail and presenting other-worldly creatures.
Marsha De La O is a Los Angeles poet whose book Antidote for Night won the 2015 Isabella Gardner Award. She is an editor of the literary journal Askew and has won a Morton Marcus Poetry Award in 2014. Her first book Black Hope received the New Issues Poetry Prize from the University of Western Michigan, as well as the Editor's Choice Award.
Julie Dermansky is a Louisiana-based transdisciplinary artist who focuses on social injustice and on documenting the impact of society on the natural world in her works. She makes photographs of arresting scenes that move and cause a whirlwind of emotions within the viewer. She has documented the spills in the Gulf of Mexico in 2010, as well as the Keystone XL pipeline and hydraulic fracturing. She is an affiliate scholar at the Rutgers University Center for the Study of Genocide and Human Rights.
Joseba Eskubi is a Spanish artist who makes abstractions that put the organic shapes on a desolate plane. His works are dynamic and ambiguous, they are simple, yet breathtaking, and they drag the viewer into the vortex of conflicting meanings that coexist inside the small universe of his pieces.
David Fullarton is a San Francisco-based artist who creates mixed media collages. He often uses words in his works and investigates the themes that are rooted in the human condition. His wit and humor make his pieces speak to the viewers, and inspire them to do more of what makes them happy.
Ian Gamache is a Montreal artist who investigates the themes of isolation, identity, anxiety, contamination, and human cruelty. He uses odd materials such as paper bags, record covers, used books, and torn cardboard to create paintings and drawings that depict the contemporary society and offer the glimpse into his personal experiences.
Karto Gimeno is a Spanish photographer whose images are metaphysical and theatrical abstracts, that often dance on the thin line between the familiar and the surreal. His works remind of Fellini's films, and his mastery of light is what makes them seem like scenes frozen in time.
Mark Gleason is a San Francisco-based artist whose works explore the intimacy and the enchanting sense of foreboding. He is often inspired by abandoned places and animals, as well as the human figure and also by music, film, psychology, literature, and philosophy.
Gregory Jacobsen is a Chicago-based artist who creates the paintings that carry both joy and pain within them. He offers raw, unedited, naked depictions of what inspires him, such as the small bits and pieces that "obsess him", as he said. Those could include the ill-fitting shoes, overbites, crooked noses, teeth, and little flab hanging over a waistband.
Lee Jeffries is an English artist who is also a top-notch storyteller. He creates magical street portraits that investigate the true human nature. He gives his subjects the light, instead of casting them into the darkness, he captures that little gleam that everybody has in their eyes, and tells their story through his works.
Clay Lipsky is a Los Angeles-based fine art photographer and an Emmy Award-winning graphic designer. His photographs have been published and exhibited all over the world, at the United Nations in Vienna and NYC, National Museum of Contemporary Art in Romania, Lishui Photo Festival in China, Annenberg Space for Photography in the USA, The Smithsonian's National Atomic Testing Museum, and in the Russian Esquire.
Sarah Maclay is a Los Angeles poet and the author of Music for the Black Room, The White Bride, and Whore. Her poems and criticism have been published in The American Poetry Review, The Writers' Chronicle, FIELD, The Best American Erotic Poetry: From 1800 to the Present, Poetry International, and many others.
Los Angeles poet Holaday Mason is the author of A Fable in Poems, The Red Bowl, Towards the Forest, and Dissolve. She was a nominee for Pushcart twice and has been published in Poetry International, American Literary Review, Pool, Smartish Pace, Runes, Colo, and The River Styx, to name a few.
Tom McKee creates ink and prismacolor drawings that are very personal self-examinations that reveal the fact that we all have primal instincts and unspeakable secrets within. He believes that animals represent a more bestial side of man and that machines are symbols of man as a creator.
P54 is an Italian painter whose pieces are deeply symbolic and focus on the soul and tales of loneliness. He has produced two pieces for the Destinesia at Stephen Romano Gallery, Life Wishes Me Dead and Perpetual Struggle.
Carol Prusa is a Florida-based artist who makes strange and beautiful works that investigate the notions of origin, mysticism, and sacredness. She often uses fiberglass, acrylic, and creates silverpoint drawings.
Victor Rodriguez is a Mexico City-born painter whose works are highly intimate and cinematic. His pieces have been exhibited all over the world since 1990. He lives and works in New York City.
Brooke Shaden is a Los Angeles' artist whose photographs are cinematic and evoke the sense of tension and visual literacy. She was the youngest artist in the Digital Darkroom exhibition at the Annenberg Space for Photography, and the author of Inspiration in Photography: Training your Mind to Make Great Art a Habit.
Alessandro Sicioldr is an Italian painter whose pieces are spiritually inquisitive and mysterious. He is an artist whose journey can be compared to that of Dante, where he encountered mythical figures and enigmas.
Linnea Strid is a Swedish artist who produces realistic portraits that are at the same time observations of the human figure. She blends the dramatic, erotic, and intoxicating into one image, creating the breathtaking piece that leaves the viewers in awe.
Fred Stonehouse is a Wisconsin-based artist whose paintings blend the spiritual with the diabolical. He is a storyteller who creates exceptionally beautiful works that compel the viewers each time.
Jaya Su Su is a German photographer whose works are strikingly enigmatic, they carry a mystical tone, the intimacy, and maturity. Jaya is an artist who sees what most fail to see. She depicted attractive women and men in a creative game with the camera.
A.W. Sommers is a Brooklyn-based painter who depicts dreams in an alchemist manner, as a tinkerer, and as a philosopher. For her, art is a verb, and she is a medium through which that art finds its way into the physical world.
Alexandra Urban is a Polish artist who paints sexually-charged images that are intimate investigations of her personality, of her as a brave and a fascinating person. Her works have been exhibited numerous times in Poland and throughout Europe.
CW Wells is a Pennsylvania-based artist who repurposes old doll parts and discarded action figures, who assembles her constructions with her ceramic creations and evoke the sense of darkness and humor. She has an army of fans thanks to her Internet persona, Snailbooty, active on Flickr.
Heather Wilcoxon is a San Franciscan artist whose works are lyrical and aesthetically adventurous. Her works are in several permanent collections, such as those of The American University Museum, Washington DC, The Fine Arts Museum, Achenbach Foundation for Graphic Arts in San Francisco, and the De Saisset Museum and Triton Museum in Santa Clara, to name a few.
Dan Witz is a Brooklyn-based hyperrealist painter and is considered to be one of the pioneers of the street art movement. For Destinesia at Stephen Romano Gallery, he will exhibit two cityscapes that investigate the notions of solitude and recall the mastery of the American realist painter Edward Hopper.
Sandra Yagi is a San Francisco-based artist who is inspired by science and nature and fuses them with classical aesthetics. Her paintings explore the myth and symbolism of the basic human drives.
Santiago Ydañez is a Spanish artist who creates mysterious images surrounded by dreams and nightmares. He is inspired by dissected and living animals, children, and landscapes.
Sarah Zar is a Brooklyn-based artist who juxtaposes dream fragments with memories from the past. Her works are novels told through paintings.
Adam Carnes is an emerging talent from Brooklyn. He creates gorgeous neo-expressionist abstracts that seem to break the laws of time and space.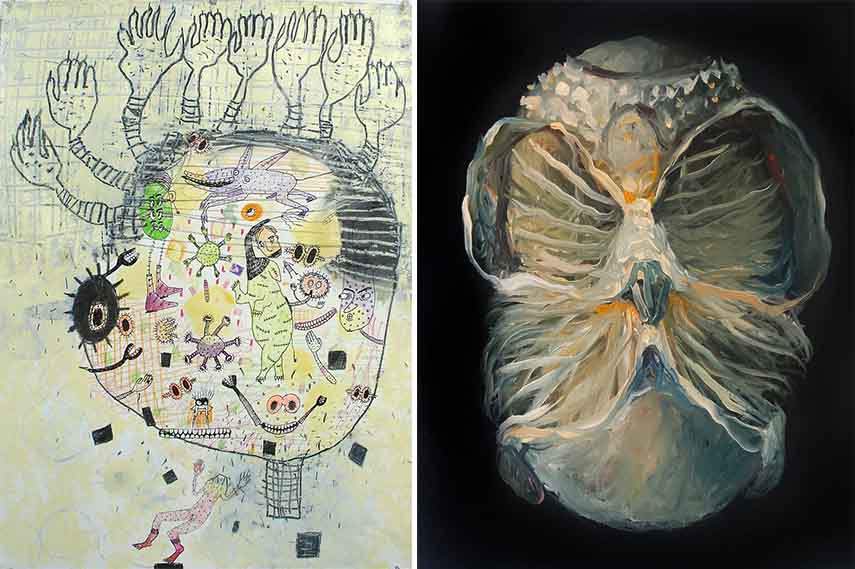 DESTINESIA at Stephen Romano Gallery
This monumental exhibition will open on June 2nd, 2016, from 5 PM to 9 PM at Stephen Romano Gallery. It will be on view from June 2nd to July 29th and curated by DH Dowling, featuring the works of the artists mentioned above. DESTINESIA is the final exhibition in the Bushwick location of the Stephen Romano Gallery, which will close its doors permanently after this exhibition. The Stephen Romano Gallery is located at 117 Grattan Street Suite 112, on the corner of Porter and Harrison in Brooklyn, New York. So hurry up and make sure to visit this exquisite display, for this will be the last chance you will get to enjoy the gallery's Bushwick location.
All images courtesy of Stephen Romano Gallery.
Featured image: Dan Witz - New Jersey Office Park, 2008
Images in the slider: A.W. Sommers - The Constant Drumbeat of Terrible News, 2015 / Brooke Shaden - Petals From My Roots, 2015 / Carol Prusa - Swirl, 2016 / Clay Lipsky - Atomic Overlook 01, 2013 / David Fullarton - The Sweet Fulfillment of Our Secret Longing, 2016 / Fred Stonehouse - Lies of Language, 2016 / Gregory Jacobsen - Guts in Lady Shoes, 2015 / Jaya Su Su - Zafara-Algo, 2016 / Julie Dermansky - Christmas Scene in Louisiana, January 4, 2011 / Karto Gimeno - The Cliff House, 2014 / Lee Jeffries - Brittany, 2014 / Linnea Strid - Where Dreams Go to Sleep, 2016 / Mark Gleason - Tiger Boy, 2010 / P54 - Perpetual Struggle, 2016 / Robert Steven Connett - Planktonauts IV, 2016 / Sandy Yagi - Fox and Crows, 2016 / Santiago Ydañez - The Girl, 2012 / Sarah Zar - Empath's Horizon, 2013 / Stephen Cefalo - Consider the Lilies, 2012 / Tom McKee - Chicken of the Hills, 2015 / Victor Rodriguez - 4Trunks, 2011