In collaboration with Upper Playground, Fifty24SF Gallery is thrilled to announce the summer group exhibition called Devolution. Four artists are gathering around the exploration of the surreal theme of dream-realms. In this other-worldly surrounding, their characters undertake new forms and transmutations, in bizarre expressions of visage. The artists taking us on this trip to distorted dream world are Benjamin Constantine, Smithe, Lauren YS and Tina Lugo.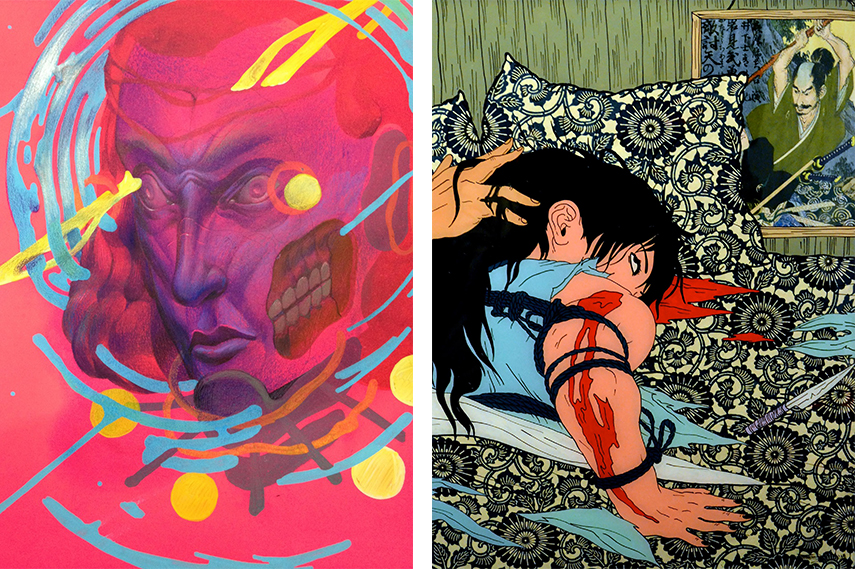 Smithe and Tina Lugo Mesmerize the Viewer
Born and raised in the streets of Mexico City, Smithe has been drawing since he was 12 years old. As he got more and more fascinated by the street art around his neighborhood, the passion was born and not long after, Smithe went into the spectrum and started creating art as a way of lifestyle. Being able to travel around other countries, experience different cultures and influences, he fell more and more in love with the world of art. While he has made quite a name for himself in the international street art and graffiti scene, this versatile artist ventured into the spheres of illustration and sculpture as well, and he plays in a band called Punto Stendal. His intricate artwork will surely hold your gaze for a while, for the level of details is definitely out of this world.
Tina Lugo will hit Devolution with her tongue-in-cheek, sexual humor inspired by cartoons, animation and television of the early 1990's. Her clever play of enamel and plexiglass creates a smooth, hyper-gloss finish, which suggests a translucent barrier between the viewer and the image, always leaving us wanting to touch and enter the world beyond the invisible wall. Paying homage to a variety of her modern influences, Tina Lugo references works of Takashi Murakami, Toshio Saeki, Hanna Barbera, Henry Darger and Japanese animation.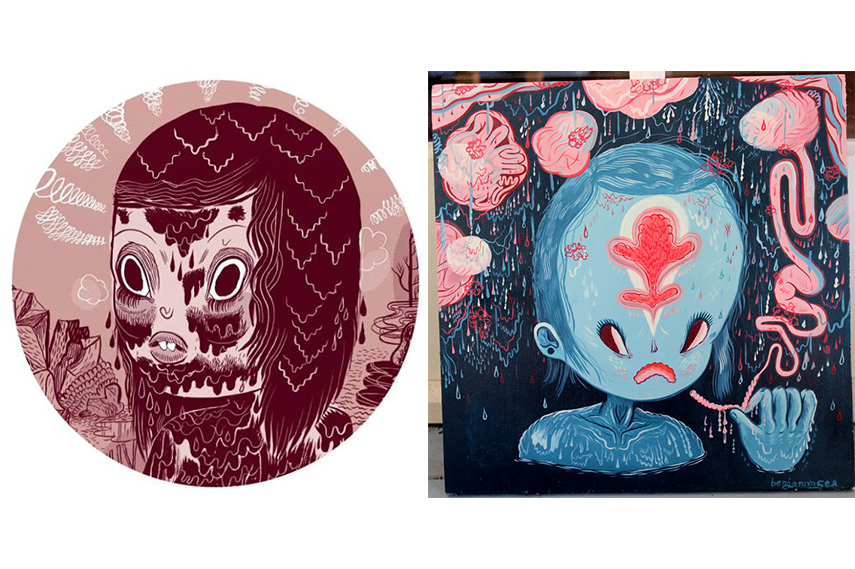 Lauren YS and Benjamin Constantine - Playful Struggle with Anxiety and Mystery
Quite a peculiar mixture of inspiration defines the work of Lauren YS. Ranging from forests and oceans, via nasty feelings and things that grow while we're sleeping, to little girls who fight monsters, spiced up with some black holes, cybernetic organisms, jelly, and of course, love and death. Specifically for Devolution, Lauren YS has produced characters representing her interpretation of the words: playful struggle, entanglement and malaise.
Another artist making his contribution to Devolution group show is Benjamin Constantine. Being primarily a self-taught artist, Constantine developed an intricate style, filled with minute details and hidden portals, his self-published comics have gathered quite a bit of attention online. His anonymous characters are burdened with anxiety or filled with elation, while the elements within or around them often become intertwined or involved with the rest of the image. Continuously stepping into new directions, his art unmistakably exudes the artist's signature flavor of darkness and mystery.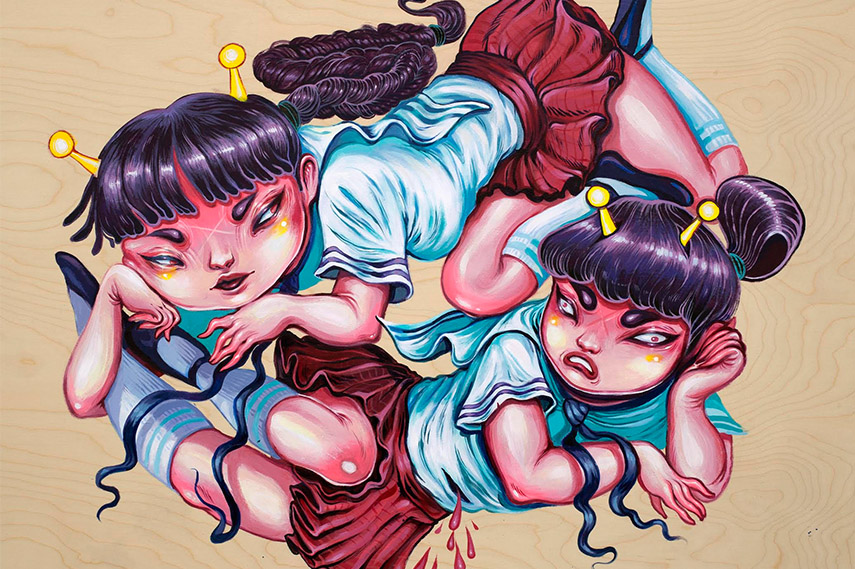 Group exhibition Devolution at Fifty24SF Gallery
The four unique artists shall portray their visions of characters incarnated in a surreal dream realm, where nothing is out of bounds, for no dream has ever known limits. The themed group show Devolution opens August 1st, 2015, at Fifty24SF Gallery, San Francisco. Each representing artist will exhibit new works, designed specifically for this themed show, thus creating an all-around atmosphere of dreams, where human faces take on bizarre new forms.
Sign up for free to My Widewalls, and step into the dream world of art.
All images used for illustrative purposes only
Featured images:
Tina Lugo - But I'm A Sailor Scout
Benjamin Constantine - Artwork
Smithe - Artwork