D*Face Installation in Fort Smith represents a continuation of the project of bringing high quality Contemporary Art to the area of the Northwest Arkansas. The project is led by JUSTKIDS and its curator Charlotte Dutoit, in collaboration with the 64.6 Downtown, a local non-profit organization. Following on the success of the last curated project, Unexpected, the organizers decided to invite the UK artist D*Face as their guest in 2016. His large scale installation comprises of a mural and a public sculpture that narratively correspond with each other. As the artist explained: "It's like a two part mural/installation. The idea is to connect a wall to something sculptural. Which I have never done before and I am quite excited about it."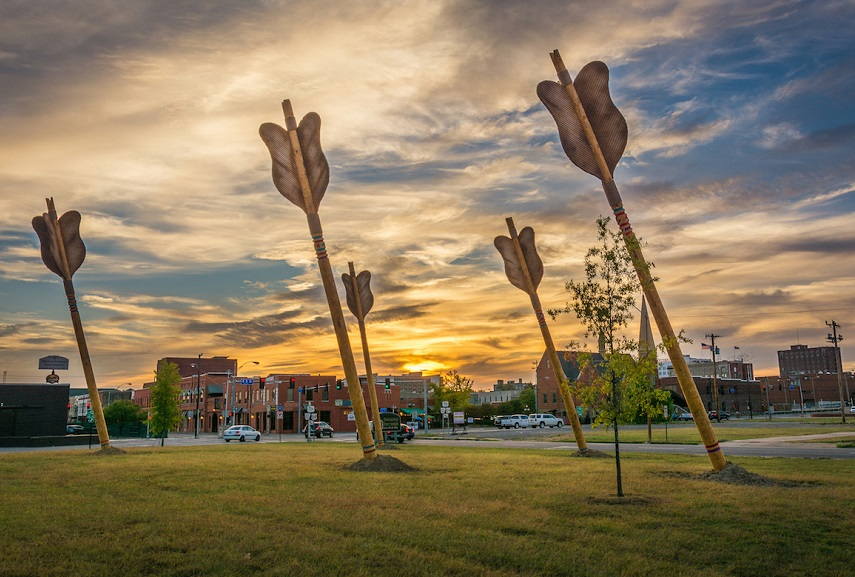 D*Face Installation in Arkansas
The installation in Arkansas by D*Face comprises of a large, 40 foot long wooden arrows and a mural, both referencing Native American cultural tropes and struggles. The arrows are each more than 1,000 pounds heavy, and are located in downtown Port Smith. Symbolically piercing the ground, these arrows correspond with the mural, on which a Native American woman is depicted taking an aim with bow and a paintbrush instead of an arrow. These two media are connected for the first time in D*Face installation, which confronts the past and poses questions about the future. The mural is titled War Paint and is inspired by the Native American Trail of Tears and the Native American history of struggle that took place in Arkansas.
JUSTKIDS: D*Face at Unexpected 2016
Perpetuating Native Traditions with Installation Art
Inspired by the Native American tradition, D*Face found the way to perpetuate it through the work of art that combines both image done on a flat surface of a wall and three-dimensional objects. After finishing the mural, the artist decided to work on the ground and to link the space with his image on the wall. The paintbrush arrows the woman on the mural shoots, end up piercing the ground in Fort Smith. With a help from Choctaw Nation, an Oklahoma based tribe that underwrote the installation and provided the artist with a historical context, D*Face created public art that reaches into history and provides symbolic references to the Old West, but at the same time his artwork looks into the future, and inspires thinking about Native American traditions and their preservation.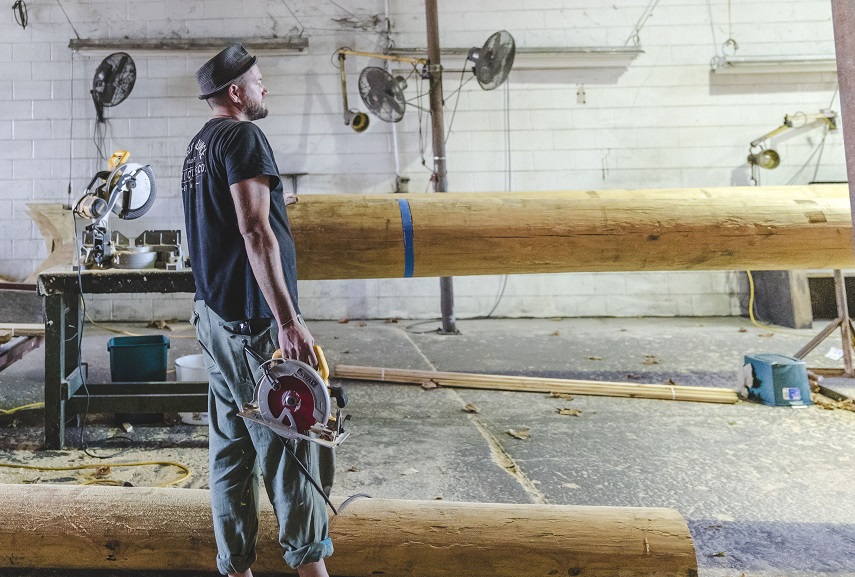 JUSTKIDS and 64.6 Downtown
JUSTKIDS and 64.6 Downtown organization worked together on bringing the D*Face's work about. Some of the most engaging artists, strategic consultants and artists take part in the JUSTKIDS comprehensive art projects of an international scale, which this dynamic interface conceives, produces and promotes. JUSTKIDS was founded in 2014, and is actively engaged in supporting upcoming talents in a constantly evolving art world. They also deliver gallery shows and public art, work in brand consulting, residences programs, and offer new experiences with top visual artists. Many of the innovative large scale art events are produced by JUSTKIDS. The revitalization of downtown Fort Smith has been the core interest for 64.6 Downtown organization. They aim to increase the quality of place in order to ensure its future economic and community growth.
Featured image: D*Face - War Paint. All images by Raymesh Cintron and Zane Cash, courtesy of JUSTKIDS.