"I am full of a sense of promise, like I often have, the feeling of always being at the beginning", wrote Diane Arbus in her notebook in 1957.
diane arbus: in the beginning, organized by the New York Metropolitan Museum of Art and currently on view at the San Francisco Museum of Modern Art, focuses exclusively on the first seven years Arbus worked as an independent artist.
The pictures in the exhibition are mostly 35mm dating from 1956 to 1962, before Arbus moved to the square format that would make her work so distinctive and immediately recognizable.
Diane Arbus received a camera as a wedding gift from her husband Allan and started making photographs sporadically in the early 1940s. The Arbuses worked together in fashion photography for over a decade, she as a stylist and he as a photographer, until Diane decided to dedicate herself full time to photography in 1956. That same year, she enrolled in Lisette Model's Greenwich Village photography class and began numbering her negatives.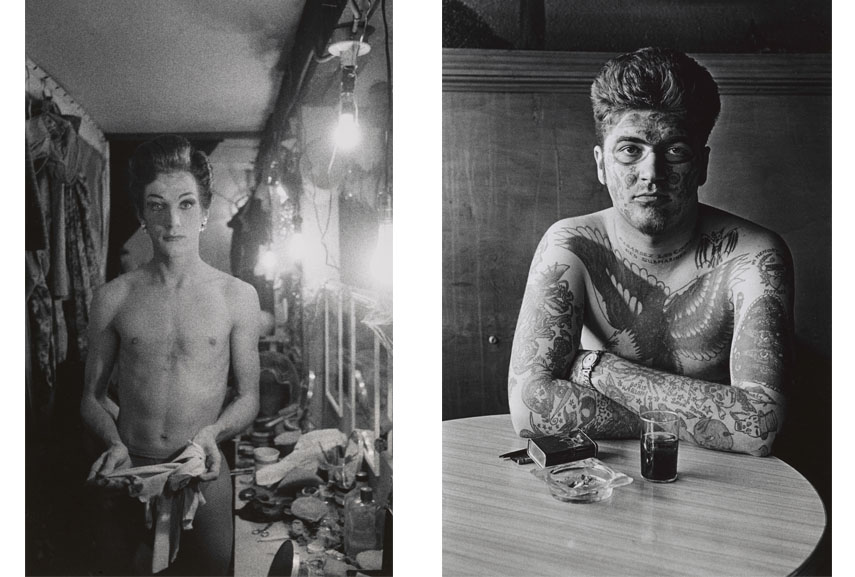 Forgotten Treasure Rediscovered
In 2007, Arbus's daughters Doon and Amy donated their mother's archive - a treasury of photographs, letters, negatives and prints - to The Met. diane arbus: in the beginning is the result of eight years of scrupulous research of the archive, cataloguing its largely inedited materials.
Indeed, more than two-thirds of the photographs have never before been published.
For an Arbus fan, looking at these inedited works has something of a discovery of lost treasure. There are curious-looking ladies strolling around the streets of New York; a series of photographs taken in cinemas, both of the audience and the screen, one of which features the opening credits, appropriately titled, A DOMINANT PICTURE; a portrait of Miss Stormé De Larverie, "the Lady who Appears to be a Gentleman" as the caption describes (and then a key figure in the Stonewall Riots); a picture of a James Dean sculpture at the Coney Island wax museum - decades ahead of Hiroshi Sugimoto's comparable series of wax sculptures - accompanied by a laconic billboard remembering the grim end of the actor: "Killed in a [sic] automobile accident Sept. 30. 1955. The tragic ending of a young great actor..."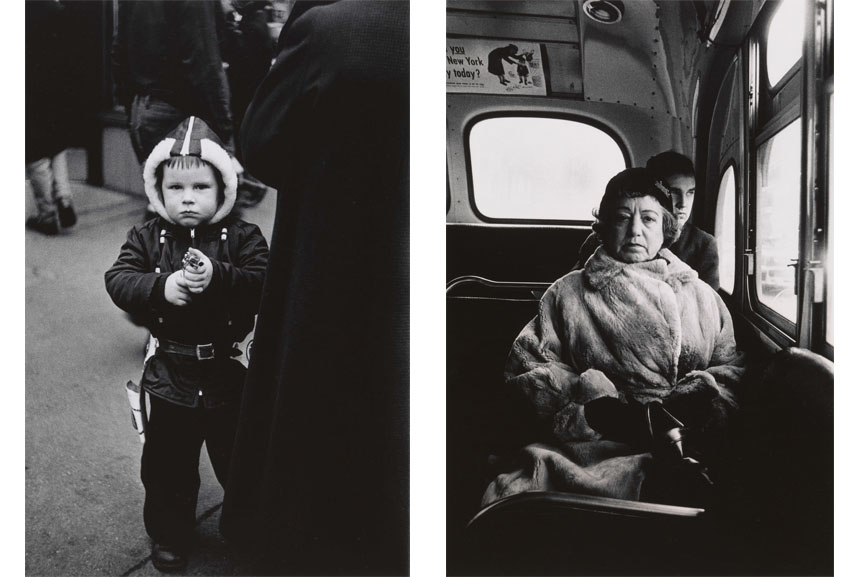 Full of Promise, Pushing to Emerge from Behind
The photographs taken during this period originate from casual encounters with subjects, in contrast to the more canonical portraits we immediately associate with Arbus's work, and testify to the transition that occurred in her photographic practice. At this point in time, Arbus was preparing herself, slowly but steadily, to penetrate the world with her idiosyncratic characters. However, albeit timidly, circus performers, transvestites, midgets start to appear in her works. One can recognize, already in these pictures, the Arbus we all know and love, pushing to emerge from behind.
Most of the images featured "in the beginning" were taken on the streets of New York, somewhere between Times Square, the Lower East Side and Coney Island, following the great tradition of American photography that drew inspiration from the city, going back to Alfred Stieglitz and Paul Strand, or documentarians Robert Frank and Walker Evans, and, of course, including Arbus's contemporaries and fellow New Documentarians/street photographers Garry Winogrand and Lee Freidlander.
But while the majority of these works comes from casual city encounters, some portraits are already the result of Arbus's restless research on the edge of human kind. Jack Dracula at a bar, New London, Conn. N.J. 1961 is a perfect example in this sense. The portrait of the bare-chested man covered in tattoos sitting at a table in a bar, commissioned by Harper's Bazaar, ideally accompanied by a page of notes in Arbus's notebook, meticulously listing her subject's tattoos: "left leg. Flying dragon with snake; large peacock; 2 ft wide eagle on chest; the horrible 3 on stomach; Frankenstein Dracula; Phantom of the Opera..."
The same scrupulous interest for the detail would characterize Arbus's photographs to come.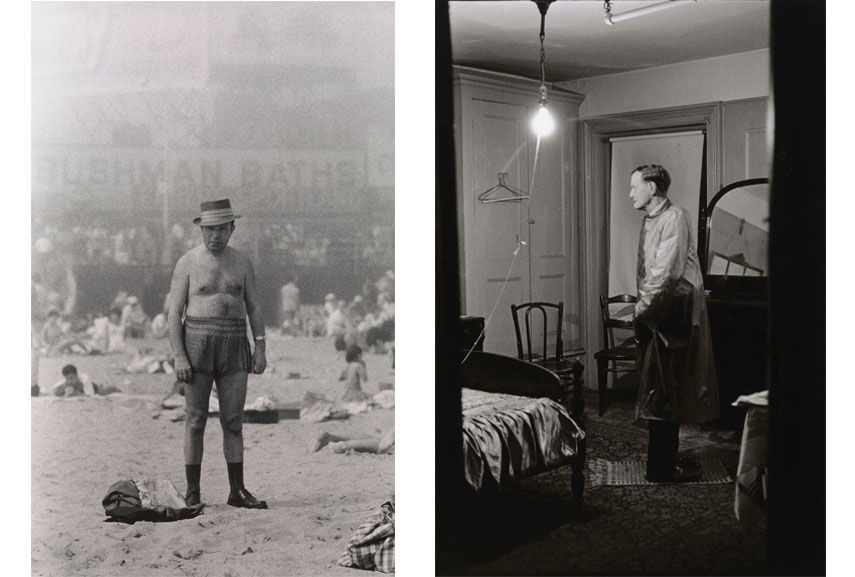 Featured images: Diane Arbus, Woman on the street with her eyes closed, N.Y.C. 1956; courtesy The Metropolitan Museum of Art, New York / copyright © The Estate of Diane Arbus, LLC. All rights reserved; Diane Arbus, Taxicab driver at the wheel with two passengers, N.Y.C. 1956; courtesy The Metropolitan Museum of Art, New York / copyright © The Estate of Diane Arbus, LLC. All rights reserved.