A specific twist happened in the development of the American photography during the mid-1950s, when a new generation of practitioners started taking shoots of subjects that were found irrelevant by many. Looking from the contemporary stance, the figure who championed an entirely new aesthetic that was even overlooked at the time was Diane Arbus.
By focusing on the representation of diverse and often marginalized groups of people such as nudists, carnival performers, dwarves, female impersonators, elderly people, and children, the prolific photographer managed to create an impeccable black and white oeuvre that serves as an extraordinary anthropological study of the American society in between the mid-1950s and 1970. The choice of subjects, the impressive psychological strength of each portrait, as well as the fact they were made in or around New York, made thesephotographs revolutionary not only within its genre but more importantly in a broader context of the medium itself.
In 2016, The Art Gallery of Ontario acquired world's second-largest collection of Diane Arbus photography with the support of a small group of donors, so the gallery decided to honor this gem consisting of five hundred and twenty-two works by displaying a significant number of the same within a grandiose exhibition titled Diane Arbus: Photographs, 1956–1971, and the first one in Canada in almost thirty years.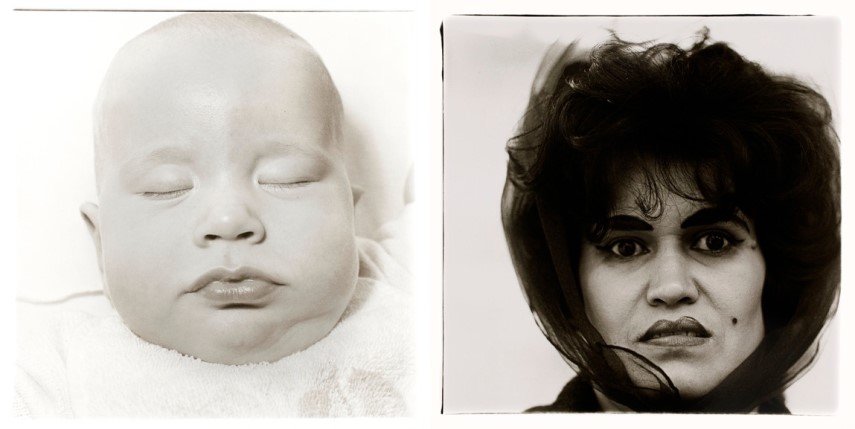 About Diane Arbus
Diane Arbus came from an affluent New York family and in 1941 at the age of eighteen she married Allan Arbus with whom she worked together; the two ran a commercial photo studio where he took photographs, and she acted as an art director/stylist. According to Arbus's biography, she started photographing in the early 1940s, but her first roll of film that marks the beginning of her autonomous practice was made in 1956.
During the sixth decade, she made more than one hundred shots for leading magazines and was awarded Guggenheim Fellowships in 1963 and 1966 for her project, American Rites, Manners, and Customs. By the time she committed suicide in 1971, Arbus received an honorable status primarily among serious photographers, although a small number of her most significant works were widely known.
Just one year after her tragic death, the Museum of Modern Art in New York organized the retrospective of her work curated by John Szarkowski, who was a continuous supporter of Arbus's work.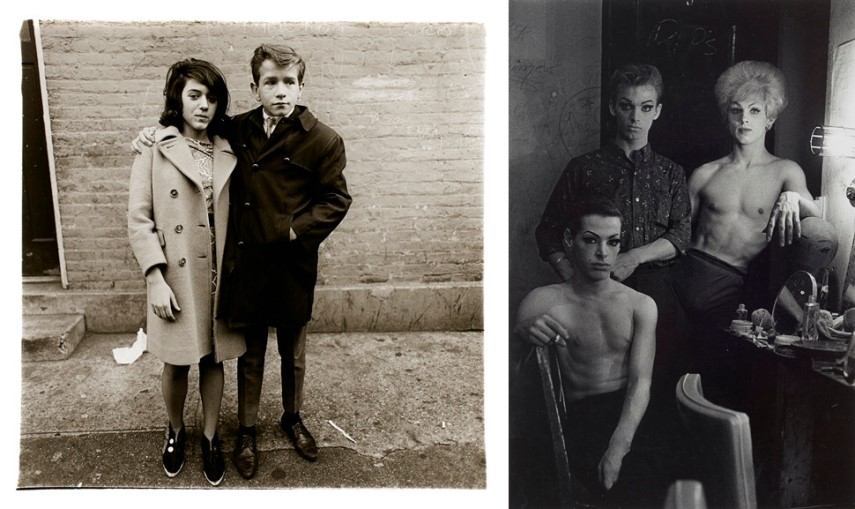 A Selection of Extraordinary Photographs
On this occasion, the career of the prolific photographer will be presented in chronological order, with the photographer's captivating self-portrait from 1945, and it continues with 1956 when Arbus decided to start practicing photography seriously.
During the early stage of her career, she was mentored by the artist Lisette Model, and these early photographs reveal the photographer's fascination with humanity and life on the street. Arbus skillfully depicted the features and attitudes of her subjects in 35mm film, while exploring various sub-cultures perhaps best illustrated with the works such as Woman and a dwarf backstage at the circus, N.Y.C., 1958 or Many clowns in a car, NYC, 1960.
Arbus shifts from her 35mm to a 2 ¼ Rolleiflex camera in 1962, so the square images become dominant as her style matures. Throughout this decade, Arbus produced many of her most iconic portraits that were featured on the pages of magazines like Harper's Bazaar and Esquire or exhibitions such as MoMA's New Documents exhibition in 1967. Puerto Rican woman with a beauty mark, N.Y.C. (1965), Mrs. Martin Luther King (1965), and Identical twins, Roselle, N.J. (1966) are perhaps among the most critically acclaimed works made during the late stage of her short, yet extremely fruitful career.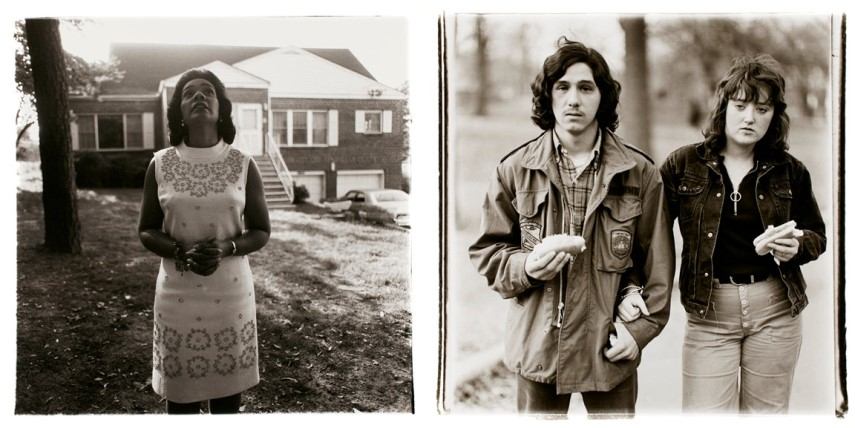 Diane Arbus Exhibition at AGO
Diane Arbus's career effectively lasted just a little more than fifteen years; however, the effect it had on the further development of photography is immense.
Aside from the technical standpoint, conceptually Arbus's works evoke well-navigated agenda focused on the exploration of identity and the way one becomes exoticized, exploited or misunderstood. Although she came from a privileged background, it seems that the photographer had a sort of connection with the portrayed subjects that was associated with her own sense of exclusion and lack of means to understand her identity.
Regardless of the 1950s and 1960s costumes and backdrops, the majority of Arbus's works could easily stand as metaphors of contemporaneity as well for the way the represented groups are being perceived today in the context of rising right-wing rhetoric. Related to this claim is the statement given by the AGO's Curator Sophie Hackett, who organized the exhibition:
Arbus was fascinated by the differences between us as human beings and was moved to describe those differences in as clear-eyed and precise a way as she could. In fifteen short years, she produced perhaps the most compelling and demanding body of portraits the 20th century had seen to that point. The direct, even confrontational, gaze of the individuals in her photographs remains bracing to our eyes still today provoking recognition, empathy, and unease. The acquisition of these works in 2016 was a landmark one for the AGO and furthers our goal of building a collection that reflects the artistic, historical, and social impact of the medium.
Diane Arbus: Photographs, 1956–1971 will be on display at the Sam & Ayala Zacks Pavillion within Art Gallery of Ontario from 22 February until May 17, 2020.
Featured image: Diane Arbus - Two girls on the beach, Coney Island, N.Y., 1958. Gelatin silver print; printed later, Sheet: 27.9 × 35.6 cm. Art Gallery of Ontario. Gift of Robin and David Young, 2016. Copyright © Estate of Diane Arbus. All images courtesy the Art Gallery of Ontario.