From Alexander Calder to Jeff Koons, from Max Ernst, Pablo Picasso and Niki de Saint Phalle to César, Takis and Louise Bourgeois, a host of modern and contemporary artists have taken a close interest in jewelry, creating works that were both innovative and beautiful. Springing from the same creative approach and often echoing the artists' formal language, these miniature works of art are only distinguished by their ultimate purpose. From bracelets, broches, and pendants to rings and cufflinks, these pieces are set to transform their wearer into a walking artwork.
A passionate collector of art, Diane Venet has been collecting artists' jewelry for more than thirty years. The collection she has put together boasts around 230 tiny precious works of art that question the meaning and function of jewelry. As she explains, these creations are a very intimate part of their work and their life.
The works from this extensive collection, complemented by exceptional loans from galleries, collectors and the artists' families, are currently on view at Musée des Arts Décoratifs in Paris. Designed by interior architect Antonine Plazanet and graphic designers Éric and Marie, the exhibition Picasso to Koons: The Artist as Jeweler chronologically and thematically illustrates the work of 150 artists from around the world, featuring their bold, whimsical and even wacky creations.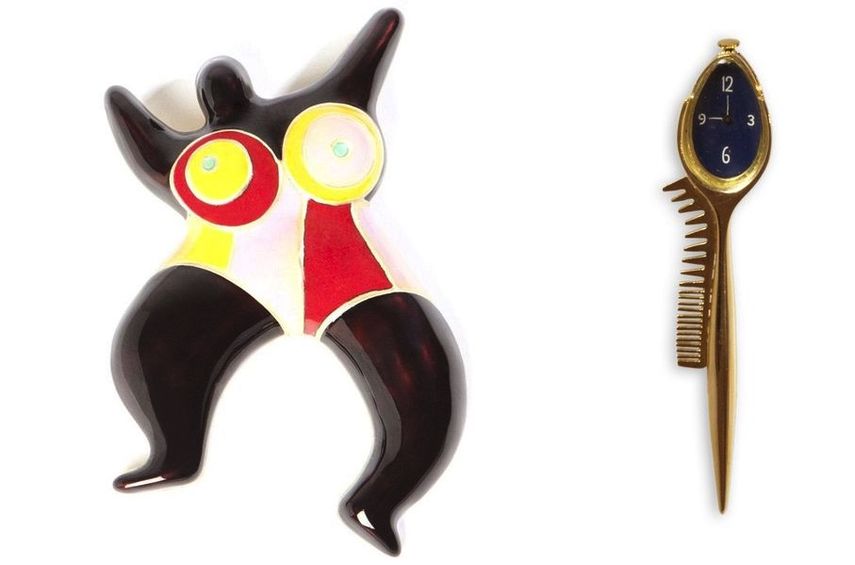 Artists and Jewelry
A very particular field that stands very much alone, artists' jewelry belongs neither to the world of high jewelry nor the world of costume jewelry. Created by visual artists, painters and sculptors who chose to express themselves outside the medium for which they were best known, these works were, for many, inherent to their creative process.
The decorative arts have been considered a lesser art for centuries, however, in the 1960s, the boundaries between fine art and craft were blurring and artists of all kinds started experimenting with various media. Using bold images from their paintings, both Picasso and Ernst designed limited production jewelry lines in collaboration with the French goldsmith François Hugo.
However, many artists started experimenting with jewelry long before that. Alexander Calder created jewelry in brass and silver that often served as a model for his larger works, while Salvador Dali created pieces which he described as "a protest against emphasis upon the cost of the materials of jewelry".
While artists such as Calder, Harry Bertoia, John Chamberlain, Louise Nevelson, Claude Viallat are among rare artists who made their jewelry themselves, others entrusted the execution of their designs to precious metalsmiths, working symbiotically with the artisans who made it. Some of the most famous artisans were François Hugo, who besides Picasso and Ernst also worked with Jean Arp, Andre Derain and Dorothea Tanning and Giancarlo Montebello who produced some the most famous pieces by the Pomodoro brothers, Man Ray, Pol Bury, the Surrealists' muse Meret Oppenheim, and Niki de Saint Phalle.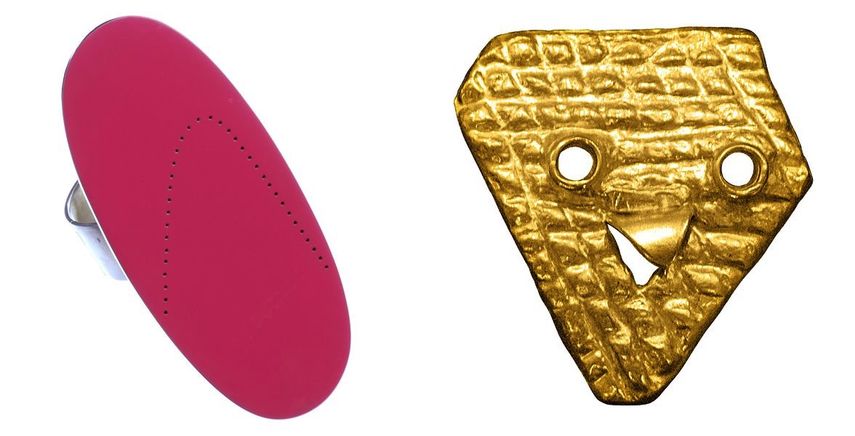 Diane Venet Collection
The wife of the French conceptual artist Bernar Venet, Diane Venet recalls her passion for artists' jewelry began when her husband playfully bent a thin silver band around her left ring finger to make her a wedding ring.
This touchingly spontaneous gesture had another effect on me, that of prompting me to discover the too-little-known world of these unique objets d'art, priceless for their rarity and the symbolic meaning that is often the genesis of their creation.
Ever since, she has been collecting these unique pieces of wearable art, becoming an eminent proponent and patron of the form. On a mission to share her passion with the world, she has exhibited her collection in museums in cities like Roubaix, New York, Athens, Valencia, Miami, Seoul and Venice, but the Paris display will be the largest and most visible yet.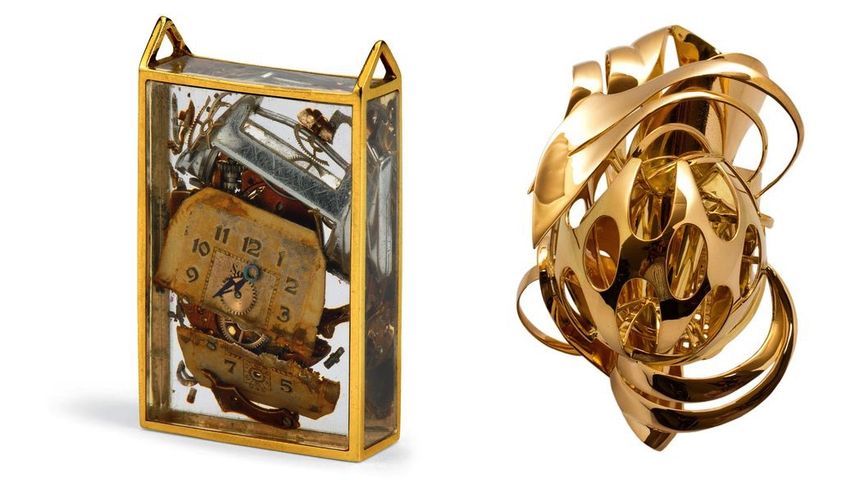 Exhibition Highlights
Beginning with the avant-garde artists who have explored the realm of the "portrait", such as Picasso and Derain, the display continues with the provocative ideas of the Surrealists evoked in the Dream and Fantasy section, with Man Ray's perforated mask, the jewelry of Salvador Dalí, and the dreamlike universes of Jean Cocteau and Léonor Fini.
While the section Metamorphoses of Nature shows the naturalist explorations by Lowell Nesbitt and Giuseppe Penone, the section "Memento Mori" displays pieces such as Wim Delvoye's crucifix pendants in the form of a Möbius band, the section "Color" is illustrated by works of artists such as Grayson Perry and Niki de Saint Phalle and the section Constrained Body shows woollen necklace by Yayoi Kusama and a broch by Orlan.
Representing major modern and contemporary movements, the exhibition also features abstract works by Fausto Melotti and Lucio Fontana, Pop Art pieces by Roy Lichtenstein and Robert Rauschenberg, kinetic works by Pol Bury and Takis, minimal and conceptual pieces by Sol LeWitt, Pierrette Bloch, and provocative works by contemporary artists such as Damien Hirst, the Chapman brothers, Erwin Wurm and Ai Weiwei.
Artist Jewelry at Musée des Arts Décoratifs in Paris
Non-exhaustive, subjective, poetic and impulsive, this exhibition reflects both the history of the Musée des Arts Décoratifs and Diane Venet's passion for creation that is many-faceted, playful and demanding.
The exhibition Picasso to Koons: The Artist as Jeweler will be on view at Musée des Arts Décoratifs in Paris until July 8th, 2018.
The exhibition is accompanied by a catalog which is a wonderful chronicle of Venet's collection, providing a beautiful photographic account of the pieces featured and includes concise artist biographies.

Editors' Tip: From Picasso to Koons: The Artist as Jeweler by Barbara Rose, Adrien Goetz, and Diane Venet
Numerous canonical artists of the 20th-century showed an interest in jewelry, creating stunning works by transforming their signature visual language into fine metals and gems. Despite the shift towards abstraction and conceptualism from the 1910s onwards, artists continued to bridge the gap between art and craftsmanship. From Picasso to Koons features the private collection of curator Diane Venet, exhibited at the Museum of Art and Design, New York in 2011, the Bass Museum, Miami in 2012, and internationally.
Featured images: Robert Rauschenberg, brooch, circa 1990. Mixed media. Unique piece by L. Woytek, Robert Rauschenberg Studio. Diane Venet Collection. Photo: Sherry Griffin, Brooklyn © Robert Rauschenberg / Adagp, Paris, 2018; Victor Vasarely, Jolie bracelet, 1985. Silver, enamel, mother-of-pearl. Edition 113/250. Diane Venet Collection. Photo: Sherry Griffin, Brooklyn © Adagp, Paris, 2018; ORLAN, head of crazy brooch, 2010. Gold, silver Edition 1/8 by Arcas. Goldsmith: Patrick de Boisgrollier. Diane Venet Collection. Photo: Sherry Griffin, Brooklyn © Adagp, Paris, 2018; Man Ray, Optic Topic Mask, 1974. Gold Edition 79/100 by Gem Montebello. Diane Venet Collection. Photo: Didier Ltd, London © MAN RAY TRUST Adagp, Paris 2018; Giuseppe Penone, Foglia pendant, 2011. © MAD Paris / photo: Jean Tholance; Damien Hirst, Pill Charm Bracelet, 2004. Silver. 20/50 edition by Louisa Guinness Gallery. Diane Venet Collection. Photo: Sherry Griffin, Brooklyn © Damien Hirst and Science Ltd. All rights reserved Adagp, Paris, 2018. All images courtesy of the Diane Venet Collection.