As many European cities underwent periods of rapid development and urbanization at the turn of the century, changes which left many feeling alienated and lost, and the most progressive artists were looking for a new art which could express such emotional responses with greater force and intensity. This was exactly the idea of Die Brücke, the bohemian painting group formed by a group of German architecture students who rejected the world that they are offered, its doctrines, morals, and therefore its vision of art. In their first manifesto, titled Programm, Ernst Ludwig Kirchner, one of the founding members, wrote:
We call all young people together, and as young people, who carry the future in us, we want to wrest freedom for our actions and our lives from the older, comfortably established forces.
The name itself, meaning "the bridge", reflects these artists' youthful eagerness to cross into a new future. The birth of this progressive group signified the birth of Expressionism.
Museum Frieder Burda is currently hosting one of the most extensive exhibitions dedicated to this avant-garde group in the last ten years. Titled Die Brücke 1905-1914, it brings together numerous highlights from the Brücke-Museum in Berlin, along with high-caliber international loans.
The curator, Professor Dr. Magdalena M. Moeller, a renowned "Brücke" expert and director of the Brücke-Museum Berlin for many years, stated:
It was a great challenge to curate this exhibition at a time when it is becoming increasingly difficult to secure loans of Expressionist art. That we achieved such a fantastic result should be a source of delight for the visitors, especially.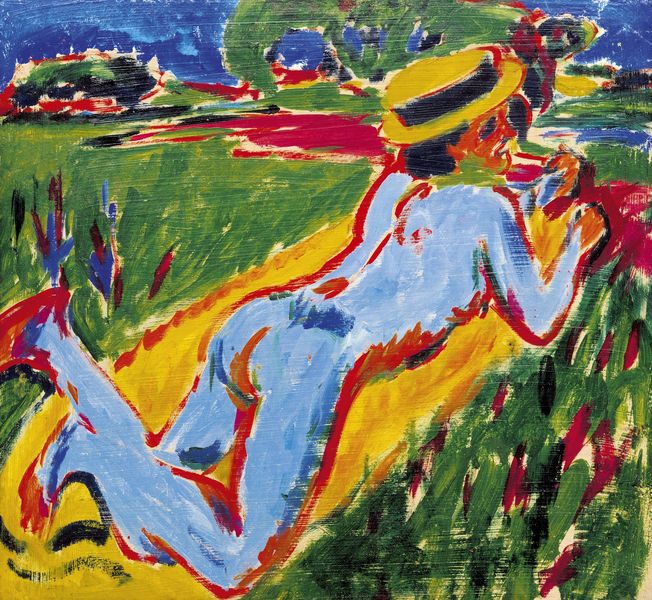 The Short History of Die Brücke
Founded in 1905 in Dresden, Die Brücke sought to confront the older established bourgeois social order of Germany, but also feelings of alienation from the modern world. Their radical reinterpretation of art led to an expressive style characterized by heightened color and a direct, simplified approach to form. Aiming to bridge the past with the future, these artists reached back to pre-academic forms of expression including woodcut prints, carved wooden sculptures, and "primitive" modes of painting. They preferred the freedom of movements, nature, life and natural elements, expressing the emotions with bright, spontaneous colors. Standing in sharp contrast to academic art, Die Brücke and their expressionism pushed German modern art onto the international avant-garde scene. Erich Heckel later recalled:
What we [Brücke artists] had to remove ourselves from [the German bourgeois mores] was clear; where we were heading was certainly less clear.
Founding members of the group were Ernst Ludwig Kirchner, Fritz Bleyl, Erich Heckel, and Karl Schmidt-Rottluff, of whom none received any formal education in the visual arts, while Max Pechstein and Emil Nolde joined in 1906. Although they were influenced by the Symbolist Post-Impressionism of Gauguin, Munch and van Gogh, their work was far more aggressive, nihilistic and anarchic in spirit, with discordant colors, harsh, jagged outlines and deliberately crude or ugly forms. Feeding into primitive traditions, they saw African, Pacific and American artifacts as a freer, rawer form of expression than those imposed by the constraints of modern Western society. Embracing Germany's tradition of Naturism, these artists sought refuge from the modern city in Germany's lakes and forests, as reflected in their paintings.
After moving to Berlin in the fall of 1911, they substituted bright colors of their palette with darker tones, as the big city motifs took over from the more cheerful themes of the Dresden years. The group dissolved in 1913 due to differences of opinions among members. It was not until the 1930s that their work made its breakthrough until it faced the National Socialist campaign against what it called "degenerate art".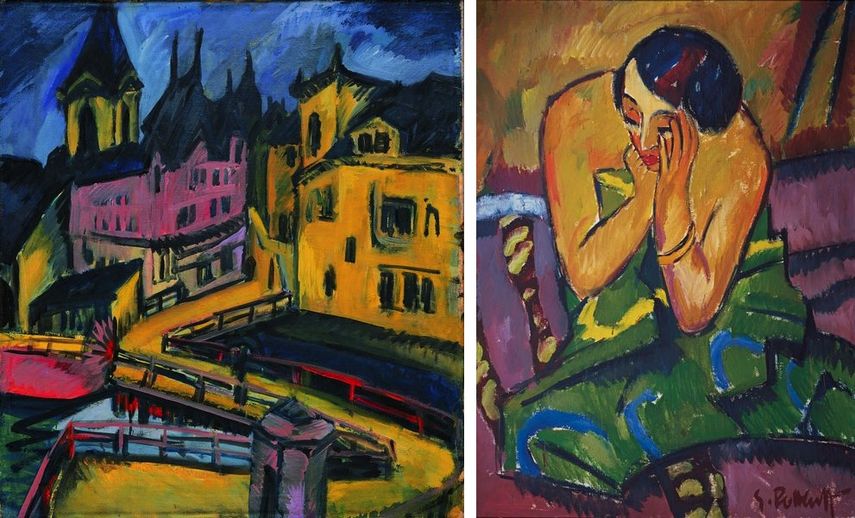 Die Brucke and the Existential Experience
The exhibition at the Museum Frieder Burda explores the entire cosmos of Die Brücke world - from the desire for harmony with nature, in which the human being, often portrayed nude, becomes whole; to his or her complete disorientation in an overpowering city experience which stimulates and frays the senses to the extreme.
Although the artists lived in the cities of Dresden and then Berlin, to some extent they never considered themselves as they belong in the city. A great deal of tension in their art is derived from this paradox. They depicted the city as a fantastic realm of attraction and repulsion, at the same time turning to themes of happy men and women cavorting naked in nature. This inner conflict as an existential experience is also reflected at the show at Museum Frieder Burda, tracing how encounters with the modern world and its innovations and deformations can become an experience of existential crisis.
The exhibition also documents how the style of painters involved in the group became almost identical, which was almost immediately followed by them drifting apart stylistically before they finally broke up as a group.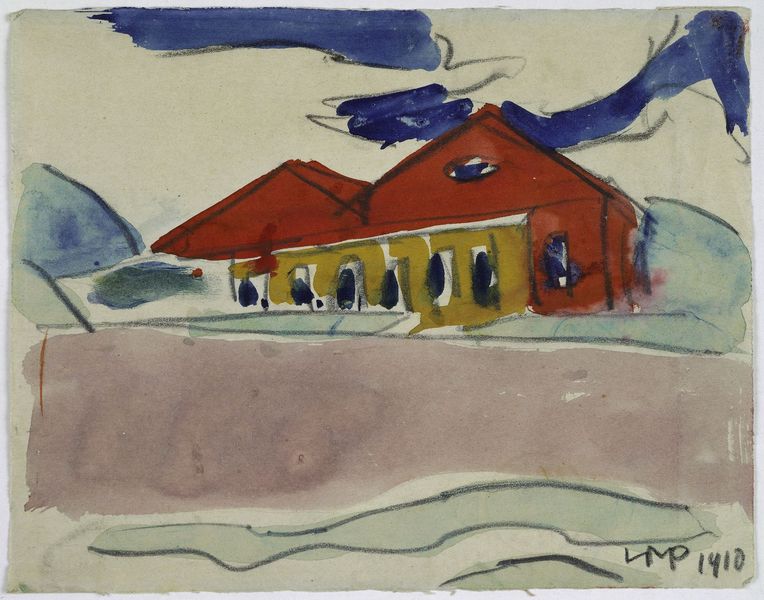 Die Brucke at Museum Frieder Burda
As one of the fundamental groups of the emergence of German Expressionism, along with the art of Der Blaue Reiter (The Blue Rider), the work of Die Brücke is considered Germany's essential contribution to the classical modern art of the 20th century. All artists from the group are represented with major works at the exhibition in Baden-Baden.
As Henning Schaper, Director of Museum Frieder Burda, explains, the exhibition reflects a combination of loans from the Brücke-Museum and numerous loans from German and international museums, as well as a number of loans from private collections that have not been available for public viewing for many years. Therefore, this exhibition, for the first in a long time, provides a comprehensive overview of the work of Die Brücke artists.
Frieder Burda, who has always been a devotee of German Expressionism and its stimulating worlds of color, explained that the roots of his interest in art could be found in his upbringing and in the power of color for which "Die Brücke" art stands.
The exhibition Die Brücke 1905-1914 will be on view at Museum Frieder Burda in Baden-Baden until March 24th, 2019.
Featured images: The installation view of DIE BRÜCKE, Museum Frieder Burda. All images courtesy Museum Frieder Burda.