Even today, various myths surrounding New York City in the 1980s are being interpreted and perceived with a feeling of nostalgia. Those were the years marked by the upheaval of the conservative Regan administration and a huge class discrepancy. It was difficult to live in this city due to the low economy, high rate of criminal and social unrest.
In spite of this, New York attracted a great number of artists from various branches, and it can be even said that those very extremely fruitful years in visual arts, music, and film regardless of the ongoing cultural wars based on censorship and exclusion from the public sphere.
Among the many young and promising creatives, Jean-Michel Basquiat appeared and quickly dazzled not only the underground NYC art scene but also the wealthy art collectors. His story is more or less familiar to wider public since it was screened by Julian Schnabel in his feature film from 1996, among other things, yet little is known about the person who initially helped this artistic prodigy - and this was Diego Cortez, a curator and one of the leading figures of the No Wave phenomenon.
Cortez and Basquiat met in the notorious Mudd Club and started hanging out. A year later, Cortez first saw Basquiat's graffiti under the moniker SAMO© and was completely fascinated with his talent. In 1981, the curator invited the artist to participate in his iconic New York/New Wave exhibition, so their collaboration started and lasted for some time until the celebrated artistic icon finally touched the stars.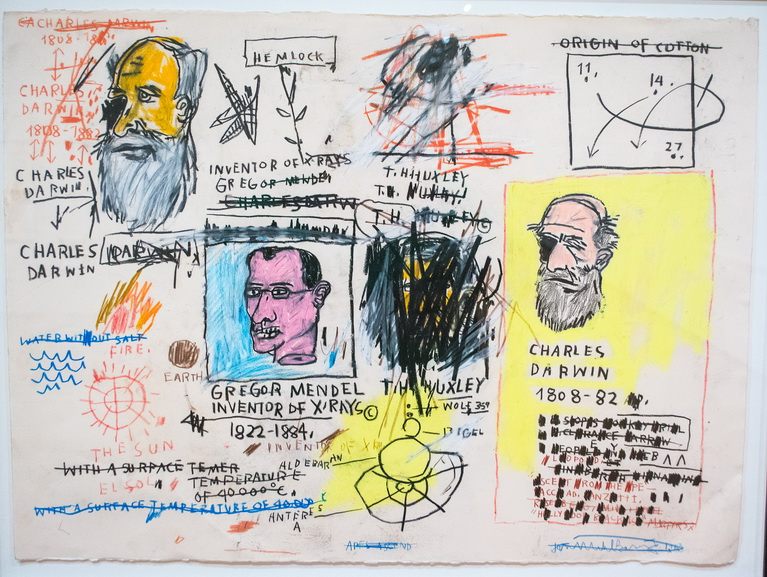 An Influential New Wave Figure
Diego Cortez was born James Curtis in 1946 in Geneva, Illinois. In 1973, he embraced a specific Latino kind of pseudonym, and the same year he earned an M.F.A. in new media (video, film, and performance) at the School of the Art Institute of Chicago, where he studied under great artists such as Stan Brakhage, Nam June Paik, and Kenneth Anger. Shortly after, Cortez moved to Brooklyn where he worked as a studio assistant to artists like Vito Acconci and Dennis Oppenheim.
This interesting figure was also engaged as a production advisor to Brian Eno on the iconic no wave compilation album record No New York. Cortez was the first person to promote the cultural and artistic domains of no wave with the aforementioned 1981 show organized for MoMA PS1. He was the co-founder of the Mudd Club together with Steve Mass and Anya Phillips, and knew the NYC scene really well. Naturally, Cortez was mad about the music so he organized several new wave music festivals in Europe.
Later, he held lectures at the Yale University and was the collaborator on two relevant publications – the first one being Autonomia: Post-Political Politics published by Semiotext(e) together with Sylvère Lotringer and Christian Marazzi, and the second being ABC No Rio Dinero: The Story of a Lower East Side Art Gallery that was edited by Alan W. Moore and Marc Miller.
An interview with Diego Cortez on the occasion of  the exhibition New York / New Wave
The Aftermath of the New York/New Wave Exhibition
This New York/New Wave exhibition curated by Diego Cortez was a crucial moment of institutional recognition of radical no wave practices of the time. It helped the burgeoning NYC scene and encouraged newcomers since it offered a new and refined burst of energy several years after the punk and new wave popped up.
New York/New Wave was an authentic multimedia installation featuring pieces all over the floors and hanging from the ceiling, created by over one hundred artists, including Keith Haring, Andy Warhol, Maripol, and the then-twenty-year-old Basquiat, among many others.
Cortez empowered the young artist much by organizing his first solo exhibition in Italy since the galleries such as Leo Castelli weren't interested in his work. The idea was to get closer to respectable Swiss gallery owner Bruno Bischofberger, which happened after the Italian show and so, he became, and remained, Basquiat's primary dealer. After the artist's death, Cortez worked with his father on the estate's authentication committee. On one occasion, the curator stated:
I think his whole career, even though it was real short, it was a very full evolution of movements and styles. The way a 45-year career by most people who live full lives…here you see it like 7 or 8 years but it's a full career.
Diego Cortez speaks around the exhibition Basquiat: Boom For Real
The Cultural and Curatorial Domains of Diego Cortez
Diego Cortez is undoubtedly a legendary figure on so many levels; he was a true believer in innovative and radical artistic practices of the times which constantly merged different media, from painting, collage, graffiti, performance, and music. His passion for the latest currents and trends continued in years that came, so the curator collaborated with other significant names such as Shirin Neshat and Robert Mapplethorpe. Nevertheless, he is still best known for discovering Basquiat. In regards to that on one occasion, Cortez stated:
...I don't like the sociological aspect of people talking about Jean-Michel like he came from this (party) scene. It's just anecdotal and I think it's more important to talk about his work. I understand that you want people to know more about who he was as a person, but I'm not interested in people in that way. But in terms of portraying him to the public, I don't think there's enough scholarship of his work, or people understanding why he's important and that annoys me, so I always try to stay focused on his work.
Cortez was one of the few professionals who felt Basquiat's spark early on. Looking from a contemporary perspective, by creating a space for him he made a historical move which enabled the artist to spread his wings and enjoy, at least for a while, the fruits of his talent.
The art history scholars are still fascinated by Basquiat's extraordinary and multifaceted oeuvre and the best proof for that was a huge retrospective titled Basquiat: Boom For Real (part of the show was a room dedicated to Cortez's seminal show in 1981) organized and presented at the Barbican and shortly after at the Schirn Kunsthalle in Frankfurt.
Featured image: Diego Cortez. Image via youtube. All images used for illustrative purposes only.