It's the beginning of the 1970s in Southern California. The Vietnam War is raging, and anxiety is in the air. Completely independently from each other, three artists cope with life through the act of disappearance, some in the most daring and unique of ways.
In 1971, Chris Burden vanished without a trace for three days. We still do not know where he had gone. Jack Goldstein buried himself alive in 1972, with only a blinking red light showing his heartbeat. Bas Jan Ader staged his own disappearance through film, photography and slides; in his 1975 piece In search of the miraculous, he went to cross the ocean in a small sailboat, never to be seen again.
Not belonging to a particular group and without even being friends, these three artists lived on the West Coast at the same turbulent time. The aforementioned works are only some from their rich, radical and often overlooked oeuvres that often questioned human existence. This thread common in their visions is what brought curator Philipp Kaiser to put them together in an exhibition titled Disappearing - California, c. 1970, and to go behind their motives and causes. More than 40 films, photographs, slide installations, objects, records, paintings, as well as three immersive installations stand to show Ader's, Goldstein's and Burden's interpretations of being.
We talk to Philipp Kaiser about what prompted him to bring such an exhibition to life, how the three artists marked Californian art, and what it means to disappear today.
Disappearing — California, c. 1970: Bas Jan Ader, Chris Burden, Jack Goldstein is on view at the Modern Art Museum of Fort Worth until August 11, 2019.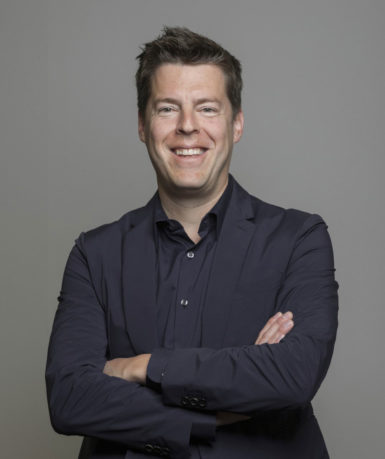 Disappearing
Widewalls: The exhibition concept is quite an interesting and unusual one. How did it come to be? Was it a certain artwork that prompted it?
Philipp Kaiser: How and why "disappearance" occupied these three artists were questions I've been considering for quite some time, especially after working with Chris Burden and organizing a Jack Goldstein retrospective in 2012. It was during the time I spent with Goldstein's work that really made me aware how much his practice was based on disappearance. Jack tried to vanish as author of his work and was indebted to a specific conceptualism that was blossoming institutionally at this particular moment in the early 1970s.
Tragically, Jack and also more prominently Bas Jan Ader disappeared in real life before their time.
It was indeed a specific work that I chose to be the title. In Chris Burden's private performance Disappearing, 1971, the artist disappeared for three consecutive days without prior notice to anyone and without telling anyone his whereabouts.
Widewalls: The three artists featured in the show weren't even close friends, yet they all lived and worked in (Southern) California. Would you say this is a coincidence or has the area provided something for these artists to have in common?
PK: The artists' southern CA milieu is an important context for the exhibition and the works we've brought together. All three artists were exposed to a new context of radical pedagogy and artistic invention. They were studying and making work at the newly established progressive art programs at CalArts and UC Irvine. This was a moment when so many artists in and around Los Angeles were charting a path beyond the hegemony of ideas based in New York.
Disappearance was not only at the core of their conceptual practice but also became a theme that ran through the three artists' work in a remarkable way that was very specific to California. The romantic and often sublime notion of their disappearance was often paired with a radical individualistic gesture or performance.
Widewalls: Bas Jan Ader's "In search of the miraculous" surely reflects upon the show's theme best, as it was the artist's last work. What do we know about it? How does the exhibition itself honor this work?
PK: Ader's voyage on the sea in a small guppy boat has inspired countless contemporary artists and myths. In a work like In search of the miraculous, Romantic tropes of journey, landscape, and sublime experience are crucial ways Ader engages with the conceptualist tendencies of the period.
Crucially, I think the exhibition reveals how this Romanticism cuts across all three artists and perhaps the larger historical context. All that being said, the tragedy of Ader's death in his unfinished In search of the miraculous can't be overstated. His widow Mary Sue Ader Andersen's strength and own artistic contributions keeps his work alive and was an important support to our project. We included Ader's slide show and documents that he featured himself in 1975 at the Claire Copley Gallery in Los Angeles.
Widewalls: It is also mentioned that the works featured in "Disappearing" could be indirectly referencing the Feminist movement. How close were the two actually, aside from happening at the same time?
PK: At CalArts, the newly established Feminist Art Program and the Post Studio class of John Baldessari were simultaneously infusing an energy for the students and generated more overlap than art history has admitted in the past The urgency of radical performative practice across Southern California was linking many protagonists whose history has been dissected by critics separately. Having worked with many of the artists from this generation over the years it became obvious that their similar concerns were being acknowledged in the first place due to specific political and social circumstances of the time.
All of the performances at the time were highly theatrical and radical and despite the fact that the three artists might have subconsciously raised the issue of their (male) disappearance, they shared the same art audiences.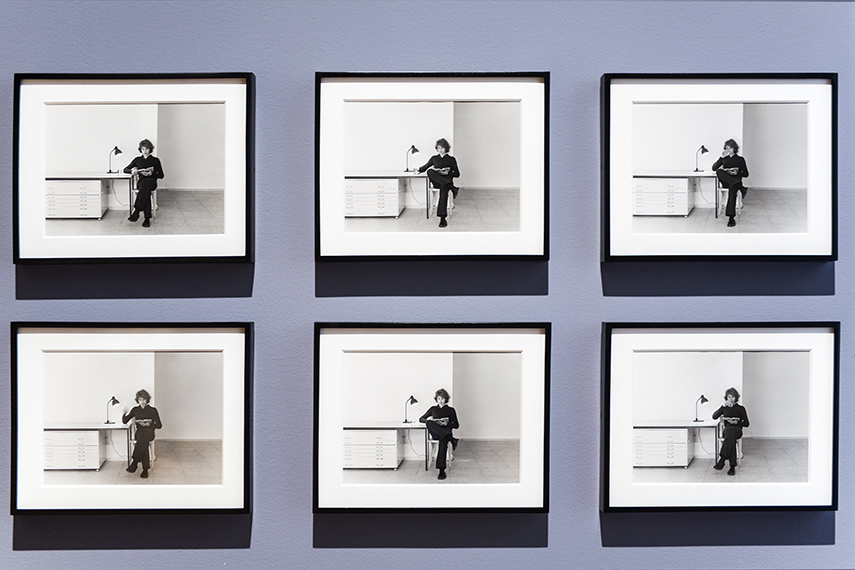 A Legacy
Widewalls: What would you say is the legacy of the artists' oeuvres? Do we have something similar happening anywhere today?
PK: Considering artists like Simon Starling or Tacita Dean who have engaged directly with the history of Burden and Ader, as well as other artists interested in the history of conceptualism, performance, and film in southern California, I think Ader, Burden, and Goldstein offer important examples for the present. My hope is the exhibition offers a different framework to re-engage all three artists, especially in the exhibition's mixing of media and the rich themes and subject matter "disappearance" conjures, from landscape and technological innovation to war and collective destruction.
Widewalls: How would you describe the experience of putting all of these works together for this show? What were the biggest challenges?
The Modern Art Museum of Fort Worth is one of the most important art institutions in the US. I feel lucky to have realized this project with them. The combination of the great Ando building and the trust and generosity of Director Marla Price and Senior Curator Andrea Karnes to invite me to realize this ambitious exhibition made it a wonderful experience for me.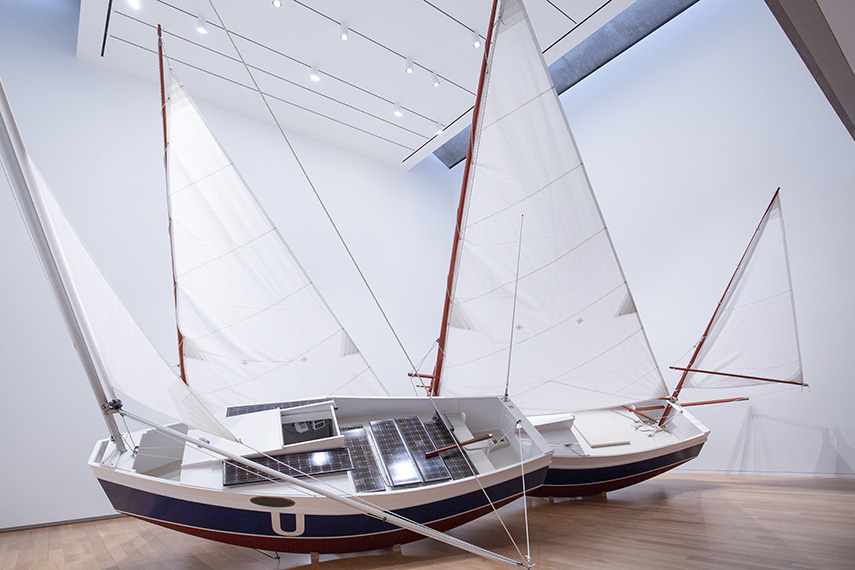 Featured images: Left projector: 
Bas Jan Ader - Nightfall, 1971. 16 mm film, black-and-white, silent; 4 minutes, 16 seconds. The Estate of Bas Jan Ader. Center projector:
 Jack Goldstein - Rocking Chair, 1972. 16 mm film, black-and-white, silent; 4 minutes. The Estate of Jack Goldstein. Right projector:
 Jack Goldstein - Jack, 1973. 16 mm film, color, sound; 11 minutes, 24 seconds. The Estate of Jack Goldstein; Jack Goldstein, Untitled, 1981. Acrylic on canvas, Overall: 84 × 132 in. Private Collection. All images courtesy The Modern Art Museum of Fort Worth.