When the news about the opening of Dismaland  began to spread all across the world, everybody was talking about Banksy. And, it's quite logical – the king of street art is behind the concept of this subversive theme park. However, not so much was said about the artists whose works will be exhibited in Dismaland. In this article, we will briefly focus on Dismaland artists. The project includes the work of fifty-eight international artists – some of them quite famous. We should also mention that there will be some amazing night events (i.e. evenings with Kate Tempest, Pussy Riot or Massive Attack). All in all, Dismaland is going to be an extraordinary art event, with some impressive artworks on view. Finally, let's see who are the Dismaland artists (except Banksy, of course).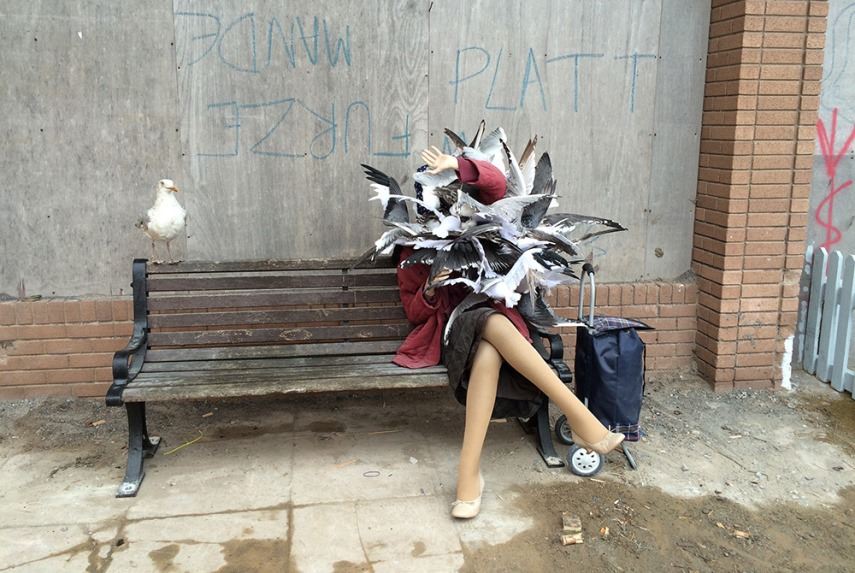 Dismaland Artists
As it is announced on the Dismaland official website, fifty-eight international artists will exhibit their works in the theme park. Banksy's twisted Disneyland project features work by 13 American artists, while the majority of the artists participating in the official program are coming from the United Kingdom. Among the participating artists are Damien Hirst, Jenny Holzer, Mike Ross, Axel Void and many others. It's interesting to mention that one of the participating artists – Darren Cullen said, in an interview with Guardian, that neither he nor the other artists met Banksy during the process of putting together the exhibition.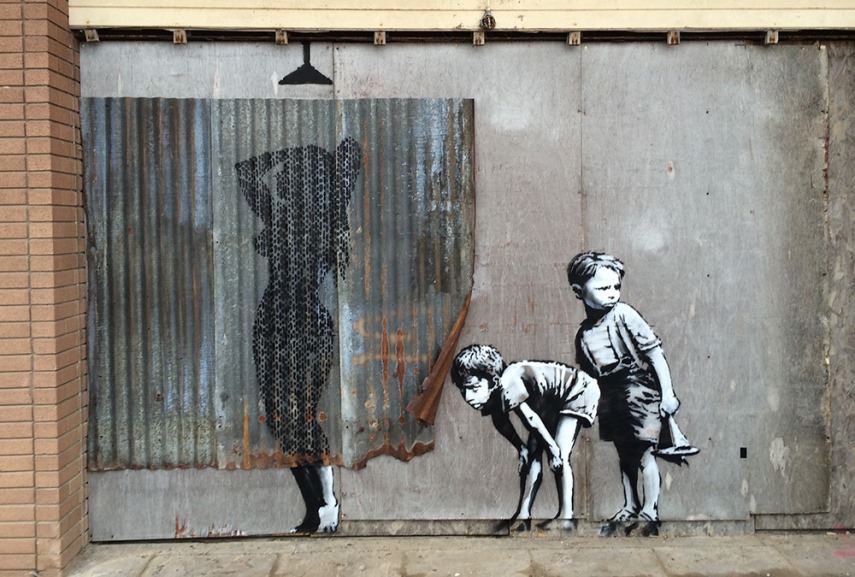 Three Galleries and Big Exhibition
Apart from a number of theme park "attractions", Dismaland also includes three large galleries, which together comprise the finest collection of contemporary art ever assembled in a North Somerset seaside town (according to the website). Banksy himself will have exhibited 10 new artworks. One of the stars of Dismaland artists is certainly Damien Hirst. Several works by this famous British artist will be exhibited. Jenny Holzer is also among participating artists. We can expect bizarre and beautiful artworks from Bill Barminski, Caitlin Cherry, Polly Morgan, Josh Keyes, Mike Ross, David Shrigley, Bäst, and Espo.
A Dismaland employee holds balloons that read "I am an imbecile"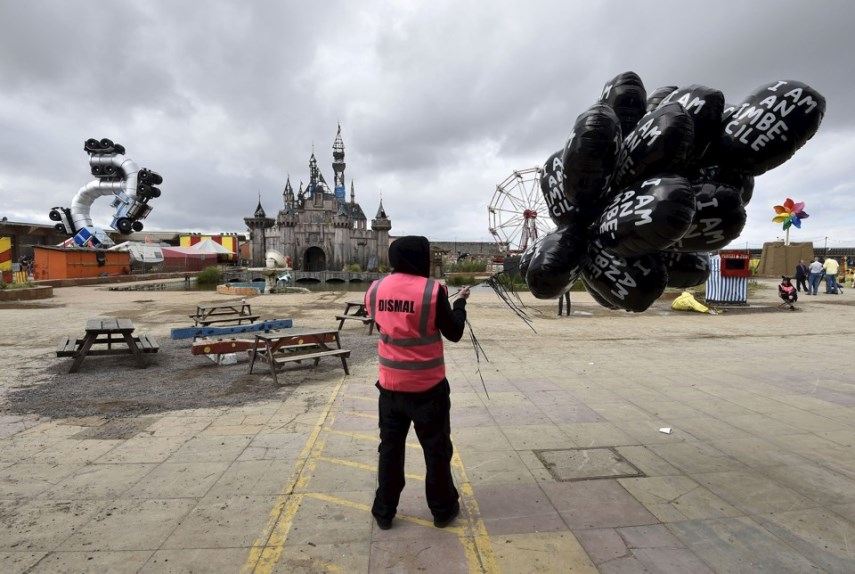 Dismaland Artworks – Examples
Mike Ross has created an S-shaped sculpture of two, upended fuel tankers, entitled Big Rig Jig. It is one of the biggest installations on the site. Swedish artist Ben Long has created a huge scaffolding horse, while Darren Cullen created a pocket money loans shop in the "kid's enclosure" that offers money to children at the generous interest rate of 5,000 percent. We should also mention that one of the attractions include a daily bonfire kindled by the works of the crime novelist Jeffrey Archer. A small part of Dismaland will include a program of 24 short films shown on a massive outdoor cinema that will play on a loop day and night. There will be something interesting even for movie lovers.
S-shaped sculpture of two, upended fuel tankers by Mike Ross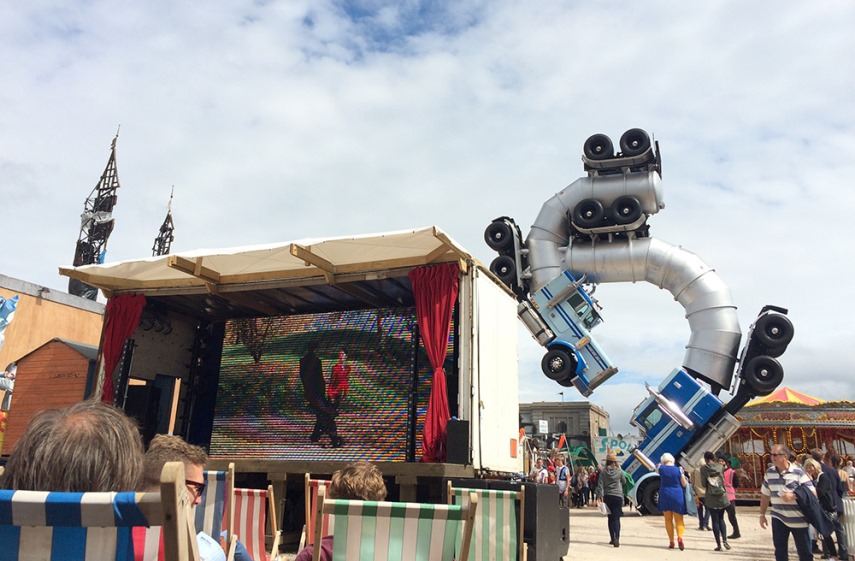 Who Are the Dismaland Artists?
It is interesting to note that several artists are coming from Palestine. Maybe it has something to do with Banksy's Gaza intervention from February 2015. However, the majority of Dismaland artists are British. For the full list of artists, you can visit the official Dismaland website. And to repeat once again: the latest masterpiece by the street art king will be opened until September 27, 2015.
For the latest developments in the world of street and contemporary art, sign up for My Widewalls! It's free of charge!
Featured Image:Dismaland (courtesy of thisiscolossal.com)
Image in Slider: Damien Hirst - A uniquorn piece for Dismaland (courtesy of dailymail.co.uk)
All images used for illustrative purposes only.