The rumors were true: Banksy is coming home and he will be curating Dismaland - Bemusement Park, that was constructed at a small British town near famous artist's hometown Bristol. This subversive theme park, a dark parody of Disneyland is being announced as "The UK's most disappointing new visitor attraction!", and it will feature more than forty international artists. It was built at the old water park Tropicana that was shut down for years because of low income and hard economic times. Now the famous star and his team have created a twisted theme park, that will be the "festival of art, amusements and entry-level anarchism".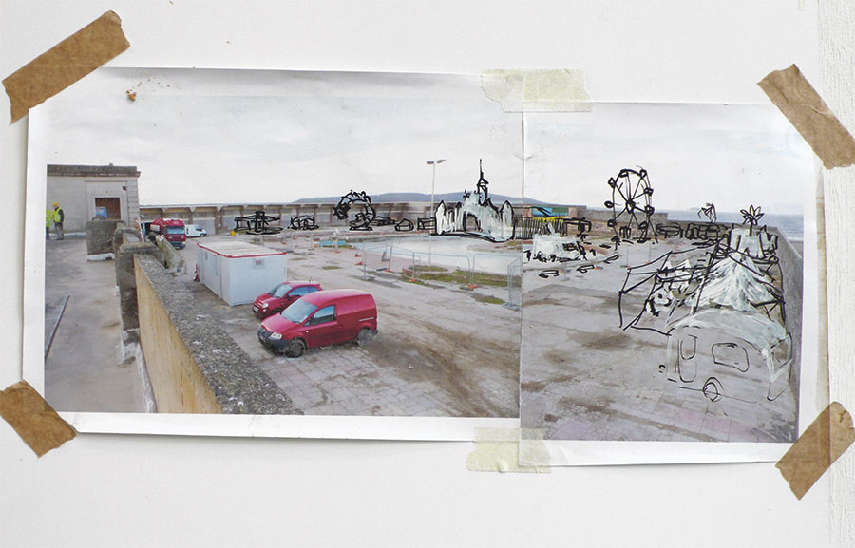 Did You Hear the News - Dismaland has Banksy's Distinctive Sense of Humor
So, what will this yet another work of magic feature? Well, certainly, there will be no Disney's representatives - on the front page of this theme park there is a small-letter print, that says: "Contains uneven floor surfaces, extensive use of strobe lighting, imagery unsuitable for small children and swearing. The following are strictly prohibited in the Park – spray paint, marker pens, knives and legal representatives of the Walt Disney Corporation". Among other interesting things, there will be three large galleries "which together comprise the finest collection of contemporary art ever assembled in a North Somerset seaside town", model village, a Cinderella's castle just like in Disneyland theme parks, except this one looks like as it suffered a total damage in a large fire. In a distinctive auto-ironical way, a giant pin-wheel that also can be found is commissioned to power the entire site, but "it turns out this ecological marvel has trouble charging more than two mobile phones at once". At Jeffrey Archer Memorial Fire Pit, visitors will be able to burn novels by "one of the famed local perjurer", while artist Nettie Wakefield will be drawing visitors, but only the backs of their heads. Live Friday night events will feature Kate Tempest, Pussy Riot and Massive Attack.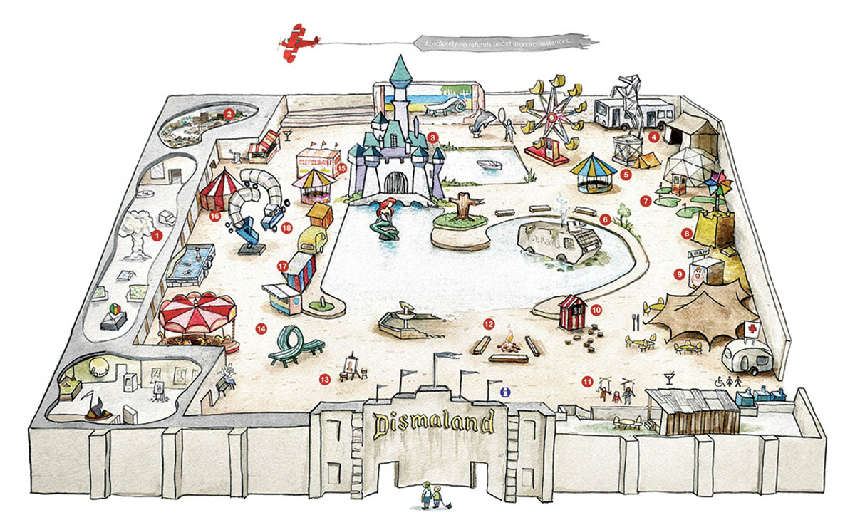 A Great Chance for Local Economy
Apart from mentioned Nettie Wakefield, 45 more international contemporary artists will be presented, with Axel Void, Damien Hirst, James Joyce, Jenny Holzer, Jimmy Cauty, Kate MacDowell, Lush, Severija Inčirauskaitė-Kriaunevičienė, Ben Long and Espo being some of them. This spectacular and crazy theme park will open tomorrow, on Friday, August 21st, and it will be open everyday from 11 AM to 11 PM until September 27th. Tickets are limited and cost three British pounds, while children under the age of five can enter for free. This will be first show of the great artist in Britain since 2009 and Bristol City museum, that attracted more than 300,000 visitors and more than 10 million pounds for the local economy.
Photos from the spot are already on social networks!
Your opinion is valuable to us! Please join us for a discussion on our Facebook page.
Location of Dismaland
Sign up for My WideWalls for FREE and be up-to-date with contemporary and street arts.
All images courtesy of Dismaland.