Everybody is talking about Banksy's theme park. It's not breaking news anymore. Still, many are still wondering what it looks like. In this article, we are presenting some Dismaland videos , so you can create some kind of image. One week ago, we were posing a question where Banksy might had been. This week, we found out what was Banksy doing and preparing all these months. First rumors about Banksy preparing a secret exhibition near Bristol appeared couple of days ago. Three days ago, it was official – Dismaland Theme Park is opening, with some quite amazing distorted version of Disneyland attractions. Maybe we should not exaggerate, but Dismaland is probably the biggest and the most spectacular intervention by Banksy in his entire career. However, let us see some Dismaland videos , with views of the Banksy's theme park from inside.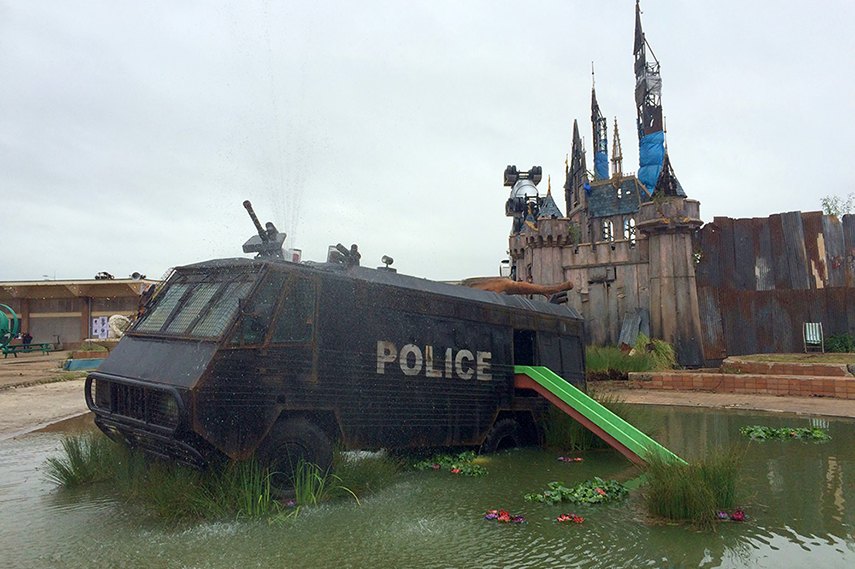 Dismaland Videos – Inside Banksy's Masterpiece
Cinderella's castle, a model village and a cinema; dead princess, twisted truck sculpture – these are only few of dozens of "attractions" you will find inside the 2.5 acre site of the Tropicana lido, where Dismaland is located. Take a look at some videos!
Inside Banky's Dismaland – A Video by Channel 4
Dismaland Video – What Will you Find Inside Banksy's Playground
I am an Imbecile
Banksy's new intervention is full of political satire. It might look funny, but the whole theme park can actually be perceived as a criticism towards contemporary consumeristic society.
More Dismaland Videos
Twisted Attractions
Cinderella's Castle and Watery Fun
Among many "attractions" of Dismaland (or should we say artworks) are Cinderella's Castle and small pool full of water with a toboggan and a police car. Definitely sounds weird, but take a closer look!
Inside the Fairytale Castle at Dismeland
Watery Fun at Dismeland
Dismaland is Opened!
Finally, let's recapitulate one more time. Dismaland – the latest masterpiece by the street art king will be opened until September 27th. Tickets are limited and cost three British pounds, while children under the age of five can enter for free. Don't wait, book your ticket! For more information, visit the official site of Dismaland.
Loans for Kids at Banksy's Dismaland
Artworks in Dismaland
We would like to hear your opinion! Please comment on our Facebook page!
For the latest news from the world of street art, sign up for My Widewalls! It's free of charge!
Featured Images:
Little Mermaid – Dismaland. Photo by Christopher Jobson for Colossal
Dismaland via Juxtapoz
All Images used for illustrative purposes only!