New year, new beginnings… Why not a new sound-system too! The Berlin-based designer, Axel Pfaender delivered a new creative toy in the form of DIY mobile speaker compatible with all kinds of cellular phones and players- iPhone, iPod, Android phone or Windows phone. He named it the Berlin Boombox, as its design is inspired by the flashy boomboxes of the 1980s that were popular in the streets back then. Fresh approach to redesigning a classic old-school sound carrier has a fantastic result in an entirely customizable plaything, which grooves hard and looks too cool for school. The Berlin Boombox is available online, priced at €65 for the designed piece and €74 for the DIY one, shipped everywhere in the world for the additional price of € 9. Online store also provides a great range of accessories. Get it all here.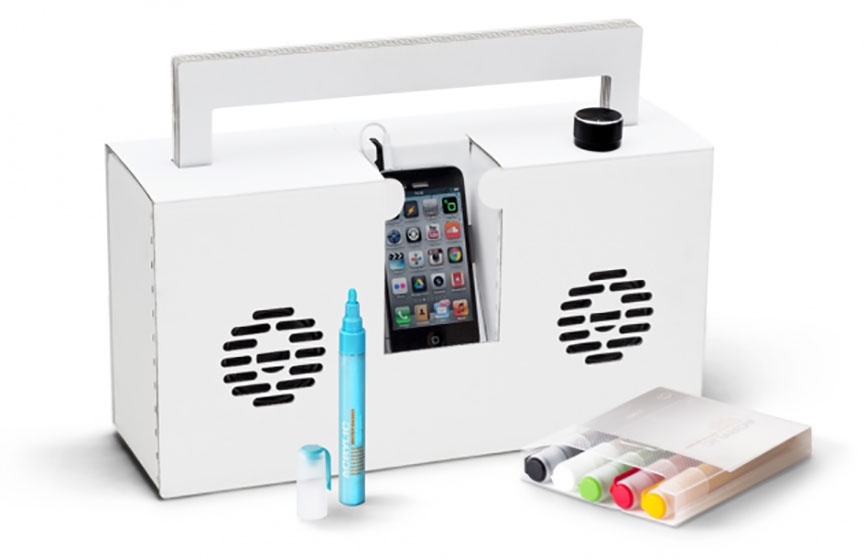 Design Contest
Design Contest is also open for every aerosol lover! Entrants ought to design their own Boombox, sign up, and the winning design will be produced as a 2014 special edition, widely publicized and sold worldwide! Consolation prizes include goodie-bags from Montana Cans every month. Artists such as Cantwo, Atomone, Stohead, Superblast and Kent have already participated in customizing the Berlin Boombox, and their creations are available for purchase.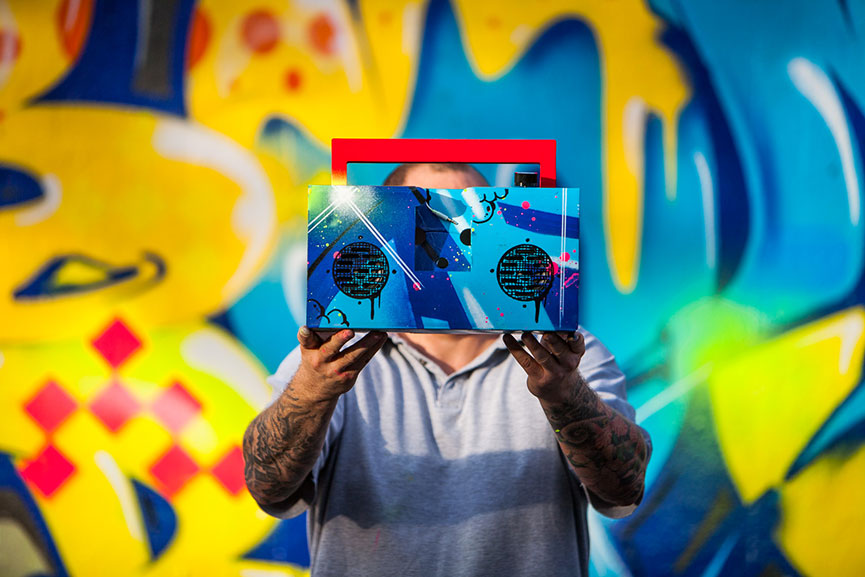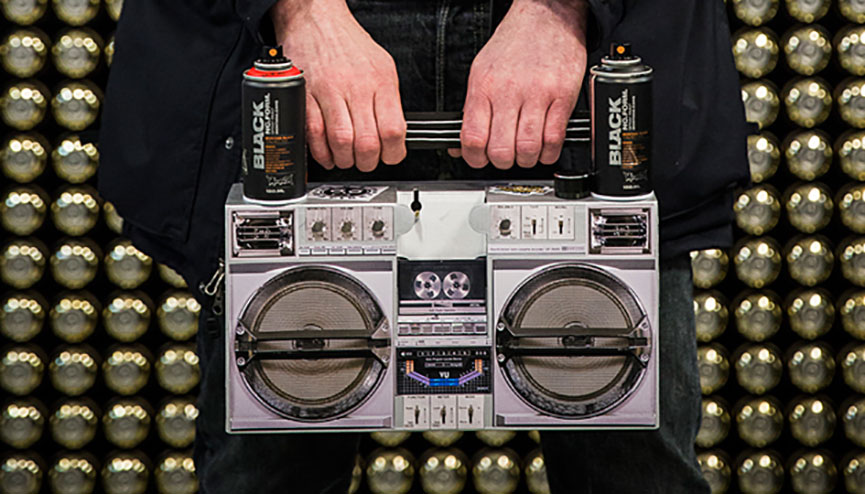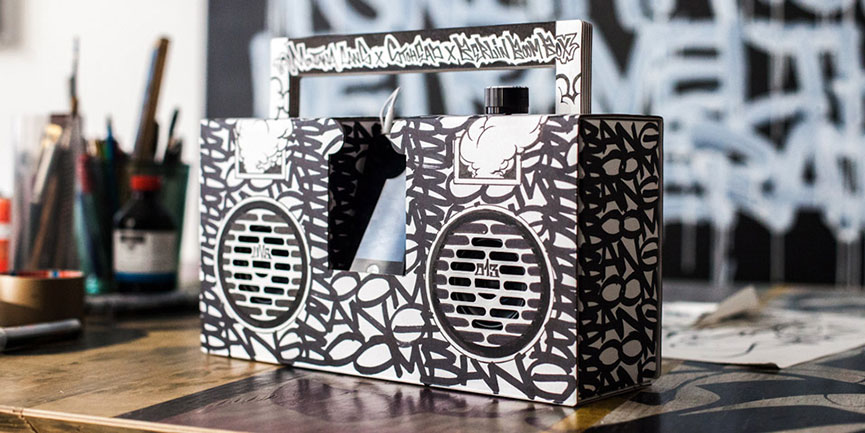 Technical Details
The Berlin Boombox is made from cardboard structure and it is packaged with a DIY kit and all electronic parts. It is available in white (read blank) and also in several versions designed by acclaimed street artists. Assembly of the system is simple, and for all questions there is a lot of support (step-by-step instructions etc.) provided online. Since it connects to the headphone jack of the device, it is compatible with absolute majority of smartphones available on the market today, but it can be connected to a computer, notebook, tablet, iPad, console, turntable… Even an old Game boy!  The system is powered by 3 AA batteries, and it blasts through two MIVOC PRO 75mm/3" full range speakers.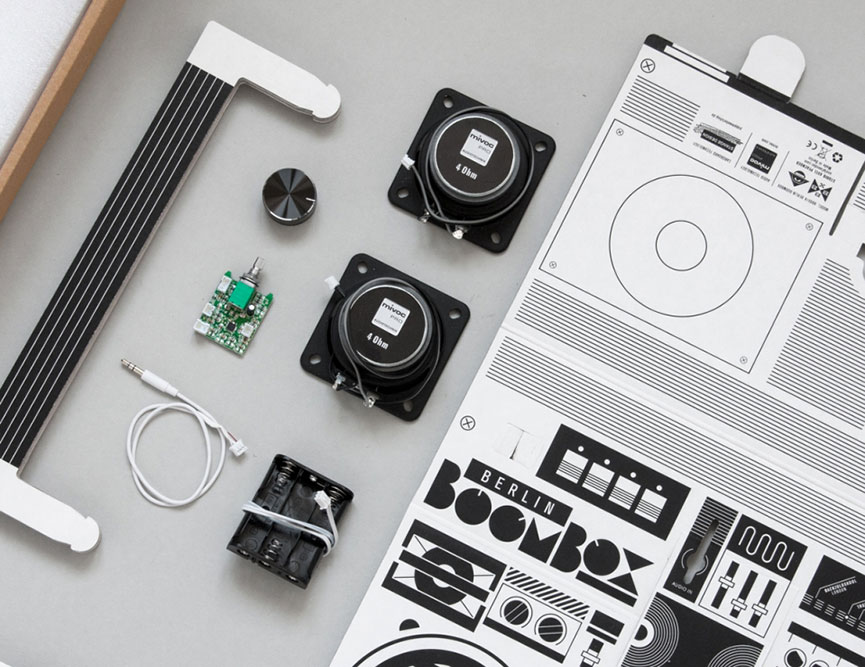 Montana
Montana Cans is a specialized brand, known to street and urban artists since it was launched in Heidelberg by a team rooted in graffiti culture. Passion for the craft was combined with perfectionism and a new, high-quality creative tool for aerosol enthusiasts was born. Montana Cans constantly improves its products, as well as it supports artists and artistic events globally.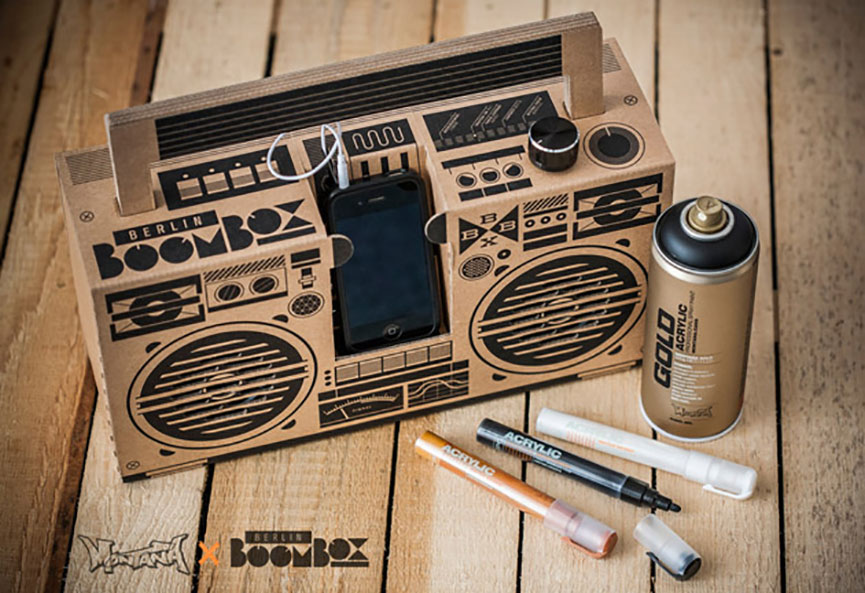 Pictures retrieved from: Berlin Boombox