Eclectic vividness of Djordje Ozbolt's painting stems from the artist's long-term devotion to travel and exploration of different cultures and religions. Having moved from his native Belgrade, Serbia to London at the beginning of the 90s, he took his Serbian heritage and mixed it up with his English experience, while continuously implementing visions and ideas based on exotic sights and cultural interest in different traditions and periods. Ozbolt's figurative painting is characterized by a rich narrative, which keeps uniting traditional aspects of art thematics with motifs taken from both the close and the distant belief systems and cultural prejudice, mixed up with the painter's recognizable humor.
This month, Djordje Ozbolt is making his debut at the Hauser & Wirth gallery in New York, with an exhibition bringing his latest works to light, of an amusing title - More paintings about poets and food.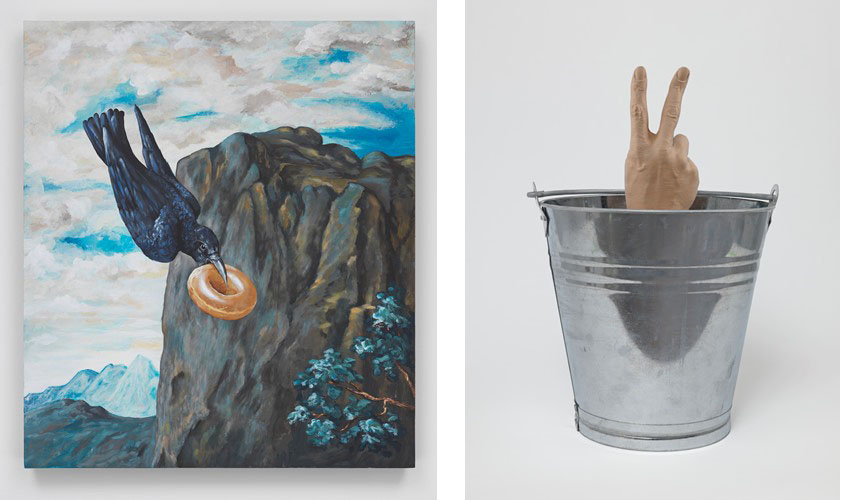 50 Ways to Leave Your Lover: Painting Series
Focus of the exhibition at Hauser & Wirth is a comprehensive painterly installation comprised of fifty Djordje Ozbolt paintings, entitled 50 ways to leave your lover. Said work, completed in 2014, is the largest serial work created by the artist so far, and it includes of fifty separate pieces lined up in a row on the second floor of the gallery. Central space of the installation is given to a custom-made trolley, specially designed as a carrier for the 50 paintings, an original and integral part of the piece, an homage and a mockery of Modernist sculpture.
The works are executed from recycled wood and material and named after a Paul Simon 1975 hit song, while rooted in pop culture and politics referring to art historical and abstract sources. The array of boldly chromatic pieces, easily connected to Ozbolt's style, is broken by monochromatic, even schematic works. Scenes these 50 paintings depict are a mixture of real and imagined, surreal paintings of the artist's mind, constantly moving between the relatable and the ridiculous. They can be related to the surrealist explorations of stream of consciousness in the field of visual arts, created in a tight period of three months, as a visual diary of Ozbolt's varying states and opinions. However spontaneous these works might seem, especially being finished in a continuous stream, they never lose the whimsical nature of Ozbolt's admired expression.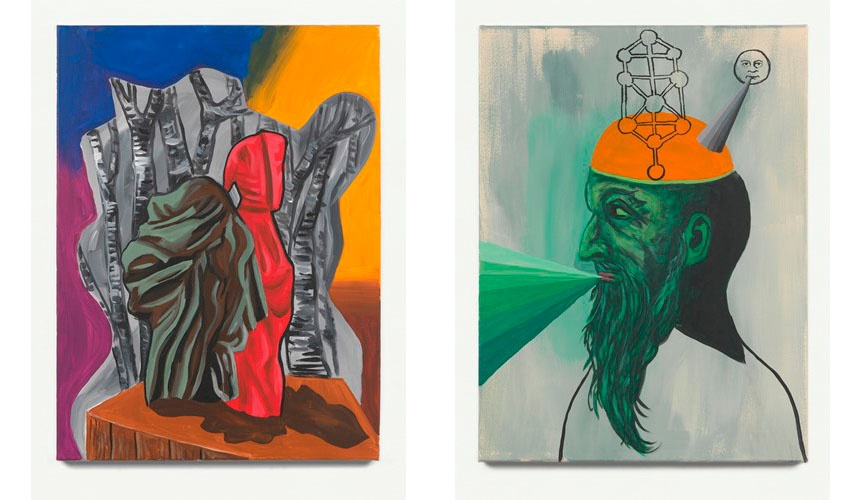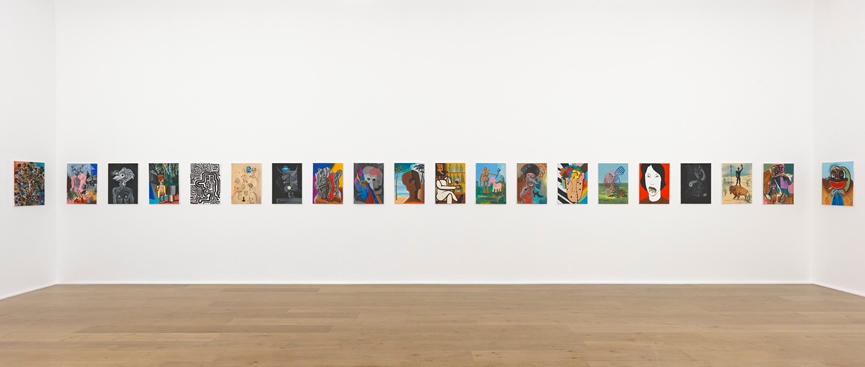 Paintings About Poets and Sculptures About Food
More paintings about poets and food also presents recent Ozbolt's pieces, in which the painter's habit to incorporate and redefine famous expressions, styles and artists comes to life yet again. Releasing the Demons of Creativity is one of the new paintings that may be perceived as a self-portrait, showing the artist in a primitive state, struggling to conjure something amazing to give to the world, making fun, elegantly, of Ozbolt himself, but the artist's profession as well. Poet smoking is another take on the contemplative process of a creative, where the poet/artist is depicted as a clump of colors, while bulging his eyes out in search for inspiration.
Sculptures on show explore the food notion of the show title a bit more. Really Big Mac is an ode to gluttony, while Let Her Eat Paint is an intervention upon a found bust of Marie Antoinette, covered in what is left of paint from the artist's studio - a witty reminder of one of her most famous sentences, an ultimate revenge of an artist.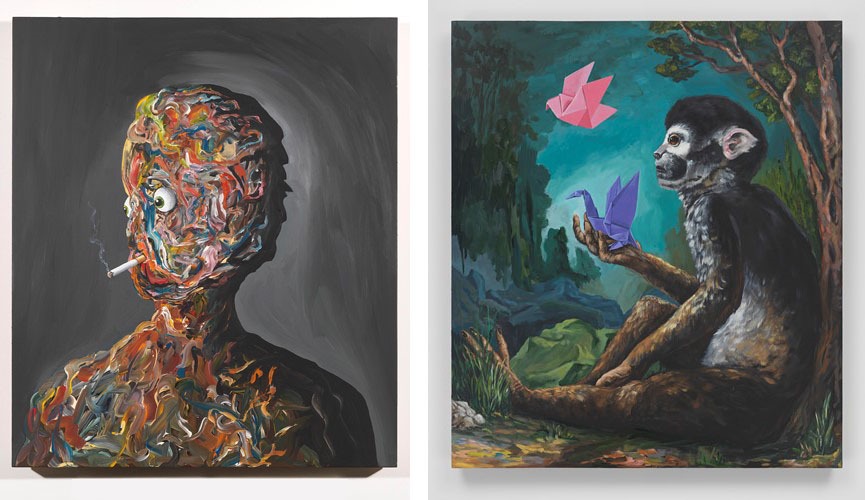 Imaginative World of Ozbolt at Hauser & Wirth
The Hauser & Wirth exhibition includes a series of recent drawings along with the Djordje Ozbolt paintings and sculptures. Thematics of these paper-based works is generally surrealistic, filled with imaginative, hybrid creatures and imagined world, leaning on the stereotypical Americana.
All of the pieces curated for the More paintings about poets and food demonstrate the importance of free association and stream of consciousness in Djordje Ozbolt's work, testifying to much stylistic development, but also consistency in expression when we look upon the entire artist's oeuvre.
More paintings about poets and food by Djordje Ozbolt opens on January 14, 2015 at Hauser & Wirth gallery in New York, running through February 21, 2015.
Interested in some of Ozbolt's sources. We dare suggest Frida Kahlo, who had a wonderful exhibition in Rome last year.
Love contemporary painting? Sign up for My Widewalls and keep up!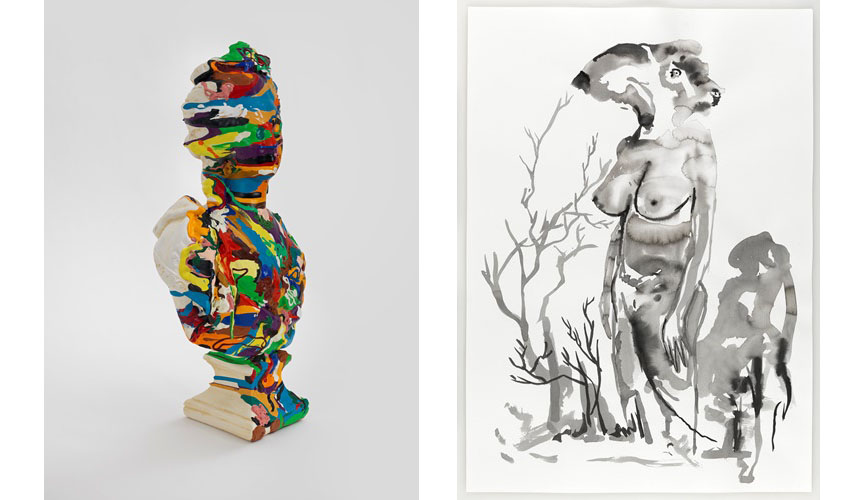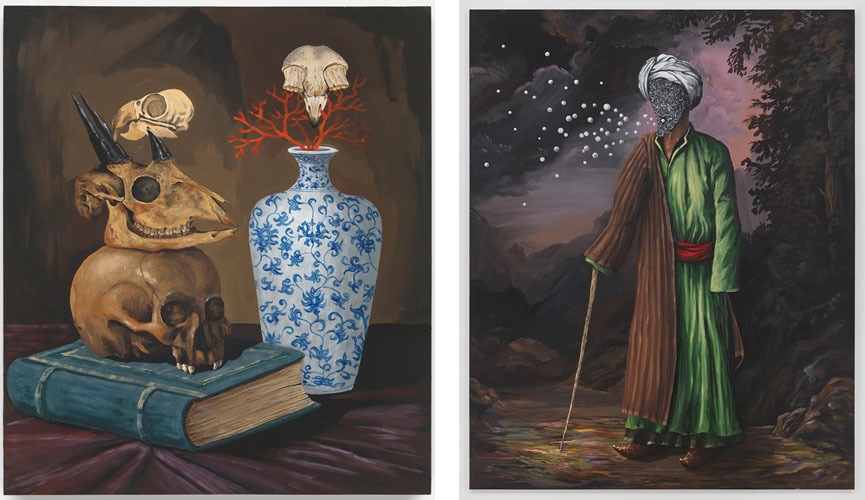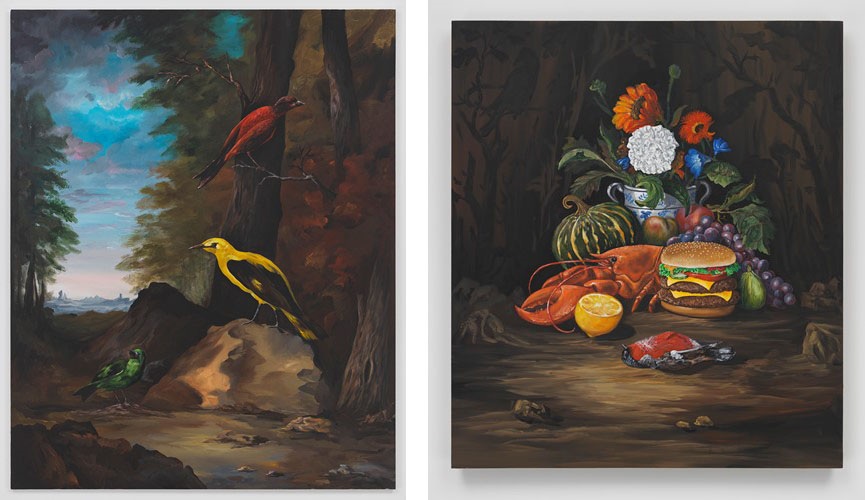 All images © Djordje Ozbolt
Courtesy the artist and Hauser & Wirth