Israel has a unique and particularly rich urban art scene, which has gained an international reputation in recent years. The photographer Leora Cheshin traveled through the urban landscape of Israel and began to capture creative moments from all parts of the country, hoping to preserve these ephemeral works. In two illustrated books, BEFRIEND YOUR DEMON (2009) and DO NOT DISTURB (2012) she captures and documents the physical and social landscape of Tel Aviv, Kfar Saba, Haifa and Jerusalem and their streets, which serve as the working basis for many artists. This exhibition will display and present original works from Israeli as well as Israel based Graffiti and Street Art artists like Broken Fingaz, Dede, Zero Cents, Pilpeled and Untay.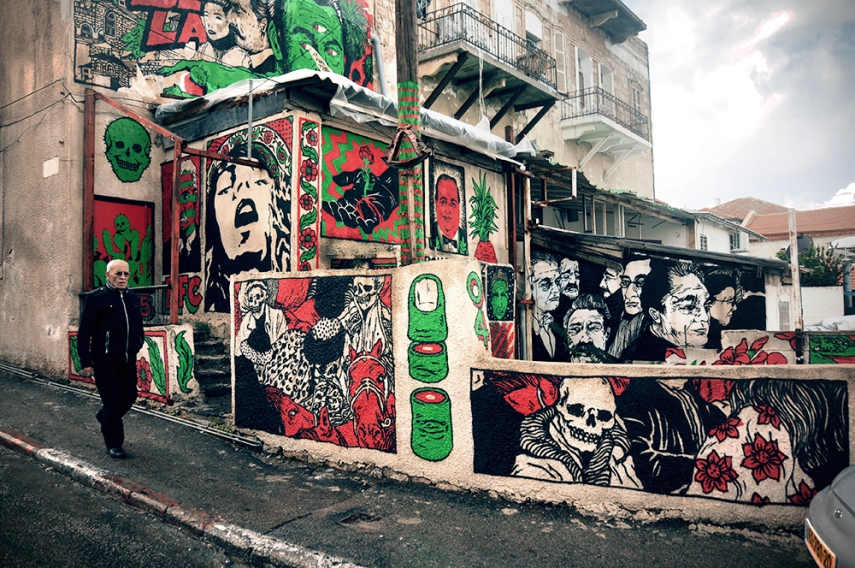 Israeli Street Art Scene
Unga, Tant, Deso and Kip are Broken Fingaz, collective of artists from Haifa, founded in 2001. Broken Fingaz are known for their brightly colored psychedelic-pop imagery. The characters in their works are bizarre and ruthless, erotic and subversive. They draw inspiration from paintings and graphics of the art-nouveau period and role models such as the graphic designer and illustrator Ephraim Moses Lilien, Albrecht Dürer, Toulouse-Lautrec and Gustav Klimt. Influences from old skateboard graphics and comics from the eighties are also noticeable in their work.
In addition to spray paint Dede uses paint, paper and diverse industrial materials to design various installations. His main motive is the patch, hence the stage name Dede Bandaid. Since his military service in 2008, he deals with political events, such As the Arab spring but continues to portray everyday issues in a humorous way such as policemen dressed in ballerina outfits.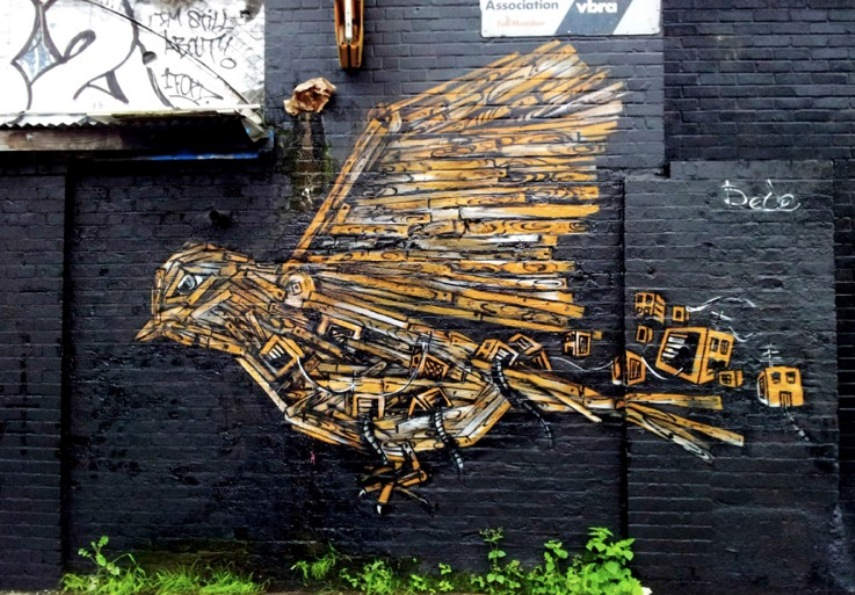 Zero Cents creates murals, site-specific installations and paintings. He deals with existential human emotional states such as loneliness, sadness, fear, pain, love or anger.
The artist paints experienced or dreamed, mystical and dark images, in which his powerful, disturbing and horribly deformed beings represent the darker side of the human psyche.
UNTAY(Boaz Sides) is an active member of various projects in the Israeli Street Art and Alternative Art Scene. He draws inspiration from important social events happening locally and globally. Untay prefers to work as a mixed media artist. He uses pencils, acrylic, pastel colors, old books, wall paint, charcoal, watercolors and more. The choice of artistic method depends on the location and concept to convey the message most effectively.
Nir Peleda.k.a. Pilpeled started early, designing posters and album covers. He worked as a designer for MTV Israel, collaborated with Absolut Vodka, Puma, and is also known for His interior design work.
Pilpeled's roots lie in graffiti and he is an important part of the Israeli Street Art Scene. In his characteristic black and white scenes he portrays childhood memories, and life situations filled with joy, melancholy and anxiety.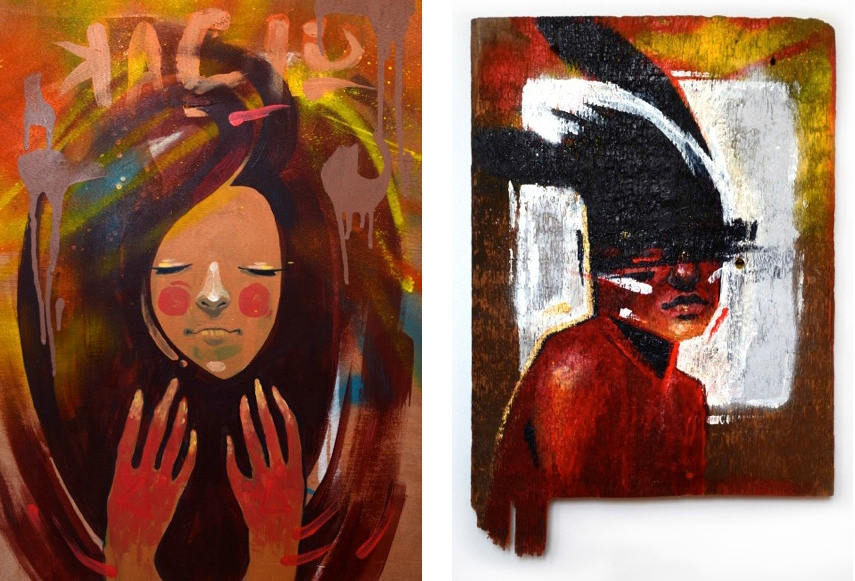 Photographer Leora Cheshin
Cheshin studied art and photography at the Bezalel Academy of Art and Design. The photographer has participated in numerous group and solo exhibitions and her work was printed in publications about Israel's Urban Art in 2009 and 2012. Her works can be found in private collections in Israel, England and the United States and her photographs were published in various magazines, art books, and calendars. Leora Cheshin lives in Jerusalem and is a member of the Jerusalem Artists Association.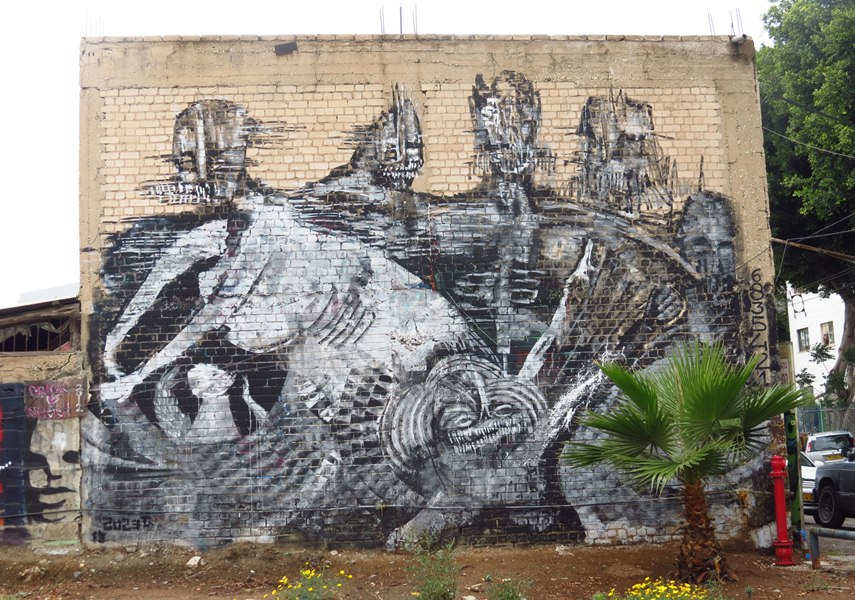 Do not distrub at INOPERAbLE Gallery
Do not disturb-Israels Urban Art in Vienna's INOPERAbLE Gallery is curated by Jasmin Wolfram. She is also the moderator of a talk between the photographer Leora Cheshin and an Israeli Urban Artist UNTAY that will take place on March 11th at INOPERAbLE.
The aim of the exhibition is to give a current insight to the diverse as well as high quality Israeli Street Art Scene, but also to strengthen the public interest in Graffiti & Street Art and in Israel's position as a dynamic contributor to this scene. Thus, the public is encouraged to discover the selected artists and their art works at the original site through the photography.
"Do not disturb- Israels Urban Art" opens on March 10th and lasts until April 25th, at INOPERAbLE Gallery in Vienna.
Find more interesting Street Artists here.
Make sure you stay informed about more exciting shows and artists signing up to My Widewalls!