It is nothing short of a miracle that the Parthenon still stands in the centre of Athens as a coherent and intelligible piece of ancient architecture. For the most part, archeologists spend their time piecing together tiny fragments of found objects in order to discover small clues about the past. Most of the time their work leads to more questions than answers.
Last month, Documenta 14, the prestigious quincentennial contemporary art show, opened in Athens (8 April - 17 September). Spread across multiple venues in the city, the show feels like an archeological site where selected artists have worked tirelessly to excavate, analyze and document forgotten, ignored or unknown cultures. However, large monumental pieces on the scale of the Parthenon are far and few between. As result, the visitor must do the work of making meaning from a raft of intriguing, yet disparate, set of smaller works.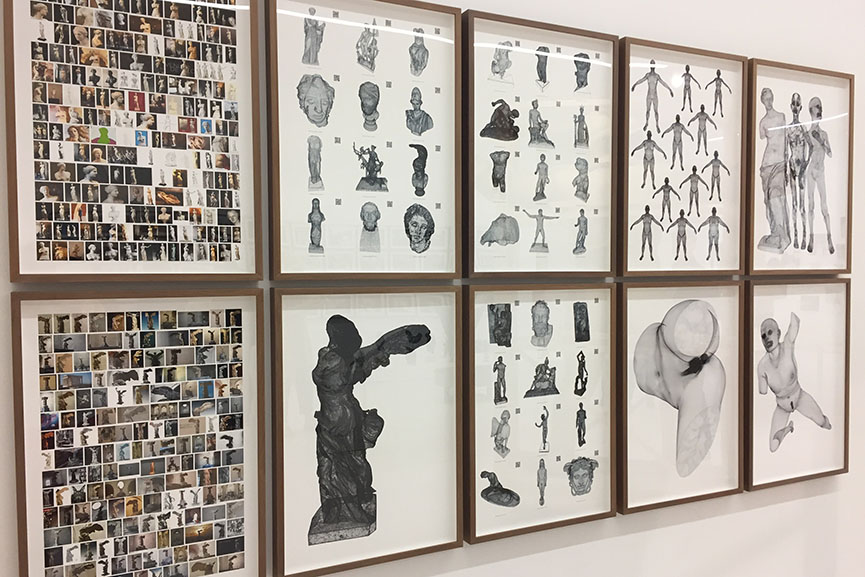 Lois Weinberger - Debris Field
At least one artist literally undertook an excavation to create her Documenta 14 installation. Lois Weinberger's Debris Field (2010-16) presents a series of specimen boxes containing objects she discovered underneath the floorboards of her family farmhouse in Austria. The fact that she found cracked and broken pottery is not surprising. However, the dirt stained, yet fully intact baby clothes, fragments of religious text, and long wooden plank labelled "death board", evoke an eerie, somewhat mysterious feeling. The installation makes one wonder about the hidden histories that lay below our feet in the places we inhabit on a daily basis.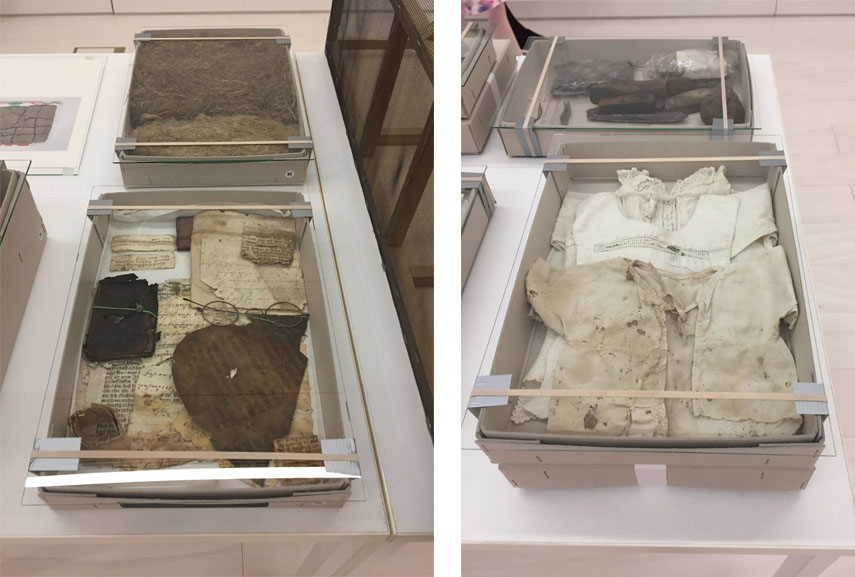 Bonita Ely - Plastikus Progressus Momeno Mori
A number of artists use found objects as the basis of their artworks. Bonita Ely turns discarded plastic appliances into a new species of animal which consumes the waste that pollutes our waterways. Her installation titled Plastikus Progressus: Memento Mori (2017) is one of the few humorous and future-looking pieces in the show.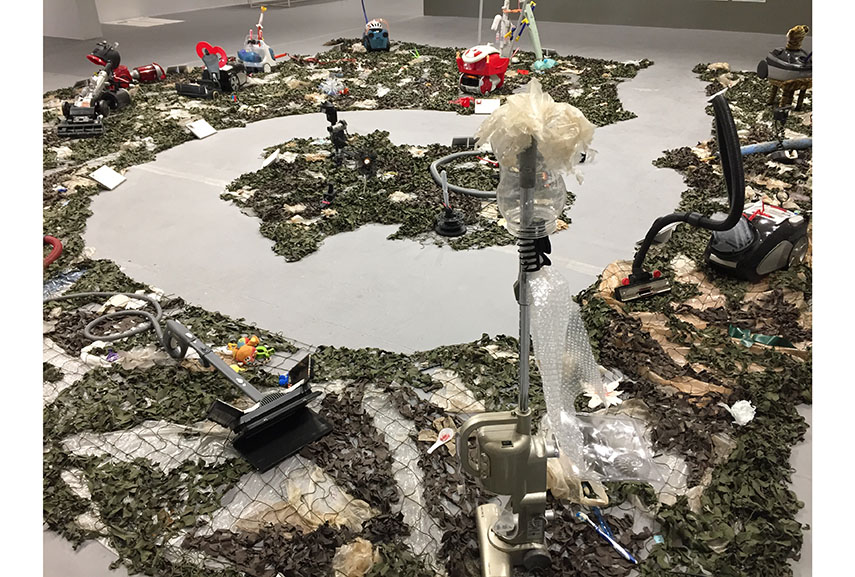 Daniel G. Andujar - The Disasters of War, Metics Akademia
Daniel G. Andujar uses the type of Greek sculpture you might find in the Acropolis as the starting point of his analysis of how classical figurative ideals have been co-opted for nationalists and racist agendas. His installation The Disasters of War, Metics Akademia (2017) presents images and sculptures of figures in traditional classical poses and juxtaposes them with images and 3D printed sculptures presenting the human form as it really is: flabby, thin, awkward and unbalanced.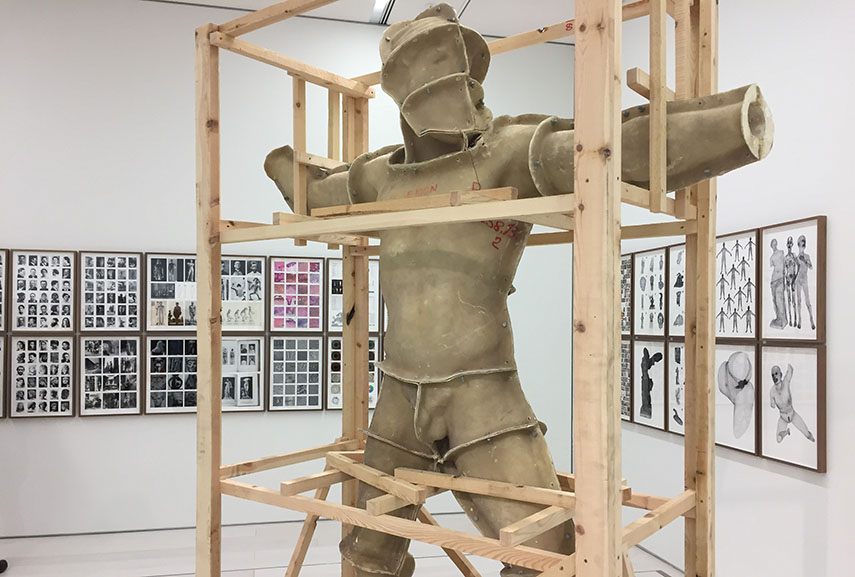 Maria Lai's Loom
Italian artist Maria Lai spent her career using women's craftwork - most notably knitting, embroidery and weaving - as an anthropological tool for documenting the lives of women in her native Sardinia in the 1920s and 30s. She often used yarn to connect places, people and stories. The loom itself became a three dimensional artwork as well as a medium for creating her art. Documenta 14 presents one of her loom sculptures as well as a series of embroidered paintings and texts.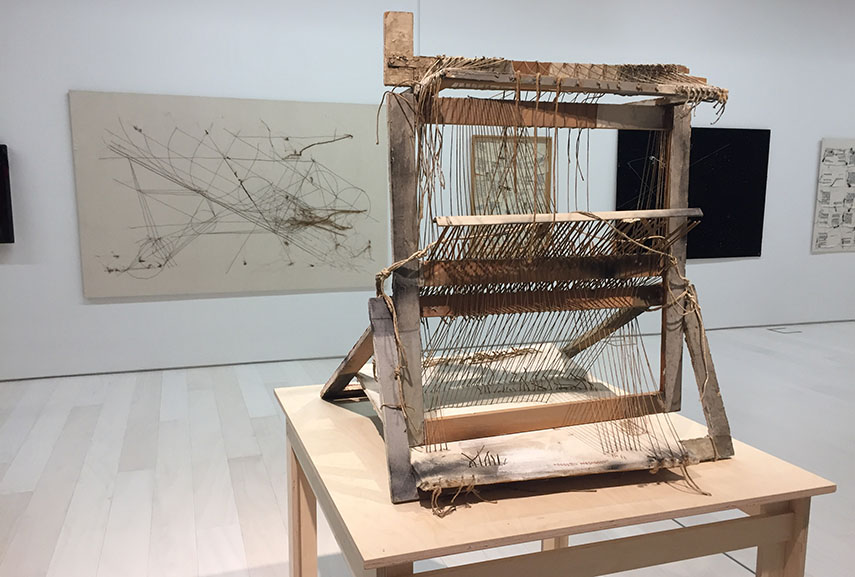 Beau Dick - Masks
There are many artists at Documenta 14 who have undertaken a form of archaeological recording of culture and heritage. The most notable of these is the series of masks presented by Beau Dick, who passed away days before the opening of the show. Dick was a hereditary chief of the Kwakwaka'wakw village in British Columbia, Canada. Masks are central to their ceremonies and were reportedly banned by the British colonial authorities.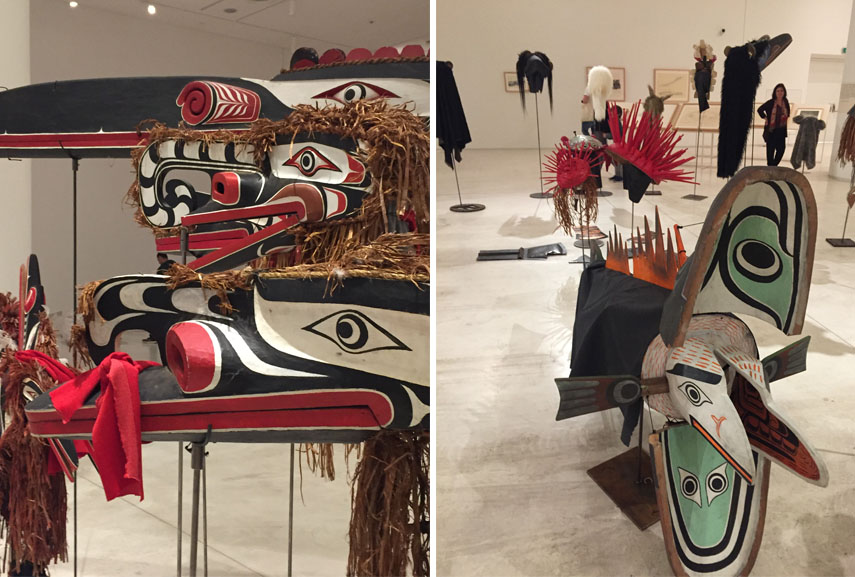 Cecilia Vicuna and Khvay Samnang
Going one step further, there are artists in the show who translate oral or written culture into visual art as form of anthropological documentation. One of the most striking and monumental pieces in Documenta 14 is Cecilia Vicuña's Quipu Womb (The Story of the Red Thread, Athens) (2017). Vicuña uses the ancient Peruvian technique of knotting cords as a way of visually articulating the complexity of her poetry. Adjacent to this piece are a series masks created by Khvay Samnang made from woven vines titled Preah Kunlong (The way of the spirit) (2017). Samnang spent a year studying the indigenous Chong people who live in a Cambodian forest. The masks are an embodiment of the community's relationship to animals, water and land and an attempt to capture the spirit of a group who communicate knowledge through speech and body movement, rather than writing.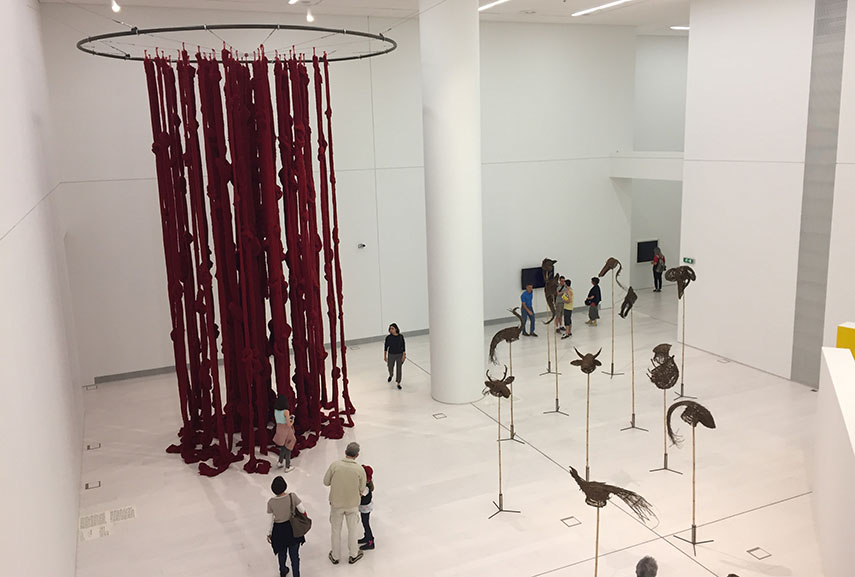 Arseny Avraamov and Katalin Ladik
What was most surprising and intriguing about Documenta 14 was its exploration of sound. A large gallery presented the biography of Arseny Avraamov, an avant-garde Soviet composer. Avraamov invented a method of graphically drawing sound onto paper which could then be converted to actual audio. As one walks through the gallery his most famous composition, Symphony of Sirens, which is comprised of navy ship sirens and whistles, bus and car horns, factory bells, cannons, foghorns backed by a mass choir, plays in the background. In an adjacent gallery, poet Katalin Ladik presents a series of listening stations that strip down and remix basic sounds and beats. In her work, Ladik attempts deconstruct language into phonemes to reveal its primitive and mechanical elements.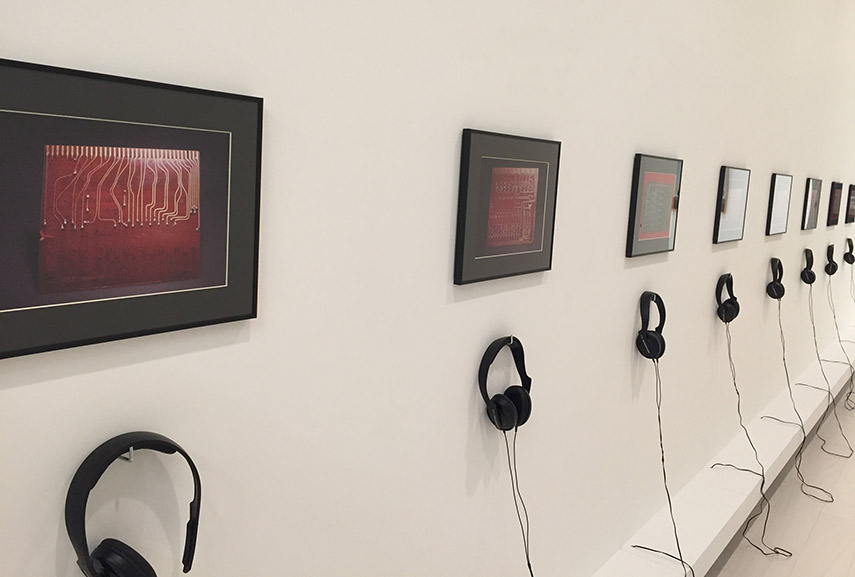 Pélague Gbaguidi - The Missing Link. Dicolonisation Education by Mrs Smiling Stone
Not everyone sees the value in digging up the past. Dakar-born Pélague Gbaguidi makes this point in an installation titled The Missing Link. Dicolonisation Education by Mrs Smiling Stone (2017). The work is an African classroom in which each desk has a photograph showing the violence of apartheid covered with tissue paper. Although the tragic history looms over everything, the artist suggests that the school system, and thus government, attempts to hide and obscure it.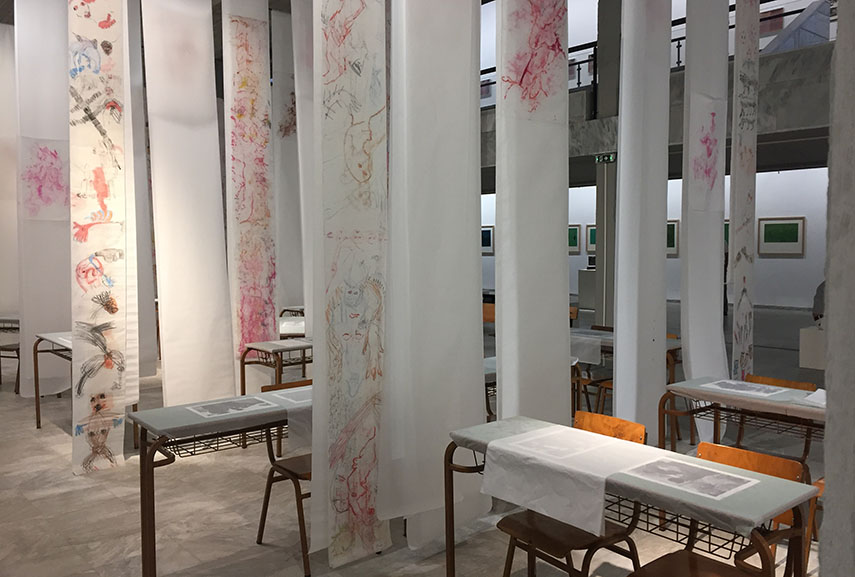 documenta 14, Athens 2017
The triumph of Documenta 14, Learning from Athens is its international reach. The diversity of cultures and social perspectives provides a welcomed break from the media's preoccupation with Trump, Brexit, urbanism and digital technology (although themes immigration and climate change feature prominently). However, because of this, there are few easy references to draw you in. Therefore, like an archeologist, visitors must work hard to understand the context and significance of each piece in the show. Note of advice: Be prepared to spend more time in Athens than you might think and pace yourself.
Documenta 14 opens in its main site in Kassel, Germany on 10 June 2017. Many of the artists showing in Athens are also presenting work in Kassel.
Written by Tonya Nelson.
All images courtesy the author.