Farid Rasulov graduated from the University of Medicine of Azerbaijan. In 2007, he decided to move away from medicine and started to engage with contemporary art which led him to participate in the 55th Venice Biennial. Rasulov now works across various media, such as paint­ing, 3D graphics, animation, sculpture and installation. His Carpet Interior installation at the Biennial was a great success. The installation reproduced a typical living room setting with sofas, chairs and bookshelves, all covered in textiles printed with geometric patterns taken from carpet making tradition of the Karabakh region of Azerbaijan.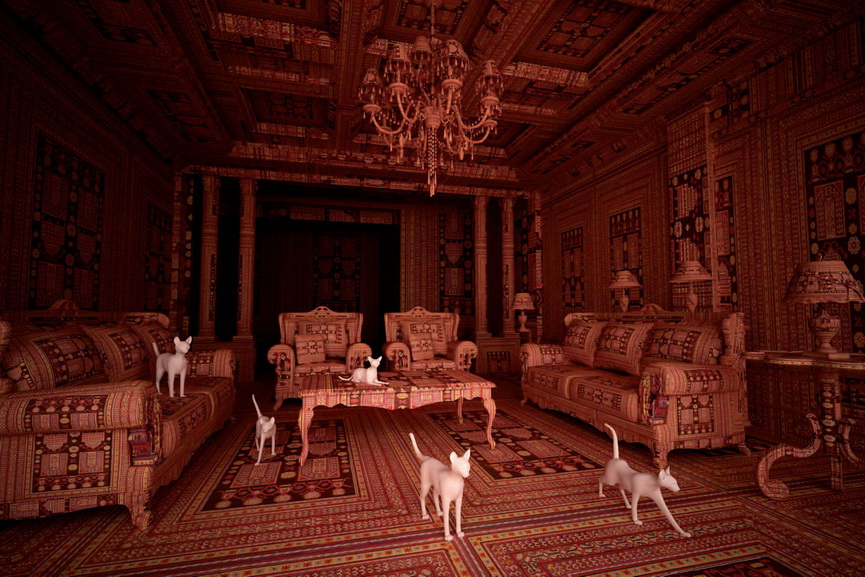 From September 6 to October 11, the Rabouan Moussion Gallery in Paris will present Rasulov's first solo show in France titled "Dogs in the Living Room". For the occasion, the Azerbaijani artist has prepared another total installation carpeted with oriental motifs. Covered from floor to ceiling with traditional Azerbaijani carpet, the space has become the subject. One might say that it looks like a carpets showroom. On the contrary, the experience offered by this total installation equals entering into a distant world. The installation challenges our perception of space and time.
By covering the entire space with textiles which repeat Azerbaijani ornaments, Rasulov makes the visitor feel completely absorbed in his installation. Moreover, white sculptures of animals placed in unexpected places intensify the impression of surreal. The visitor feels like he/she just ate a magic mushroom.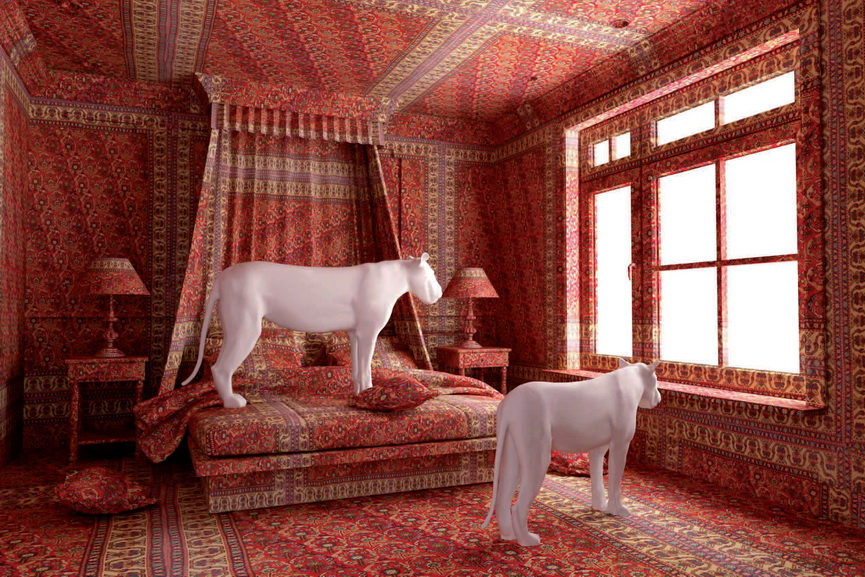 The sensory experience plunges the viewer into a particular universe, which still remains to be discovered. By repeating the same lines and curves, Rasulov transforms typical Western white cube space with his extremely saturated design, and this way confronts tradition and modernity, East and West. However, the exact meaning escapes by the extent of weaving thus opening the way for different interpretations.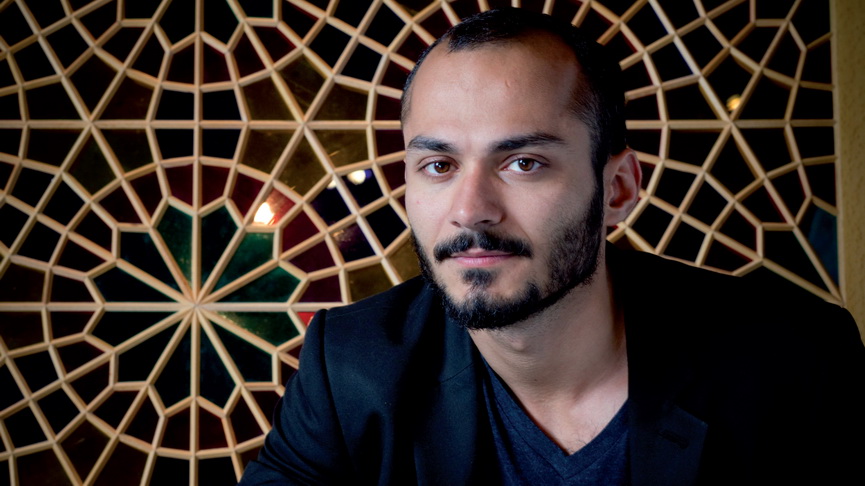 About the Rabouan Moussion Gallery
Rabouan Moussion Gallery opened in 1988 in Le Marais. After having met various artists during the first contemporary art fair in Moscow in 1997, Jacqueline Rabouan and Caroline Moussion decided to promote Russian artists in France – among them Oleg Kulik, Dimitri Tsykalov, Kirill Chelushkin, Vlad Mamyshev Monroe, PG Group, Gosha Ostretsov, and Olga Kisseleva. The gallery is opened and committed with other emerging scenes like street art with JonOne, SAEIO and Jane_Doe 22, or Indian contemporary art with Sunil Gawde.