The cycle of articles, "Chronicles of the Russian Activist Art" by Moscow-based researcher and curator Tatiana Volkova explores Russian contemporary artists and cultural practitioners' long-term involvement in various protest processes.
Domestic violence is a kind of behavior that involves violence or other abuse by one person against another in a domestic relationship. It can take lots of forms such as physical, verbal, economic and sexual abuse. Usually the victims of domestic violence are women and children.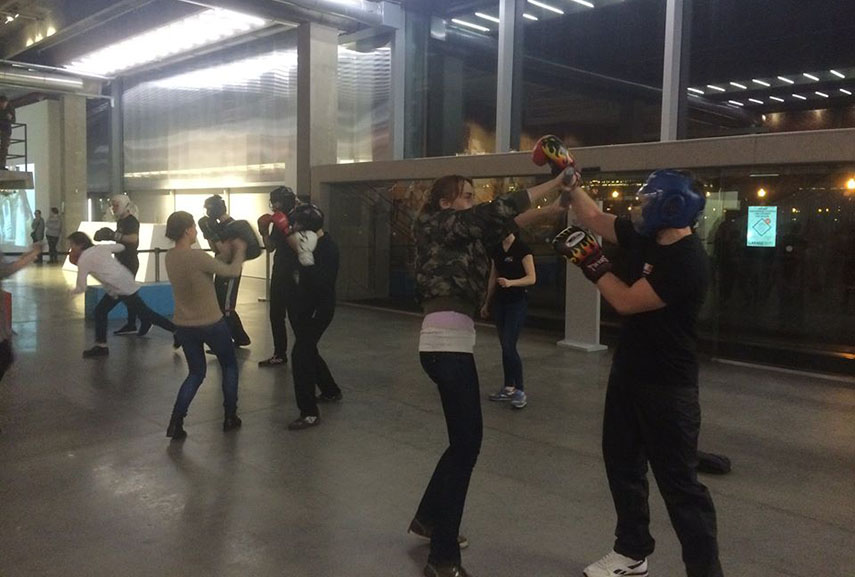 More Than 300 Women Die A Year Due to Domestic Violence...
In Russia, the problem of domestic violence is terrifying. According to the data of 2015, more than 300 women die from the hands of husbands or other relatives a year. There is no effective legislation in Russia in this field. In February 2017, a law reducing the punishment for domestic battery was signed.
Many feministic activists and artists in Russia address domestic violence. They organize rallies and demonstrations, street actions, online campaigns, exhibitions, discussions and screenings as well as producing fem-zines, craftivism fairs and theatre plays.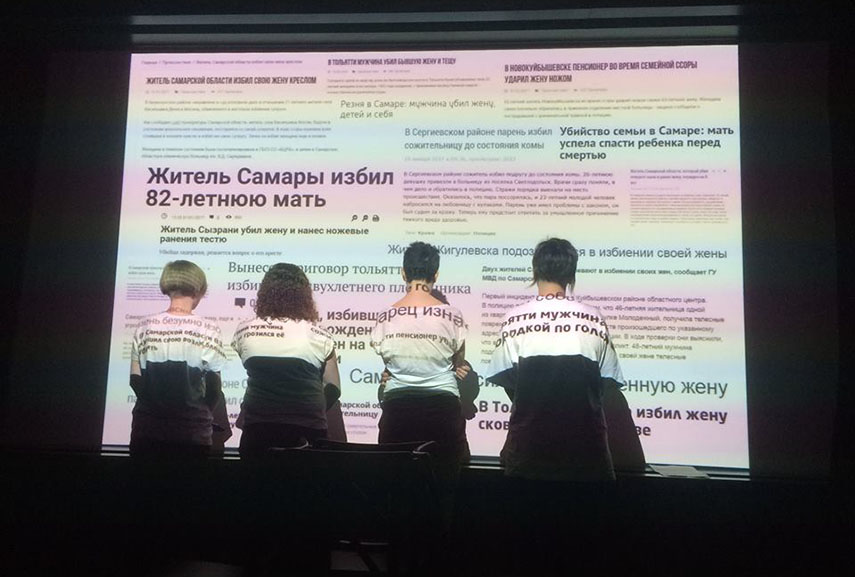 Raising Public Awareness
For example, the Moscow-based Urbanfeminism group conducts public discussions on gender problems in urban environments. They publish the transcripts of these discussions in zines that they distribute together with other objects of craftivism (craft + activism) for donations to Sisters - a center for victims of sexual assault - which is no longer supported by the government. They also work on problems of violence on a practical level, organizing self-defense classes for women.
Nadenka Creative Association from Omsk, Southern Siberia, embroiders feminist messages on clothes and domestic items. They take everyday objects like potholders or panties and embroider them with important dates or facts related to women's history: "As a result of domestic violence in Russia more than 14,000 women die per year. Legislation on domestic violence has been adopted in 140 countries but not Russia. Happy New 2016!". On March 8, 2016, they created a street installation consisting of embroidered objects with the words "Happy Holiday! All the Best Rights!" that was displayed in an Omsk courtyard. This installation refers to the original meaning of International Women's Day to demonstrate that the struggle continues.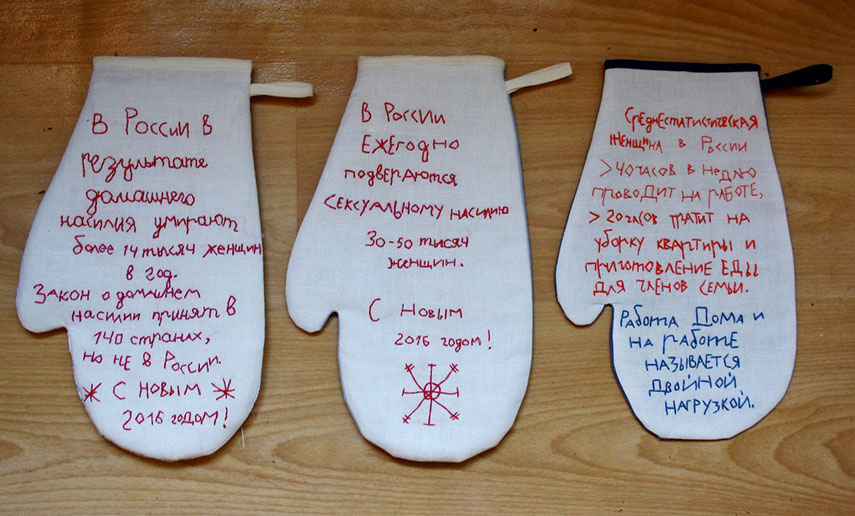 Supporting the Victims
In 2013, Samara-Togliatti Feminist Group was formed by feminists from the cities of Samara and Togliatti (middle reaches of the Volga River). The group's activism is aimed at fighting gender inequality and discrimination against women. The activists conduct lectures and discussions as well as political street actions. The documentary play Familiar Stranger by the Samara-Togliatti Feminist Group is based on real stories of domestic violence shared by members of the group. This is Verbatim theatre, a documentary theatre that uses the words spoken by the interviewed people. Familiar Stranger is open for contributions; it is an ongoing project and anyone can send their stories about discrimination and violence against women in the first person or anonymously.
These forms of art and activism are aimed at raising the public's awareness and support people who are currently struggling.
Featured images: Nadenka objects, Courtesy The Artists; Familiar Stranger by the Samara-Togliatti Feminist Group, Courtesy The Artists; Nadenka objects, Courtesy The Artists.