From time to time we have the honor of witnessing an oeuvre of an artist's career celebrating a recollection of the years passed. Such events always prove to be memorable ones. A similar happening is taking place as we speak at the Evartspace Gallery. This art scene is showcasing an exhausting study of the work made by widely renowned artist Domingo Zapata. This artist is famous for his extravagant lifestyle and his paintings tend to reflect this. Entitled Les Joies De Vivre (The joys of life) this exhibition was opened at the end of November. Besides Zapata's artistic legacy, the exhibit will also display his new collection of work. For the next three months, Evartspace will illustrate the course of Domingo Zapata's work and how it evolved over the years to form his unique artistic style.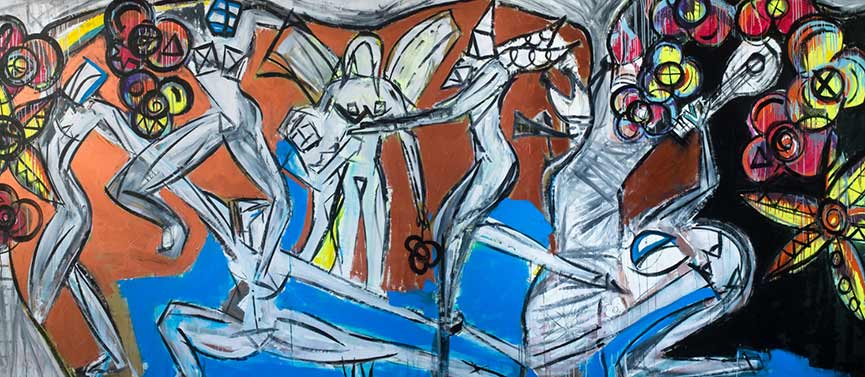 Zapata's Artistic Journey
Over the past 20 years Domingo Zapata created an opus which represents a colorful homage of very divergent motifs. Ones that were frequently present were themes of sexuality, opulence and vitality. They still stand as pillars of his style today. Zapata's vivid way of living is strongly connected to his Spanish heritage and has been filled with constant journeys, extravagance and luxury, which served as clay to mold his future pieces. This Spanish artist is primarily known for his famed "Polo" series, which launched him into the spotlight of public attention. Zapata's body of work counts collections of charismatic rhinos, passionate matadors, psychedelic gypsies, swirling ballerinas, shimmering flowers, fiery fighter planes and hilarious "Mona Lisa" collages. All of these creations are consolidated by Zapata's unique approach and his optimistic standpoint. This trademark sign serves as a potent instrument for his paintings. All of his work represents a fruitful mixture of fantasy and reality, which invites the viewer to truly experience all levels of his compelling story. Domingo Zapata frequently integrates his songwriting experience and truly poetic mind. Through this practice his imagery pulls the consumer into the arena where reality is questionable as interdependent and impartible.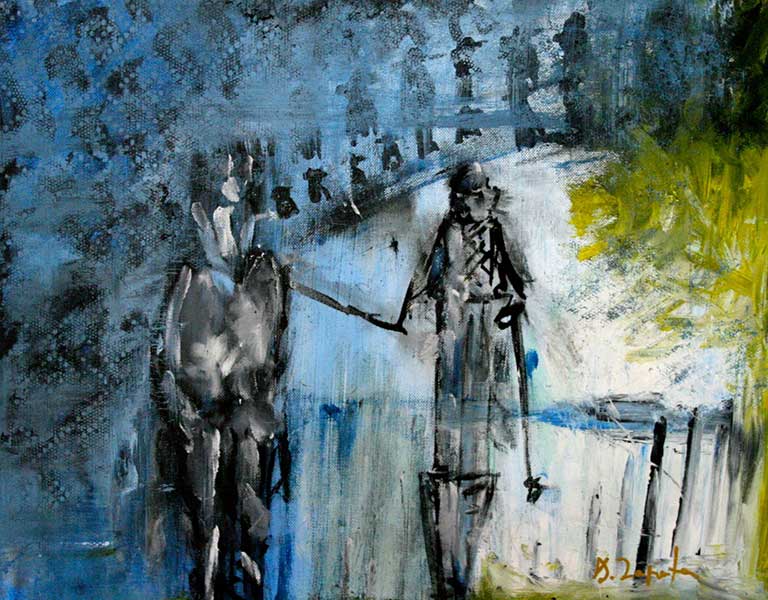 Few things about Domingo Zapata
Domingo Zapata was born in Palma de Mallorca, Spain. At the moment Zapata runs several studios, one in Gramercy Park townhouse in New York City, a second in the Design District of Miami and a third one in Hollywood. All of these workshops provide him with the necessary creative space for producing Neo-expressionism pictures and sculptures. He uses both oil and acrylic, with frequent incorporation of mixed media and certain segments of collage and graffiti. In 2011 he was introduced as the artist to keep an eye by key players in the art world. For a number of years Zapata and his work has been in the spotlight, and today, many of his pieces embellish interiors of private and public collectors around the globe. The Joys of Life will be on view until the 28th of February 2015 at Evartspace Gallery.
Follow Zapata's timeline and sign up for My Widewalls today!