One of the iconic photographers of New York sprawling art scene in the 1980s was Don Herron, who came to prominence with his famous bathtub series featuring portraits of various performers, artists, misfits, and nightlife goers. This astounding series made from 1978 until 1993 will be displayed at Daniel Cooney Fine Art on an upcoming exhibition titled simply Don Herron – Tub Shots.
In order to understand the context of the New York art scene of the 1980s and 1990s, it is mandatory to underline that the same was largely affected by the politics of the Reagan administration. Namely, the whole decade is often referred to as the period of cultural wars, a situation in which the conservatives publicly condemned any form of liberal discourse and critical practices. The sexual freedoms and alternative lifestyles were of particular focus due to the raging AIDS epidemics, from which a number of the figures portrayed on Herron's photographs passed away.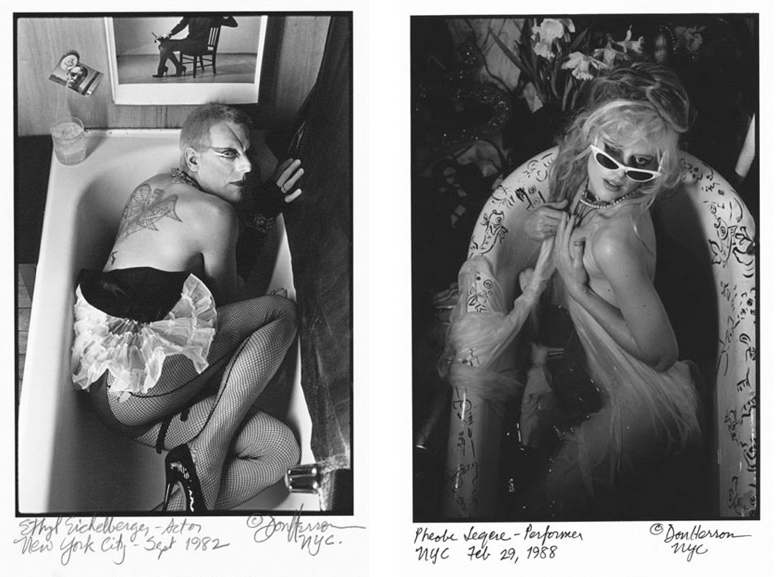 The Iconic Figure
Don Herron was born in 1941 in Brenham, Texas, and shortly after receiving a BA and an MFA from the University of Texas at Austin, the artist moved to San Francisco in 1972. Six years later Herron decided to move to New York and naturally became a part of the East Village art scene. In the mid 80's he became actively involved with the Historical Society and passionately wrote articles for local newspapers.
The famous Tub Shots were published in the Village Voice, New York Magazine and Art Forum and some of his works can be even found in state and privately-owned museum collections such as The Aldrich Museum, The Chrysler Museum and the University of Texas.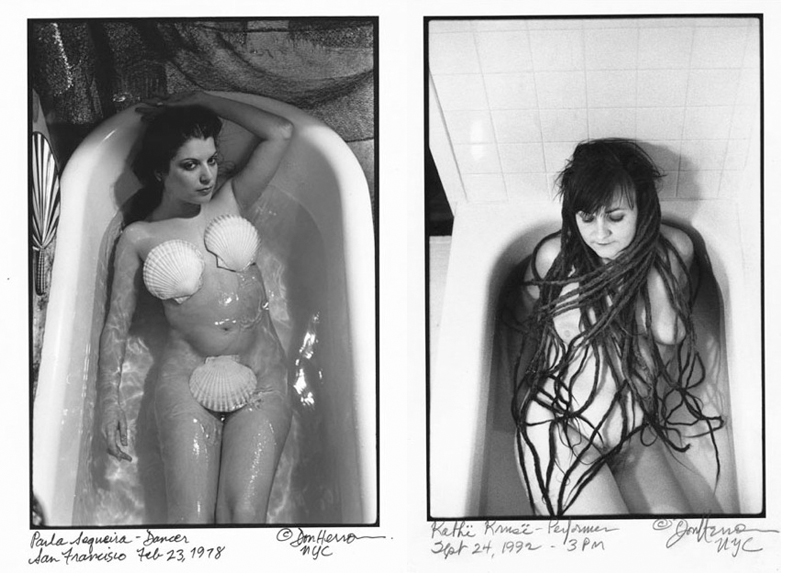 The Tub Shots
The audience will have the chance to see and enjoy the portraits of the iconic figures such as Robert Mapplethorpe, Cookie Mueller, Keith Haring, Peter Hujar, Charles Busch, Ethyl Eichelberger, Annie Sprinkle, and the legendary Holly Woodlawn among many others. All of the photographs reflect Herron's fascination with the strange, camp, glamorous, and bizarre, which are some of the main characteristics of the community he was a part of.
Herron worked together with his subjects to set the stage. While some of them just sat in their tubs as they are, others created costumes and settings. However, all of the portrayed subjects seem freed of any conventions, which tells much about the spirit of the times. The photographs will be accompanied by provocatively written memories from the subjects of their experiences being photographed and the time in their lives.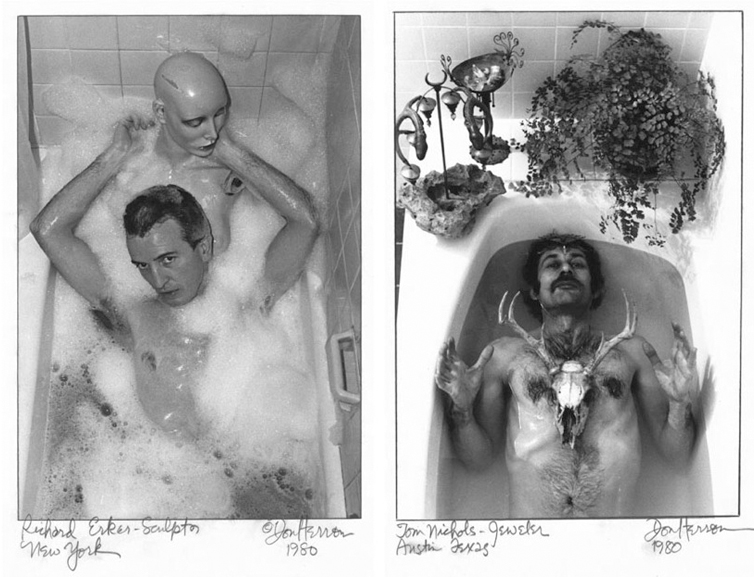 Don Herron Photography at Daniel Cooney Fine Art
The selection of sixty-five black and white photographs create an astonishing pallet of the bohemian New York community, and their value is immense. Don Herron stated simply once to the Village Voice:
I decided to do a series of photographs of people in containers. The bathtub was the logical container to use. I started with my friends and it grew from there.
This exciting and rarely seen series will be on display at Daniel Cooney Fine Art until 3 November 2018.
Featured image: Left: Don Herron - Jackie Curtis, 1980. Vintage gelatin silver print, 10 x 8 in / Right: Don Herron - Elke Rastede, 1982. Vintage gelatin silver print, 20 x 16 in. All images courtesy Daniel Cooney Fine Art.
Keith Haring
In November of 1982, Don Herron took a tub portrait of Keith Haring in a moment of bliss. At that time, the celebrated artist was twenty-four years old and his career just started blooming. A solo exhibition at Shafrazi Gallery, as well an in Rotterdam made him hungry for life, so he wrote:
Twenty four years is not a very long time, and then again it is enough time. I have added many things to the world. The world is this thing around me that I made for myself and I see for myself. The world will, however, go on without me being there to see it, it just won't be "my" world then.
Unfortunately, despite the successful and ongoing career, this extremely talented artist died of AIDS in 1990.
Featured image: Don Herron - Keith Haring, 1982. Vintage gelatin silver print, 10 x 8 in.
Robert Mapplethorpe
When Don Herron took this photograph in 1978, Robert Mapplethorpe was already a burgeoning star. A large part of his extraordinary and controversial body of work is devoted to the S&M gay practices, yet in the moment of great glory this iconic figure passed away from AIDS in 1989.
However, Herron was under an impression of photographing Mapplethorpe and he even wrote to a friend:
I was to photograph Robert at 3pm in his hotel room, but at 3 Robert wasn't in his room, so I waited in the lobby. At 3:15 he walked in and apologized: he had forgotten all about the shoot and was just getting in. He said that he couldn't remember much about his opening the night before, or much about our conversation at the gallery, but if I was willing to photograph him in his current condition, he was willing to pose. I took 18 shots and they all look exactly alike, he just lay in the tub and occasionally blinked.
Featured image: Don Herron - Robert Mapplethorpe, 1978. Vintage gelatin silver print, 10 x 8 in.
Peter Hujar
Peter Hujar was a New York-based photographer best known for the personal and highly emotional portraits of his friends, lovers and ordinary people. Among his best-known works are iconic photos of Susan Sontag, Ethyl Eichelberger, Divine, his lover David Wojnarowicz, and the memorable portrait of Candy Darling on her deathbed.
This particular photograph was taken after his second solo exhibition at the Marcuse Pfeifer Gallery in New York. Hujar passed away from AIDS at the age of 53 and his works were exhibited posthumously in galleries and museums across the world.
Featured image: Don Herron - Peter Hujar, 1978. Gelatin silver print, 10 x 8 in.
Holly Woodlawn
The next on the list is probably one of the best known Warhol superstars, Holly Woodlawn (1946-2015). She starred in the 1970 film Trash and was the inspiration of Lou Reed's iconic tune Walk on the Wild Side. Woodlawn was an iconic socialite and underground actress. Once she stated for The Guardian:
I felt like Elizabeth Taylor. Little did I realize that not only would there be no money but that your star would flicker for two seconds and that was it. But it was worth it, the drugs, the parties; it was fabulous. You live in a hotel, walk up five flights, scraping the rent. And then at night, you go to Max's Kansas City where Mick Jagger and Fellini and everyone's there in the back room. And when you walked in that room, you were a star!
Featured image: Don Herron - Holly Woodlawn, 1981. Vintage gelatin silver print, 10 x 8 in.