As a reaction to often dark news that surround our everyday life, art offers an opportunity to change our perspective and provide a different view. Don Mateo creates street art which tends to do exactly that, give out good vibes, trigger some happy emotions, positive feelings and create a bond with the community. The street artist is coming to Le cabinet d'amateur gallery in Paris with the exhibition Far Away, where he will display his characteristic humorous and emotional portraits in a recognizable style which acts as an urban antidepressant. The artist is versatile and often works with different surfaces, including paper, canvas, wood and salvaged materials. As Mateo stated himself, the mix of techniques provides movement, life and adds vibration to his work.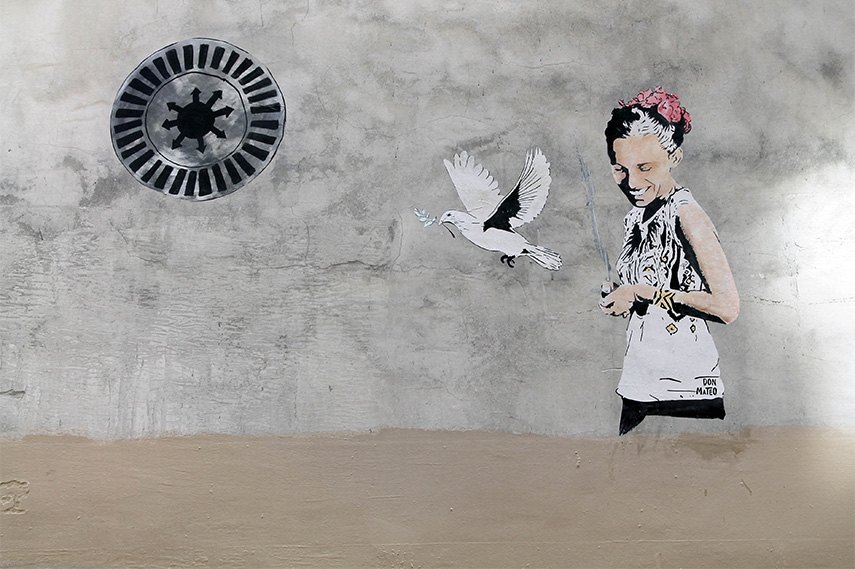 Diverse Inspiration and a Variety of Styles
Born in the early 1980s, Don Matéo expressed keen interest in graffiti, French hip hop and rap from the early age. He considers street art as a vital act of freedom where he can do what he wants, when he wants, with the ultimate goal of happiness. At the same time, the creative act is shared with passers-by and Mateo enjoys the exchange between the people and the art he produces. Having had little interest in school, aside from sports and fine arts, the French artist quickly dedicated himself to a career in the world of street art. His sources of inspiration are vast and eclectic, ranging from Brassens, Warhol, Alfons Mucha and Rothko to his favorite artists; K. Arkana, Gainsbourg, NTM… As for the techniques, Don Mateo prefers to keep it varied as well, his style is adaptable to all media since each provides a different response. Mateo specifies that he enjoys the unpredictable element in painting, where a brushstroke or paint can leave a trace, leaving room for the unexpected. The figures he chooses as his subjects are the ones he admires the most, the ones who aren't afraid to speak out for justice and change. Frida, Mandela, Aung Saan Suu Kyi are just some of the characters often depicted in Mateo's work.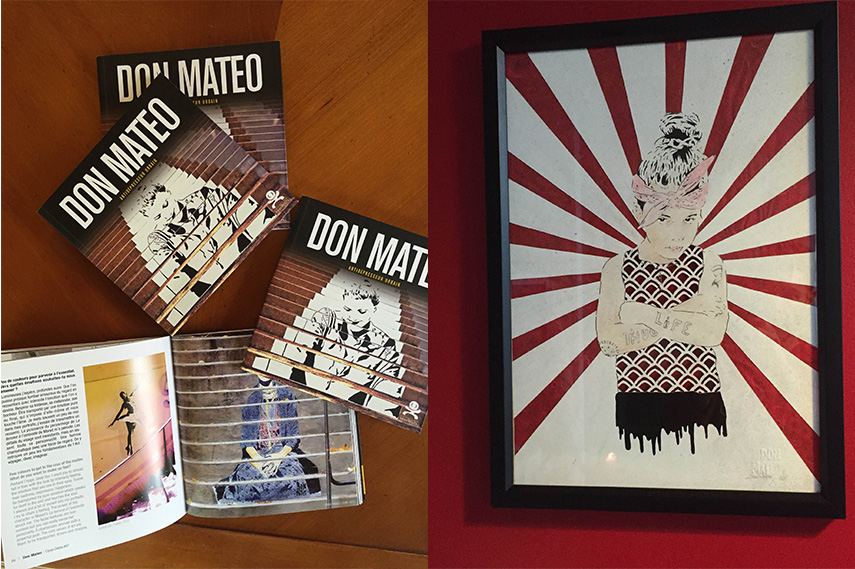 Street Poetry and Good Vibes
The enthusiastic street artist worked out a motto out of a sentence he once heard from one of his art teachers – "You have to be aware of what there is in art, in the world we live in and see what's missing" What Don Mateo finds missing in the world we live in, are some good vibes and positivity, which he aims to offer to the world through his work. And like a streak of magic powder, Don Mateo's street poetry started spreading throughout the cities worldwide, offering a breath of fresh air in the grey streets. The prolific creator produced over 500 pieces just in the city of Lyon since his arrival in 2011. Working in the streets, Mateo gets the feeling of decorating a room with pictures and posters of the people he admires, all the while experiencing the adrenaline rush and freedom of working outdoors.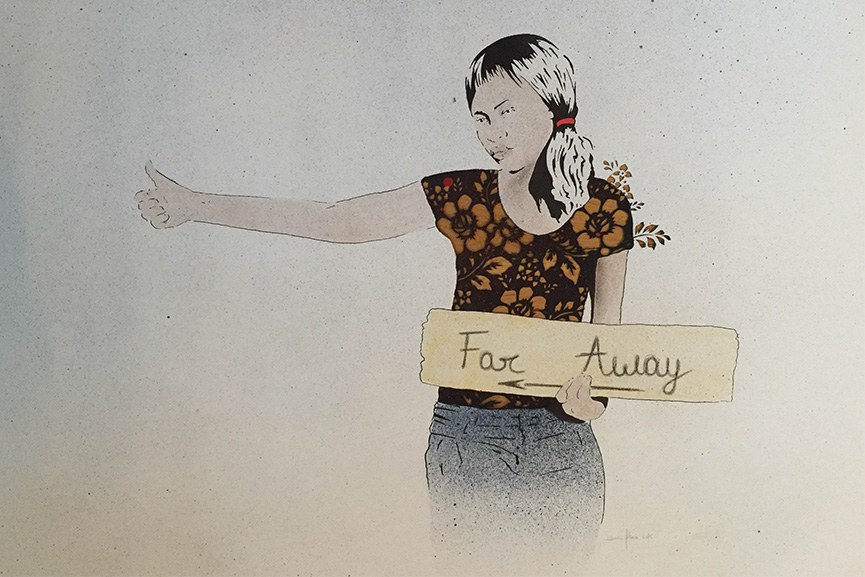 Far Away Exhibition by Don Mateo at Le Cabinet d'Amateur
The world traveler, poet of the streets, Don Mateo arrives to Paris. Exhibition entitled Far Away by Don Mateo is on view from November 4 – November 15, 2015, at Le cabinet d'amateur gallery in Paris. Escaping the routine and repetitiveness, Mateo keeps surprising himself and the fans with new styles, motifs and techniques. When asked about the future, the artist replied with a quote from the lyrics of a song by La Rue Kétanou: "I do not know where I'm going, oh that, I've never really known, but if ever I knew, I think I'd stop going." So, perhaps not knowing the destination is the reason we all keep going, and some mysteries should never be revealed.
Sign up for free to My Widewalls, and keep moving on your journey with art
All images courtesy of Le cabinet d'amateur gallery and the artist
Featured images:
Don Mateo - artwork
Don Mateo - Vahinée
Left: Don Mateo - artwork / Right: Don Mateo - Marcher dans les flaques, 2015
Don Mateo - Tout est question d'équilibre, 2015
Left: Don Mateo - All we need is art / Right: Don Mateo - Vanité, 2015