Creativity can bear no limits, but few are so lucky to be free to express themselves constantly through any media available. One of the lucky few is definitely Donald Robertson, a.k.a. Donald Drawbertson on Instagram, who will be exhibiting images from his amazingly scattered internal mood board and the never-ending line of paintings, collage works, sculptured and his famous impossible collaborations, which can be searched under the hashtag. The exhibition entitled #highfunctioningart will be hosted by Eric Firestone Gallery in East Hampton, New York, and the event is organized by a group of the artist's closest supporters, designer Lisa Perry, Carlos Souza and designer and the artist's wife Kim Gieske.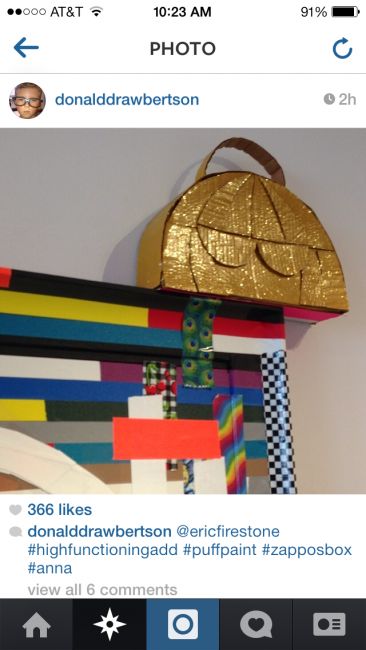 Drawbertson Creativity
Donald Drawbertson has a peculiar creative process which never stops, as he continually produces artworks related to the moment. He draws the inspiration from his immediate surroundings, primarily his family and the inevitable social media platforms, staying open and interested in new ways and things. As the father of five and a husband, it's clear how his imagination well never dries out. He serves as the chronicler of his family life, documenting crucial moments from the lives of his kids, while collecting, cataloguing and responding to the images published on Instagram.
His expression is on the verge between personal and hi-tech, as he captures humorous and witty pictures of which ever subject is important at the time, rendering it through his designer's brilliance. He is almost a surrealist in the way of thinking, following the stream of consciousness, which dominates his oeuvre in each media he employs, from masking tape works, over assemblages made with recycled objects, to acrylic paintings.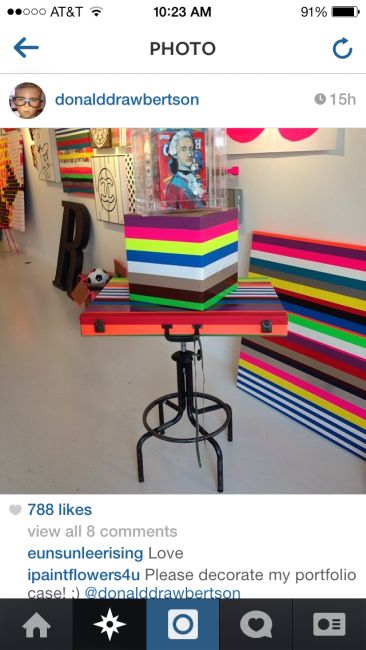 Fashion, Art, Instagram
Entire Robertson's body of work exudes the same visual language and energy shaped through the years of working within the creative industry and fashion. He joined  Estée Lauder again recently, where he is working with Bobbi Brown and Aerin Lauder exclusively. He is famous as one of the three initial founder of the super-famous brand MAC Cosmetics that was initially based in Toronto. Working with MAC, he participated in launching of Viva Glam and raising of $260 million around the world directed towards fight against AIDS. Donald Robertson also redesigned American Glamour with Conde Nast and Hearst, and afterwards he launched American Marie Claire.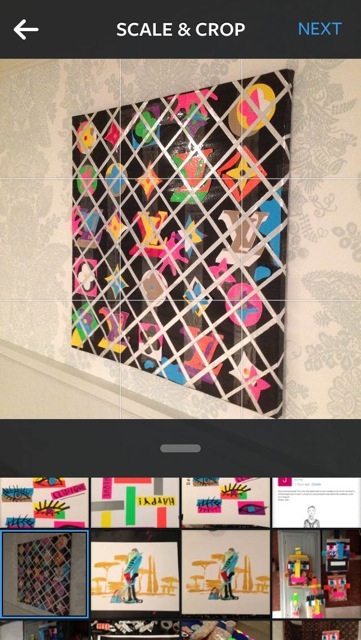 Hashtag Art
As Robertson's Instagram—the same outlet that inspires him—grows into an online phenomenon, Robertson has been nominated by the CFDA (council of fashion designers of America) Fashion Awards as "Instagrammer of the year." Press has been extremely engaged, and recent quotes include:
Among the new media, Robertson found Instagram the most inspirational, as his profile grows more and more popular each day. He is a nominee of Council of Fashion Designers of America Fashion Awards as the Instagrammer of the year, while the most prominent fashion magazines follow him and do have an opinion on the matter. His work was praised as the "sheer eye candy" by Vanity Fair, his life was named a "giant art project" by the New York Magazine, and acclaim came from Vogue, Style, ElleDecor and other prominent magazines as well.
#Highfunctioningart will allow a deeper insight into the Instagram project of Donald Robertson, merging the worlds of art and social media into one.