One of the most perfectly curated booths at Berliner Liste 2016 belongs to an interesting creative duo, which goes by the name of Doppeldenk. Embodying the idea of "two heads - one mind", artists Marcel Baer and Andreas Glauch work as one, while their artwork comes out perfectly devised, both conceptually and visually. The enticing array of pieces presented at the Berliner Liste includes painting, prints and lightboxes, bringing their prolific ouvre and rich visual language closer to the Berlin public and collectors.
We've approached the artists who stay in Leipzig and had a short chat about their presence at the largest Berlin art fair.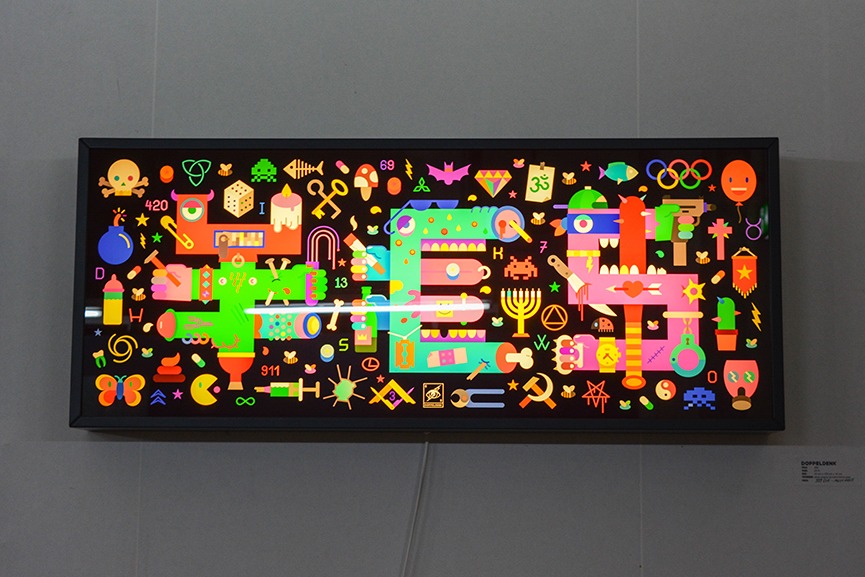 The Idea of the Double-Think
Widewalls: You are a duo with a very curious name. Can you explain the philosophy behind the name "Doppeldenk"?

Doppeldenk: DOPPELDENK are two artists from Germany. We live and work in Leipzig.
 The concept of doublethink comes from George Orwell's dystopian novel "Nineteen Eighty-Four" and describes the power of having two contradictory beliefs in one's mind simultaneously, and accepting both of them. Unlock the idea of George Orwell's novel from total brain-wash and combine it with self-responsible human acting you can achieve a new complex form of thinking.
In this case you are able to accept the connection of two contradictory relations and, as a conclusion, to create an own new conviction.

WW: Your work is wonderfully executed and the individual hands are hard to detect. How do you approach your work? Who does which part?
DD: Teamwork. Modularized process. We start by developing our canvas ideas together and prepare sketches.
As we create our ideas in the beginning on graph paper and mainly use geometric forms, it is not important who creates which brush stroke.
Idea and concept, creation process, reflection - the result is what matters - and this is always realized by the two of us. Doppeldenk. ;-)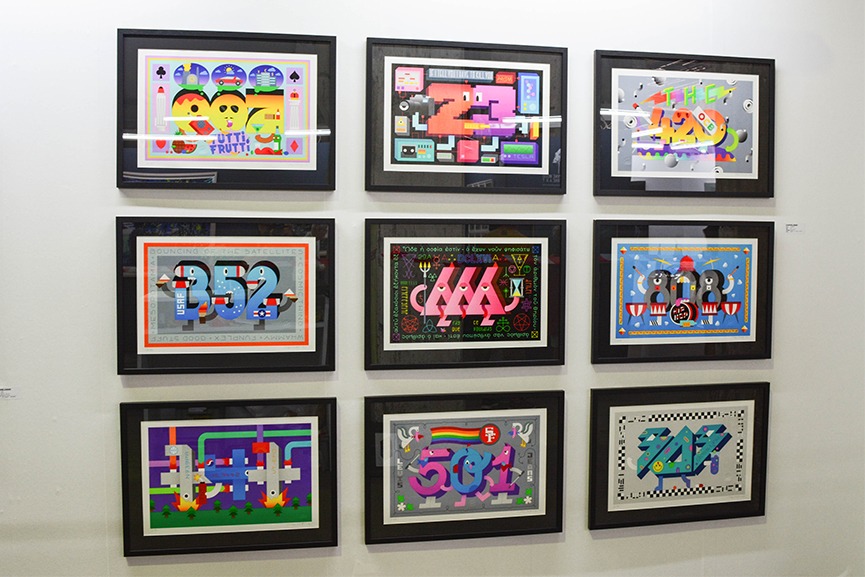 Substance over Media
WW: At Berliner Liste, we can see prints, painting and lightboxes, while the style remains recognizable. How important is the medium in your work?
DD: The medium is less important than the idea. But no matter if it`s printed, illuminated or painted - the quality of the material and the way you use it decides over strength or weakness of a work. Professionality is essential.
WW: How does your street art background influence your present practice?
DD: We do not have a street art background. We do have a graffiti background, specially Andreas. The very beginning was in the mid 80's in Karl Marx Stadt (now Chemnitz). Beatstreet, which was sold by the GDR regime as a socialization-doctrine exposing the rebellion of the coloured minority against the class-enemy - the whole was about breakdance and imitating graffiti with paintbrushes - there were no spray-cans. Until we managed to organize some from Czechoslovakia in the late 80's. When the first DIY stores opened in the beginning of the 90's, we started spending all our money there. We then quickly shifted away from the idealized American origins in order to live our own movie. We were less interested in Wild Style, rather in serious and simple typography.
Marcel´s roots are more likely to be found in late 80`s/early 90's computer graphics, C64, Amiga, game programming and that kind of stuff.
Technique, quality of colours and the material have developed a lot over the years. But in the end we are just doing our thing. As we did in 1990. And as we will in 20 years.
DOPPELDENK booth UZ0.09 is a part of the Urban Art Section at Berliner Liste 2016.
All images (C) Widewalls