Contemporary painting is saturated with various approaches that primarily differ from an artist's articulation of this traditional media. A need to conquer the canvas is most obvious within the practices of the painters dealing with abstraction.
Despite the various significant explorations of the abstract form throughout the 20th century aimed to subvert or deconstruct materiality, propose purified and rather contemplative depictions, and dismantle the very act of painting by translating it to another media, there are still artists willing to explore the potentialities of a specific form through repetition, color gradation, optical illusions, and other visual effects.
Such is the case with the paintings made by German artist Doris Marten who devotedly explores the domains of perception by solely focusing on colors and lines. Since the late 1990s, she has been researching these visual forms and their variations to test the way they influence what we see. Despite the impression Marten's artistic language is dry and too conceptual, she tends to articulate other phenomena coming either from nature or technology.
To find out more about her methodology and the notion of the mentioned elements, we talked to Doris Marten about her practice in an exclusive Widewalls interview.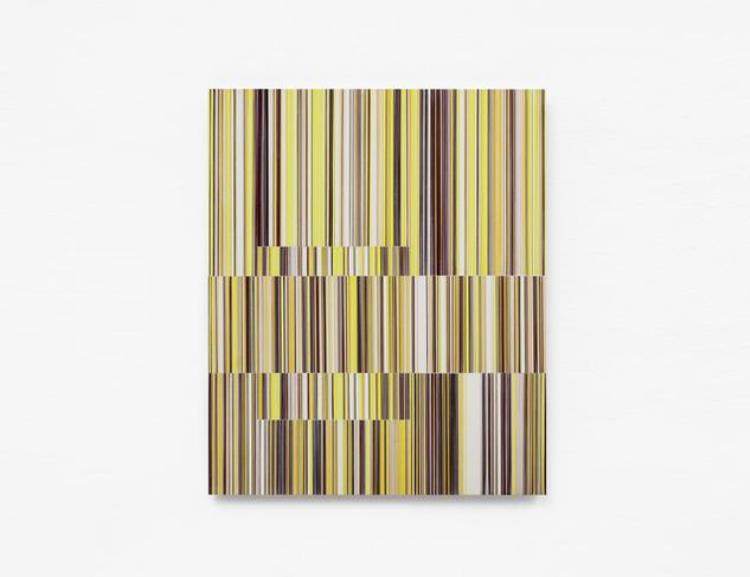 The Saturation of Lines
Widewalls: Could you tell us a bit more about the line as a painterly element from which you start the construction of each composition?
Doris Marten: For more than twenty years I have been working with stripes and lines to examine the effect colors have on each other. They keep the gaze grounded, they make individual colors and their influence on each other visible and perceptible. Although stripes and lines are a very neutral way of composition, they give a direction to the picture as well as a certain rhythm, similar to the beat in music.
So the first decision I make at the beginning of each painting is the lines' thickness and their alignment. In most of my paintings, the composition is an absolutely consistent pattern of identical parallel lines. There is no hierarchy, no compositional center, no emphasis. Vitality, movement, rhythm, light, and space only arise in the way I use color.
Widewalls: Could you emphasize a bit more on the array of formal problems you encounter and explore thorough your paintings?
DM: My work explores perceptual phenomena such as color and time. Thus what I examine in my paintings is: How do we perceive colors? How does vision work? What kind of colors, for example, suggest a certain kind of materiality.
Or what colors create spacial visualization?
I certainly have an idea of the whole picture when I start off and throughout the work's progress but the idea is not constantly the same. While painting one certain line I react to what is there already but also in view of what it is supposed to become. So I react within the small section of the canvas that is visible for me at close range. But the choice of a certain color may have a much bigger impact on the overall effect than expected and so it can influence the whole development of the picture.
When the painting is finished, it is possible to see the whole process at the same time. And that is how I understand my paintings, they are pictures of a certain space of color and a certain space of time.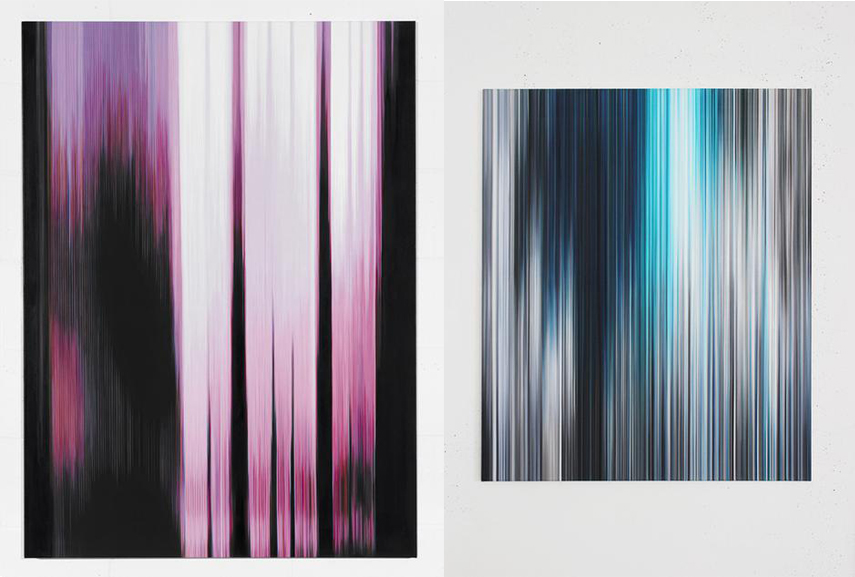 The Glitches and Natural Lights
Widewalls: At first glance, it seems that your paintings are very much influenced by Color Field and Minimalism, but they aren't at all archaic; rather, they reflect the flux of images that characterizes our everyday routine in digital era; they seem to be reminiscent of atmospheric light phenomena such as the polar lights and light pillars or other linear structures found in nature. This opposition artificial/natural always brings a multitude of other implications, so the question is do you take into consideration social, cultural, ecological or perhaps political concerns except for the purely painterly ones?
DM: As an artist, I have decided to use painting as a means of expression. As a painter, my aim is to explore color as a perceptual phenomenon and to create paintings of high visual intensity and quality.
As an artist, I am concerned with questions that go far beyond that like: What kind of aesthetics is attractive for us and why, which one repels us, impresses us, seduces us, blinds us? That's why I painted the series The Pink Paintings. To use pink in combination with black as a female artist is a statement itself. Just enter black and pink as search terms on google and you will know what I mean. Paintings are bound to their author and to the time in which they were created. So the fact that I painted this series within this particular color range and with this linear, digital aesthetics as a European female artist at the beginning of the new decade makes them a cultural and political statement in many ways, of course.
These 22 oil paintings that make up the series The Pink Paintings were created between 2007 and 2014 on the basis of pictures taken with a broken digital camera. To use the technique of photo-realism in the context of minimalism is a deliberate crossing of boundaries. It is not my intention to ignore borders as a matter of principle. It's about tracking them down, questioning them, refuting them.
Given that the motifs of the Pink Paintings show nothing more than the former image of an electronic error they seem to represent the perfect definition of Frank Stella's statement "You see what you see" which is related to Minimalism. The Pink Paintings are reminiscent of Frank Stella's Black Paintings and to my own work as well, but at the same time, they are also a kind of counterargument.
The highly associative content of the Pink Paintings changes Stella's statement to You see what YOU see. And this represents my artistic attitudes: Sovereignty of the viewer as a prerequisite for a productive dialogue between artwork and recipient. Only then do productive dynamics emerge.
Widewalls: What interests you the most when it comes to contemporary painting?
DM: I am obviously interested in works by artists who have a similar formal approach to their art like me, but I am even more intrigued by the artistic attitude behind artworks. It fascinates me when the artist's unquenchable curiosity is perceptible in his work. Or when a painting reflects the artist's joy in his work, as I once experienced in an exhibition by Sean Scully.
Generally spoken, a painting - whether abstract or representational - must express a concentrated essence of authentic creative power, and there are many ways to do this: concentration, repetition, reduction, richness, inquisitiveness, freedom, willingness to take risks, etc... but ultimately: the will to develop. There is nothing more boring than so-called label art, which only constantly reproduces itself to serve the art market.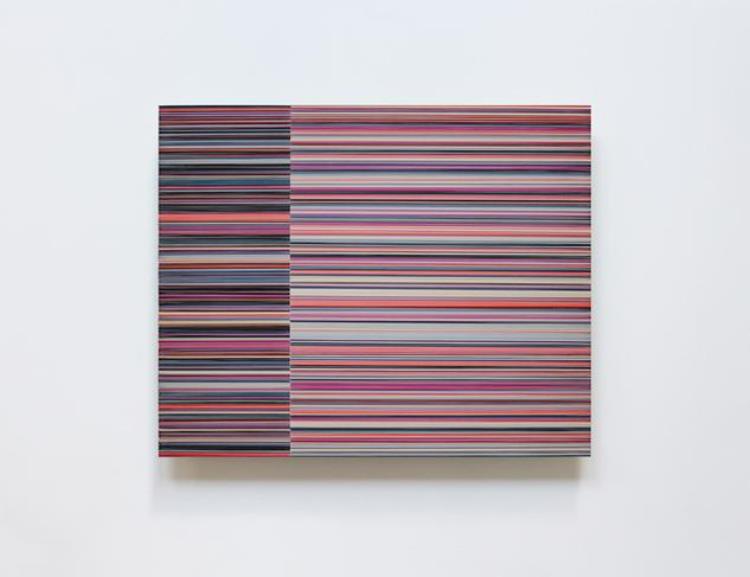 Future Plans
Widewalls: Would you be interested in expressing yourself through other media or collaborating creatively with other artists?
DM: I would rather say I am interested in expressing myself through other media by collaborating with another artists. Art is communication. There are a lot of artists, musicians, composers, directors, writers, etc. who all deal with more or less similar topics, each artist in his or her own individual way. Why not combine our experiences and results?
Rhythm, sound, repetition, time, all these are components of my pictures. But they are also components of music. For this reason, I have been working for several years with sound artists and musicians. I develop paintings they can read and interpret as a score. It is always highly interesting to discover similarities and differences in the respective works through dialogue and cooperation.
That's why I and about 20 other international artists from different fields founded the artist collective Intermission last year. It is always inspiring for me to discover approaches in the works of artists who work with completely different media, which also have a great significance in my own work. In addition to exhibitions on current and site-specific topics, we want to develop exhibition formats in which art and its audience meet outside the usual art institutions. For me, such joint projects always offer the opportunity to rethink and expand both my concept of art and my art itself.
Widewalls: Could you share with the readers your future plans?
DM: My main project is still the series Light'n'Lines which I started in 2018. This year in June I will spend some time in Norway, as Artist in Residence. The light in the north has a special quality, the intensity of the colors is quite different from, that in the south, for example. In the fjords of Norway there are a lot of reflections and light-shadow phenomena to observe. My observations will be incorporated into the future paintings of Light'n'Lines.
An increasingly important aspect of my work is focused on time. This aspect is particularly evident in the series Light'n'Lines. Each line symbolizes a certain moment, and in their entirety these lines can be read as a dynamic time sequence. The phenomenon of time is inseparably connected with music.
That's why I will continue to intensify my collaboration with musicians. Some time ago I started working with a choir and a programmer. The idea is to make colors and images audible in a live act or to make the sounding interactively experienced through an app.
Featured images: Left: Portrait of the artist / Right: Doris Marten - Light'n'Lines No.8, 2019. Oil on Alu-Dibond, 80 x 200 cm; Doris Marten - Light'n'Lines No. 07, 2017. Oil on cotton canvas, 80 x 200 cm. © Bernd Borchardt and VG Bild-Kunst. All images courtesy Artistics.