The influence that the avant-garde art had on itself, but also on other aspects of life has been thoroughly studied. Perhaps it is particularly interesting to see the kind of impact these movements had on territories and artists outside of its closest range.
This could be the case of Dragana Bojić, a Serbian artist whose radiant paintings carry notes of Abstraction and Cubism, for instance. At the same time, however, they also express a freedom of strokes and color, introducing the viewers to a series of Illuminations.
This is the title of Bojić's latest exhibition of works in Serbia's capital of Belgrade, which will be entirely occupied by diptychs and triptychs.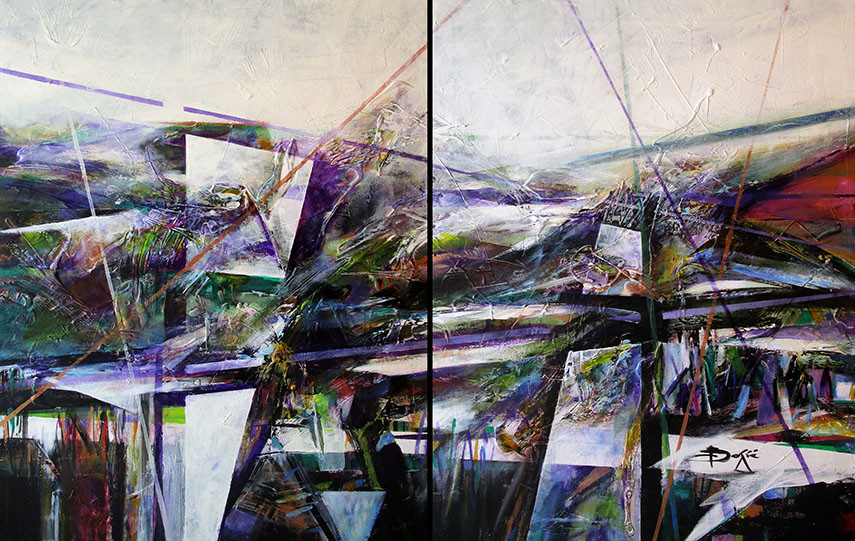 Illuminations
Starting from a basic composition created from quick gestures and pro-cubic plans, Dragana Bojić paints decisively abstract views of figurative scenery, such as urban and natural ambiences.
By channeling the modus operandi of Action painting, she does this by setting the canvas horizontally on a solid surface, and applying multiple layers. Through the painting's surface the artist then sets a straight structure in form of long lines that carefully, yet intensely interact with the fields of pigment deposits.
This way, Bojić's work can be interpreted through a duality, in which she organizes the space and form, but also gives life to an eruption of emotions contained within the space of her canvases.

A Continued Story of Abstraction
In her latest exhibition, Dragana Bojić seems to have found a new way of telling the story of her art. Her monumental compositions are now "split" into diptychs and triptychs, like a book made of independent chapters which form a bigger picture together.
As curator Marija Ristić explains,
The author does not allow the surface of the canvas to be a limiting element of her works, but rather, following the abstract construction that is expanding, the observer is introduced into the continuous movement through the painting space and beyond it.
The audience will also be able to witness the painter's chromatic transition to a brighter palette, consisting of semitones and mixtures of unusual pink, yellow, and violet, with just a pinch of gold. This accompanies Bojić's foray into explorations of perceptions of light, which is evident in the painting titled The Big Bang - time continuum.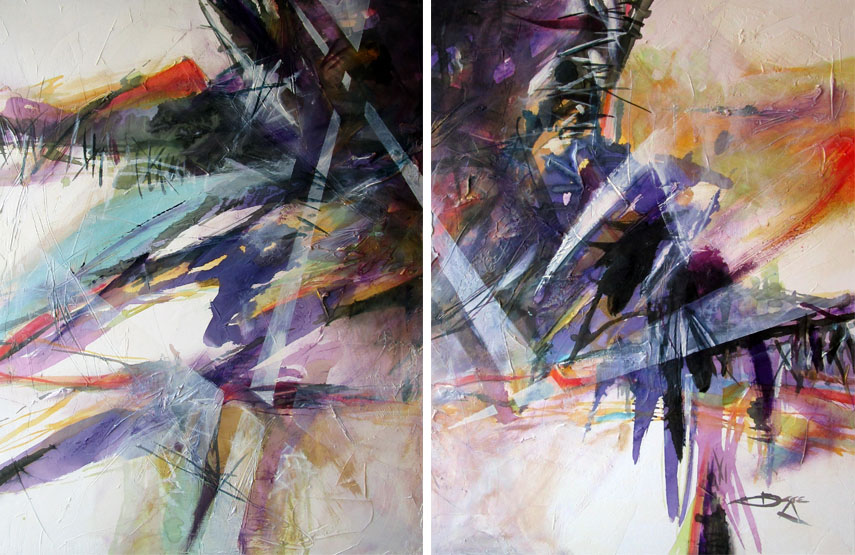 Dragana Bojić in Belgrade
In a sort of a vibrant tension, Dragana Bojić draws our attention to both her ability to use and direct color and the non-representational representations of familiar views, those of hills, bridges, towers. Ultimately, she has come to create a mystical world with its own laws, open for us to freely interpret.
Iluminacije (Illuminations), the exhibition of paintings by Dragana Bojić, will be on view at Galerija SULUJ in Belgrade, Serbia, between September 17th and 29th, 2018.
Featured images: Dragana Bojić - Light Vortex; Light Show; Refraction. All images courtesy the artist.