There are many important artists whose practices have triggered the way how we look at photography, and one of them was Duane Michals. The majority of his works are black and white and capture the very essence of the inner state of the portrayed person, as well as their public persona.
Throughout a five decades-long career, this photographer released a rich body of work characterized by a highly sophisticated aesthetics. Aside from the specifics of the personality of the portrayed person, his photographs reflect the fashion of the times, as well as social circumstances, for instance.
A grandiose exhibition of his works from the 1960s onward is now on view at The Crocker Art Museum and it tends to reevaluate and properly analyze the portraits which, from contemporary stance, have shaken the traditional format of both documentary and fine art photography.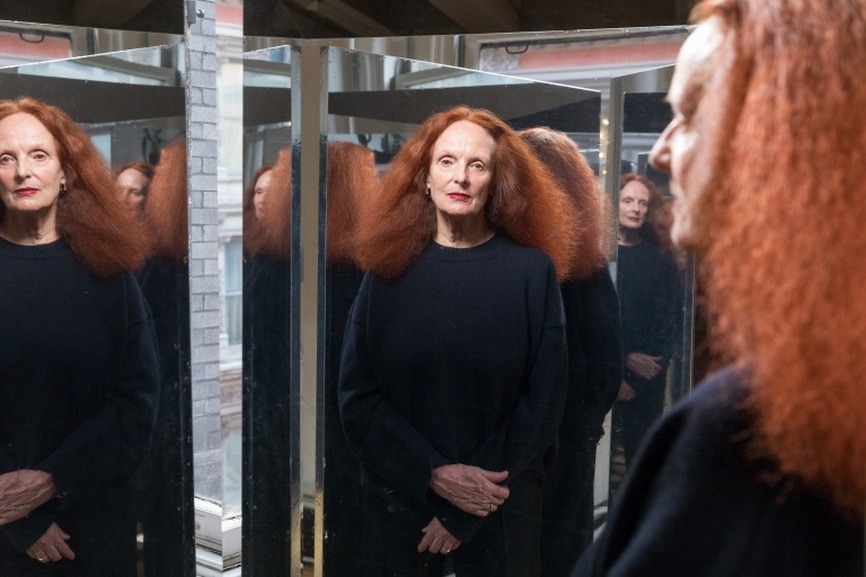 The Domains of an Ingenious Photographer
This renowned figure constantly attempts to reinvent himself by rethinking the very tool he uses. Whether he used avant-garde techniques (writing, painting, drawing on photographs), or just did stage photographs, Duane Michals creates narratives which engage the observers and do not leave them restless. The following statement illustrates the best how this prolific artist perceives the medium:
I think photographs should be provocative and not tell you what you already know. It takes no great powers or magic to reproduce somebody's face in a photograph. The magic is in seeing people in new ways.
In order to understand better his poetics, the importance of prose has to be underlined. Namely, his images are very often covered with various thoughts or comments, as if they are being translated or interpreted, and the overall effect is rather cinematic. The artist often describes his works with a syntagm prose portrait, and this is how he explains the process:
A prose portrait may require three or four photographs to reveal something about what the person does in life that defines him or her. A face does not necessarily need to be seen, the sense of most people he will not be there.
Furthermore, this textual gesture can be perceived as a performative one and tells much about different layers of his practice. One of the best examples for this conclusion is Michals' iconic work from 1973 called Things are Queer.
This unstoppable artist has created even several films which were recently featured in an exhibition. You can hear his comments on this forray in a Widewalls interview.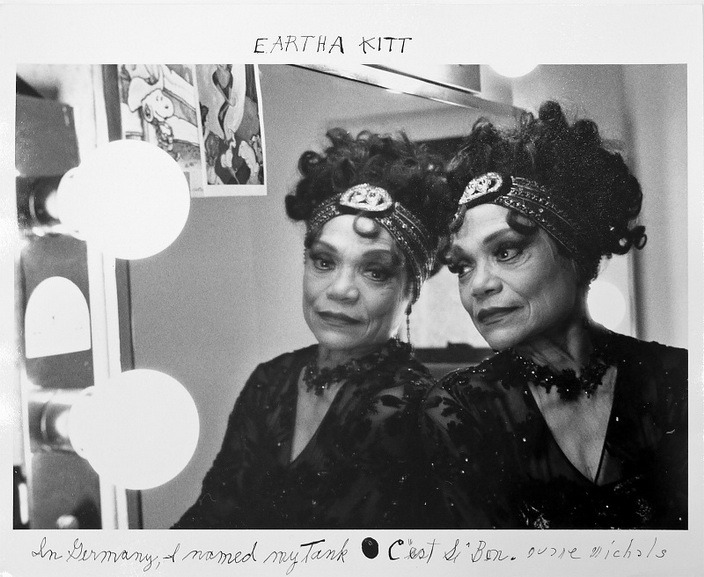 Duane Michals Celebrities
This exhibition covers one hundred and twenty-five portraits of American celebrities, alongside those of ordinary people. The majority of these images are black and white and were rediscovered by the artist in his New York apartment. He played with various stylistic and technical aspects of the composition by using multiple exposures, sequenced images, reflections, unusual points of view, collage, hand painting, and other techniques. Michals used the best from previous experiences of working for various magazines.
From the actor Robin Williams and the iconic musician Leonard Cohen, to the Japanese artist Yayoi Kusama, the list of Michals' subjects is quite long. Among the selected portraits, some of the most memorable are the ones of Eartha Kitt, Liza Minnelli, Meryl Streep, and also Rene Magritte who was, and still is, Michals' great inspiration. Each individual is depicted in a different pose, in a different environment, so all those shots reflect a general interest of Michals to accentuate their human side. By enabling them to feel free and comfortable in front of the camera, the artist managed to achieve exquisite and often very intimate shoots.
The texts are present in most of the images, and some of them are quite witty such as the phrase Johnny Cash was hotter than a sprout of pepper in the portrait of the legendary musician. Sometimes there are anecdotes from his life and such is the case with the work titled Anna's Old Clothes. Michals describes how his grandmother still comforts him, even when his body lies lifeless: "He has removed his body as he would with his clothes at the time of lie down ... She is standing next to me, we are both there, side by side, looking at her clothes in the coffin, I'm not sad."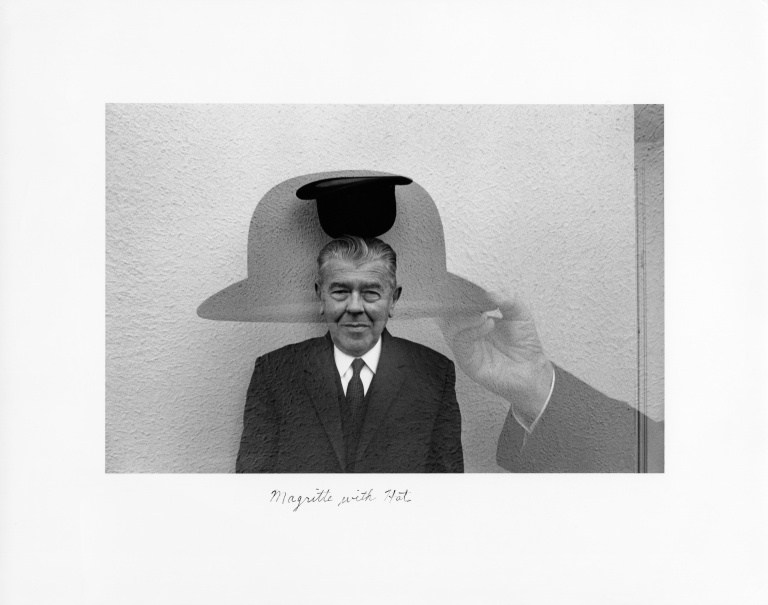 Duane Michals Portraits at The Crocker Art Museum
Duane Michals is an extremely interesting figure, and his photographs can be looked at from different angles. They firmly suggest his interest in themes of body and gender/queer-related politics, as well as the interest in the human psyche.
This particular exhibition is important since it invites the audience to rethink the traditional notion of photography, especially in the era of Instagram. That has to do with the way the artist has used the text not in order to reveal or demystify the portrayed individual, rather provide a different kind of interpretation of what is shown. Michals stated once:
My writing came out of my frustration with photography, I never thought a picture was worth a thousand words, if I took a picture ... it would not tell me anything about you as a person, with someone you know very well, be frustrating, 60% of my work is photography, and the rest is writing.
The exhibition is curated by Linda Benedict-Jones in collaboration with the Crocker Museum's associate curator, Kristina Perea Gilmore.
Duane Michals: The Portraitist is on view at the Crocker Art Museum in Sacramento, CA, and on 7 October 2018 the artist will give a public talk at the museum, while the audience will be able to see his astounding works until 6 January 2019.
Editors' Tip: Duane Michals: Portraits
A dazzling collection of Duane Michals' portrait photography, featuring never-before-published images of some of the greatest actors, musicians, artists, and writers of the past fifty years. The book presents for the first time a comprehensive overview of more than a half-century of portrait photographs―many of iconic cultural figures―by one of our era's most influential and entertaining artists. The photographer, the subject of a major retrospective exhibition organized by the Carnegie Museums in 2014 and scheduled to travel in 2018, has long been recognized for his inventive photo sequences, which shaped the work of several generations of artists. But even as he enjoys wide acclaim, a central body of work by the eighty-five-year-old artist remains little known.
Featured images: Duane Michals – Meryl Streep, 1975. Gelatin silver print with hand-applied text, edition 2/25, 5 x 7 1/4 in; Magritte with Hat, 1965. Gelatin silver print with hand-applied text, edition 25/25, 6 3/4 x 10 in. © 2018 Duane Michals courtesy of DC Moore Gallery, New York. All images courtesy The Crocker Museum.