Making parallels between the practices of artists belonging to different historical periods, and therefore different contexts, is always challenging, yet such an exploration can provide astonishing results.
For instance, Marcel Duchamp paved the way of early avant-garde art and is proclaimed as the most influential artist of the 20th century, while Jeff Koons is among the world's most commercially successful artists today. Although at first glance the two do not have anything in common, a closer look suggests an array of similarities in approach and strategy.
The most important artworks of these iconic artists gathered from more than thirty collections in Europe and the Americas will be juxtapozed within an unprecedented exhibition at Museo Jumex - this will be the first ever dialog of Duchamp and Koons in a single institution and is expected with great excitement.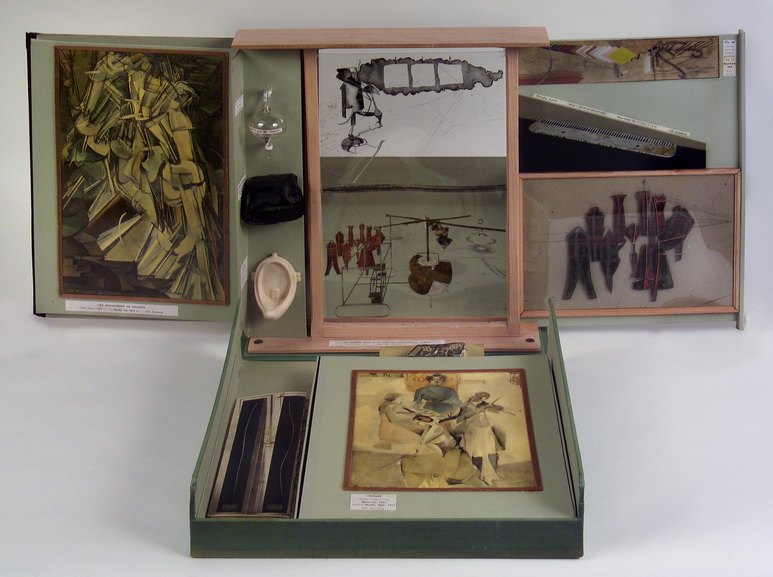 Duchamp and Koons – Great Minds Think Alike
For this occasion, the museum invited guest curator Massimiliano Gioni, Artistic Director of the New Museum in New York, to select the works and frame them accordingly. Among them on display will be Marcel Duchamp's complete set of his 1964 edition of the legendary readymades (such as Fountain, Bicycle Wheel, and others), as well as Jeff Koons's celebrated Balloon Dog, Rabbit, Moon, and pieces from series such as Made in Heaven, Celebration, Banality, etc.
In the first place, it is important to underline that Koons embraced the legacy of Duchamp's ready-made and extended it according to his own vision. Therefore, it is correct to state that both artists explored the very meaning of the everyday object – its function, aesthetics, and symbolism, as well as the matters of desire, taste, and self-reflection. All the possible layers of their practices will be examined throughout all three floors of the museum in a heterogeneous manner by confronting original and the copy, the miniature and the enormous, the simple and complex. Massimiliano Gioni explains his standpoint:
It is a unique opportunity to be able to bring together the work of Marcel Duchamp and Jeff Koons. Only a museum with the expertise and the generosity of Jumex could take on such a daunting endeavor, and their effort to realize this exhibition is made even more special by the relationship of Mexico's most prominent avant-garde poet, Octavio Paz, to the work of Marcel Duchamp. Appearance Stripped Bare is less preoccupied with grafting family trees than with understanding how our attitudes toward objects have changed over the past century, and how the objects that we surround ourselves with are reflections of our desires.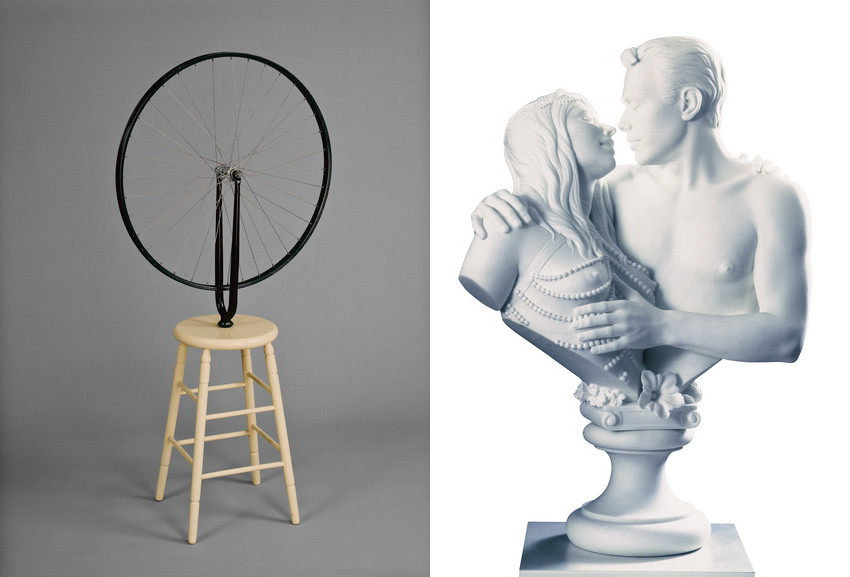 The Exhibition Sections
The entire display will be conducted in five sections that explore particular themes and motifs present both in the work of Duchamp and Koons.
The first section is titled intriguingly An Erotics of Things and it will reveal their focus on exploring how everyday objects can evoke desire and sexuality. To be more precise, the artists searched for the erotics of things (a syntagm proposed by art historian David Joselit) aimed to unravel the hidden implication behind the objects, a tendency associated with the ancient practices of fetishism.
The Sex Appeal of The Inorganic will reveal the artists' fascination with technology and the array of metaphors concerning human bodies, sexuality, and desire. Duchamp articulated the effects of industrial production and consumerism by constructing odd mechanism by appropriating, delegating, and outsourcing all of the strategies used by Koons.
The section Vice Sans Fin of The Anatomy of Desire will lead the audience even further into the artistic realms of these artists; here, the accent will be on the importance of Eros and the way Duchamp and Koons exploited their visions, voyeurism, freedom, and pleasure.
The Self-readymade-identity as a Medium as the fourth section will clearly take in consideration how the artists perceived their own identity and persona. While Duchamp performed his female alter ego Rrose Sélavy throughout the 1920s, similarly Koons played with his own identity of the artist.
The final segment Innocence and corruption will deliberate how both Koons and Duchamp articulated the myth of childhood as something pure and untouched by the constraints of consumerism and moral - here it is worth mentioning Duchamp's inventions described by him as headlight child" or "machine-child, or the gigantic mirror-polished metal toys by Koons.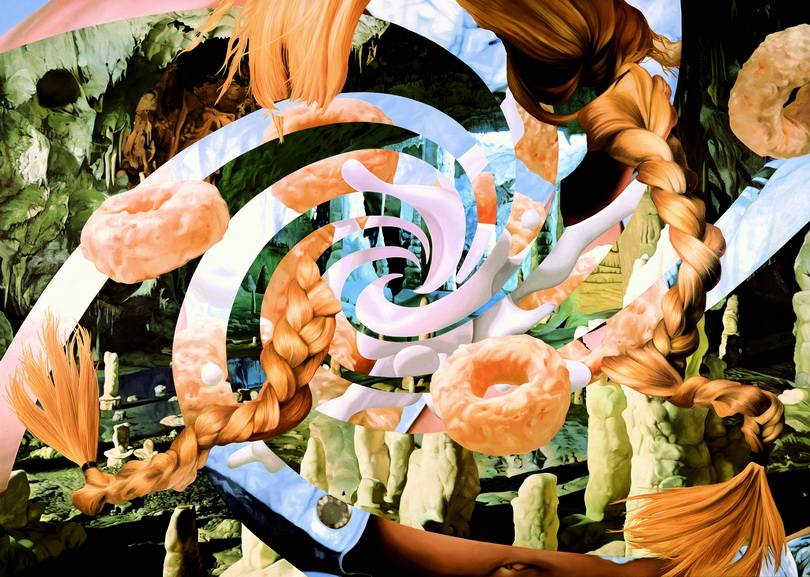 Marcel Duchamp and Jeff Koons at Museu Jumex
It would seem that the upcoming exhibition will provide an entirely new reading of conceptual and formal characteristics of both oeuvres by analyzing them through the prism of Duchamp's belief in co-understanding of opposites.
Along with the mentioned sections and works displayed inside the museum building, in its exterior Koons's inflatable 45 feet high nylon sculpture Seated Ballerina will be installed. This particular piece is once again a representation of desire and was initially presented in 2017 at New York City's Rockefeller Center.
The exhibition will be accompanied by a richly illustrated catalog published by Phaidon in collaboration with Fundación Jumex Arte Contemporáneo, edited by the curator with contributions of acclaimed scholars such as Daniel Birnbaum, Thomas Girst, Dorothea von Hantelmann, and others.
Appearance Stripped Bare: Desire and the Object in the work of Marcel Duchamp and Jeff Koons, Even will be on display at Museo Jumex in Mexico City from 19 May until 29 September 2019.
Featured images: Jeff Koons - Moon (Light Blue), 1995–2000. Pinault Collection. Photo: Laurent Lecat © Jeff Koons; Marcel Duchamp - Fountain, 1917. Galleria Nazionale d'Arte Moderna e Contemporanea, Rome. Photo: Rob McKeever. Courtesy Gagosian © MARCEL DUCHAMP / ADAGP / SOMAAP / MÉXICO / 2019. All images courtesy Museo Jumex.