There are a few things that artists Heiko Zahlmann and Stohead have in common: they are both prolific German artists born in 1973, they both share a passion and a past in graffiti, and they often collaborated on canvases and murals around the world, due to their individually impressive styles that work well together. For the second time this year, they will join forces in a duo exhibition; after the first showcase at Berlin's BC Gallery, they are now moving to Galerie Zimmerling & Jungfleisch, where they will once again create a Karambolage. What are we to expect? A meeting of artistic forces and its remarkable visual results that mix abstraction with street art.

Karambolage Zwo
How does it happen that two artists with two distinct approaches get together and create artworks that do not seem to reveal this fact? Perhaps this is exactly how a collaboration of sorts should work. Looking at these pieces, we can recognize the "clash", seen through the elements like the organic and the geometric, the fluent and weightless vs straight and massive. If we're familiar with the careers of Heiko Zahlmann and Stohead, maybe we can even tell who contributed what in these paintings, but essentially it is a joint work, bound to work as a whole and to not be separated in two entities. What connects these two creatives is the same progress towards abstraction over the years, in both painting and sculpting, in various directions and with different interpretations of its concepts.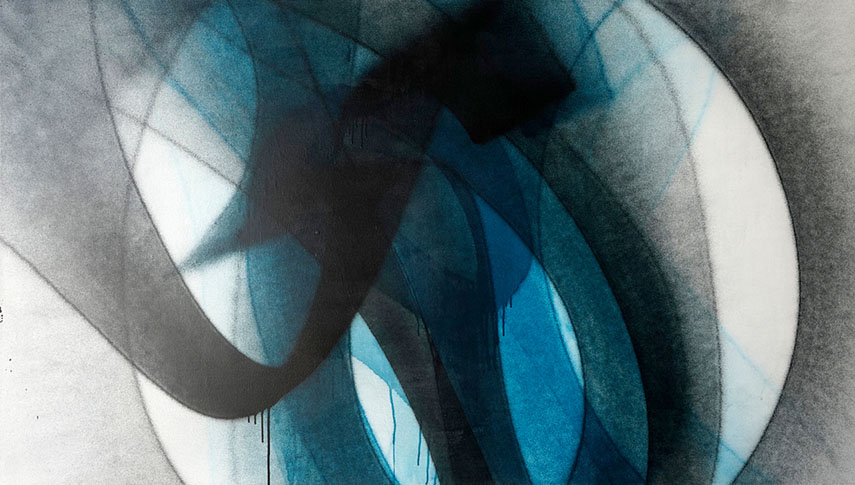 Heiko Zahlmann and Stohead - The Clash
Moving freely between architecture, painting, drawing and sculpture, Heiko Zahlmann is famous for his site-specific installations that experiment with geometric abstraction, unified blocks of color, straight lines and solid forms. Even his murals seem as though they are about to come out of the wall, oozing with strong elements from graphic design with precision. On the other hand, Stohead focused on forms of calligraphy and typographic text patterns of lyrics, for instance, thus giving life to complex, vibrant compositions. His style is rooted in graffiti and street art much more than one of his colleague, reminiscing of old-day tags and throw-ups and referencing the hip hop culture that the art movements grew up with.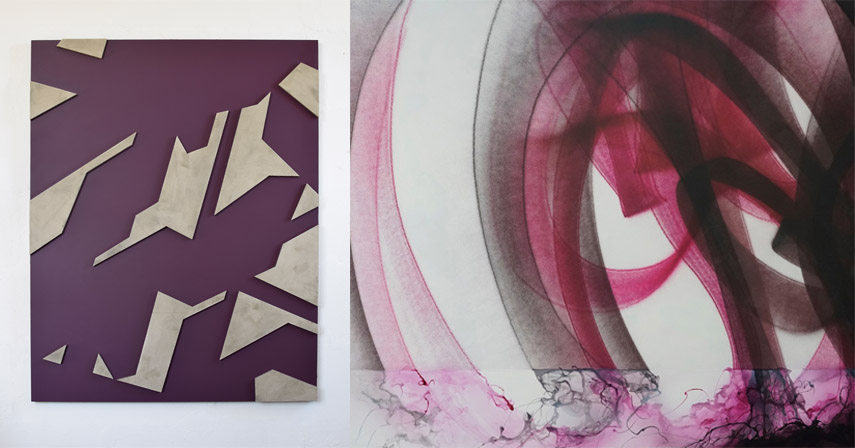 The Duo Exhibition at Galerie Zimmerling & Jungfleisch
In this show, Heiko Zahlmann and Stohead will once again combine the most distinct elements from their individual practices to make comprehensive, detailed abstract pieces in many formats and shapes. Karambolage Zwo, the duo exhibition by Heiko Zahlmann and Stohead, will be on view at Galerie Zimmerling & Jungfleisch in Saarbrücken, Germany, from September 8th through October 29th, 2016. The opening reception is scheduled for September 8th from 7pm to 10pm and both artists will be in attendance.
Featured images in slider: Collaboration Work, Heiko Zahlmann and Stohead - Clash II, 2016. Acrylic on canvas, 150x200 cm; Heiko Zahlmann and Stohead - Clash I, 2016. Acrylic on MDF, 200x150x4 cm; Portrait Heiko Zahlmann; Heiko Zahlmann - Kleines X, 2016. Mixed media on lightweight concrete, 40x40 cm; Heiko Zahlmann - FlatEric, 2016. Spray paint on HDF, 90x90 cm; Stohead- Daftheads; Stohead Studio. All images courtesy Galerie Zimmerling & Jungfleisch.