Banksy and street art - the name of perhaps the most famous and, at the same time, the most elusive, artists in the history of street art has almost become a mantra. It's said that Banksy is about 38 now, having over 15 years of prolific street art career behind. He himself made a pun about his age in a recap video about the said residence on his website, implying he's a bit tired of street art endeavors.
Long after his persona was bound to underground culture, Banksy became a part of the mainstream, the 'it' celebrity, the daily news. With such a colossal hype having inflated the balloon of Banksy's glory to the unforeseen measure, it's hard not to wonder:
Did this heart-shaped blimp start deflating (yet)?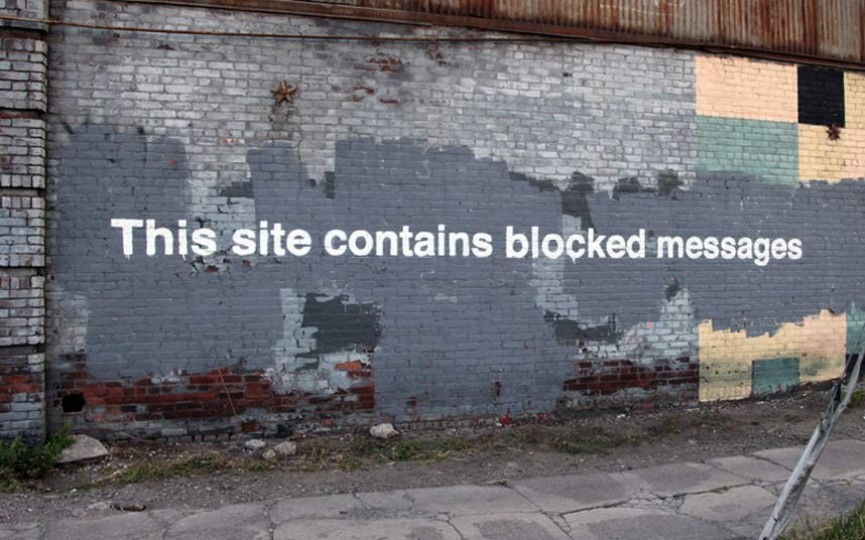 Auction Appearances
Media coverage has ostensibly dropped since the New York residence in October 2013, while auction prices do not seem to soar anymore. It's widely known that his auction peak was reached in 2008, when Keep It Spotless sold for a jaw-dropping price, which was, pretty much, an exceptional occurrence. His original pieces still sell for handsome amounts, often reaching the half-million mark (in US dollars), but although this artist contributed more than many to the development and popularity of the street and urban art market, the legitimate issue of whether his art can keep up appearances on the market stays.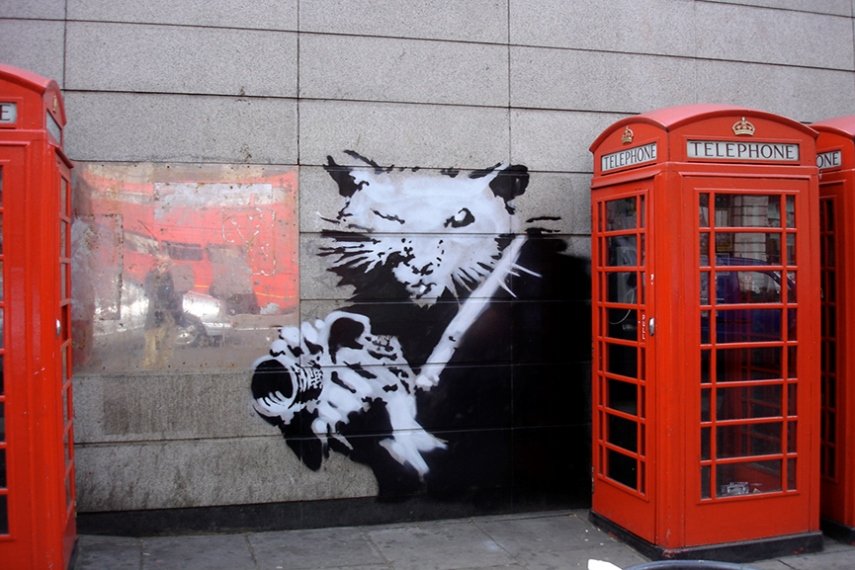 There's Something About Banksy
Everybody likes Banksy! He 'resonates' with everyone, according to Steve Lazarides, the man behind Banksy's latest Unauthorized Retrospective. But, why is this so? Some may argue it's because of the brilliantly simple communicative properties of his work, packaged in a likeable aesthetics, adorned in a light air of nostalgia. It might be because the message is unequivocally critical of the universally wrong. It's because of the irony, or because Banksy's art may just be the best visual representation of dry British humor (After Monty Python, naturally). Whatever it may be, Banksy is equally loved by kids, teens, outcasts, starlettes, and, most importantly, collectors.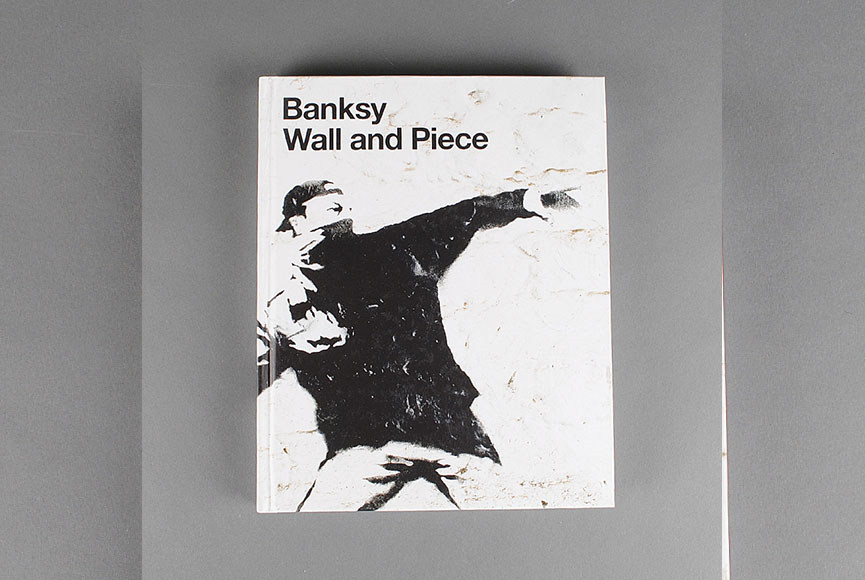 After Banksy
Observed widely, the crucial thing about Banksy is frequently overlooked, and that is his influence on art in general. His redefinition of stencil was so innovative and original, that its influence extends globally on countless artists. Street art, urban art or just - art, would hardly look the same if it weren't for Banksy's witty creations. He put street art on the map, introduced more of it into conventional art spaces, blurring the boundaries between high and lowbrow. He was one among the first who used the Internet as the worldwide promotional tool, emphasizing its future role in the promotion and even distribution of art for which he even won the Webby Award. For his acclaimed documentary Exit Throuh the Gift Shop, he was even nominated for an Oscar! And although he kept the bright visual front, his art is always, without exception, socially and politically engaged, inviting the viewer to think and questions currents and actions of the establishment, or to help right the wrongs of contemporary age. Remember Banksy's Syria piece? It's only one among the many.
Banksy - Controversy and Future
Banksy wouldn't be so famous, if there weren't a pinch of controversy connected with him. First, we must mention the (needless) war with King Robbo on the streets of London, where Banksy attracted a lot of rage from other graffiti writers onto himself. He's been dismissed as fake, because of making the craft too easy with stencils. Another issue regarding Banksy is the global craze and the skyrocketing prices of his works, which caused certain individuals to even illegally cut out walls and sell them at auctions?! Stealing Banksy exhibition attracted a lot of attention, since it was a legal sale of his wall pieces, but a lot of that attention was negative, raising new questions about what is proper in the world of street art. Banksy's own organization, Pest Control, was founded to introduce some order into the Banksy art trade, but this action only had limited success, as some works still sell without his approval. However, if he believes in the cause, Banksy will approve the sale, as he did with Mobile Lovers piece, sold to restore a youth club in Bristol.
Banksy - The Morning After
It would be wrong to claim Banksy is done. He is not. Even though the art market is such that he's not among the most desired stars at the moment, he's neither among those collectors should get rid off, on the contrary. As a highly prominent figure in the early 21st century art, Banksy will surely prove to be of magnificent historical value one day. Still, he's quite young, creative as always - what could we expect from him next?
It appears Banksy, although working in the street as ever, has been creating in the studio more and more in the past year or two, producing pieces such as Happy Shopper. Maybe this is what he meant when he suggested street art is somewhat tiring - that he would be moving to studio for good. His cheered Better Out than In adventure in New York contained several performance pieces, all provocative and artistically justified. Is performance in public space, Banksy's future?
Just like his identity, no one can tell what exactly will this gold coin of the art market devise, but whatever this spotless mind of contemporary art engages in next, it's surely going to be a spectacle!
All images used are for illustrative purposes only.