Earth to Fuckface is a new exhibition of paintings by German born artist Friedrich Kunath being hosted at the White Cube gallery in Hong Kong. Kunath, now living and working out of Los Angeles, is known for his work that is produced in a variety of media including paintings, drawings, sculpture and photography and in this new solo show he presents a series of paintings full of moribund humour, romantic landscapes and a cast of eclectic characters.
Earth to Fuckface at White Cube
Earth to Fuckface at Hong Kong's White Cube gallery sees Friedrich Kunath continue his cosmic journey into the collective consciousness, exploring themes of love, loss, loneliness, dejection and optimism combined with looking at the way, we as humans, live, love and remember. Kunath draws inspiration from seemingly opposite sources, Conceptual art, German Romanticism through to Symbolism and threading that together with fragments of song lyrics and book titles that create images of a psychic landscape with disjointed scenes that linger like a dream. Paintings such as Old Love and Almost Summer show the painterly skills of Kunath, classic landscapes well crafted that wouldn't look out of place gathering dust in a museum, but added to the surface of the canvas we get what at first appears as a random set of images seemingly at odds with the background. Strange figures, creatures and typography float above the landscapes, sometimes cartoonish in appearance and created with pencil or screen printed on at the end. The dramatic style changes between background and foreground are abrupt and one can't help but to look and wonder just what is going on in Friedrich Kunath's mind, perhaps a psychotic dream or childhood memories that float around us throughout our lives turning darker in nature. Kunath states that he always tries to ''paint the inside of things...my own private and distorted equilibrium... a place where agitation and consolation materializes and recreates itself into a Meta landscape''. The paintings of Friedrich Kunath also display a lot of satire and comedy, Jealousy is Killing the Fun for example features what looks like a pair of lovers sketched over a sunset with a cartoon mouse lurking to one side of the canvas, the three elements to the painting so at odds with each other that it manages to work while We May Freeze But We Will Never Go Numb looks as if some angels or Jesus should be lurking in the palm tree background but instead we get four characters nestled in the middle of a swirl of gorgeous painterly washes. Kunath is capturing universes in his paintings but as to where these exist, it is anyone's guess.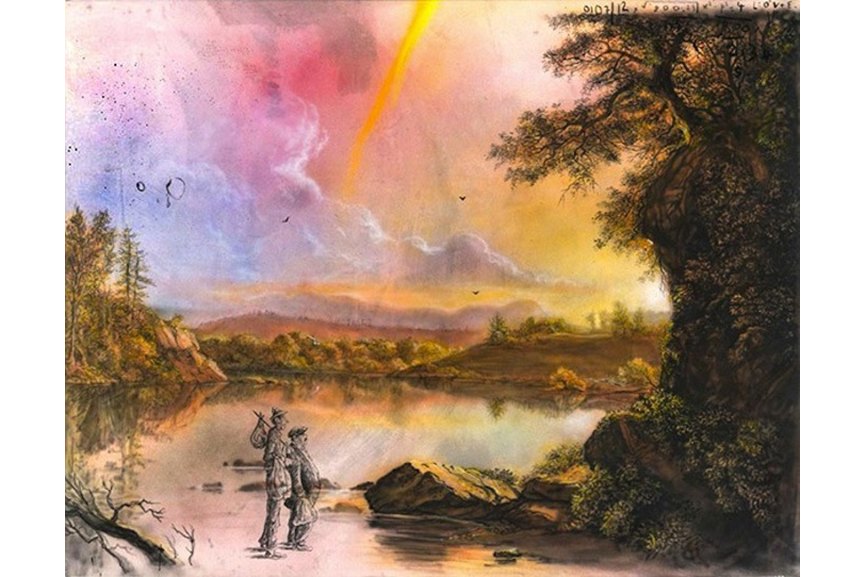 Friedrich Kunath
Friedrich Kunath was born 1974 in Chemnitz,Germany. Relocating to Los Angeles, Kunath found fresh inspiration in the counter culture environment of California using titles such as California Dreaming and Pet Shop Sounds while the landscape of the area have proved an obvious source of inspiration along with the blazing sunsets that light up the creations and as Kunath himself puts it: ''I guess the colours got brighter and the topics got darker. Sunshine and Noir''.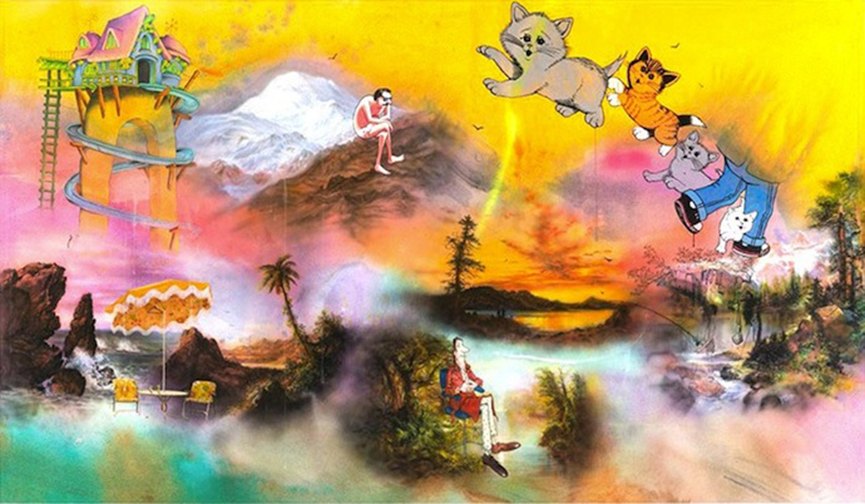 Exhibition
Earth to Fuckface by Friedrich Kunath is on display at the White Cube, Hong Kong between 20th November 2014 and 31st January 2015.
Come into our universe by signing up to My Widewalls today!