A groundbreaking tattoo artist, Don Ed Hardy is known for developing the fine-art potential of a medium that was formerly the domain of street thugs, prisoners, and transient sailors. A lifelong creative with formal training outside the tattoo shop, he is also known for his art and his eponymous apparel and accessories brand "Ed Hardy".
The Fine Arts Museums of San Francisco is hosting the first museum retrospective of this renowned individual. Titled Ed Hardy: Deeper than Skin, the exhibition will bring together more than 300 objects ranging from paintings and sketches to prints and three-dimensional works, that trace the evolution of tattooing from its "outsider" status through Hardy's work and influence.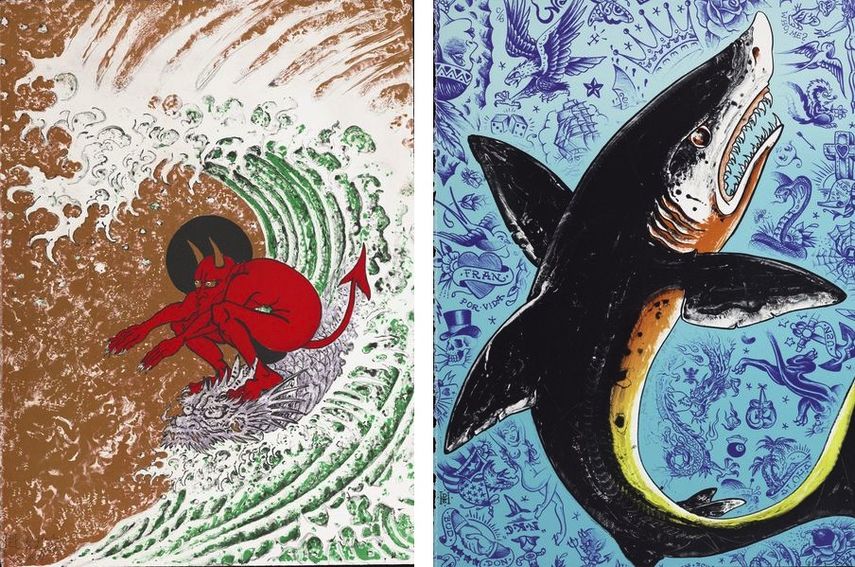 The Practice of Don Ed Hardy
A pioneer in the field, Don Ed Hardy pushed the tattoo art form to new heights. Growing up in Southern California, he would haunt the tattoo parlors on Long Beach Pike, where he learned to draw tattoo designs for his "kiddie tattoo shop." While studying printmaking at the San Francisco Art Institute, he found inspiration in prints by artists such as Dürer, Rembrandt, and Goya at the Legion of Honor's Achenbach Foundation for the Graphic Arts.
After being introduced to a book on Japanese tattooing, he dedicated completely to the medium, revolutionizing the practice as an important art form. His art draws from both traditional American tattooing of the first half of the twentieth century and Japan's ukiyo-e era culture, but also historical styles of art and tattoo from all over the world.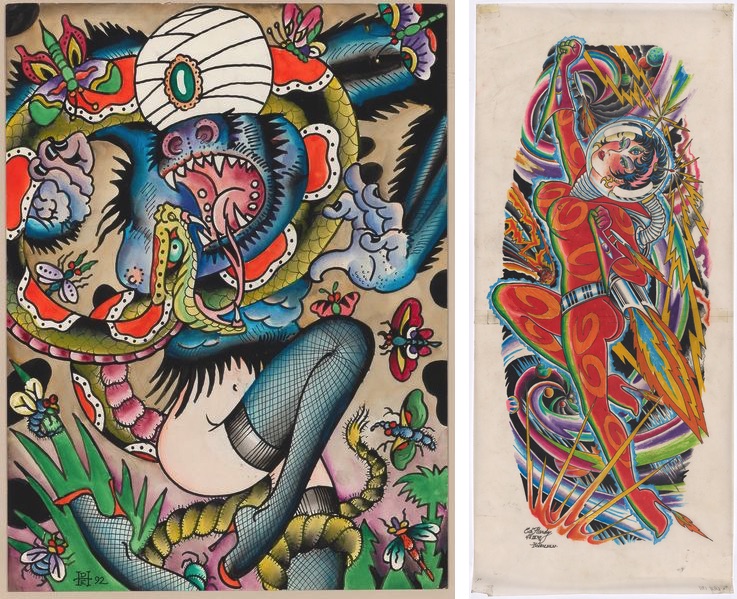 Exhibition Highlights
The exhibition in San Francisco features around 40 prints, of the 152 that Hardy donated to Achenbach's holdings in 2017, as well as paintings, drawings, and three-dimensional works from the artist's personal collection.
On display will be 2000 Dragons, a monumental piece featuring 2000 dragons, which was conceived in 1976 but executed in 2000. Other highlights include a series of large-scale works called Eyecons, made in collaboration with Trillium Graphics in Brisbane, California, prints that Hardy created as a student at SFAI, juxtaposed with the master prints from the Achenbach that inspired them, as well as tattoo flash, preparatory drawings, and paintings that showcase the themes of Hardy's tattoo imagery integrating with his fine art practice.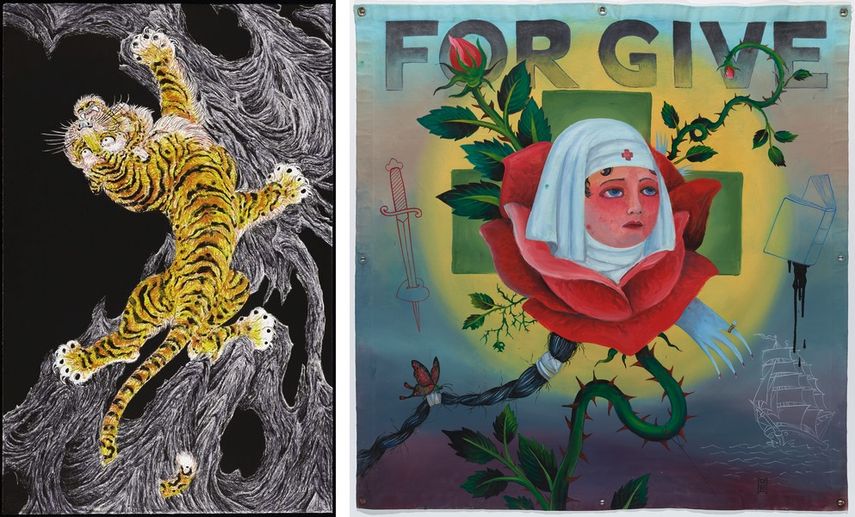 Don Ed Hardy Exhibition at de Young
Karin Breuer, the curator in charge of the Achenbach, explained that the visitors will have an opportunity to become more familiar with works from Hardy's own artistic practice:
Since retiring from active tattooing in 2008, he's created a significant body of art in a range of styles and imagery, each piece incorporating elements of conventional tattooing with traditional fine art.
The exhibition Ed Hardy: Deeper than Skin will take place at de Young in San Francisco until October 6th, 2019.
Featured images: Don Ed Hardy - Dragons (detail), 2000. Acrylic on Tyvek, 4 1/4 x 500 ft. (1.3 x 152.4 m). Collection of the artist © Don Ed Hardy. All images courtesy de Young Museum.