It's not easy to define the work of Ed Ruscha. Experts label his style as Conceptual, Surrealist, and Pop while admirers describe his masterpieces simply as "cool"[1]. His artworks were featured in numerous galleries and museums, and now we have the opportunity to explore the legacy of Ed Ruscha in a documentary film as well. Commissioned by The Museum of Contemporary Art Los Angeles (MOCA) and narrated by famous actor Owen Wilson this fascinating film summarizes over 50 years of the acclaimed artist's career in only 7 minutes and 21 seconds. While following the artist's life and work since his arrival in Los Angeles till today, the film that's as colorful as energetic and as entertaining as Ed Ruscha's body of work itself, marvelously represents the achievements of one of the finest living art-makers of our time. By focusing on motifs almost synonymous with LA like cinema, advertising, logos, and capitalism, he created works that represent a astonishing visual diary of American West. And with a unique retrospective of his works that's currently taking place at de Young museum in San Francisco we believe that we have more than enough reasons to name Ed Ruscha our artist of the week.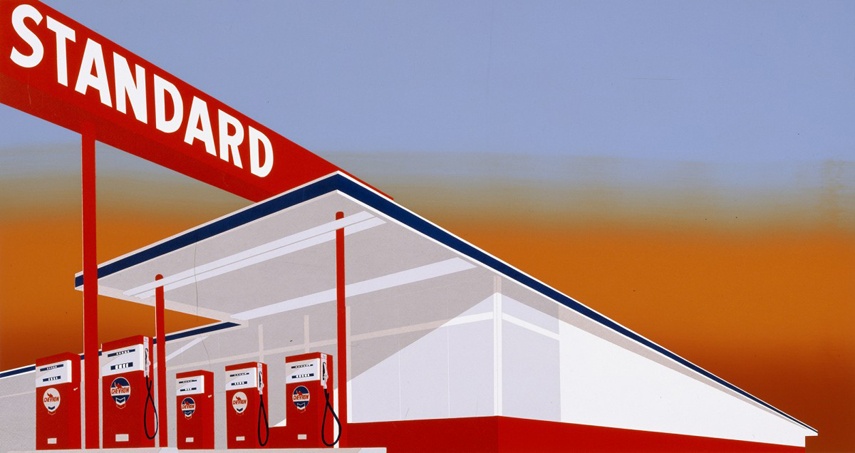 Ed Ruscha: Buildings and Word - a Fascinating Short Film narrated by Owen Wilson
It was love at first sight for the acclaimed actor Owen Wilson when he first spotted Ed Ruscha's Brave Men Run in My Family artwork on the wall of Ivy1 at the Shore Restaurant.[2] Over 20 years later, the actor who has become the artist's devoted collector and friend got the opportunity to introduce others to the works that blew him away decades ago by narrating the latest documentary about the celebrated American art-maker. Ed Ruscha: Buildings and Words, short documentary video that celebrates Ed Ruscha's life and work was commissioned by MOCA to accompany The Films of Ed Ruscha, organized screening of two of his movies held in July. The documentary that was written and directed by Felipe Lima, begins with the artist's arrival in Los Angeles and his first encounter with fake and glamorized portrayal of the 1960s life in America. While traveling from Los Angeles to Oklahoma City, he created what will be the first in a series of acclaimed art books composed of numerous images of gas stations photographed along the way. The bold and candid portrayal of life on the Route 66 grabbed the attention of people that quickly bought the entire stocks of his publication that was sold for only $3 a piece[3] at the time. One of the artworks from the book Standard, Armadillo, Texas that depicted a gas station draw the most attention, and the prolific art-maker knew just how to exploit that. In the finest spirit of repetitive art, Ed Ruscha made a series of paintings by employing the Standard gas station motif and the composition of Lumiere Brothers' celebrated The Arrival of a Train at La Ciotat Station. Since its creation in the 1950, the artwork that replicated the composition of one of the first movies ever made, was revisited several times as the artist's made numerous variations of colors and structure, and even painted it while going up in flames, a humorous referral to the dangers of running a gas station.
Ed Ruscha: Buildings and Words documentary also covers his fascination with words that he made and unavoidable element in most of his pieces. Sometimes short and sinister, other times humorous and elaborate, words, phrases, and sentences often represented a pivotal element of his artworks. In fact, alongside Barbara Kruger and Jenny Holzer, Ed Ruscha was the pioneer of inserting phrases into artworks that influenced an array post-Pop masters that followed. His use of text was both entertaining and innovative as he depicted broken and torn words or letters that were painted as if they were made with spray paint, spilled liquid, and food. Soon Ed Ruscha started painting with actual food like chocolate, tomato paste, coffee, caviar, or hot sauce. In his celebrated piece Fruit Metrical Hollywood for example, he used apricot and grape jam to paint on paper. As the artist's style evolved his fonts changed as well and in the 1970s he created a unique Boy Scout Utility Modern font,[4] that varied significantly from his earlier writings. As the documentary reminds us, this font created in the seventies was particularly striking in his 1990s photorealistic mountain series. Ed Ruscha: Buildings and Words also touches upon Ed Ruscha's interest in video works with a special focus on his short film entitled Miracle from 1975, starring a car mechanic that miraculously turns from greased to clean.
Ed Ruscha: Buildings and Words Documentary Video
Retrospective at de Young, New Art Series in London
And in other news, we mustn't forget about a retrospective of Ed Ruscha works that's currently on view at de Young museum in San Fransisco. A survey show entitled Ed Ruscha and the Great American West includes 99 artworks that deal with numerous forms of American mythology. The exhibition will be organized in nine sections covering iconic works such as gasoline stations, photos of the Hollywood sign and of course Ed Ruscha's famous word paintings. The exhibition organized by the Fine Arts Museums of San Francisco encompasses over 50 years of the artist's outstanding career and it will be on display until October 9th, 2016. After that, Ed Ruscha's fans and followers will have the opportunity to see the artist's exceptional works at Extremes and In-betweens exhibition of his new word paintings at Gagosian, London. The exhibition will comprise of paintings that explore the relationship between micro and macro cosmos depicted trough an array of shrinking or expanding words. Ed Ruscha's new Extremes and In-betweens exhibition will open on October 5th and will last till December 17th, 2016.
Great American West Exhibition's Video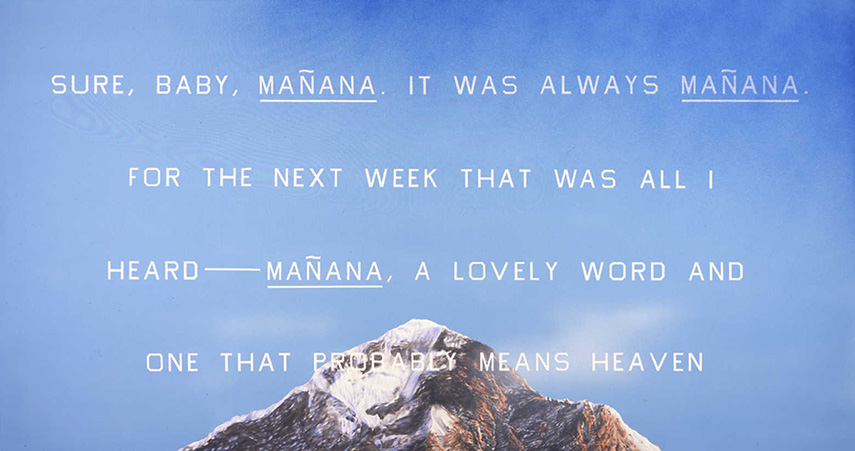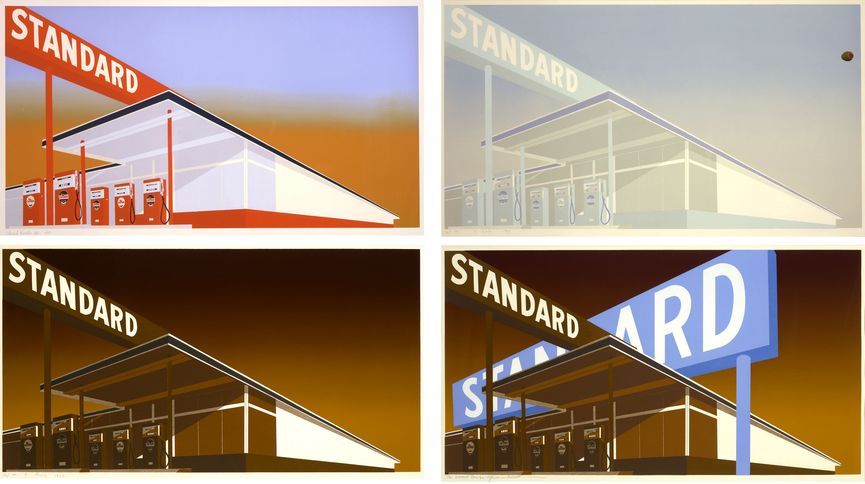 References:
Haldeman, P. (2012), In L.A., Art + Film + Fashion, New York Times [ September 22, 2016 ]
Anonimoys. (2016), This is why Owen Wilson loves Ed Ruscha's work, Phaidon [ September 22, 2016 ].
Ellroy J. et all, Ed Ruscha: Fifty Years of Painting, D.A.P./Distributed Art Publishers, 2010
Breuer K, Ruscha E and D.J. Waldie D.J, Ed Ruscha and the Great American West, University of California Press, 2016
Featured images : L.A- based art-maker Edward Ed Ruscha via latimes.com and Edward Ed Ruscha at MOCA via nytimes.com; All images for illustrative purposes only