Does it actually make any sense to try to attach narratives to Ed Ruscha's artist books from the 60s?
Ever since the book of Twentysix Gasoline Stations came out in 1963, the debate on its content and meaning has been ongoing. The book of photographs was initially rejected by the Library of Congress for its "unorthodox form and supposed lack of information" (Phaidon), but it gradually gained status of a cult, and it is something Ed Ruscha is now famous for (which we know often happens in art). Some of the instances are hard to perceive from this point of view, half a century later when so much has changed. But even with Duchamp and the whole Dada movement (accompanied by the revolution of art in the 20th century) in the picture, the it-is-what-it-is feel to the book was not fully appreciated at the moment of its release.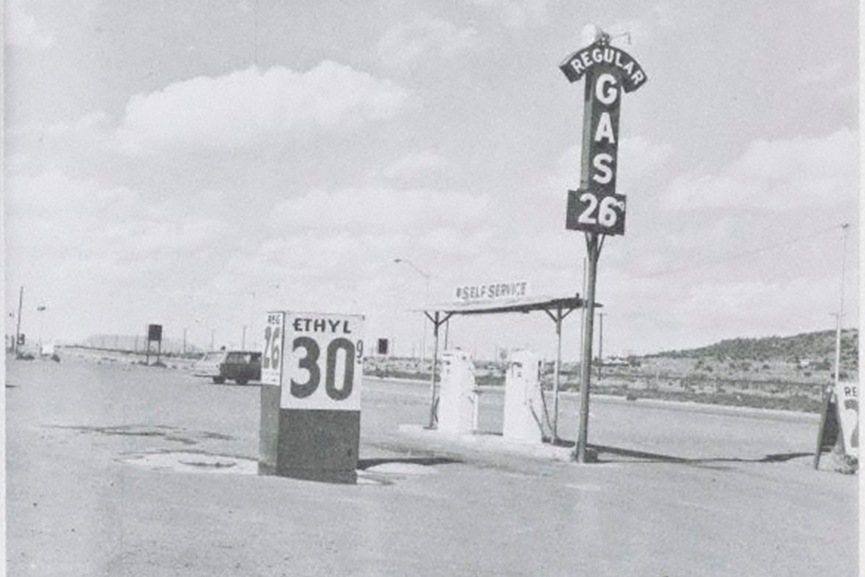 Object-Oriented Mind
From today's perspective, object-oriented outlook is not an unusual subject, especially as the age of the human is transforming, and leaking into the age of the digital. Depicting the non-human and post-human formulations has been present in visual expression in the past as well. We have seen traces of this occurrence in De Chirico's paintings, but also in a different context, through glorification of consumerist objects in pop art, which are more relevant to Ruscha's approach, as he belongs to the concurrent stream of pop art based on the other side of the American continent. However, on the subject of post-humanity, people often have mixed feelings about photographs of buildings and landscapes without people, as there is something uncomfortable about seeing architecture without its occupants. We can refer to it from different angles, but architecture is a human act. Seeing it and perceiving it without people can subliminally induce strange feelings (although many architects like to display their projects without people, in order to emphasize their monumental value).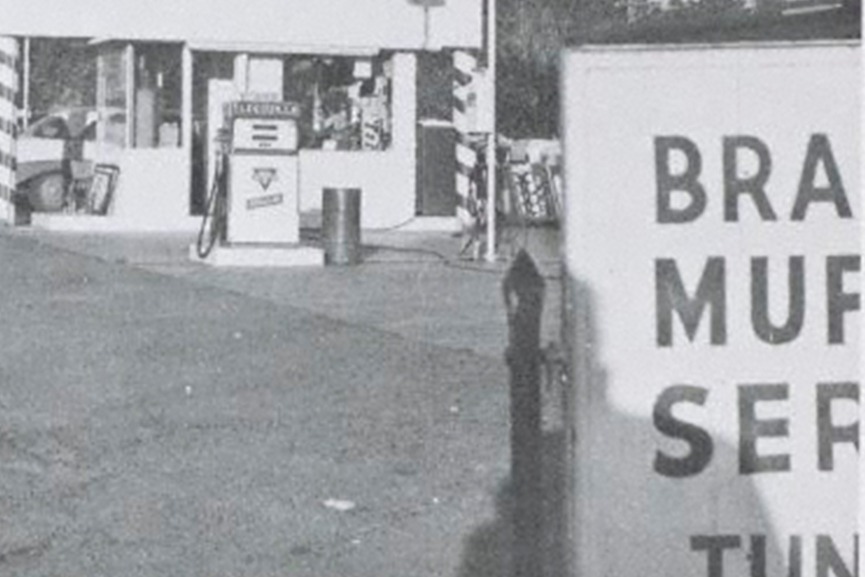 Road Movie Trivia
To return to the question posed in the beginning, the stories behind the book do exist and have probably influenced the work. The setting for the photographs was the Route 66, the famous road that had already become a recurring subject on television in the USA. Ruscha used to drive on this road, travelling from California to Oklahoma City few times a year to visit his parents at that time. He mentions Oklahoma as the place he wanted to get away from when he was 18: "...a long way from Oklahoma, that's what I wanted to be, and everything it stood for. And away from the catholic church too, and Sister Daniella who beat my knuckles with a pencil the one year I was in parochial school". These statements probably relate to some critics' presumptions on analogy between the 26 Gas Stations and the 14 Stations of the Cross, which Ed Ruscha did affirm to some extent, through interviews.
When he was in Europe in 1961, Ruscha found himself impressed by the sober design he saw on books sold on the streets. The non-commercial aesthetics resonated with him and apparently gave inputs for his future work. Although his practice was actually based on commercial art, Twentysix Gasoline Stations seeks to dismiss style in general, and to eliminate anything 'too interesting'. Because of this intent, only 26 photographs were selected in the end, despite the fact that he made around 60 of them, some of which he found to be more than just documentary. Out of 26 featured gas stations, three were photographed at night, and only a few photographs include people on them. Half of them don't even show cars, although the photo of Conoco gas station in Albuquerque seems to show Ruscha's own shadow, as a humorous surprise somewhere in the middle of the book. As mentioned, all of the gas stations are on Route 66, and not much more than that is represented on pages of the book. The first edition was signed and numerated, but Ruscha eliminated all the text from it afterwards, and explained that he wanted absolutely neutral material. "My book is more like a collection of readymades", he said.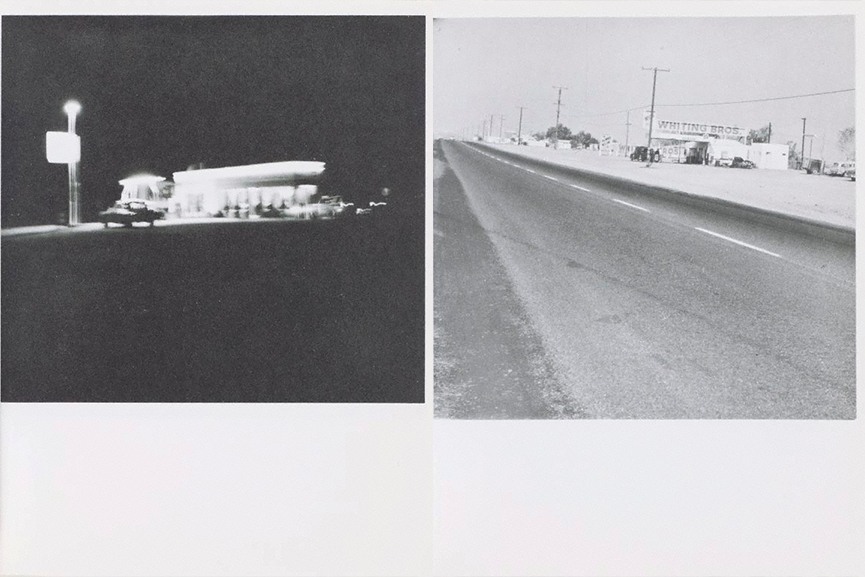 Incidental Objects of Beauty
The photographs of gas stations should, however, speak for themselves. Ed Ruscha continuously declares that his intent was not to make anything picturesque, but rather to present a collection of facts and to avoid overstatement, or any statement at all actually. Still, the apparently bland paisaje of the west coast may be documentary in intention, but its (incidental) aesthetic value cannot be denied. Ruscha once made a comment on how what "used to belong to the Navaho and the Apache Indians now belongs to the white man, and he's got gas stations out there" (source: Tate). Even with reference to gas stations as the dull monuments of modern society, the fact that something so specific is left to so much interpretation makes it more abstract than most of the abstraction in art, conducted on purpose.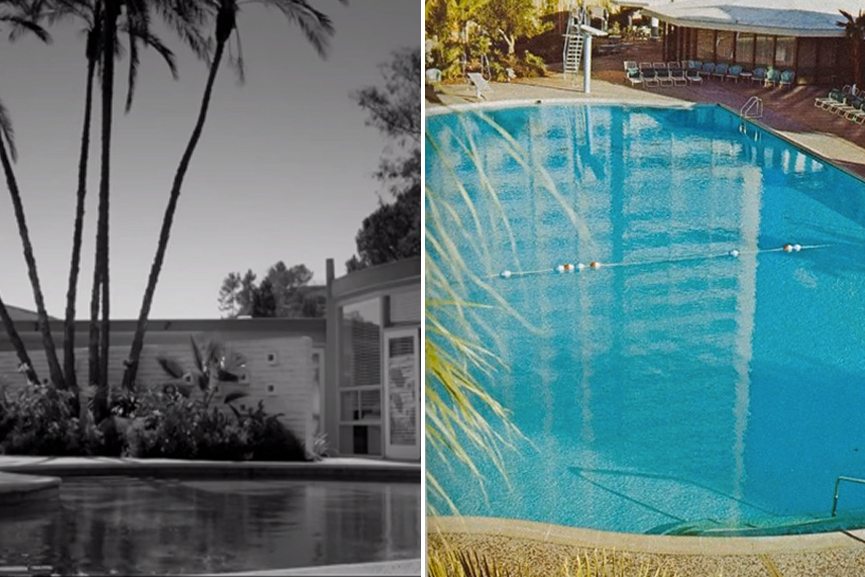 Ed Ruscha - Shaping the Visual Culture
So we have shiny, colorful, provocative pop art on the East Coast, and grayscale, analogue, Yashica photographs on the West Coast to contrast it with. Twentysix Gasoline Stations book was later accompanied by Thirtyfour Parking Lots and Nine Swimming Pools and a Broken Glass. Ruscha is not the only one, but certainly is one of the few people who managed to render industrial objects and facilities as objects of beauty (even if he claims that it was not his intention to do so). Ruscha's genuine interest in the vernacular and in man-made objects naturally, rather than paradoxically, resulted in poetic images. His photographs may disregard decoration and 'style', but they build an image of the West Coast sandy dream, where both lifestyle and architecture melt under the Californian sun. It may be assumed that this direct approach highly influenced lots of pop artists later on, and the whole identity of visual culture as we know it today. In the mainstream culture of the 60s, it may have seemed that there's nothing beautiful about gas stations and parking lots, but here we are, a few decades later, witnessing how the 'grungy, industrial' trend is being implemented into fashion, architecture, pop culture, movies and (why not?) songs by Lana del Rey.
Featured images: Ed Ruscha - Twentysix Gasoline Stations - Union, Needles, California (scan); Ed Ruscha - Twentysix Gasoline Stations, book cover. Images used for illustrative purposes only.