It seems that Ed Ruscha just became Tate's official Santa Claus! The American pop artist is donating a collection of prints to the British museum, and has also promised one impression of all the new prints he goes to make for the rest of his life, in what Tate director Nicholas Serota calls "a wonderful Christmas present to the whole nation." As a thank-you, Tate will allow other public museums across the United Kingdom to stage exhibitions of his remarkable works on paper, as they represent "wonderful resource". In a short statement regarding his donation, Ed Ruscha, who will turn 78 on December 16th, said "It is a great honour to know that Tate will be a home to a collection of my editioned works.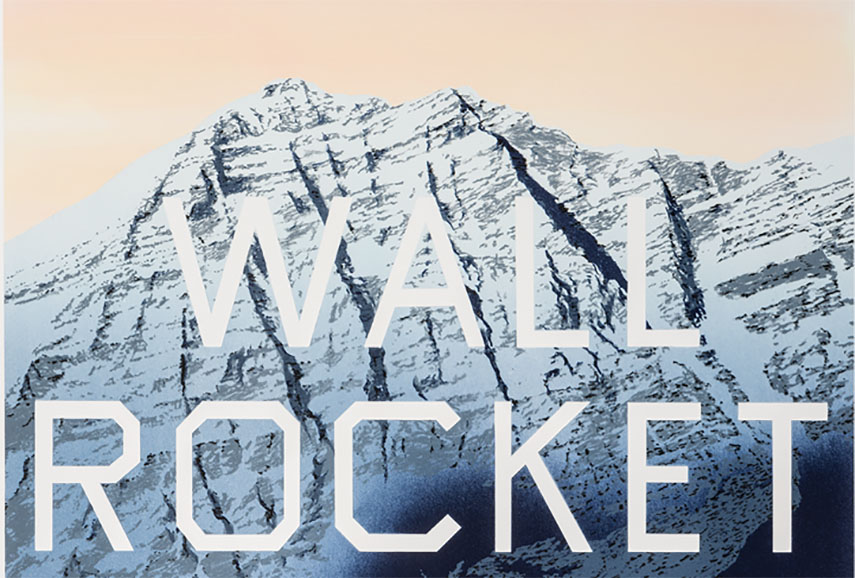 Tate Received Ed Ruscha Prints as a Christmas Art Gift
The collection that Ed Ruscha donated to Tate consists of 18 recent print editions that demonstrate the artist's impressive print-making skills, which often feature signs, humorous writings and homage to his hometown of Los Angeles. Among the works, there are prints like the 2013 Wall Rocket, the 2015 Sponge Puddle and Jet Baby created in 2011, which went for $30,000 at Christie's New York in 2014 - all depicting particular landscapes overlaid with iconic typography developed by Ed Ruscha himself. Other lithographs make literally references, such as the 2012 Mark Twain Quote or That Was Then, This Is Now from 2014, after the SE Hinton novel. Throughout his extraordinary artistic career spanning over six decades, Ed Ruscha showed great interest in language, establishing a unique consistency and approach to the meaning and the aesthetics of words and phrases. This reflects perfectly in artworks like We The People (2012), which features the opening words from the US constitution, or through Real Deal and Zoot Suit from 2014, which both express strong statements. Other prints, like Angel (2014), appropriate sings and logos for public good, while Music (2014) commemorates the 50th anniversary of LA's Music Center.
A Longstanding Relationship
Tate's own collection of Ed Ruscha's works already consists of seven paintings, twenty-three unique works on paper and 111 prints, and features a variety of techniques, including photography, lithography, screen printing, etching, photogravure and aquatint. Most of these works were donated by dealer Anthony d'Offay and were part of ARTIST ROOMS, an joint traveling exhibition and a public collection of contemporary art, organized by Tate and the National Galleries of Scotland. The show certainly only confirmed Ed Ruscha's popularity in the UK, and in this regard, The Guardian also remembers Ed Ruscha's Column With Speed Lines print that could be hanging at 10 Downing Street as we speak. In 2010, Barack Obama gave it to David Cameron as a diplomatic gift.
What is your favorite Ed Ruscha print? Let us know on our Facebook page!
Featured images in slider: That Was Then, This Is Now, 2014; Mark Twain Quote, 2012; Real Deal, 2014 / Zoot Suit, 2014. Images used for illustrative purposes only.