Although Edvard Munch is primarily recognized for his printmaking and painterly skills, drawings were the go-to driving force of his artistic expression. He made sketches constantly regardless of where he went, drawing illustrations of family members and close friends, local children and strangers, the Bourgeoisie and the Bohemians, mermaids and Madonnas.
Munch saved almost every single drawing he made, from simplistic sketches to complex designs that sometimes took days to complete. Unfortunately, getting a chance to see some of these works in person was always a challenging intent as they are not really scattered across the globe. Instead, nearly all of them are held at the same place - within the halls of the Munch Museum in Oslo, Norway.
Now, however, there's a new way to enjoy Munch's drawings - one that does not even require you to leave the comforts of your home.
Harvesting the power of modern technologies, all of Edvard Munch's drawings were collected and published in the Munch Museum's digital catalog. Thanks to the efforts of people who put this digital assortment together, a comprehensive overlook of Munch's drawn works is now available to all those who have access to the Internet.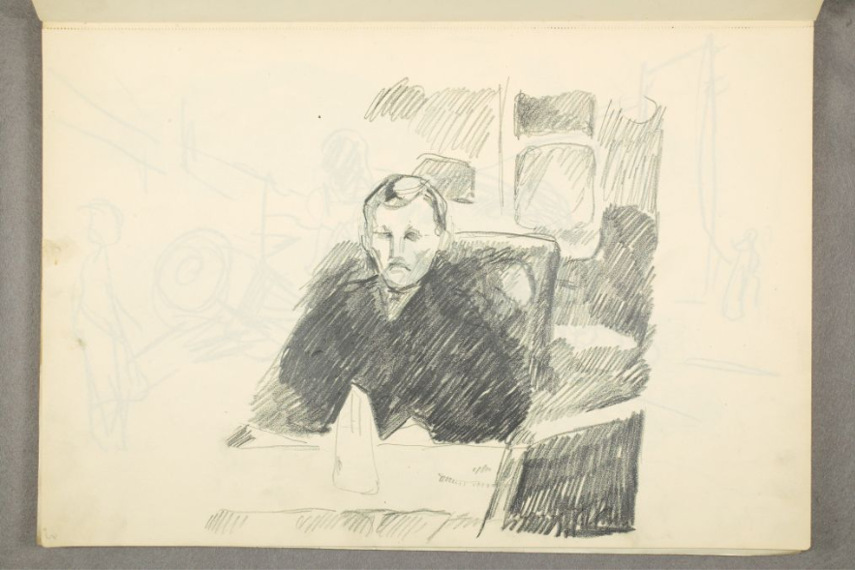 Why is Art of Edvard Munch so Captivating?
A Norwegian artist, Edvard Munch was a prolific and a talented artist in many creative methods, sure, but he was also a perpetually troubled man preoccupied with various difficult matters of human existence and mortality. In a way, his art was a way of dealing with troublingly complex aspects of life like chronic illness, sexual liberation and religious aspiration.
Since many of these issues troubled humans long before and after Munch lived, it's hardly surprising that Edvard's work is as captivating today as it was half a century ago.
Munch expressed his personal obsessions through works of intense color, semi-abstraction and mysterious subject matters. And, while his paintings and prints were certainly the highlights of these profound investigations, Edvard's drawings were a way of relatively quickly analyzing the world around him by relying on sheer talent and instinct. They are also one of the main reasons why Munch became one of the most controversial and eventually renowned artists among a new generation of continental Expressionist and Symbolist painters.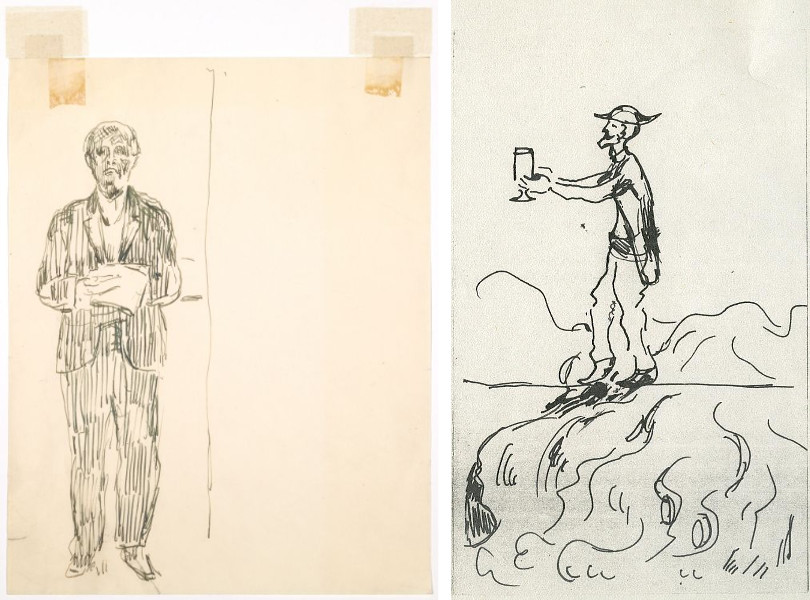 The Digital Catalogue Showcasing Munch's Drawings
The recently published catalog consists of more than 7600 drawings. Among them, over 90 percent are physically kept in the Munch Museum's collection, which is by far the largest assortment of this artist's works in existence.
To make matters even more interesting, since none of these works are counted among the painter's greatest achievements, the majority of the artworks in the catalog are mostly unknown. As a matter of fact, only a few have even been a part of an exhibition at some point during the last few decades.
Studying these drawings is a great opportunity to get closer to understanding Munch's art and they provide us with fascinating insights into his artistic processes. There's a strong case to be made that they are the most instinctive, unfiltered reflections of Munch's thoughts, and they should definitely be cherished as such. Through these drawn works of art, one can follow the development of Edvard's characteristic style throughout different periods of his artistic career.
Furthermore, viewers can also find clues among these drawings that let them examine the evolution of some of the artist's most iconic artworks, such as the famous The Scream[1].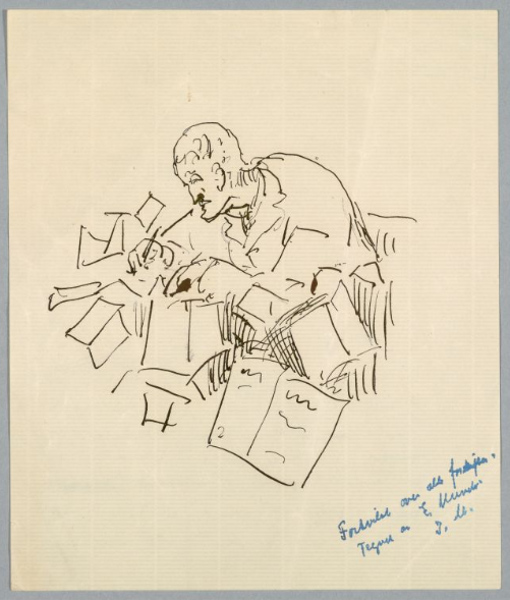 Using Self Portraits as a Way of Clarifying the World Around Him
In 1932, at a time he was already a well-established artist, Munch said the following statement concerning his self-portraits:
My art is a self-confession – through it, I seek to clarify my relationship with the world.
This eye-opening realization resonates throughout the majority of self-portraits Edvard created during his lifetime. Whether they were drawn, printed or painted, his self-portraits exposed the artist's loneliness, vulnerability and angst[2], the three biggest obstacles that stagnated Munch in adjusting to the world around him.
What makes these self-portraits even more interesting is that they almost always represent more than what initially meets the eye. There's always a deeper layer of meaning hidden away from prying eyes where unexpected motifs and themes emerge in spectacular fashion.
Morphing Edvard Munch's Self Portrait
Never Taking Himself Too Seriously
Since his self-portrait drawings were usually not strangers to humor, they clearly showed how Munch steadily attempted to not take himself too seriously.
This is more than evident in works like Letter to Ernest Thiel with Drawing of Munch on a Tightrope over Niagara Falls where he is balancing on a tightrope across the Niagara falls with a glass of wine in his hands or Munch at Dr. Jacobson's Clinic where he is recharging his batteries with female negative and male positive energies.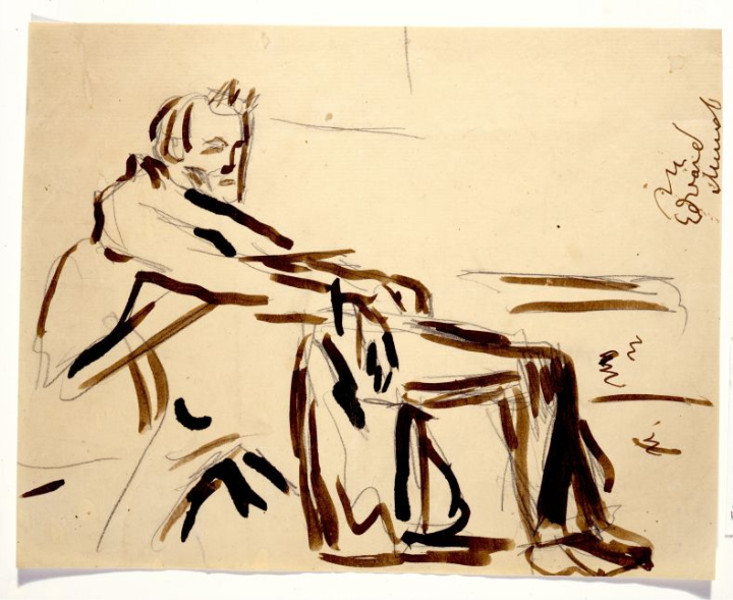 Why Are Self Portraits of Edvard Munch So Important?
Whether justified or not, there's no going around the fact that art pundits were always primarily fascinated with works of art that could never be classified as self-portraits. Instead, this class of artworks was usually treated as a rite of passage for young artists, much like the iconic still life compositions.
Self-portraits' place in art history, however, is more than rightfully earned.
In a self-portrait, the artist will, either consciously or unconsciously, entirely reveal their personality by laying bare certain traits that remain hidden in other kinds of works.
The characteristic of not distancing himself from the composition is extremely evident in the self-portrait works of Edvard Munch. In his self-portraits, especially those drawn spontaneously on paper, Munch lowered his guard significantly more than the case is in his paintings and prints, making these works an essential component of his entire oeuvre.
Make sure you also visit The Munch Museum for an exquisite collection of the artist's painting and drawing collection.
References:
Sooke, A., March 4, 2016, What Is the Meaning of the Scream?, BBC [May 22, 2018]
Hughes, R., Sep 17, 2005, The devil inside, The Guardian [May 22, 2018]
Featured image: Munch at Dr. Jacobson's Clinic, 1908–1909 (certain), indian ink, Riflet papir. 137 × 212 × 0,08 mm (h × b × t), Annotation by Artist: Professor Jacobson electrifies the famous painter Munch / and brings male positive and female negative strength / into his frail brain [pen, above drawing], Portrayed: Edvard Munch (1863–1944), Daniel Jacobson (1861–1939). All images via Munch Museet.