There is no other American artist who more masterfully dissected the monotony and the alienating nature of modern life than Edward Hopper. Although the critically acclaimed painter was humble and did not speak much about his work, it does not just reveal a master of great talent, but it also suggests a conscious and rather articulated social critique continually imposed by Hopper throughout his five-decades-long career.
Namely, the renowned artist came to prominence in the 1920s  as a student of Robert Henri, leader of the Ashcan School. Throughout the years to follow, he witnessed an increasing shift of the American society, from the Great Depression to the post-war affluence of the 1950s. By focusing on the everyday themes mostly found in the urban environment, Hopper focused on various psychological effects caused by the modernization process.
By portraying figures in a slightly blurred manner, juxtaposing them against stiff geometric forms, and illuminating them in a specific way, the artist achieved emblematic, mysterious and rather cinematic atmosphere, so it is no wonder that majority of his paintings are perceived as Noir film snapshots in color. The predominant feelings of isolation and loneliness have opened a wide debate on Hopper's enigmatic vision, whose authentic imagery undoubtedly changed the course of American painting and set the foundation for the upcoming generation of Pop art and New Realist painters of the 1960s and 1970s.
In order to reaffirm the puzzling practice of Edward Hopper, The Virginia Museum of Fine Arts decided to organize the grand exhibition titled Edward Hopper and the American Hotel by accentuating the notion of the hotel as a paradigm of escape and solitude through a fine selection of more than sixty paintings, drawings, watercolors and illustrations.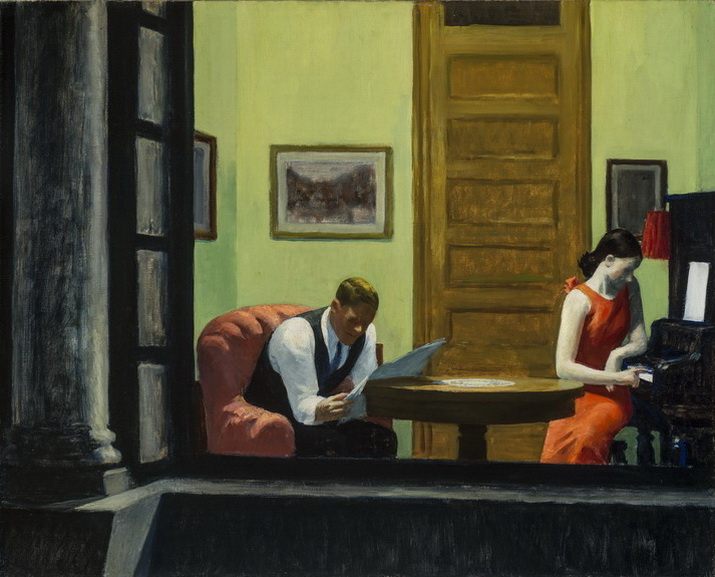 Hopper's Fascination With Motels/Hotels
The museum's distinguished curator Dr. Leo G. Mazow decided to analyze the hospitality units such as hotels and motels, a dominating scenography Edward Hopper's body of work. Namely, by placing his subjects in these spaces or by portraying the space itself deployed of human presence, Hopper articulated the themes of alienation and fragmentation he found omnipresent in the American society.
To broaden the exploration of this motif, Mazow included additional thirty-five works made by other American modern and contemporary artists that explore the visual culture of hotels, leisure time, travel and mobility in a similar fashion as Hopper. The curator stated:
Edward Hopper is one the best-known 20th-century American artists, yet the public's conception of him has largely been filtered through a time-worn biographical formula that explains his art as the product of a sullen, isolated introvert. Edward Hopper and the American Hotel endeavors to consider hotels, motels, and other transient dwellings as a vital subject matter for Hopper and as a framework with which to understand his entire body of work.
It is also significant to note the museum has a long history with Hopper, who acted as a chairman of the jury for the museum's first biennial exhibition in 1938. Almost two decades later, in 1953, the artist once again participated a juror a biennale exhibition, and it was then that VMFA acquired Edward Hopper's painting House at Dusk made in 1935, to be on display along with loans from other public institutions, as well as private lenders such as famous musician Bruce Hornsby and his wife Kathy.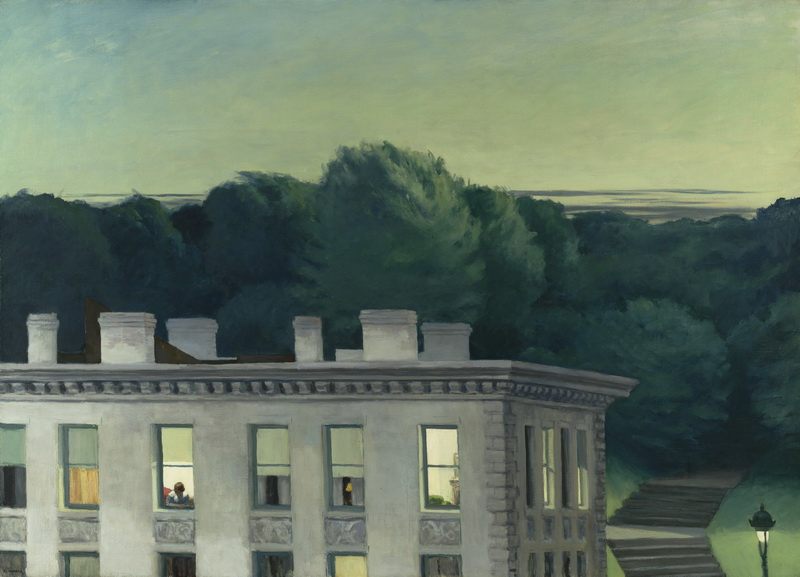 The Exhibition Curiosities
Alongside the mentioned Hopper's painting and the works by other artists, the exhibition will feature a selection of diaries written by Hopper's wife and fellow artist, Josephine "Jo" Hopper (these recent findings were made possible by the Provincetown Art Association and Museum). Her writings describe the standard drive between their homes in New York and Cape Cod as well as various road trips undertaken by the artists throughout the United States and Mexico. These diary entries will be displayed together with hotel postcards from the 1920s until the 1950s collected at the places the couple visited.
This archival material was rarely exhibited so it will show a more private, sentimental side of the artist and his wife while providing details of their travels in their own words and how these traveling experiences enriched their art.
The exhibition will debut a site-specific - an actual three-dimensional recreation of one of Hopper's best-known paintings Western Motel in which the visitors will be invited to step in and even spend the night. This particular experience called Hopper Hotel Experience will be accessible in different packages at different prices; some of them include dinner at VMFA's restaurant Amuse, a guided tour by the curator and an exhibition catalog, and few other options.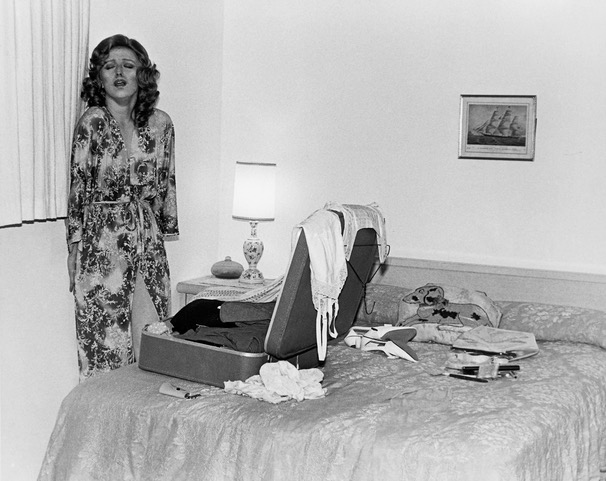 Edward Hopper at VMFA
One day after the official opening, the curator Mazow will give an overview lecture Edward Hopper and the American Hotel in VMFA's Leslie Cheek Theater, as well as a symposium titled Edward Hopper: Hotels and Other Spaces (scheduled for 15 - 16 November) consisting of lectures by various scholars who will present the latest interpretation of one of America's most celebrated painters oeuvre.
Edward Hopper and the American Hotel will be on view at Virginia Museum of Fine Arts in Richmond from 26 October 2019 until 23 February 2020, and then it to the Indianapolis Museum of Art at Newfields.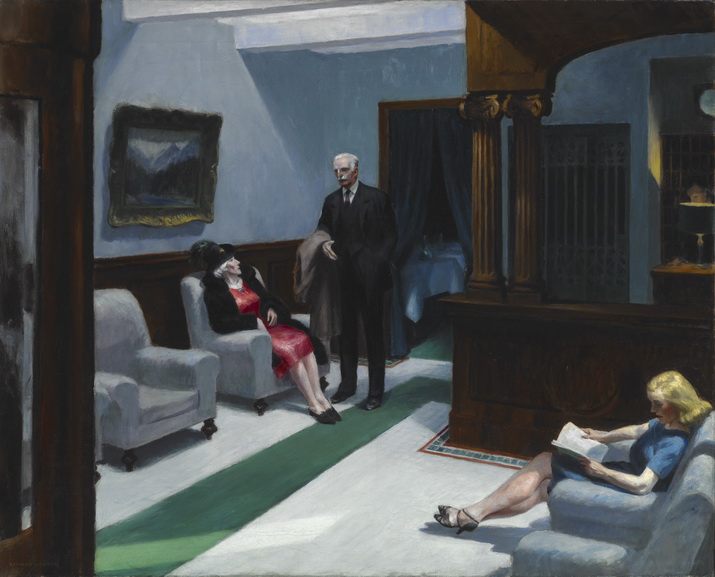 Editors' Tip: Edward Hopper and the American Hotel
The painter, draftsman, and illustrator Edward Hopper (1882–1967) is one of America's best-known and most frequently exhibited artists. Hotels, motels, and tourist homes are recurring motifs in his work, along with streets, lighthouses, and gas stations forming a visual vocabulary of transportation infrastructure. In ten essays, this fascinating volume explores Hopper's lifelong investigation of such spaces, shedding light on both his professional practice and far-reaching changes in transportation and communications, which affected not only work and leisure but also dynamics of race, class, and gender. Hopper's covers for the trade journal Hotel Management, in addition to other well-known works, invite reflection on the complicated roles of the nascent New Woman; the erasure of hotel work and workers; contemporary associations of the color white with cleanliness and purity; the watercolors Hopper made from hotel windows and rooftops in Mexico; and the broader context of transportation history. A final section traces journeys that Hopper and his wife, the artist Josephine "Jo" Nivison Hopper, took by car in the 1940s and 1950s; selected correspondence and quotations from Jo's diaries join reproductions of postcards and ephemera illuminating their—and fellow Americans'—shifting travel habits.
Featured image: Edward Hopper - Western Motel, 1957. Oil on canvas. Yale University Art Gallery, New Haven, Bequest of Stephen C. Clark, B.A., 1903. © 2019 Heirs of Josephine N. Hopper / Artists Rights Society (ARS), NY