During his short but prolific career, Egon Schiele created a formidable output that turned him into a real icon for new generations. Becoming a major figure in the art of his century in under a decade and dying under the age of 30, he created a short-lived body of work with a remarkable impact and permanency.
Marking the centenary of the artist's death, a series of Schiele exhibitions are being staged all across the world, each addressing a different aspect of his practice and providing an insight into the complexity of his career.
Galerie St. Etienne, which mounted Schiele's first American solo exhibition in 1941, is hosting a comprehensive survey of the artist's artistic development. Titled Egon Schiele: In Search of the Perfect Line, the show will bring together almost 50 watercolors and drawings curated from numerous private collections, as well as a group of Egon Schiele male nudes created in 1910 which were previously thought to be self-portraits, but are in fact portraits, as Jane Kallir, the author of the catalogue raisonné on Egon Schiele and co-director of the gallery explains.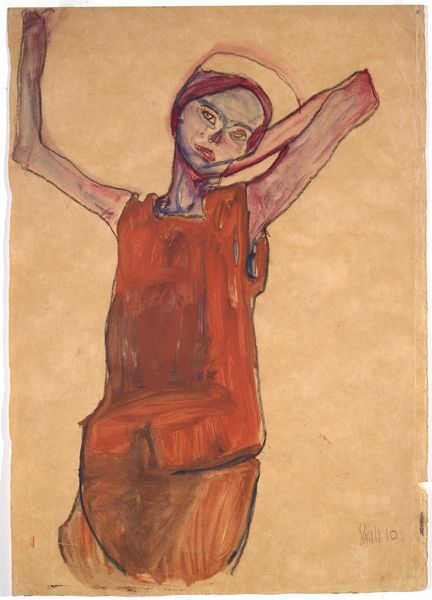 Egon Schiele Male Nudes
A renowned authority on the work of Egon Schiele, Jane Kallir came to the surprising discovery while she had been writing the book Schiele's Women and curated the accompanying exhibition for the Belvedere museum in Vienna. Having a knowledge on the artist's friends and models at the time, she realized that Egon Schiele male nudes from 1910, which are widely known as the Red Men, are not self-portraits as previously thought, but portraits. As homosexuality was probably illegal in early 20th-century Vienna, she came to the conclusion that it was safer to consider the works self-portraits than to admit that the artist was actually depicting gay men. It seems that the artist himself had somewhat obscured the identity of these models, which misled his biographers.
Taking into account the vantage point from which the works have been created, Kallir excluded the possibility that the artist himself could have modeled.
Schiele doesn't hide his identity in his numerous self-portraits, and almost all the Red Men are faceless.
Kallir came to the finding that the artist had a brief homosexual encounter in the summer when these works were created and that his two closest friends at the time were Max Oppenheimer and Erwin Osen, who were gay and bisexual. She suggests that one of them could have modeled for these works. The idea finally came to fruition while Kallir was preparing the artist's catalog raisonné, and she explains she has no doubts about this anymore.
There is no way he would depict himself with his face obscured. All of his self-portraits are so obviously him.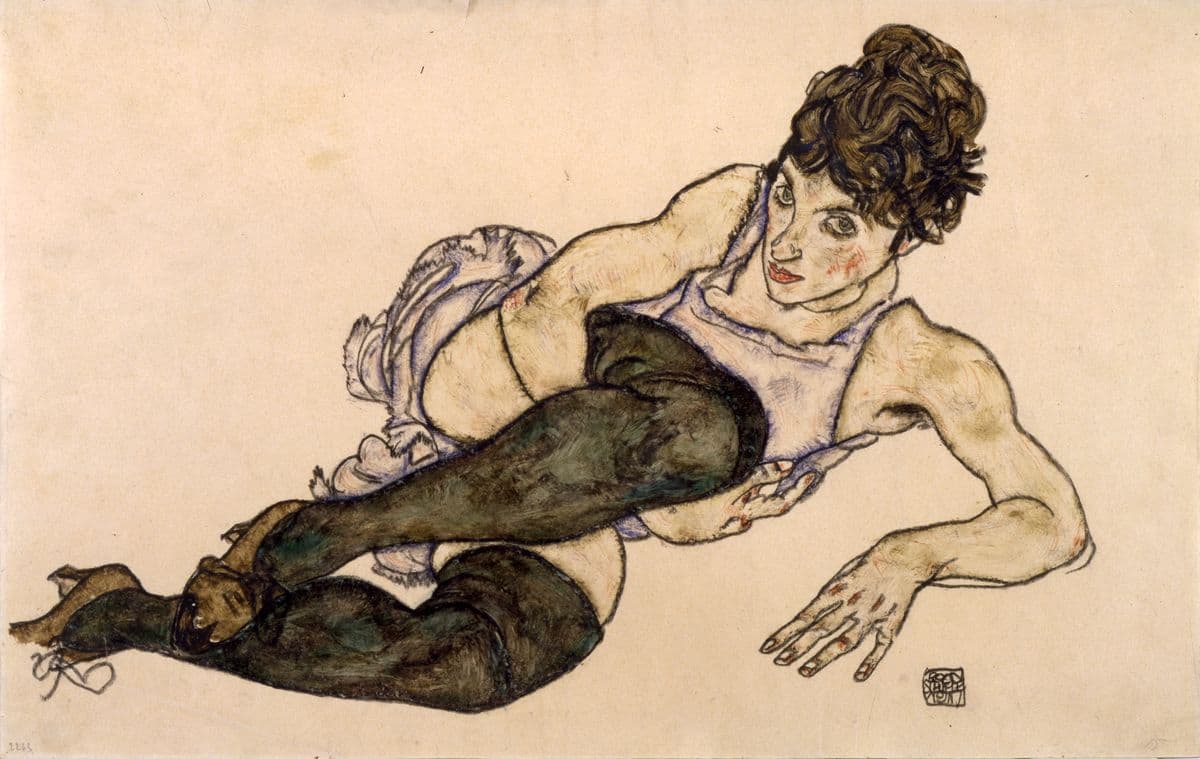 In Search of the Perfect Line
This comprehensive museum survey, which offers a rare, comprehensive overview of Schiele's artistic development, will tell the story of the artist's life through his works. Drawing daily and using his medium as a response to his life turmoils and the human condition in general, he explored themes such as sexual desire, personal identity, and the tenuousness of life. For this reason, his entire oeuvre can be observed as a visual diary of sorts, tracing his both personal and artistic development.
In addition to featuring several of these intriguing male nude drawings, the exhibition will also present a self-portrait created in 1906, showing a 16-year old who has just been admitted to the prestigious Vienna Academy of Fine Art. The works from the Red Men series had been created after the artist dropped out of the Academy. Embarking on an exploration of female sexuality, his most reliable model of this period was his sister Gerti, who can be seen in his Portrait of a Woman in an Orange Hat created in 1910.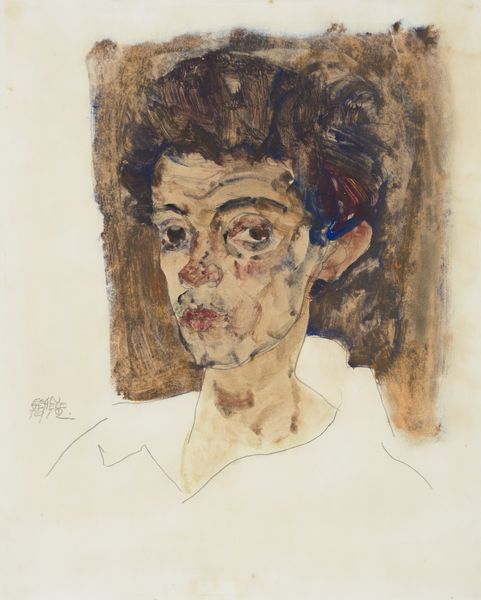 Schiele's Unconventional Life
Egon Schiele's open cohabitation with his model Wally Neuzil was shunned upon in the conservative environment of the rural town of Neulengbach where he lived at the time. As the couple was approached by a teenage runaway to take her to her grandmother in Vienna, whom they returned home the day after, he was accused of kidnapping and statutory rape. Even though the charges were soon dropped, he was soon sentenced to 24 days in jail for "public immorality", for exposing minors who had visited his studio to erotic works of art. The exhibition also features a self-portrait the artist created after his release from prison in 1912, showing his traumatized emotional state.
Schiele later married Edith Harms, a bourgeois young lady who had troubles adjusting to the artist's bohemian way of life. The exhibition features a 1915 portrait of her titled Woman Holding Flower (Edith Schiele). As she was reluctant to pose naked, the artist employed professional models, turning to increased naturalism to accentuate the subject's autonomy. These nudes remain the first depictions of modern women in art, as they were the first to command their own sexuality.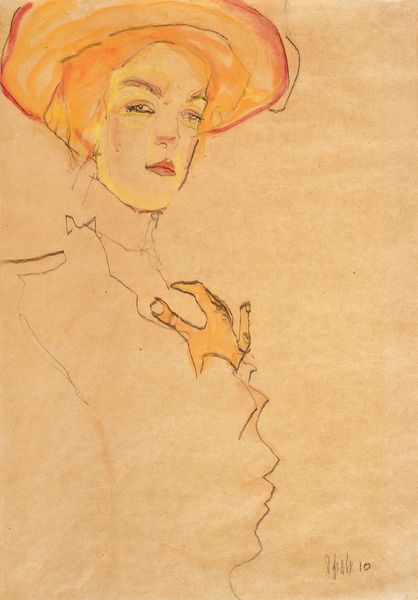 Egon Schiele Exhibition at Galerie St. Etienne
The exhibition Egon Schiele: In Search of the Perfect Line will be on view at Galerie St. Etienne in New York from November 1st, 2018 until March 2nd, 2019.
Founded in 1939 by Otto Kallir, previously founder of the Neue Galerie in Vienna, a principal exponent of German and Austrian modernism, Galerie St. Etienne is the oldest gallery in New York specializing in Expressionism and Self-Taught artists. A gallery which introduced artists such as Gustav Klimt, Oskar Kokoschka, Alfred Kubin, Paula Modersohn-Becker, and Egon Schiele to the US audience for the first time, it continues its venerable standing under the direction of Jane Kallir, Otto's granddaughter, and Hildegard Bachert. Among others, Kallir is the author of catalog raisonné "Egon Schiele: The Complete Works" (1990; revised edition, 1998).
The first digital catalogue raisonné of Egon Schiele's work is scheduled to go live on November 5, 2018, at www.egonschieleonline.org. The publication will cover the artist's oeuvre in its entirety: over 400 paintings; close to 3,000 watercolors and drawings; 21 sketchbooks; 17 graphics; and 4 sculptures.
 Editors' Tip: Nudes Egon Schiele by Alessandra Comini
Perhaps the Robert Mapplethorpe of his day. Egon Schiele, who died at the age of twenty-eight, was one of the most innovative and controversial artists of the Vienna Secession. Schiele wished to shatter the hypocrisy of Viennese society's facade of propriety. He felt that, regardless of their erotic content, his drawings and watercolors were "still always works of art." Although he was imprisoned for the "immorality" of his art, the passage of time and revisions in modernist critical thinking have led to a significant reevaluation of Schiele's artistic achievement. This extraordinary book of Schiele's erotic drawings, watercolors, and gouaches of male and female nudes includes a selection of twenty-eight color and twelve black and white reproductions. Alessandra Comini's provocative essay, "Schiele's Nudes: Prudence or Pathos?", attempts to illuminate Schiele's psychic and sexuality and their relationship to his erotically charged work.
Featured image: Egon Schiele - Male Nude, Back View, 1910. Watercolor and charcoal on on paper. Initialed and dated, lower right. Estate stamp, verso. 17 5/8" x 12 1/4" (44.8 x 31.1 cm). Kallir D. 649. Private collection. All images courtesy of Galerie St. Etienne.