The sculptures of El Anatsui defy categorization. Composed out of typically discarded resources such as liquor bottle caps and cassava graters, these intricate works are both luminous and weighty, meticulously fabricated yet malleable.
Transforming these simple materials into complex assemblages, Anatsui explores the notion of reuse and transformation, at the same time interrogating themes such as the history of colonialism, consumption, waste and the environment.
His latest body of work will soon be on view at Goodman Gallery in his first solo exhibition in South Africa. Titled Meyina, the show will paint a portrait of the artist by bringing together disparate fragments that form a whole.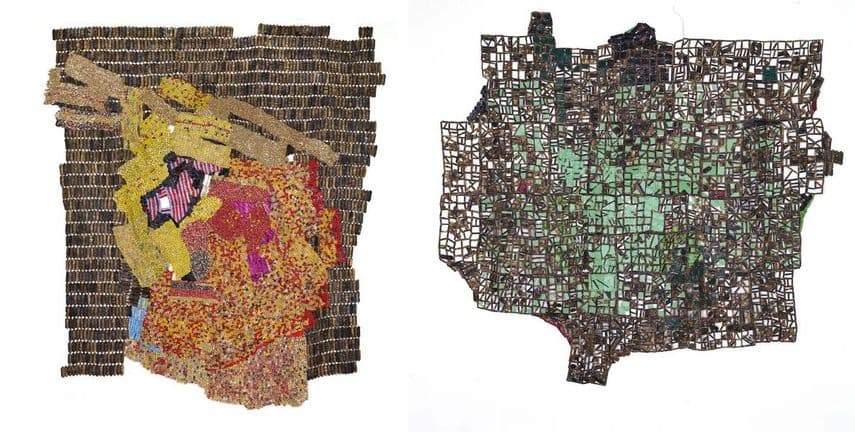 Engaging with the Past and the Present of Africa
Born in Ghana and working in Ghana and Nigeria, El Anatsui is one of the most influential contemporary artists today in Africa and beyond. Throughout a career spanning four decades, he has created a vast body of work that has expanded the language of contemporary sculpture in both Africa and internationally. Experimenting with local symbolic vocabularies, forms, artisanal processes and materials, his practice is distinguished by his unique formal language.
Meyana will present seven large-scale sculptural installations composed of thousands of crumpled pieces of metal obtained from local alcohol recycling station and joined together with copper wire. Resembling intricate tapestries, these pieces engage with the African colonial history, post-colonial conditions and everyday realities.
In addition, the show will feature a collection of archival objects from the artist's studio such as sketchbooks, drawings, letters, exhibition planning and instruction documents, books and much more.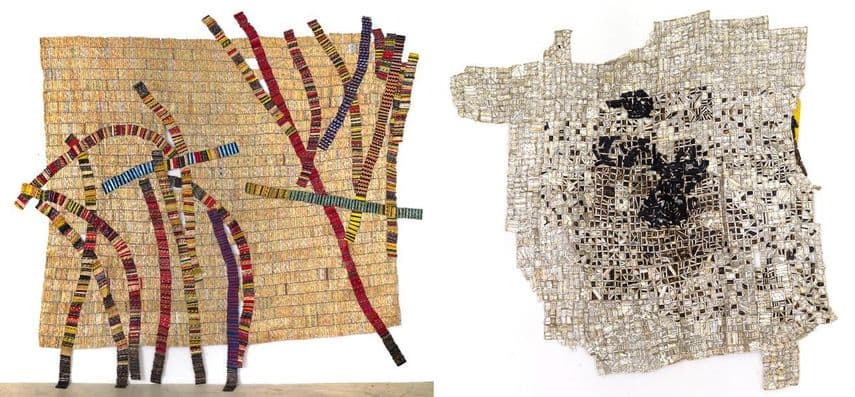 The Limitless Horizon
On a conceptual level, this El Anatsui exhibition explores the idea of a limitless horizon, an immersive space where everything is possible. As the artist himself explains, while working he feels as if the sky bends down to have a word with the earth.
When finished, the installations are left open, taking different forms every time they are installed. Existing on their own terms, these pieces challenge the notion of sculpture being rigid. Over the course of his career, he has articulated his interest in the past and present of the African continent. The curator Bisi Silva explains:
Through this exhibition I hope to highlight aspects of his artistic practice as well as his professional career of over three decades as a university professor and its impact on several generations of artists, curators and writers from Nigeria, West Africa and across the continent.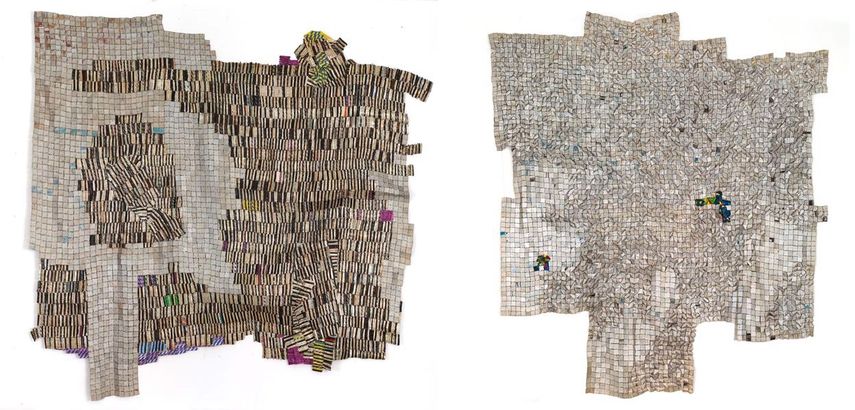 El Anatsui Art Exhibition at Goodman Gallery
"The link between Africa, Europe, and America is very much part of what is behind my work with bottle caps," Anatsui once explained, referencing the link between the sale of slaves and liquor, and the transformative power of his art to connect everyone involved in its creation.
Meyina, an exhibition of works by El Anatsui, will be on view at Goodman Gallery in Johannesburg from November 25th until December 20th, 2017. The exhibition was first realized at the Prince Claus Gallery, Amsterdam where it ran until April this year.
Featured image: El Anatsui - Horizon, 2016; Bottle caps, 260 x 460cm. All images courtesy of Goodman Gallery.