No matter what sort of materials El Anatsui has on his hands, he will magically transform it into a complex and magnificent sculpture. This internationally acclaimed Ghanaian sculptor has been experimenting with sculptures for decades, challenging the definition of modern sculpture itself. Anatsui is recognized as one of the leading sculptors of our times. Since his sculptures are often wall-based, contrary to the conventional settings, the viewer is usually challenged to clearly classify Anatsui's work as a pure sculpture. Anatsui uses to say that he is a mixture of a sculptor and painter, refusing to be categorized in simple terms. This great artist has an exhibition this month, at the October Gallery London.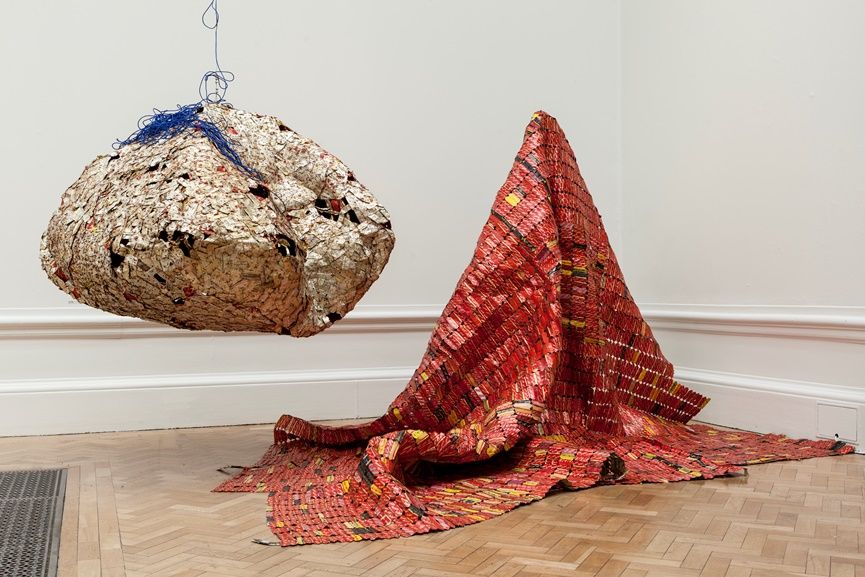 The Mixture of Materials and African Motifs
El Anatsui doesn't have one material that he exclusively uses, and he can't be linked with a single material that would be central to his sculptors. However, his preferred media are wood and clay. But he also uses materials such as glass, liquor bottle caps, metal and even plants. Being deeply connected with his African roots, Anatsui is influenced by traditional Ghanaian beliefs and customs. In his works we often see different traditional designs originating from Ghana and Nigeria, as well as pieces of woven clothes and an ancient system of symbols used by the indigenous population of Western Africa. Yet, his works go far beyond the boundaries of the country where he was born. They are universal by its nature, and the messages they are conveying are perceived the same by the viewers all over the world. Although Anatsui's work is questioning the consequences of colonialism and poverty, on the other hand they are by default touching the subjects of consumerism, environment issues and waste. And he always perfectly matches the materials he uses with the political and social problems he is engaged in.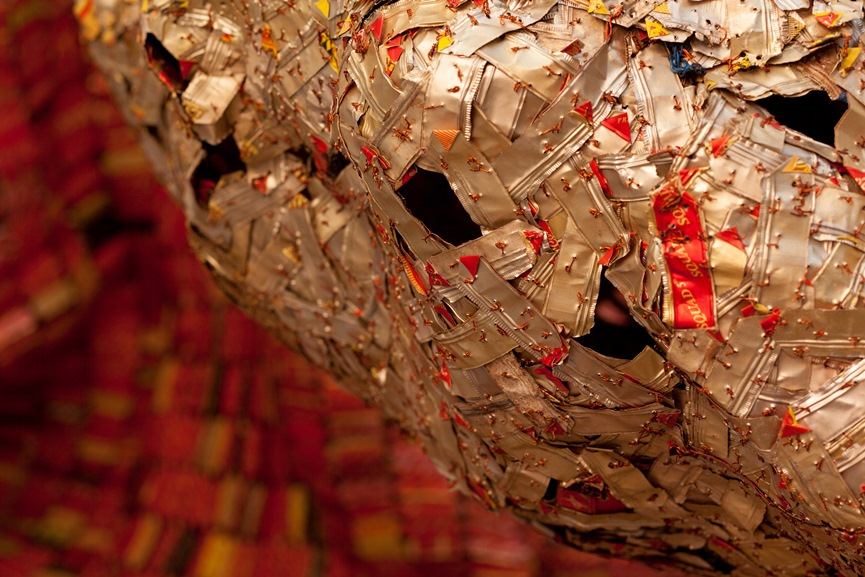 The Art of El Anatsui
In recent years, El Anatsui has been particularly recognized as the creator of large scale sculptures. His installations easily fit in various spaces and the way Anatsui installs his works in a gallery or outdoors transcends the rigidness of the settings that could be labeled as traditional-styled. Anatsui exhibited his work around the world, while his works are part of public and private collections including Metropolitan Museum of Art in New York, the Museum of Modern Art in New York, the Centre Pompidou in Paris, British Museum in London, and many others.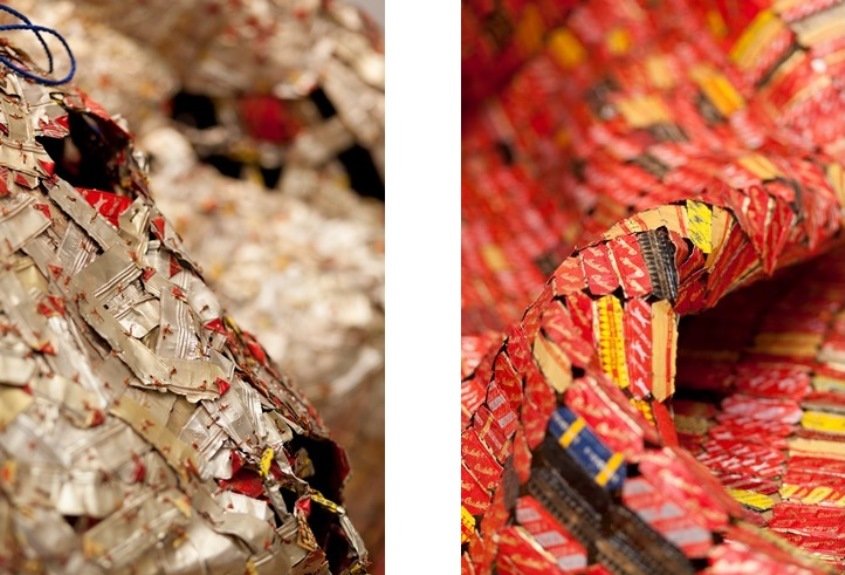 El Anatsui at October Gallery London
The October Gallery London prepares an exhibition of works by El Anatsui. The Gallery will present a selection of works in metal, particularly Anatsui's famous metal wall-hangings. The special focus at this exhibition is put on a series of intricate metal sculptures. Maybe not the most grandiose sculptures Anatsui has made, the ones that will be exhibited during this show induce admiration for the small colorful details they are decorated with. The exhibition of the works by El Anatsui will be opened at the October Gallery London, on February 12th, and it will be on view until March 28th.
For more about contemporary art, sign up for MyWidewalls!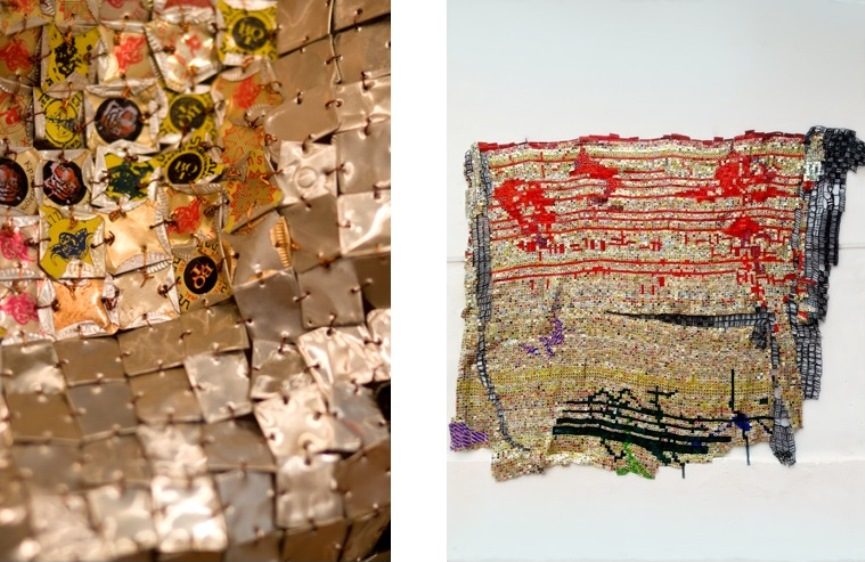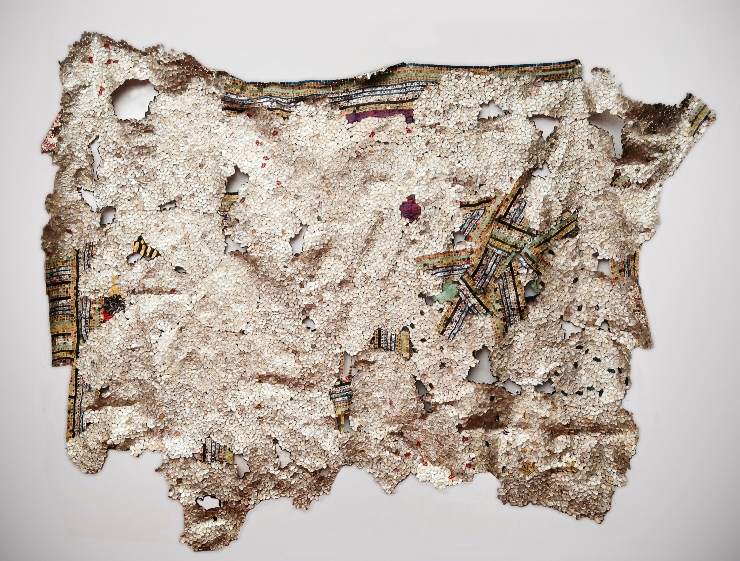 Featured Image: El Anatsui, Skylines (Detail), 2008
All Image courtesy of the October Gallery London.