In case you missed an amazing Gerald Wilde exhibition at London-based October Gallery, that is on view from the end of November, hurry up, because the show is about to end. But, in case you didn't or you cannot manage to visit the gallery while this show is still open, don't worry! The October Gallery is preparing another great exhibition – this time, it will be El Anatsui exhibition featuring new works by this amazing artist. What can we say about this master of contemporary art that you don't know yet? Creating stunning pieces of beautiful art, this Ghanaian artist is certainly on the list of the most significant African artist of our time.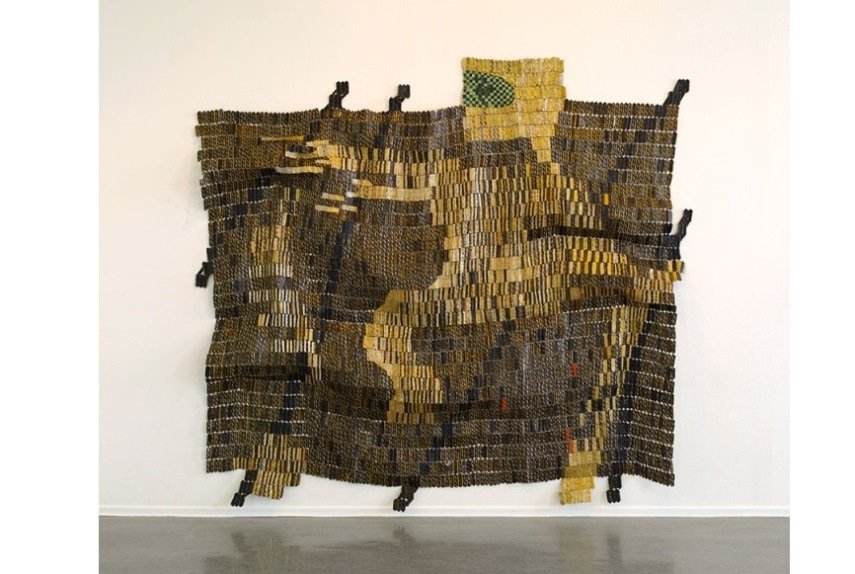 Sculptural Experiments of El Anatsui
Born in Ghana in 1944, El Anatsui grew up in a post-colonial political and social context; therefore, it should not be surprising that he belonged to the vibrant post-independence art movements of 1960s and 1970s in West Africa. He is known for his outstanding use of different materials in sculpture making; but not only for materials he uses, but techniques he applies. Making use of tools as diverse as chainsaws, welding torches and power tools as well as developing a range of processes such as the intricate and meditative "sewing" process of his later work, he has shaped found materials that range from cassava graters, railway sleepers, driftwood, iron nails and obituary printing plates, and aluminum bottle-tops to create a wide variety of novel sculptural forms. Working with wood, clay, metal, and discarded metal caps of liquor bottles, Anatsui breaks with sculpture's traditional adherence to forms of fixed shape while visually referencing the history of abstraction in African and European art. That is why he is today one of the world's most renowned contemporary artists – he moved the boundaries of contemporary sculpture.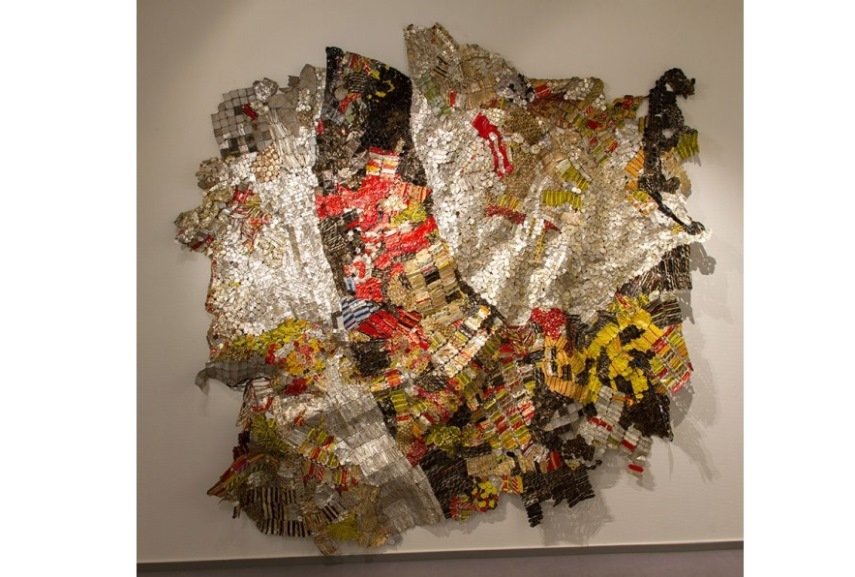 New Works
So, what can the visitors of El Anatsui: New Works exhibition at October Gallery in London expect? They will enjoy the new works by this brilliant artist. Let's not forget – El Anatsui's works are not only aesthetically stunning; they are also questioning the consequences of colonialism and poverty, and, on the other hand they are, by default, touching the subjects of consumerism, environment issues and waste. But this show will present a new body of work by the artist that further explores the possibilities of the artist's iconic bottle-top sculptures. The artist's iconic "bottle-top installations" have provoked a frenzy of international attention between 2002 and the present, with institutions queuing to acquire these mesmerizing works. Created from many thousands of aluminium bottle-tops wired together with copper, these magnificent wall sculptures continue to excite and amaze audiences wherever they are exhibited.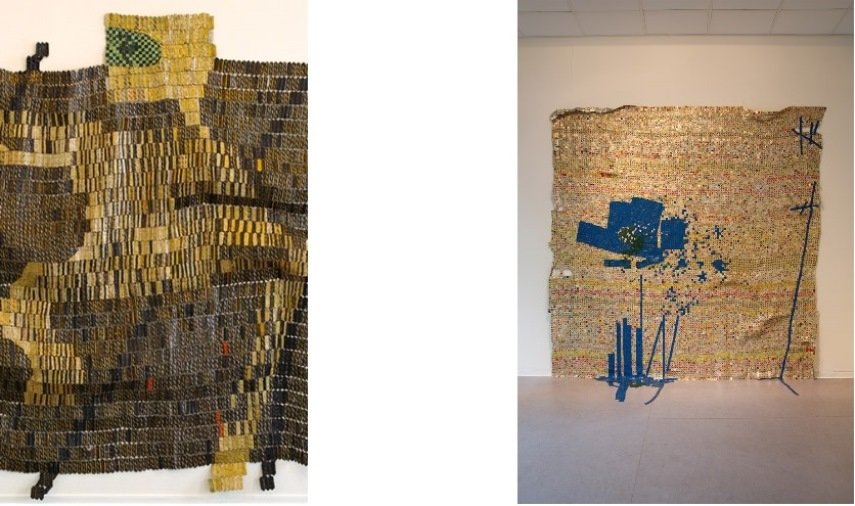 El Anatsui Exhibition at October Gallery London
October Gallery has been working closely together with El Anatsui since 1993. We already wrote about the artist's exhibition at the gallery in the beginning of 2015, where the visitors had an opportunity to enjoy a series of intricate metal sculptures among others. It's always amazing to have an opportunity to see El Anatsui works, so be sure not to miss this show. The artist has recently been awarded with the Golden Lion for Lifetime Achievement at the 56th Venice Biennale. El Anatsui: New Works will be on view from February 4 until April 2, 2016 at October Gallery in London.
Featured Image: El Anatsui - Dzi II, detail, 2015.  Aluminium and copper wire, 281x 324cm. Photo  Tobias Nordvik ©Kunstbanken, Norway, courtesy October Gallery, London. All Images courtesy of October Gallery.