The artist Eliza Douglas is best known for her humble fantastic paintings that show bodies that look like super heroes who are at the same time funny and noir. These paintings are jokey, impossible and wittily structured in the ground. A fierce young artist and choreographer, Anne Imhof is known for performances that are complex, intimate studies in movement, gesture and action, mostly silent and tending to span several hours. These two artists have frequently collaborated on performance works since 2016. In addition to performance, both of these artists consider painting to be central to their practices. Their painterly collaboration will soon be on view at Galerie Buchholz. Simply titled Eliza Douglas Anne Imhof, the exhibition will showcase their collaborative paintings, as well as works produced by both artists individually for this occasion.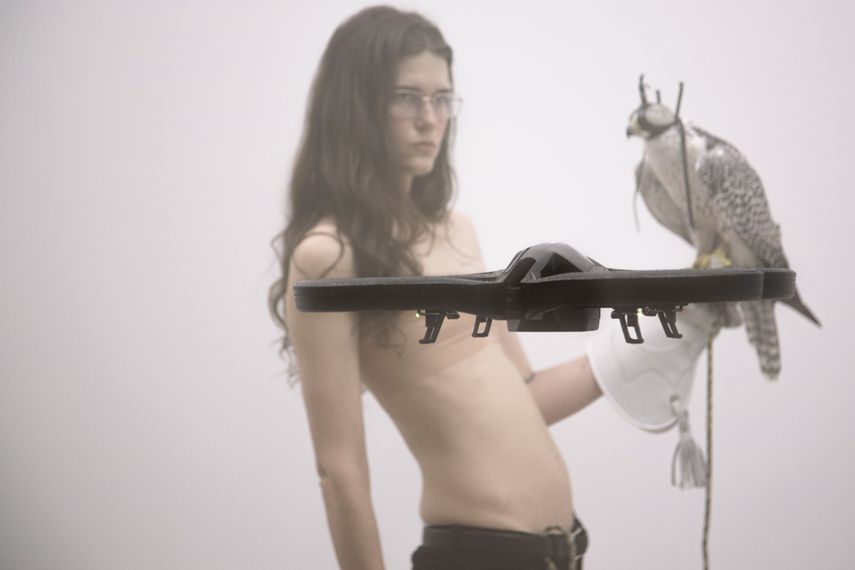 The Practice of Eliza Douglas and Anne Imhof
The large-format paintings by Eliza Douglas captivate the audience with their distinctive style and a recurring theme: namely, the artist's hands. Executed in diverse and dynamic ways, these works are magical in its simplicity, in its enigmatic act. She approaches the creation of paintings through the application of paint with a brush in a highly innovative way. These meta-paintings suggest what this medium can be in the 21st century. Since the beginning of the 2010s, Anne Imhof has been enjoying growing success with her precisely choreographed performances, taking the form of strange reveries. Her works accumulate as a private corporeal lexicon shared by a small group of performs, with a body language being a key component in these pieces. Yet, the artist is a painter first and foremost, and her performances are extensions of this activity.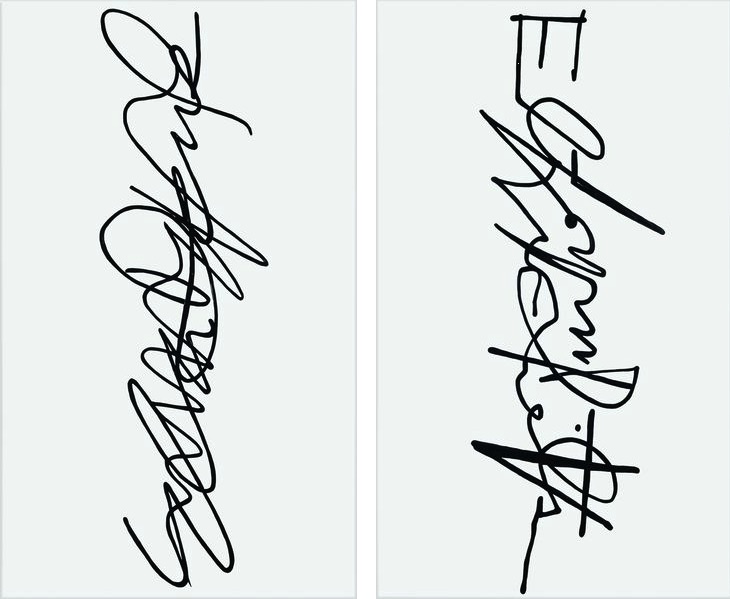 Previous Collaborations
Eliza Douglas and Anne Imhof have collaborated on a variety of performance works since 2016. In 2016, Douglas has participated in Imhof's three-act opera Angst, a grand and opaque artwork made up of a multipart performance, a musical composition, paintings, and sculptural elements that are alternately activated or still. As a culmination of motifs that have long recurred in Imhof's work, Angst is a peculiar and mesmerizing reflection on human agency, interpersonal communication, power dynamics, and the secret codes that bind them. Their collaboration also includes Imhof's acclaimed performative exhibition Faust that could have been seen at the German Pavilion at the 57th Venice Biennale. For this piece, Imhof has been awarded the Golden Lion for the best national participation. The president of the jury, Manuel Borja-Villel has described the piece as "a powerful and disturbing installation that poseses urgent questions about our time."
Anne Imhof - Faust / German Pavilion, Venice Art Biennale 2017
Eliza Douglas and Anne Imhof Art Exhibition at Galerie Buchholz
Both Douglas and Imhof are currently living in Frankfurt. While Eliza Douglas previously exhibited at Nassauischer Kunstverein, Wiesbaden in 2017, Folkwang Museum, Essen in 2017, and Air de Paris in 2016, Anna Imhof has had solo exhibitions at venues incuding La Biennal de Montreal in 2017, Hamburger Banhof, Berlin in 2016,  Kunsthalle Basel in 2016, and Galerie Buchholz, Cologne in 2016.  The exhibition at Galerie Buchholz New York is the first exhibition to present collaborative paintings by Douglas and Imhof. The exhibition Eliza Douglas Anne Imhof will be on view at Galerie Buchholz in New York from September 9th until October 21st, 2017. The opening reception will be held on Saturday, September 9th, from 6 to 8 p.m.
Featured image: Eliza Douglas, Anne Imhof - Untitled, 2017 (detail). Courtesy Eliza Douglas, Anne Imhof and Galerie Buchholz, Berlin/Cologne/New York.