A portrait depicting Sex Pistols singer John Lydon created by Elizabeth Peyton is in centre of yet another copyright infringement case in the art world. Photographer Dennis Morris claims that the 1994 John Lydon, Destroyed, infringes his original and copyrighted photograph taken backstage at the band's early gig in 1977. Dennis Morris is even considering taking legal action over the issue, after the aforementioned India ink drawing was removed from Sotheby's day sale on February 11th, 2016. Some of Morris's photographs of Vicious and Lydon were published in the 1991 book, Never Mind the B*ll*cks: A Photographic Record of the Sex Pistols Tour.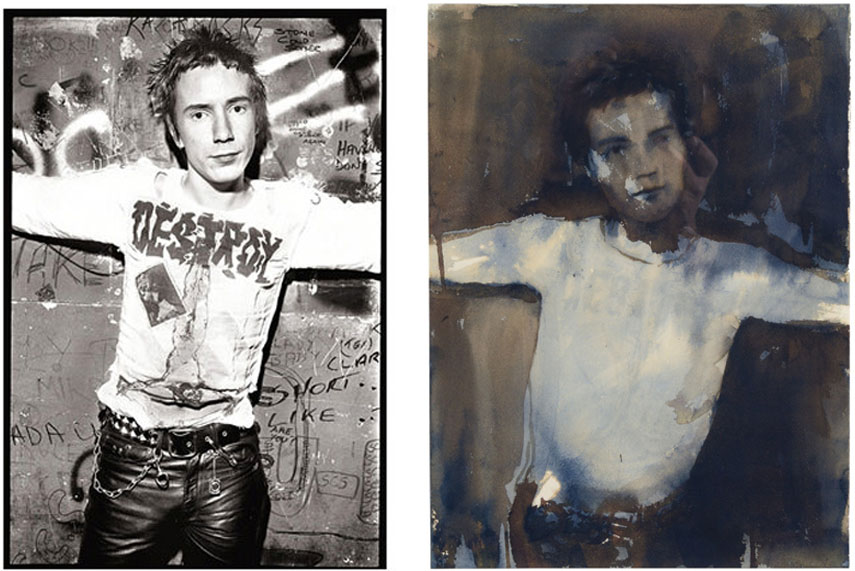 Elizabeth Peyton vs Dennis Morris - Two Sex Pistols Face-Off
According to The Art Newspaper, Elizabeth Peyton's John Lydon, Destroyed was "withdrawn at the request of the consigner" from Sotheby's Contemporary Art Day auction held about a week ago. The works appears to be bearing resemblance to the 1977 photograph by Dennis Morris, in which the Sex Pistols frontman is wearing a white top, and has his arms stretched. Sotheby's did manage to sell another one of Peyton's works dedicated to John Lydon - a charcoal drawing of the singer reading The Daily Express, for $12,860. This is not the first time Dennis Morris accused Elizabeth Peyton of a rip-off. In 2014, the artists settled out of court, regarding at least three other drawings appropriating Morris's photographs, this time portraying the group's guitarist Sid Vicious. While Elizabeth Peyton denied all allegations claiming fair use, both parties agreed to pay their own costs.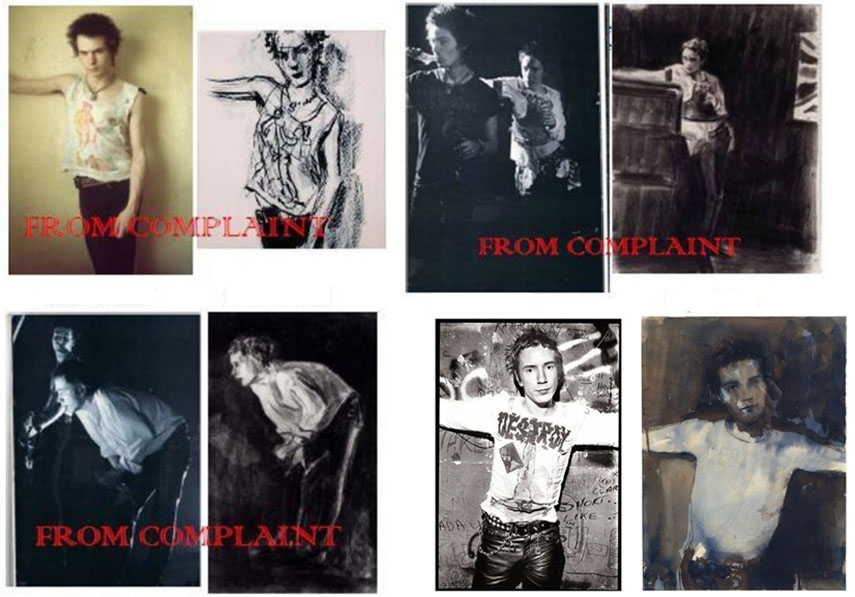 Appropriation in Art - Where is the Line?
It should be clear enough by now: Copyright infringement is the use of works protected by copyright law without permission, infringing certain exclusive rights granted to the copyright holder, such as the right to reproduce, distribute, display or perform the protected work, or to make derivative works. A derivative artwork is then defined as "an expressive creation that includes major copyright-protected elements of an original, previously created first work" but is also "a second, separate work independent in form from the first.". So is Elizabeth Peyton's drawing a work deriving from Dennis Morris's photograph? According to some recent cases, commenting on someone's Instagram picture, screenshooting it and selling it form $100,000 is considered "adding an original element" to someone else's work - thus such work is now also an original one, and as such it does not violate any laws.
This makes us wonder whether Shepard Fairey could have done the same for his exhibition in Paris, instead of asking the same Dennis Morris for permission to base his own work on existing photographs. We shall wait and see whether Elizabeth Peyton will, however, end up guilty and fined if the case goes to trial, just like Luc Tuymans was.
What are your thoughts on this? Join the discussion on our Facebook page!
Featured image: Elizabeth Peyton. Image via thegentlewoman.co.uk; Dennis Morris, image via showstudio.com. All images used for illustrative purposes only.